About Ile Aux Cerfs
Islands are an ideal place to escape from the bustle and chaos of routine city life. When talking about islands, one place that perfectly meets every traveller's imagination is Ile aux Cerfs island in Mauritius. Situated on the east coast of Mauritius, Ile aux Cerfs is spread over 87 hectares of land consisting of rich vegetation and gorgeous beaches. Popularly known as 'Deer Island', Ile aux Cerfs is one of the star attractions of Mauritius with its luscious beaches and coral reefs.

The island offers a range of leisure activities with its 18 hole golf course; banana boat rides as well as glass bottom rides. You will find a variety of restaurants offering lip-smacking local cuisine as well as international cuisine. It is a picture-perfect location with an abundance of breathtaking views, including the magical Grand River South East waterfalls.

Apart from a place to relax and adventure activities, you will also find it fun to explore the wonders of nature in Ile aux Cerfs. There is a range of museums, monuments and national parks to visit around Ile aux Cerfs. The expenses at this island won't burn a hole in your pocket as it is a relatively inexpensive destination in Mauritius. You can also plan a short trip since you get to do a variety of activities and watch spectacular views on a small island. Here is the complete guide to travelling to Ile aux Cerfs. You will find an abundance of reasons to visit the island on your next holiday.
How to Reach Ile Aux Cerfs


Ile aux Cerfs is situated around 40km away from Sir Seewoosagur Ramgoolam International Airport, but you first have to reach Trou D'Eau Douce and then take a boat to the island. After exiting the airport, you need to take a private taxi to Trou D'Eau Douce which is around 43km away from the airport. You can also opt for a local bus for a cheaper journey or a private car if you want to drive yourself.

It takes an hour to reach Trou D'Eau Douce from where you can take a speedboat, catamaran or yacht to Ile aux Cerfs. The boat will take 15 minutes to reach the island and would cost around Rs.500. While these were some pocket-friendly ways to reach the airport, you have a very luxurious option too.

You can opt for Helicopter service from Mauritius airport which takes you directly to Ile aux Cerfs. Despite being an expensive option, a helicopter journey makes the experience more lavish and the trip memorable. 
Best Time to Visit Ile Aux Cerfs


Ile aux Cerfs has a tropical climate which means it never reaches extreme temperatures. Since the island is in the Southern Hemisphere, it experiences summer from December to April and colder months from May to September. Being a tropical island, you will only experience the winters and the summer and the chances of rain is there throughout the year.

Summers- You would experience hot and humid weather from December to April with temperatures hovering around 29°C in the day. The nights are significantly cooler in Summers at around 18°C. Rain appears quite often in Summers, but it is usually in the form of downpours and subsides quickly. The sun is out for most parts of the day in summer.

Winter- The temperatures in the cooler months from April to November range in a maximum of 25°C to a minimum of 15°C. The winter season from April to November is the best time to visit Ile aux Cerfs as the weather is less humid and the chances of rain are less. Tourists enjoy more in drier weather on the beach relaxing for long sessions out in the sun. The flight tickets and accommodation fares are lower in the winter months leading to a budget-friendly trip.
What Not to Miss at Ile Aux Cerfs


Here are the best things to do in Ile aux cerfs:


1. Golfing- Designed by Masters golf Champion, the 18-hole Ile aux Cerfs golf club is an attraction of its own. If you know a thing or two about the game of golf, you would undoubtedly enjoy the mesmerising experience of playing golf in the blanket of the Indian Ocean. Both professionals, as well as rookie golf players, can enjoy the sport here. The golf club also has a golf academy of its own where you can learn Golfing. You will also find 'Lander's Bar' to enjoy a toast after a game.

2. Parasailing- This sport is particularly for adventure enthusiasts and gives you a thrilling experience. Touch new heights and feel the wind blowing while you fly in the air by parasailing at Ile aux Cerfs. You will always remember the remarkable bird's eye view of the tropical island. And you know what the best part is?

You can enjoy Parasailing with a partner, your wife, friend or husband. Vloggers will also want to do this activity and capture the breathtaking views and the once in a blue moon experience of flying. It's a relatively short activity of up to 5 minutes and you will dip into the ocean on landing.

3. Snorkelling- Snorkelling is a must-do activity when travelling to Ile aux Cerfs because of the magical underwater world. You have to put on a mask and snorkel into the ocean to witness the beautiful cyan lagoons, a vast variety of fishes.

You can explore what the sea animals are doing underwater and watch pretty shells and vivid corals. The activity is suited for all age groups from 6 years of age. So you can enjoy snorkelling with your whole family for a memorable experience.

4. Waterskiing- Another water sports activity for adventure lovers, Water Skiing offers the thrill of moving through the water at high speeds. The skier stands on two skies and a speed boat pulls him at high speeds.

Get lost in the surreal feeling of treading through wind and water at high speeds at the same time. Children can also try this activity since it's very safe with a life jacket on the boat also moved at slow speeds for beginners.

5. Banana rides- This is a unique ride for the whole family. It is like a water-based sledge that is towed to a boat. The inflated tube is in the shape of Banana and has a space of fitting 5-6 passengers. It's not a real boat but made for just recreational purposes. You just have to fit in with your family, slide your legs in the mini tubes given to you and enjoy the ride. This activity is also really fun to do and picture for memories.

6. Tube riding- Another adventure water sport, tube riding provides a high adrenaline rush. You wear a tube which is then towed to a speed boat. The speed boat then pulls the tube fast giving you a topsy turvy ride as you bounce and thread through the water. It's a very enjoyable and popular adventure sport for thrillseekers.

7. Undersea walk- One of the most amusing and one-of-a-kind activities in Ile aux Cerfs, underwater walk allows you to explore the depths of the ocean and marine life. If you are looking to explore and experience marine life and the vivid underwater world, this is the right activity for you. You would literally walk on the land of the ocean giving a thrilling experience.

You have to go to a platform in the lagoon where you will be given oxygenated helmets. The organisers would brief you about the safety procedures. Then comes the time to dive deep into the water and down to the bottom. This 15-minute experience would be unforgettable opening you up to the world underwater.

8. Ziplining- The adventure park in Ile aux Cerfs offers fun-filled sports activities like zip-lining. Hang through the trees like Tarzan and enjoy the breathtaking views of the tropical island. The entire activity challenges you to tread through various circuits and routes. Ziplining rushes your adrenaline and the first-timers can also enjoy the activity.

9. Cruise ride- The Catamaran Cruise travels from Trous D'Eau Douce to the East coast of Ile aux Cerfs. There's nothing like partying on a cruise ride on a fine morning with friends or family. You will enjoy a variety of drinks, food with the pearl-like clear water surrounding you. A photo session is just around the corner with magnificent views of the island and beaches. The music on the Catamaran cruise is the perfect foil to a relaxing trip.

10. Speedboat ride- You can opt for the speedboat ride from Trous D'Eau Douce to kickstart your trip. As you cruise towards the magical views of Ile aux Cerfs, you can stop at the Grand South East Waterfall. The waterfall is a sight to cherish with scenic views making for those unforgettable memories. The waterfall is surrounded by beautiful flora to click those perfect pictures.

11. Mauritian Sega Dance- Travelling places is all about being open to different cultures and enjoying their beauty. The Sega Dancers, dressed in traditional Mauritian outfits in Ile aux Cerfs provide for an entertaining experience. Blend in the vibes and entertain the one-of-a-kind experience. You can even try the outfits and dance to their tunes for a fun experience.


Places to Visit near Ile aux Cerfs


1. Grand River South East Waterfall- Undoubtedly one of the most visited and iconic tourist attractions in Mauritius, Grand River South East Waterfall is situated at the South East Coast of Mauritius. The visit to the falls is amazing in itself as you would cross curvy roads and coastal villages on the way to the falls.

You will also witness a lot of monkeys jumping around the falls and picturesque Verdant trees. If you are an observer, you will notice the colour of the water change from bluish to greenish on the way. You will have to take the speed boat from Trou D'Eau Douce to reach the magnificent scenery.

2. Blue Bay Marine Park- Blue Bay Marine Park is a national park situated in the Mahebourg village, 45km away from Ile aux Cerfs. The marine park is renowned for its glorious coral garden and fascinating fauna. It's an ideal place for snorkelling because of the shallow water. You will find a number of commercial operators selling snorkelling outfits at the entrance of the park.

The most famous attraction of the Blue Bay Marine Park is the thousand years old brain coral of 5m diameter. You can enjoy glass bottom boat trips to explore the rich fauna of the Park.

3. Ile aux Aigrettes Island- Situated around 34km away from Ile aux Cerfs island, this relatively small island is known for the endangered plants and animals exclusive to Mauritius. The island is under conservation and you can explore Mauritius' history here. The peaceful environment and scenic beauty are again, the reasons why you can't miss visiting ile aux aigrettes.

4. Ilot Mangenie- A deserted island situated about just 5km away from Trou D'Eau Douce, Ilot Mangenie is a must-visit place if you are visiting Ile aux Cerfs. While the island doesn't have a lot of infrastructures, it has beautiful white sand beaches and gorgeous palm trees that make for a relaxing experience. You can find some endemic species of plants exclusive to Ilot Mangenie while there is a Shangri-La restaurant bar to party on the isolated island.

5. Ile aux flamants- Popularly known as a romantic spot for honeymoon couples, ile aux flamants is a tiny island just 14km away from Trou D'Eau Douce. You will find beaches of white sand surrounded by crystal clear turquoise lagoon. Couples will love to share a romantic evening with some drinks and barbeque on this tiny wonder.

6. Belle Mare public beach- Belle Mare Public beach is located on the East coast of Mauritius close to Mahebourg town. You can visit here when you go to the Blue Bay Marine Park nearby. Casuarina trees surrounded white beaches here. While local people also come for holidays and weekends here, there is not much infrastructure which helps you explore the natural climes and scenery in isolation.

You should go there for diving or swimming sessions while there are a host of sports activities on Belle Mare beach. You can try windsurfing, Catamaran cruise trips, parasailing, horse riding as well as scuba diving on this beach.

7. Ile de la passe- The rocky islet is famously known for the Battle of Grand Port between the ruling French and the British in 1810. The French and British army fortified places on the island and you would still find its ruins on the island. It is a great site for photoshoots and you could explore the 200-year-old ruins if you love to look back at history. 
Other Essential Information About Ile Aux Cerfs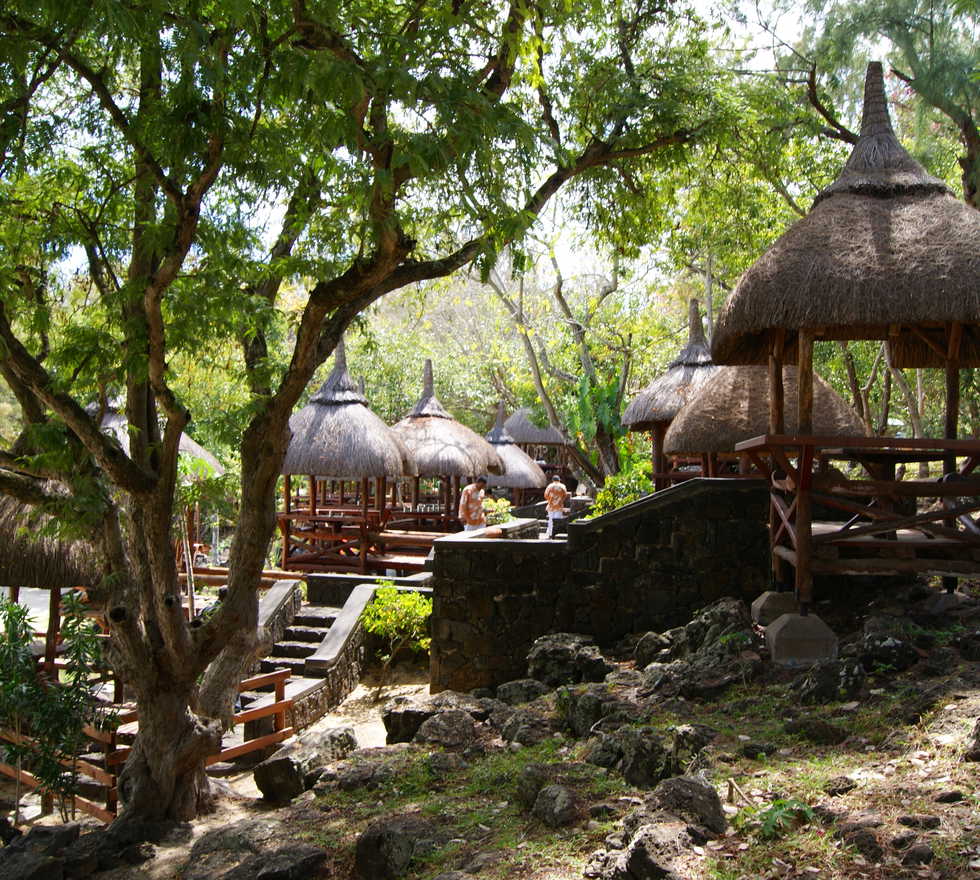 Places to Eat in Ile aux Cerfs

1. La Chaumiere Masala- Situated at the hillside in the northern part of Ile aux Cerfs leisure island, La Chaumiere Masala offers an A La Carte menu featuring lip-smacking food. You will get a wide variety of dishes from Mauritian, Indian and Asian cuisine.

Prepared with local spices, you will get the most authentic Mauritian taste here. It is built on stilts and is surrounded by trees to provide an aesthetic ambience. You get a gorgeous view of the beach and turquoise sea to top it all.

2. Sands Grill- A thatched structure and prime location are the standouts of the Sands Grill. It is located right inside the Ile aux Cerfs beach and is the most convenient restaurant to reach. They specialise in grilled and steamed fish along with savoury prawns, crabs and other seafood. You can also enjoy their live BBQ sessions on Sundays after playing beach ball or relaxing with the whole family. Other dishes at Sand Grill include cold starters, salads, Mauritian cuisine and wood-fired pizzas.

3. Langer's Bar and Grill- Built at the highest point on the island, Langer's Bar and Grill is a fine dining restaurant that specialises in Mauritian cuisine and their own signature dishes.

You can dine out here, after playing golf as it is situated near the Ile aux Cerfs golf club. In fact, you have a beautiful view of the golf course sitting at the restaurant. Langer's grill offers a variety of international cuisine and signature cocktails to sign off a leisurely day at the golf course.

4. Sands Bar- A good day at the island feels incomplete without a relaxing drink to top it off. Sands Grill, located at Ile aux Cerfs Beach, offers a variety of delightful cocktails made exclusively from Mauritian Rum. You can choose from a range of cocktails on the menu or get a special cocktail customised by the mixologist. They also offer delicious wood-fired pizzas and other Mauritian snacks for a fulfilling experience.


Places to Stay in Ile aux Cerfs


1. Bubble Lodges- The island of Ile aux Cerfs is deprived of any accommodations inside it which make a Bubble lodge the only option to stay in Ile aux Cerfs while all the other resorts are located nearby the island.

The bubble lodges are comfortable air-conditioned spaces with a small washroom and an outdoor shower to bathe. You get a private butler to cater to your demands during your stay at the Bubble lodge which includes dinner and breakfast too.

2. Friday Attitude- The 3-star hotel is situated in the village of Trou D'Eau Douce. It is a convenient place to say because it's so close to Ile aux Cerfs. It has a beautiful sunny interior and the rooms have balconies attached to them. You also get a minibar, spa, open bathroom and pool among other facilities.

3. Shangri La's Le Touessrok Resort and Spa- Shangri la is the closest resort to Ile aux Cerfs and easily offers the best services. Although expensive, the breathtaking sea views from the rooms are unmatched.

You get to choose from 5 restaurants and 3 bars to enjoy your meals and drinks at the resort. Shangri La owns Ilot Mangenie and the guests can exclusively visit the island. The resort also has a golf course, tennis court, spa and many other useful facilities.

4. Salt of Palmar- Another excellent resort to stay near Ile aux Cerfs, Salt of Parmar is located around 7km away from Ile aux Cerfs. It is situated a mile away from the Belle Mare Beach. You get all the basic amenities and can dine at the 3 restaurants at the resort. The restaurants here offer unique homemade food which will please people looking for a healthier diet.

5. La Pirogue Resort and Spa- La Pirogue is located on the West Coast and has an admirable infrastructure. The thatched bungalows surrounded by palm trees would make you spend quality time in the magical atmosphere of the resort itself. They have a private sea coast where they offer a range of water as well as land adventure sports to enjoy.


Tips for Visiting Ile aux Cerfs


1. The sun shines bright at beaches on Ile aux Cerfs, so you should be prepared with sunscreen over SPF40 to prevent your skin from damage.

2. You should opt against late-night binges and try to wake up early during your visit to Ile aux Cerfs. This will give you more time to explore the abundance of scenic beauties around Ile aux Cerfs.

3. You should opt to book your tour to the island instead of planning your own visit. This will reduce the expenses and the accompanying guide will help you use your time much better.

4. Don't shy away from indulging in water sports. Just take precautionary measures seriously and bring out the adventure enthusiast in you for a memorable experience.