About Casela World of Adventures
True to its name, Casela World of Adventures in Mauritius offers visitors a series of unique experiences that can be rarely found anywhere else in the world. The Park doubles up as a zoo, an activity centre, an eco-resort and much more, all in one complex that you can tour during the course of the day.

It is the perfect place for families, friends and newlyweds to create some of the best memories of their life, by enjoying unique group activities that are both thrilling and entertaining. The park is spread over an area of 250 hectares. You can find it 1km south of the Flic en Flac in Mauritius, right off the main road. It is home to some exotic animals such as rhinoceroses, monkeys, java deer, African mammals, giraffes, tigers, lions, zebras, waterbucks and many birds and smaller reptiles, which makes for a fascinating learning experience for kids and adults alike.

The animals are kept in spacious enclosures that replicate their natural habitats. In fact, Casela World of Adventures has created a fully functional natural ecosystem where the animals that are housed here, can live a full and free life, and interact with visitors as if they would in the wild.

The best way to interact with the animals is by signing up for their famous safaris that take place on a regular basis and offers a chance to check out the animals up close. Along with being a fully functional zoo, Casela World of Adventures also offers a host of exciting adventure activities such as ziplining, bike safaris, ziplining, mud karting, feeding the animals and of course, embarking on a safari.

With a beautiful view of the Rempart mountains as a backdrop, waterfalls, extensive stretches of greenery and its host of activities, Casela World of Adventures is one of the most sought-after natural retreats in all of Mauritius. It is the perfect place to spend time in the midst of nature while engaging in some unique activities when you are on this beautiful island.
How to Reach Casela World of Adventures


The Mauritius City Centre is located approximately 28km away from Casela World of Adventures. Because of the convenient location of the city centre and the fact that Casela World of Adventures is on the main road, it is very easy to commute between the two places.

1. By car: You can hire a taxi in Mauritius at a very reasonable rate. Taxis are an integral part of the public transportation system in Mauritius and are widely available. The fastest route is via the highways M2 and A3. Both of these routes should take you to Casela World of Adventures in 25-30 minutes.

2. By bus: The only way to reach Casela World of Adventures is if you are travelling by road. If you are travelling in large groups, you can also hire a minibus for your party, and take the same route as a car- via M2 and A3. The journey takes approximately 40 minutes.
Best Time to Visit Casela World of Adventures


The best time to visit Casela World of Adventures is during the months of May to December. This is the winter season and the beginning of the winter season on the island.

1. Winter (May to October): Mauritius is a tropical island that remains relatively dry, warm and balmy throughout the year, which is why people visit throughout the year. However, if you want to check out the animals at the park, enjoy a safari and have a good time, then the best time to visit would be between May and October, which is the winter season.

The weather is pleasant and dry, and the tropical sunshine allows the animals to roam freely on the premises.

2. Summer (November to April): Summers in Mauritius can get very hot and humid, which is why most people tend to avoid the island during this time. The heat also compels the animals in Casela to seek shelter and remain out of sight most of the time.

From January to April is also the cyclone season in Mauritius, which is when it is inadvisable to visit Casela World of Adventure due to obvious safety reasons.
What Not to Miss at Casela World of Adventures


There is no dearth of activities when you are at Casela World of Adventures. Whether you are looking forward to a quiet day in the midst of nature or a thrilling, adventure-filled day, you can experience it all at Casela. Here are some of the most remarkable activities you can enjoy when you are here:

1. Safari Quad: Safari Quad is an activity that takes advantage of the beautiful, natural landscape of Casela World of Adventure, as well as gives visitors the opportunity to interact directly with the animals that are present there.

You can sign up for a quad safari, where you will be given a buggy, or a quad bike, to manoeuvre your way through the terrain, and enjoy some incredible views on your adventure. You can sign up for a 1-hour or 2-hour tour which will take you near the banks of the Yemen Nature Reserve, where you can spot animals like wild boars, deer, monkeys, and much more.

2. E-bike Safari: If the quad bike is too rugged for you, you can sign up for a calmer version of this safari with the e-bike safari. Electronic bikes that are given out by the park help you to navigate the landscape effortlessly. You can enjoy the peace and quiet this park offers when you sign up for an e-bike safari.

It is also a much more environment-friendly way to explore the park, where you can see African animals such as antelopes like impalas, kudus, Cape Elands and many more exotic creatures.

3. Thrill Mountain Ziplining: One of the most exciting activities guests can enjoy in the park is the Thrill Mountain, a series of adventure activities that will give you the best adrenaline rush of your life. The activity starts with a unique version of bungee jumping, where you get on a swing and dive into a 70m deep canyon.

You can then cross the famous Nepalese Bridge, a hanging rope bridge that offers some of the best views of the park. The activity finally ends with ziplining through the wilderness of Casela, where you traverse a distance of 400m while experiencing fun in its purest form.

4. Segway Safari: One of the best safaris in the park is on the Segway, where you can get on these two-wheeler modern machines, and roam through the park while interacting with game animals from a distance of a few feet only.

The unique nature of the activity, where you can feed zebras, watch monkeys and elephants and ride through the forests in the park on the Segways, leaves you completely breathless.

5. Camel rides: Casela World of Adventures is home to some beautiful camels. The best part is, apart from feeding them, stroking them and petting them, you can also ride these camels in the form of a desert safari! This is another unique way to tour the park, where you can watch African mammals relax in the wilderness.

The safari also offers one of the best views of Rempart Mountain on the horizon. Children can also ride on ponies to embark on this same safari tour.

6. Mud karting: This activity is for the truly wild-at-heart, looking for the ultimate adrenaline rush when they are in Mauritius. Mud karting consists of 10-minutes of intense driving through an off-road dirt track, which is almost always covered in wet mud.

The twists, turns and unexpected routes make for a thrilling adventure, by the end of which, you will be covered in mud, but full of excitement. You can choose between a one-seater or a two-seater kart, which makes the activity even more engaging and competitive.
Other Essential Information About Casela World of Adventures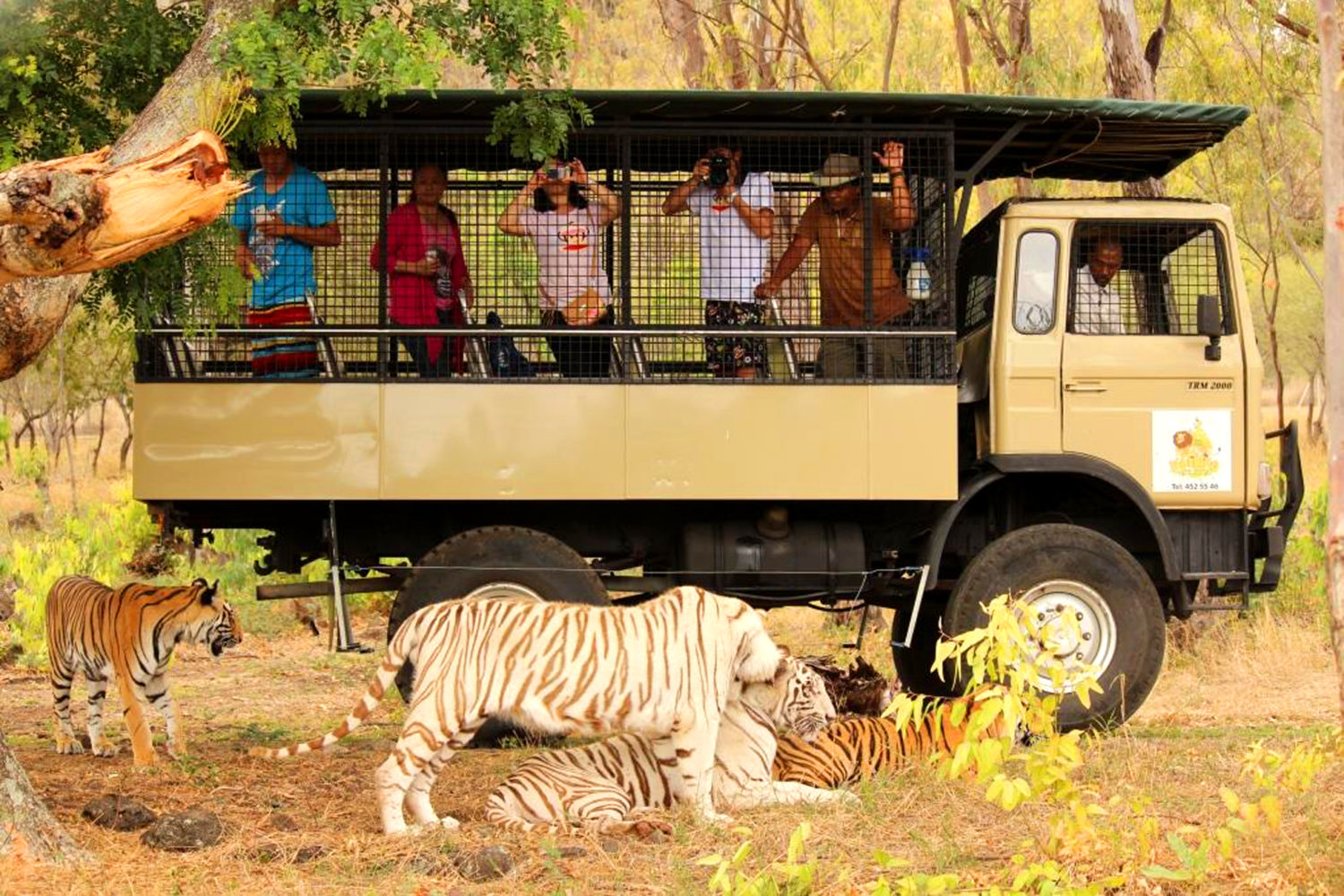 1. Location: Royal Road, Cascavelle, Mauritius.

2. Visiting timing: Monday to Sunday (9:00 – 5:00 pm)

3. Visiting duration: 8 hours

4. Entry Fees:

- For residents: 204 MUR (395 INR) for adults and 108 MUR (210 INR) for children (below the age of 12)
- For non-residents: 401 MUR (775 INR) for adults and 258 MUR (500 INR) for children (below the age of 12).


Experiences at Casela World of Adventures


You can engage in several unique, one-of-a-kind experiences in Casela World of Adventures when you are in Mauritius.

1. Animal Interaction: 
Casela World of Adventures' primary drawing point is its impressive repository of animals and birds. Especially exotic creatures which are not commonly found on the island. If you are interested in animals, then you can interact with these unique creatures and get up-close and personal with them.

The park provides visitors with the opportunity to feed animals such as zebras, giant tortoises, giraffes, exotic macaws and much more. While trainers are guides are with you every step of the way, you can actually touch the animals, have them sit on your shoulders, or eat the food right from your hand. An up-close interaction with nature's own residents is something that stays with you long after you have left the premises of the park.

2. Walk with lions and interact with tigers: 
Very rarely does one get the opportunity to interact with some of the most majestic creatures in the wild. Tamed lions and tigers in Casela World of Adventures allows you to pet lions and tigers, feed them, watch them being fed, and walk beside them as they stroll through their natural enclosure. It is one of the most unique and thrilling activities offered by this park.

3. Petting farm: 
This is an activity that is especially enjoyed by children. If you are travelling with kids, then you must take them to the Petting Farm in Casela World of Adventures, where they can pet some of the most majestic creatures in the park.

You can find a host of wild (but tame) animals such as tortoises, elephants, monkeys, giraffes and much more at the petting farm. You can gently stroke the animals, watch them eat and live as they would in the wild. It is not only an incredible experience in general but also a wonderful learning experience, especially for children.

4. Interaction with rhinos:
Apart from its giraffes, monkeys, lions and tigers, Casela World of Adventures is also home to a large and thriving population of rhinos. You can sign up for a session where you can exclusively interact with one (or more) of these majestic beasts and watch them loiter and bask in the sun.

These are some of nature's most elusive creatures, so to see them and touch them and watch them go about their day from such close proximity is truly a unique experience for adults and children alike.

Facilities at Casela World of Adventures


Because of the vast scale and expanse of Caela World of Adventures, they have many facilities installed, to make your visit convenient, comfortable and memorable. Here are some of their more remarkable facilities:
1. Restaurant:
Casela World of Adventures has its own in-house restaurant, which serves up a delicious range of dishes from Indian, Thai, Mauritian and European cuisines. The restaurant is located on the premises of the park, overlooking a stunning view of the West Coast and Tamarin Bay.

You can even enjoy a host of exquisitely-crafted cocktails and drinks from their bar. If you're travelling with children, you can also order food off their special kid's menu, that offers a variety of child-friendly food, no matter what their preference.

2. Gift shop: 
You would definitely want to take back a souvenir from the magical experience you are bound to have at Casela World of Adventures. Their in-house gift-shop contains items from Africa that are authentic and made by hand. They also sell a number of items that are unique to Mauritius such as handicraft items, toys and textiles.

You can also buy other knick-knacks such as jewellery, accessories, shoes, clothes, keychains, bags and much more. They also have a range of stuffed toys in the shape of the animals found in the park, which is something kids would love to explore and bring home with them. It is the perfect place to purchase a token from, to commemorate your visit to Casela World of Adventures.

3. Other facilities: 
Other facilities in the park include a visitor's help desk, from where you can hire wheelchairs to take through the park. In fact, there are specified pathways that are specially constructed through the park for wheelchairs and prams. All the ladies' washrooms in the park are also equipped with changing stations for children.

Travellers' Tip before visiting Casela World of Adventures


1. While Casela World of Adventures is a well-maintained, highly protected and deeply engaging facility, a few traveller's tips can help you make the most of your adventure there.


2. You have to keep in mind that this park is all about intense activity and lots of walking. Therefore, it is absolutely essential to wear comfortable, breathable clothes and sturdy sports shoes.


3. If you are bringing toddlers to the park, you should accompany them at all times, and stay away from activities that are not toddler, pram or baby-friendly.


4. You have to book some of the activities well in advance to your visit, to make sure you research your activities well before visiting.


5. Safari routes are pre-determined and divided into zones, and breaking the rules or venturing beyond the perimeters during the safari is considered an offence.