About Underwater Waterfall
At the southwest tip of gorgeous Mauritius Island off the coast of Le Morne Brabant, the breath-taking vista of the underwater waterfall mesmerizes tourists with its majestic appeal. The spectacular sight is an extraordinary optical illusion that appears as if the water is gushing deep inside the ocean. This dramatic illusion of cascading water is the impact of oceanic currents.

These islands were created by volcanic eruptions which, in turn, cause sand and other deposits from the nearby beaches to force off the plateau. These are getting down in such a way that it seems like seawater is flowing down deep into an underwater waterfall.

While from the coasts of Le Morne, this stunning waterfall is not noticeable much. One can witness the beauty of the underwater waterfall only from a bird's-eye view high in the sky. A spectrum of helicopter rides are available from the Island to behold this out of the world scenery and capture some beautiful memories. 
 
This dramatic underwater waterfall is indeed a natural wonder and must not be missed while on a trip to Mauritius. Visit this place with your family, friends, or partner to enjoy an everlasting holiday experience.
How to Reach Underwater Waterfall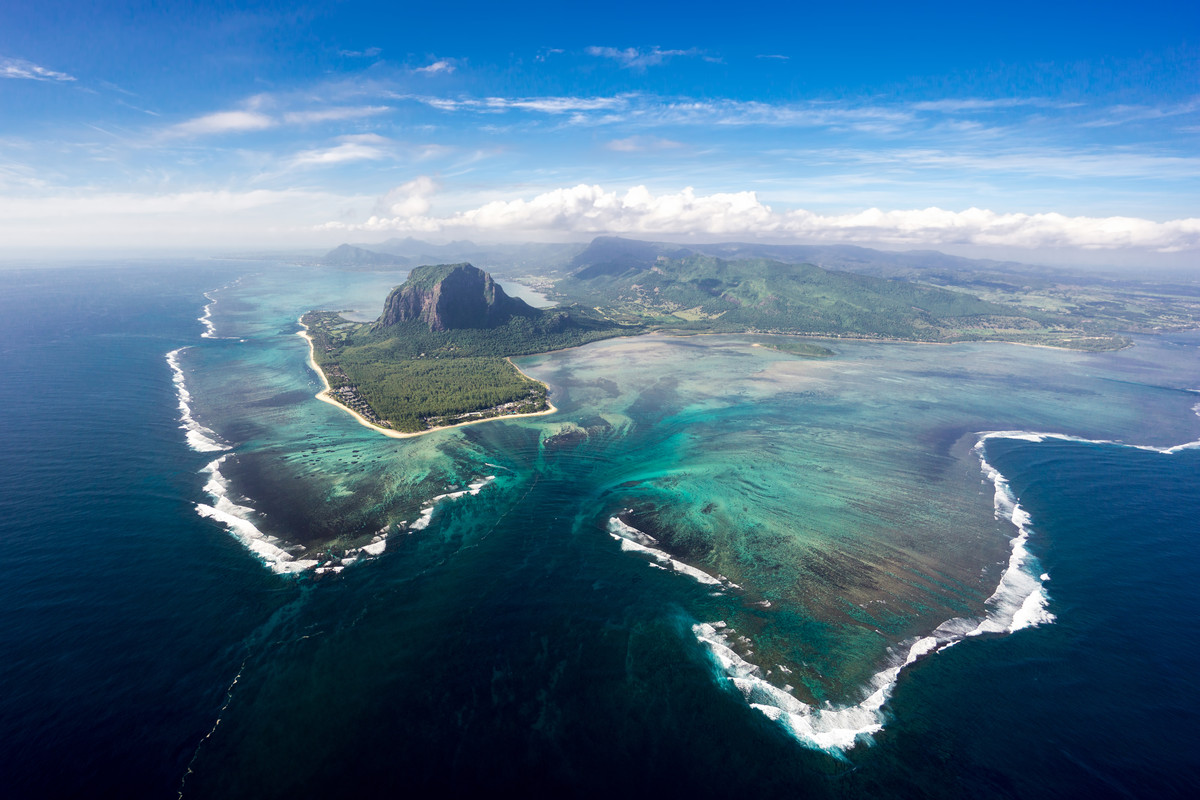 Several tour operators run sightseeing helicopter services from Mauritius International Airport to the underwater waterfall. Plenty of sightseeing helicopter rides are also available from the helipads situated in different regions of Mauritius. You can easily book any ride at your convenience and soak in the spectacular views of this natural marvel.
Best Time to Visit Underwater Waterfall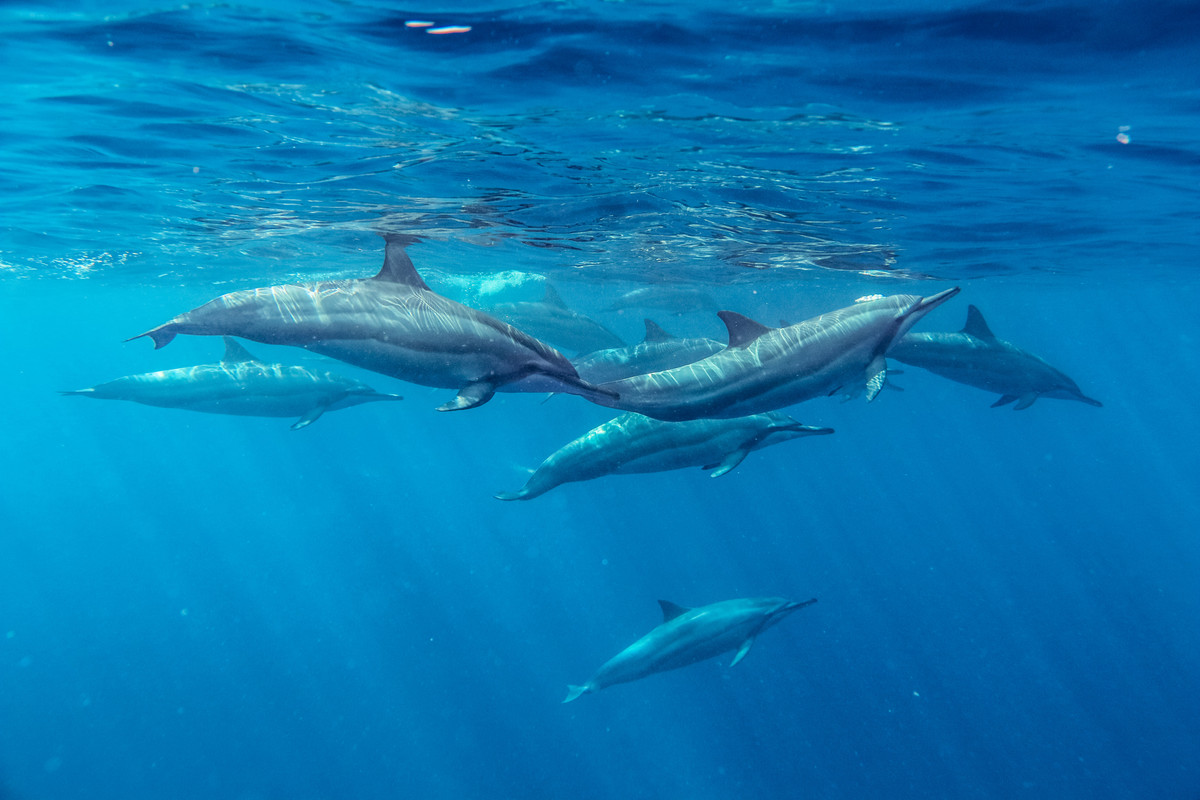 The best time to visit the underwater waterfall is between September to December, when the climatic conditions are appropriate for helicopter rides as rainfall is low. However, the place experiences tropical climatic conditions with pleasantly warm temperatures and limited rainfall, making it an all-year-round destination.
What Not to Miss at Underwater Waterfall



1. Swim with Dolphins:
Opt for snorkeling that will let you get up close with beautiful marine animals and Dolphins and swim by their side.
2. Go for Whale Watching:
Board a speed boat to go far in the sea to see the gigantic whales in their natural surroundings and hear their enormous humpback sounds.
3. Experience Catamaran Cruise:
Sail across the northern shore of the majestic Indian Ocean on board a catamaran. Have a lifetime experience on a lovely two-hour or a full-day cruise and visit Gunners Coin, Ilot Gabriel, and Coin de Mire, etc., en-route.
4. Enjoy at Le Morne Beach:
Indulge in swimming, kite-surfing, horse riding, and many other thrilling activities available at the white coastline of Le Morne. Or, stroll along the beach, sit back and soak in the beauty of surrounding landscapes, or witness the breathtaking views of setting sun over the horizon. 
5. Visit UNESCO World Heritage Site:
Known as the symbol of 'slave's suffering, sacrifices, and fight for freedom', this site is now preserved and must be visited to learn the history and past of the area.
Explore L'ile aux Benitiers and Crystal Rock: Opt for a boat trip and discover natural elegance and scenery at L'ile aux Benitiers Island and Crystal Rock.

6. Witness the beauty of the Underwater Waterfall with an exclusive Helicopter Sightseeing Tour: This 45-minute helicopter journey not only rides you over this stunning waterfall site but lets you enjoy the marvelous aerial views of the Indian Ocean, azure lagoons, coral reefs, white sandy beaches, and lush mountains.
Other Essential Information About Underwater Waterfall

Here are some of the best places to stay near Underwater waterfall:

1. LUX Le Morne:
Nestled at the Le Morne's lagoon-facing point, this five-star hotel is amongst the best addresses near the underwater waterfall. With five pools, a relaxing spa, fascinating chalets amidst the tropical gardens, exotic flavors from around the world, and award-winning wines, this resort promises unforgettable experiences.

2. Paradis Beachcomber Golf Resort & Spa:
Settled against the backdrop of the verdant Le Morne Mountains, this resort features an 18-hole golf course, golf academy, multiple restaurants, a kid's club, adventure activities, luxury villas, and much more.

3. Dinarobin Beachcomber Golf Resort & Spa:
A haven of harmony and tranquility, this resort proves to be an idyllic location to renew your senses and soul. The resort boasts its luxurious all-suite accommodation and access to 8 restaurants, a golf course, spa, private beach, swimming pool, etc.

4. The St. Regis Mauritius Resort:
Renowned for its colonial Manor House, this resort has a pool, fitness club, water sports, spa, tennis court, kite surfing, fine-dining restaurants, a private cinema, and suites accommodation.

5. Boutique Retreats Apartments:
Overlooking majestic Le Morne Mountains, these are ten well-appointed 1/2/3 BHK apartments, each with their en-suite kitchen, private terraces, and ocean views.

6. Villa Ayapana:
Set at the foot of the Morne Brabant, this is a 4-suite premium villa featuring a private swimming pool, air conditioning, Wi-Fi, TV, a housekeeper, and can comfortably accommodate up to 8 adults and 2 kids.