About Chamarel Waterfalls
Chamarel Waterfall is a 100-meter high jaw-dropping thunder and is acknowledged as Mauritius' highest waterfall. It is situated within the close proximity of the famous Seven Colored Earth of Chamarel. Dropping from a whopping height of more than 200 feet, the Chamarel Waterfalls are actually the outcome of the St. Denis River, which flows through the island. What makes the waterfall more gorgeous is its covering with dense foliage formed due to the presence of the Black River Gorges.

If you are scared to walk down the slippery portion of the waterfalls, you still can enjoy its magnificence from a distance as the place has got excellent viewpoints. The presence of these viewpoints makes it easier for you to capture some stunning images of the waterfalls from different angles. Unlike many other waterfalls across the planet, the illustration created by these Chamarel Waterfalls explicitly is dependent on the season when you plan your visit here.

During summers, you will see the waterfall bifurcated into two to three distinct trickles. However, the waterfall is a real delight for the eyes of all the nature wanderers in monsoons when it gushes down in the form of a vast stream. Tourists visiting the Chamarel Waterfalls of Mauritius do not miss the opportunity to participate in the abseiling activity here.
How to Reach Chamarel Waterfalls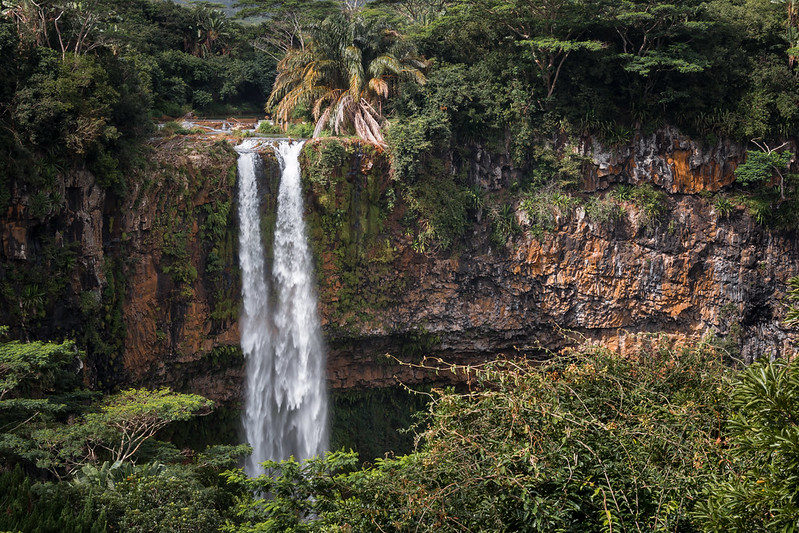 By Road – All those travelling in groups should prefer to get transferred by hired cars. 
By Rail – Mauritius lacks well-defined railway connectivity. So, all those who are looking to reach the Chamarel Waterfalls by train or metro will be highly disappointed. 
By Bus – There are many bus facilities available between the Mauritius City Centre and the Chamarel Seven Colored Earth gate. You can either opt for government buses or those which are run by private travel agencies. 
Best Time to Visit Chamarel Waterfalls


The period between May to December is preferable to plan your visit to the Chamarel Waterfalls as the weather remains pleasant here in Mauritius. This is the wet season in Mauritius, where the waterfall flows into its full force. On the other hand, during the dry season, the waterfalls may appear to split into two different parts, which may mask its beauty. 
What Not to Miss at Chamarel Waterfalls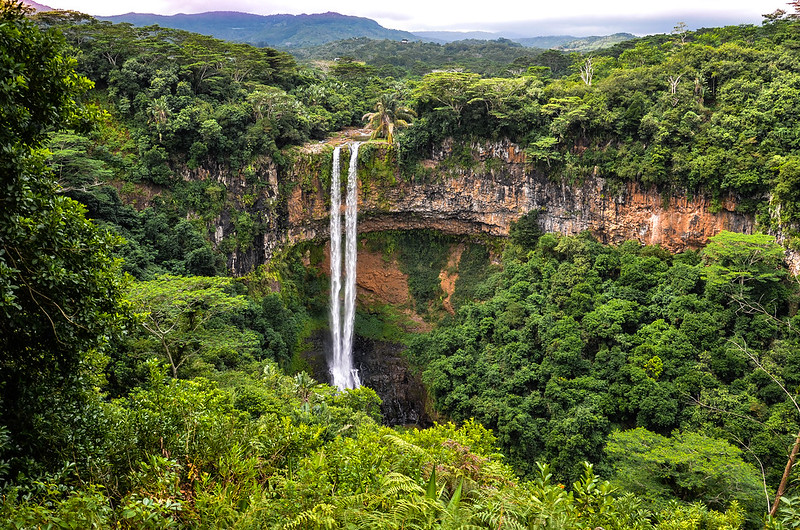 Here is a list of some adventurous thing to enjoy near the Chamarel Waterfalls to make it a memorable trip for you –

1. Hiking – People visiting the Chamarel Waterfalls never miss on abseiling down through its sheer cliff and then finally jumping into crystal clear waters that create a pool below. Not many are aware of this adventurous activity unless you visit these waterfalls in Mauritius. Abseiling through the height of 100 meters of the waterfall just with the support of safety harness and a rope gives your adrenaline a greater force to pump fiercely.

2. Trekking – The beauty of the Chamarel Waterfalls is amplified further by a canyon that surrounds it. Locals believe that this canyon dates back to millions of years and so, do the waterfalls. To witness the dense foliage more closely, you can start trekking from the basal portion of the waterfalls and hike until you reach the dense tropical forest. Don't be scared as at some points, you might come across some volcanic erupts that might drive your back to the historical evolution of the place's physiology.

3. Photography – No wonder why waterfalls are highly adored by photographers. Chamarel Waterfall in Mauritius will give you plenty of reason to understand how and why the waterfalls hypnotize photographers. The illustration created by this magnificent waterfall with a river canyon and the lush green verdant hills in the background is simply astounding.

Look up anywhere, and you are surely going to catch some beautiful views created as soon as the blue skies touch and kiss the green hues that surround the waterfalls there. If you are a professional photographer, you might understand the importance of this place both for landscape photography and drone videography.

4. Hop at the Seven Colored Earth – The uniqueness of Mauritius is well-defined by its Seven Colored Earth, where you have unique geological formations that shimmer as soon as the sun radiates its light on to it. The more sun rays fall on it, the more it shines in different colors. Here, you get a hue of seven different shades of a VIBGYOR illustration. This region has such geological physiology owing to the presence of some volcanic eruptions here somewhere in the past.

5. Play with the baby tortoise at the Tortoise Park – Walk just a few miles from the Seven Colored Earth, and you will come across a beautiful land of Seven Colored Earth. You can call this place as a breeding ground of the Aldabra Tortoise, which is the second-largest tortoise species in the world.

Originally coming from Seychelles, these tortoises grow in size until they reach 1m. Their life span is 150 years, so be ready to spot some older tortoise here. If you are a wildlife photographer, you can get clicked with or click some images of these gentle creatures. If possible, do make efforts to feed their baby versions. It gives you a different sense of satisfaction.

6. Be lost in the Curious Corner of Chamarel – Shocked by the name itself? There's a reason why the place is called so. Although visitors usually label this place as a house of illusions but believe us, this place is beyond all of our imaginations. Built across a land stretch of 5000 square area, there are more than 40 different exhibits within.

The illusions and all the mind-bending tricks here will surprise and thrill you upside down. Just step into their Mirror Maze Room or Upside Down Room and witness a world full of magical illustrations.


Places to Visit near Chamarel Waterfall


Want to dig what more Chamarel has got for you? Check it out here –

1. Le Morne – If you are around the Chamarel Waterfalls and want to explore more of South Mauritius, Le Morne is the perfect place for you to hang for the rest of the day. It is an ideal weekend spot for swimming amidst the shining blue water currents. Besides, swimming and beach walk, you can indulge in some of the water sports here.

What is it known for – Windsurfing and Kiteboarding.

2. Black River Gorges National Park – If you are a person who loves wild adventure a lot, this is your next stop point after your visit to the Chamarel Waterfalls. The entire area of the national park measures around 68 km. It is often tagged as a famous spot for all wildlife photographers.

The place is boosted with an abundance stretch of extensive flora and fauna. Besides, the national park has got some zones reserved as park field stations, which are worthy for a researcher to research the local floral species and their available varieties. Roam around the national park, and you are surely going to hunt for a plethora of wildlife here like – privets, wild pigs, Chinese guava, and Rusa deer. If you are fortunate enough, you might even come across some residential endangered species here.

What is it known for – Camping and Hiking.

3. Trou Aux Cerfs – Also known as the Murr's Volcano, Trou Aux Cerf measures around 605 meters and is often tagged as a high dormant volcano of Mauritius. The crater of this volcano itself is 80 meters in its depth and 350 meters wide. Experts researching this masterpiece of nature are of the stand that this volcano can turn out to be active at any point in time.

What it is known for – Jeep tours and jogging around the naturally formed crater lake.

4. Chamarel Colored Earth – Be lost in a magical world where you have the earth painted in seven different colors. The geological experts who ever paid a visit here believe that the illustration is the outcome of the volcanic eruptions that took place here somewhere in the past. This stupefying attraction shines brilliantly in seven different colors as soon as the sunlight falls on to it.

What it is known for – Sunrise point when the sun radiates its rays on to this magical piece of land which shines brilliantly than ever.

5. Rochester Falls – If you are an avid waterfall lover, Rochester Waterfalls is the place to plan your weekend trip. The lush greenery that surrounds these falls are worthy of being captured from all angles. The entire illustration created by the waterfalls and its backdrop will de-stress you within a short period. Do not forget to capture all those flank rocks whose presence here embraces the whole scenery.

Taking a dip into the waters that give rise to a beautiful pond beneath the floors of the waterfalls is a favorite activity of visitors reaching here. In the end, do buy some tropical fruits from the local vendors roaming in and around just to take care that none of the visitors cry out of hunger. 
Other Essential Information About Chamarel Waterfalls


Timings – Chamarel Waterfalls of Mauritius are easily accessible between 08:30 am in the morning to 05:00 pm in the evening.

Entry Fee – Your entrance fee to the Chamarel Waterfalls is inclusive in those 200 MUR what you spend while entering the Chamarel Seven Colored Earth.

Location – The Chamarel Waterfalls are located within the Seven Colored Earth in the Chamarel Village of Mauritius.

Height – Chamarel Waterfalls has got a height of around 100 meters.


Places To Stay Near Chamarel Waterfalls


Here's a quick reference list for you to find your right accommodation near the Chamarel Waterfalls

1. La Vieille Cheminee- The La Vieille Cheminee offers a Creole-style lodging option, which is characterized by both peace and tranquillity. It is built upon a tropical farm and features a good count of both cottages and lodges. Accommodate yourself in any of the rooms here, and you are surely going to wake to the call of some fantastic birds hovering through the Chamarel Valley. Besides, they do offer horse rides to take sufficient care of the fact that not even for a single moment any of their guests feel bored here.

Location – Black River, Chamarel

Distance – 1.7 km from the Chamarel Waterfalls

2. Lakaz Chamarel Exclusive Lodge- This is a beautiful four-star hotel where you can find all the luxury and comfort you need to make your Mauritius stay a happening one for you and your loved ones. What makes your stay more special here is that the entire lodge is built in an eco-friendly setting, Peep out from the window of any room here, and you are surely going to get a picturesque vista of the vastly stretched Chamarel Valley.

Once you return from your Mauritius tour in the evening, you can either opt for a relaxing swimming experience or indulge in some spa activities. Nevertheless, this is rated amongst the best romantic hotels of Mauritius.

Location – Piton Canot 

Distance – 4.1 km from the Chamarel Waterfalls

3. Green Cottage Chamarel- Green Cottage is tucked amidst a tropical forest cover spread along the slopes of the Chamarel Mountains. The cottage has two spacious rooms with en suite bathrooms, lounges with a fireplace, a terrace, and a bathroom. You have both private and a secured parking zone here. For guest security, they do have an alarm system equipped with guest response.


Location –  
Seven Colored Earth Road


Distance –
0.4 km from the Chamarel Waterfalls


Features of Chamarel Waterfall Mauritius
If you are visiting Mauritius for the very first time in your life, you are likely to come across a certain set of confusions that why you need to specially visit these Chamarel Waterfalls and not the famous Mauritius beaches? So, here's the reason why we emphasize you to prefer these waterfalls –

1. They measure around 100 meters in length, and hence they rise as tall as the world's iconic wonder – the Statue of Liberty.

2. The uniqueness of the Chamarel Waterfalls lies in its pristine natural setting where you have dense foliage and rocky canyons in the backdrop.

3. It is located within the Seven Colored Earth, which is the natural wonder of Mauritius.

4. If you are planning to accommodate yourself either at Tamarin or Port Louis or Souillac or Curepipe, you can easily plan a cheat day at leisure here on your tour across Mauritius.

5. The place is compatible with all - the newlywed couples or families or those who are travelling with their friends. 


Tips for Visiting Chamarel Waterfalls


Here are some useful tips to consider in advance while visiting the Chamarel Waterfalls –

1. Make sure that your backpack contains a good mosquito spray or repellent. As you get near the waterfalls, you might face insect bites. So, it is always better to carry a mosquito repellent or a spray for your safety.

2. As these waterfalls are situated within dense foliage, there are higher possibilities of monkeys wandering here and there. Make sure that you keep a check on all your belongings. If possible, try to carry as little stuff as you can while visiting the Chamarel Waterfalls.

3. If you are going to spend a lot of time near the waterfalls, it is better to carry some food with you. Also, you need to keep a bottle of water to keep yourself hydrated throughout. There are no stalls near the Chamarel Waterfalls.

4. The moment you feel hungry, you can walk a distance away from the waterfalls to have your food. Please do not open any food packets in and around the waterfalls as there are chances that the monkeys there within the dense foliage might snatch away all your foodstuff.

5. Prefer to wear any lightweight footwear so that you can walk comfortably while visiting the Chamarel Waterfalls. Sometimes, the surface might turn out to be slippery, so you need to have a good grip while walking.

6. You can also enjoy the Chamarel Waterfalls by climbing atop a viewpoint located within the 7 colored earth in Chamarel. The waterfalls are best viewed from the uppermost deck of this viewpoint.