About Chapora Beach


Embedded with soothing white sand, groovy coconut trees and a ton of adventurous activities, the Chapora Beach is a fantastic destination for a holiday. The place is adored for it's a long stretch of beaches, a calm atmosphere and more importantly an array of restaurants and shacks that resides there. The beach serves perfectly to both adventure lovers and travelers who are out for a fun relaxed indolent weekend. Activities like surfing and relaxing in the shack are much enjoyed at Chapora Beach.

Additionally, the beach serves a buffet of watersports starting all the way from paragliding, windsurfing, jet skiing to fishing and more. Tourists can also enjoy spotting water animals like crocodiles at Chapora beach along with participating in leisure some bath in the ocean or swimming against the tides.  Furthermore,With a ton of restaurants, eateries, shacks, and bars, travellers can enjoy some of the most authentic seafood recipes and delicious delicacies making it a paradise for foodies. 
At Chapora Beach, as the day dwells into the dazzling night, the party proceeds. The beach serves spot-on for individuals who love to party on amidst the ocean. Chapora Beach is equipped with a number of pubs and clubs which,at night, dazzles into an exciting place to party, dancing, dining and more. All in all, for adventure seekers and leisure lovers looking to get the best out of their extended weekend holiday, Chapora Beach is the place for you.

How to Reach Chapora Beach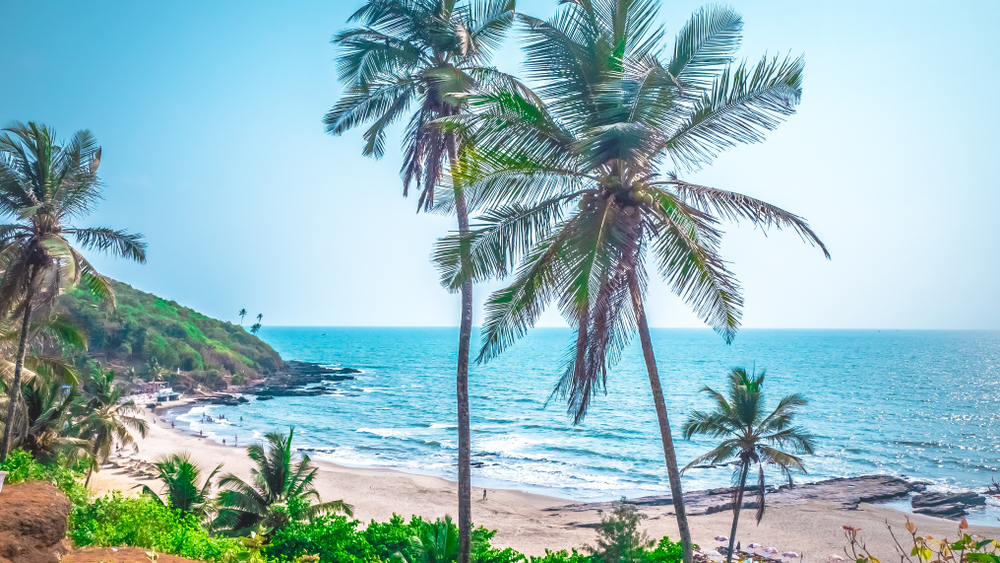 - How to Reach Chapora Beach from Panji
The distance between Panji and Chapora beach is around 22 km. You can choose to either rent a car/scooter to drive from Panji to Chapora beach through Aguada-Siolim Rd. It can take up to an hour to reach. However, a much cheaper option is the local bus service. Buses run regularly from Panji to Chapora beach and take up to 1hour 30minutes. 
- How to Reach Chapora Beach from Goa International Airport
The distance between Chapora beach from Goa International Airport is about 45 km. There is a local bus service available from the airport to Chapora village from where the beach is walking distance. You can also rent a car and drive directly to the beach. Taxi service is also available but it can be a more costly option. 
Best Time to Visit Chapora Beach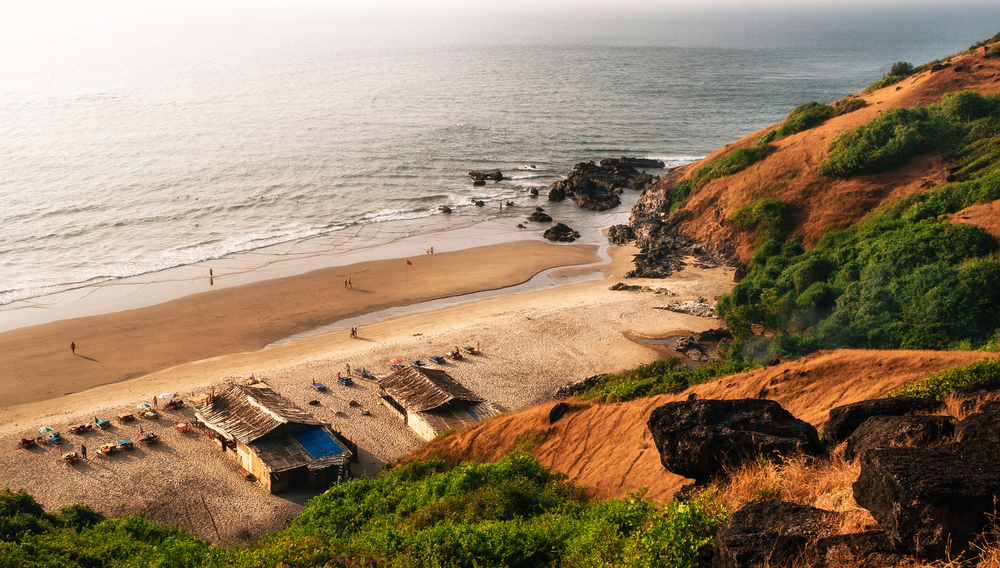 The best time to visit the Chapora beach is between the months of November and March.  The weather during this time is calm and pleasant which allows the visitors to enjoy a number of activities and watersports. However, if you like strolling down the beach in the rainy season you should visit the place between the months of June and August.
What Not to Miss at Chapora Beach


The Chapora Fort- Established by the Portugues, the fort is most popular for its involvement in the Hindi movie 'Dil Chahta Hai'. With the backdrop of the beautiful sea, the fort serves as the go-to location for clicking pictures with friends and family and enjoying the sunset. 
Spice Trades - The beach is encapsulated with an array of restaurants and shacks like spice trade. Tourists can enjoy a wholesome meal with authentic Goan flavors. The restaurants here also serves some of the best seafood.
Terra Conscious - Indulge in an extravagant evening of spotting exotic sea creatures including Dolphins and Whales. It is a fun-filled activity that can be truly enjoyed with family. 
Spa by Clarins - Places like Spa by Clarins offers some of the best spa experience in the town. A great way to de-stress your body, if you are at Chapora Beach, spa should be absolutely tried.
Scuba Evolution India - Love adventures? Establishments like the Scuba Evolution India help you relish some of the best watersports including Scuba diving and Snorkeling. 
Konkan Explorers - Ride along in the density of the river amidst the tropics with your friends. There are various places near the beach you can enroll for a boat ride including Konkan Explorers. 
Other Essential Information About Chapora Beach
Watersports in Chapora Beach
Scuba diving and Snorkeling - dive into the divine sea to discover a variety of sea flora and fauna. The Chapora Beach offers the perfect spot for divers, both professional and beginners to enjoy the underwater. There are various establishments at the beach that help explorers with proper gears and guide them thoroughly through the process. 

Boat riding - A more subtle spot of enjoying the calm sea and indulge in fun picturesque moments with your family and friends, boat riding is an excellent option for families wanting to enjoy group activities. 
Paragliding and parasailing - Safe and guarded yet designed to pump some real adrenaline into your bodies, paragliding, and parasailing here is an absolute must for adventure lovers. 
Fishing - A calm, cozy time amidst the wide sea, fishing is definitely one sport you can indulge in. There are places near the beach that offer complete equipment along with a boat and guidance, if required, to tourists for fishing. 
Jet Skiing - Jet Ski is another water sport for which the Chapora Beach is highly appreciated. The beach has some of the best Jet Skis that can be easily enjoyed by both professional skiers and amateur riders trying their hand for the first time. 
Nightlife at Chapora Beach 


Water Beach lounge- Located right next to the beach the place offers one other the best place to party at the beach and indulge in a night embedded with dance and DJ. 


Hill Top -
This celebrated club which was once a small restaurant hosts some of Goa's biggest open-air parties. Dj's and artists from around the globe visit here. The place is known for delivering an authentic Goan trance and psychedelic nights. It is also one of the primary spots to enjoy special occasions including New Year's. 

Curlies and Shiva Valley -
Favorite among party enthusiasm, this upbeat spot is recognized as the most favorite shack with parties going on until sunrise. Monday and Thursday parties at Curlies and Shiva Valley are especially legendary and must try. 

Chronicle -
Serving a sorted of delicious food from around the globe the Chronicle has grown slowly into a place not just for parties but also for some scrumptious meals and innovative drinks. 

Cape Town Cafe -
A subtle and more fun place for people who would love to enjoy authentic dining options, Cape Town Cafe is celebrated for its flavor-rich dishes and an entertaining environment. Fitted with flat screen and happy hours till midnight, you can enjoy your favorite match which sipping up on your drink all night. 
Places to eat at Chapora Beach


Jardin d'Ulysse - Presenting a blend of Seafood, European and Meditarian menu, the restaurant is perfect for travelers who enjoy a variety of food on their plate. The atmosphere here is also very calm, surrounded by trees. Vegan and vegetarian food is also a specialty here. 
Bean Me Up - A garden-style restaurant with a variety of healthy dining options including vegan, vegetarian and gluten-free food. Apart from being delicious, their menu items are also not very heavy on the pocket. And visitors can have a complete meal without having to look at the price. 
Alibi - A more hip dining option, Alibi serves a spread of cuisine but is famous for Indian. From vegetarian to a blend of chicken dishes the place is an expert at serving Indian food. If you love authentic Indian food lover, this is the place to be. 
Jai Ganesh Fruit Juice Center - Found near the Chapora Market, this juice center is famous for its versatility in organic spread of delicious juices and beverages. From fresh fruit bowl to ice cream and fresh fruit juice, the cafe serves as the perfect companion, especially in the summer season. 
Burger Factor - Looking to get a little snack on the go? The Burger Factor is the place for you. Budget friendly and scrumptious, the Budget Factor is a must visit for foodies. 
Shopping at Chapora Beach
At Chapora beach travelers can indulge in shopping for a variety of beachside ornaments, clothes, and memorabilia including Goa Handicrafts, Shell Work, Bass ornaments and more. There are various jewelry shops in the vicinity of the beach where you can indulge in shopping for some rare stores and jewelry authentic to Goa.

The Chapora village is also not very far from the beach and you can visit here to discover and purchase various cultural dresses and decorative items in shops. All in all, the beach is perfect for some light shopping, especially local ornaments, clothes, and souvenirs.
Places to Stay near Chapora Beach



The Grand Leoney Resort - Walking distance from the Chapora Fort, the Grand Leoney Resort provides luxurious accommodation options with top of the line amenities including their own Bar, a swimming pool, laundry service, free car parking and a 24.7 front desk service.
Shantie Shakthi Vagator Resort - Equipped with an extravagant swimming pool among other amenities, the Shanti Shakti Vagator Resort is one of the best options for accommodation near Chapora Beach. The rooms here are also spacious with a king-size bed and accommodation for up to 3 guests. Other amenities in the facility include - free WiFi, restaurant, BBQ facility, Bar, Coffee Shop, Dry Cleaning, Laundry service and more. 
Garden Villa Vagator - With a calm ambiance and spacious rooms, the Garden Villa Vagator provides a cottage style accommodation options suitable for up to 2 guests. It is also one of the most affordable options. Major amenities of the place include a NightClub, Massage, Spa, Salon, Free car parking and more.
W Goa - An epitome of luxury and comfort, the W Goa is equipped with spacious rooms overlooking the ocean and a ton of amenities. The place is also close to various beaches and tours from the place to numerous places in Goa are also provided. Top amenities of the place includes -  restaurants, swimming pool, bar, fishing, gym, spa, massage, steam room and more.
Dolrina guest house - If you are traveling on a budget to Chapora Beach and not looking to invest a ton on your accommodation them Dolrina Guest House is the place for you. The guest house is equipped with up to twin rooms. Amenities include showers, laundry, car parking for free and more are so provided in the house. Additionally, kids and teenagers from 1-21 years are not needed to pay if they are accompanied by adults. 
Things to Carry at Chapora Beach 



-With the wonders you are surrounded by it is important to have all your belongings intact. So, wherever you go carry a bag that fits all your belongings. 
-The beach can be tedious with days of high temperatures, it is important that you carry enough water to stay hydrated and sunscreen to protect your skin. 
-All places including restaurants have options to pay through credit and debit cards and you should practice the same.
-Emergency medication is also very important to carry.
 -It is also best if you have a local guide book for your reference. 
Shacks at Chapora Beach
Our Shack - Overlooking the beautiful ocean is Our Shack. Perfect place to relax, rejoice with kids and family, the shack is equipped with a bar and food options to enjoy. Apart from a great ambiance the shack also delivers some amazing music and amenities like showers and massage. 
Unknown Isolated Shack - Contradictory to the name, the shack is quite famous for its screen environment and delicious seafood. The place is kid-friendly and provides a ton of amenities apart from assumptions meals that include divine access to the beach, a tantalizing sunset view and more. 
Sea Gull Beach Shack - Dine, wine and a total chilled atmosphere, the Sea Gull Beach Resort provides the perfect spot for you to relax and hide away from the excruciating sun. Various delicacies and snacks along with a variety of beverages are also available here. 
Beach Bar - The perfect spot for our evening plans, the Beach Bar delivers a blend of dining and wine options. The place is famous among tourists for its variety of cocktails among other beverages. Extremely close to the sea you can enjoy here with your drink while keeping a watch on your children near the shore. 
Medical Facilities near Chapora Beach



Although there are a few hospitals and clinics near the beach like Adolescent Health Clinic, they have specific working hours. But in case of emergencies essential doctors who are available 24/7 can be contacted. In other cases, St. Anthony Hospital is the closest medical facility to the Chapola beach. Apart from this, you should also carry your own emergency medicine and first aid kid. Local help form residence can also be asked as the localities here are extremely friendly and helpful and can help you locate a clinic if not a hospital nearby. But always try to stay safe and away from any danger. 
Travelers' Tip before visiting Chapora Beach 



-Do not eat from anywhere and everywhere, choose a good shack or a restaurant and dine there.
-Keep all your luggage and belongings safe and preferably close to you at all times. 
-Be careful of dogs since there are many on the beach. -
-Carry all your money on your debit or credit card with very little cash.
-If you are traveling in a group make sure you get a car as local travel can be costly and a rental car or scooter might come in much cheaper. 
-There are various options for accommodations available these range from luxurious resorts for families to guest homes for solo travelers, all with a varied price point. So, don't zero in on one place. There are many options and you should give some time into choosing your preferred place to stay.