About Anjuna Beach
India's West Coast paradise, Goa, is home to some glorious beaches of India. One of them is known as the Anjuna Beach. From a quiet family vacation to an adventure-filled weekend with your squad, the beach caters to people with different travel tastes and budgets.  Famed for its Goan influences, trendy nightclubs, beachside hotels and resorts, Anjuna beach is a glamorous paradise within Goa.
Stretched over the golden coastline, the southern and northern end of Anjuna beach offers a plethora of activities. While the southern end consists of a rocky headland, the northern end host water sports like bungee jumping, bumpy banana ride, and much more. Anjuna beach is Goa's local "multidimensional entertainment hub". 
Anjuna beach provides you with some of the stunning scenery and photographic view during sunrise and sunset. The combination of the white sand and the scintillating blue sea create an unbeatable view. Also, you might not want to miss the principal attraction of the beach, the flea market. It captivates a large number of tourists to crowd this place every Wednesday. You'll get an excellent deal if you're an expert in bargaining.
How to Reach Anjuna Beach
-How to reach Anjuna Beach from Panaji – You can reach Anjuna Beach by taking a local bus from Panjim KTC Bus Stand to Mapusa. Take a bus from Panaji to Mapusa, and then another bus from Mapusa to Anjuna. As the distance between Anjuna Beach and Panaji is almost 18 km, it'll take 40-45 minutes during travelling.
-How to reach Anjuna Beach from Goa International Airport – You can either take a prepaid taxi from the airport or a local bus. If you want to go by bus then walk to the bus stand and take a bus till Panaji. Again, the same route follows, another bus from Mapusa to Anjuna beach. The ride is convenient and affordable.
Best Time to Visit Anjuna Beach


The perfect time to visit Anjuna Beach is in winters which usually begin from November to March. Goa's weather is quite breezy and pleasant during this time. Though, you might want to keep an extra woollen with you. The temperature ranges between 21 C to 33 C. 
The summers would be warm and not a good time for vacations.
Moreover, tourists should be careful if visiting during the monsoon, i.e., from June to October. The high tides and heavy rainfall can disturb your planned itinerary. During monsoon, you can see a rise in the water level of the Anjuna Beach, that's why tourists usually avoid going there.
What Not to Miss at Anjuna Beach


A pedestrians-only strip of historical monuments and churches, you gotta stop by the architectural beauties near Anjuna Beach. 

Aguada Fort – Known to protect Old Goa, Aguada Fort is a well-preserved 17th-century Portuguese fort. Overlooking the vast expanse of Arabian Sea, the fort is famous for the lighthouse and Aguada jail.

St. Anthony's Church – Dedicated to St Anthony of Padua, the church consists of fine architecture and structure. The Neo-Gothic style church possesses two steeples on the frontispiece and a statue of St Anthony.

Baga Beach – Lined with an array of tattoo parlours, spas, local eateries, Baga is one of the most popular beaches in North Goa. It is the perfect place for witnessing the nightlife of Goa.

Chapora Fort – Another jewel built by the Portuguese, Chapora Fort is enriched with history and beauty. It offers a splendid view of the surrounding Anjuna, Chapora, and Vagator beaches. The fort gets its name from Chapora river.

Albuquerque Mansion – Constructed with white stones, Albuquerque Mansion is a historical antique of 1920. Tourists usually visit this place for a splendid view of Mangalore tile and octagonal towers lined up in the mansion.  
Other Essential Information About Anjuna Beach
Water Sports in Anjuna Beach –



Top off your fun getaway with some thrilling adventures at Anjuna beach. Give away your camera to friends for a picturesque and memorable shot.

Parasailing – The Anjuna beach is known for its mystical rock formations and scenic beauty. Tourists usually parasail here to experience this picturesque view. Also, you don't want to miss overlooking the Aguada fort when you are in the sky.

Bumpy banana ride – One of the best water sports in Goa, a visit to Anjuna is incomplete without the bumpy banana ride. With proper guidance and safety measures, you can enjoy the ride with your squad.  

Snorkelling – Looking to spend your vacation with the wonders of the marine life? Then Anjuna beach is the place you should be in. The beach offers to get in touch with the spectacular underwater world.

Boat ride – Known for its adventurous traits, Anjuna beach is visited fervently by young adults for the boat rides. Twinkling blue waters, pristine beaches, and the aquatic life are some of the ride's many lures.

Jet ski ride – Moving smoothly through the vast expanse of the Arabian sea, jet skiing is the most popular water sports at the Anjuna beach. It might be scary, but delve deep into your comfort level and give it a try.
Nightlife at Anjuna Beach –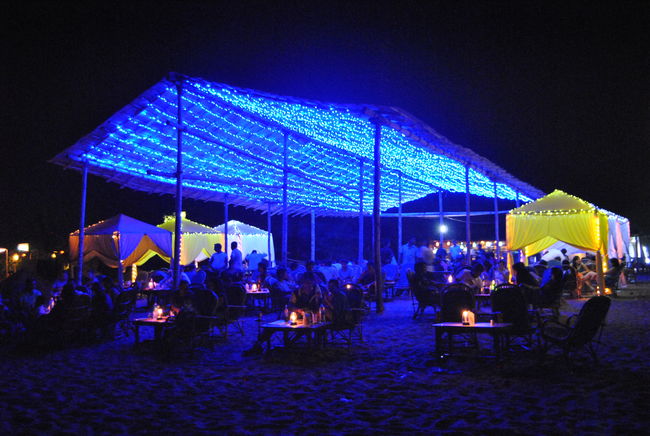 The party hotspot of Anjuna beach, cafes and clubs invite locals and tourists from everywhere with world-class DJs and groovy music for a terrific night out.

Curlies – Deserted by the day, Curlies comes to life after dusk. It is perhaps one of the oldest shacks Goa has seen. From trance lovers to party haters, this place is for everyone.

Club Cubana – Located atop Arpora hill, Club Cubana is also known as 'Nightclub in the Sky'. Amazing food, spectacular ambience, and affordable pricing are the USP of this place.

Shiva Valley – Looking for a boisterous Goan nightclub with trance music with different cuisines? Head to Shiva valley. One of the hottest party spots in Goa, you can lose yourself in its beauty.

Xtreme Sports bar – Located near the Anjuna beach, Xtreme Sports Bar is what its name suggests, extreme. Known for its wonderful ambience in this vicinity, this place is a haven for jovial tourists.

Café Lilliput – Yet another amazing café located in Anjuna, the Café Lilliput is the place that you would love to be in. It is known for the view of the starlit skies and delicious eateries.
Places to eat at Anjuna Beach –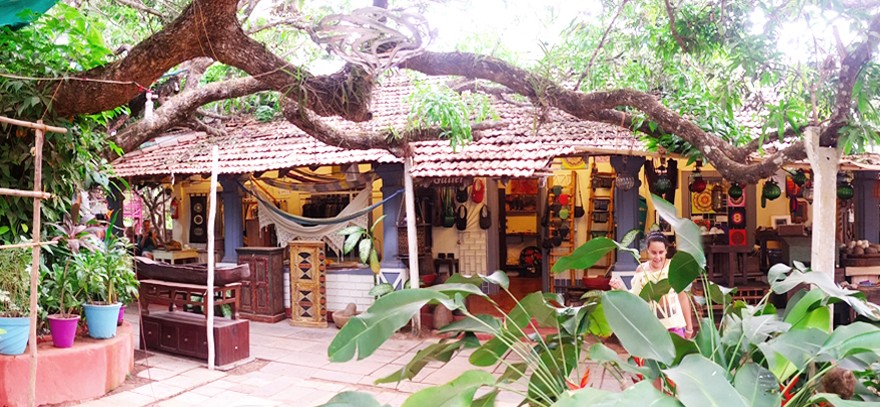 You can't Anjuna beach without trying some Goan flavour! The cafes and restaurants at the beach serves some legendary dishes in an authentic and laid-back setting.

Eva Café – Head to Eva Café on Anjuna beach for a serene relaxing spot. The shack is situated right on the rocks, so savour the view of Anjuna beach while munching on the famous avocado sandwich.

Goa's Ark – Known for the perfectly cooked Mediterranean food, Goa's Ark is popular for its authenticity. While you pay a good value for money, it is an ideal place to relax and unwind.

Oasis Café – Want to explore the local eateries? Head to Oasis Café. With an ambience of hilarious wall plates, the café offers international cuisines, also, the Goan fish curry is highly recommended.

Café Looda – Missing North Indian food while exploring Goa? Café Looda is the place that would solve it. Nibble on appetizers while watching the sun go down across the beach.

Artjuna – A popular artsy and cozy restaurant in Anjuna, Artjuna is what its name suggests. Known for its variety of breakfast, pancakes and breakfast smoothie are highly recommended to rejuvenate your morning.

Shopping at Anjuna Beach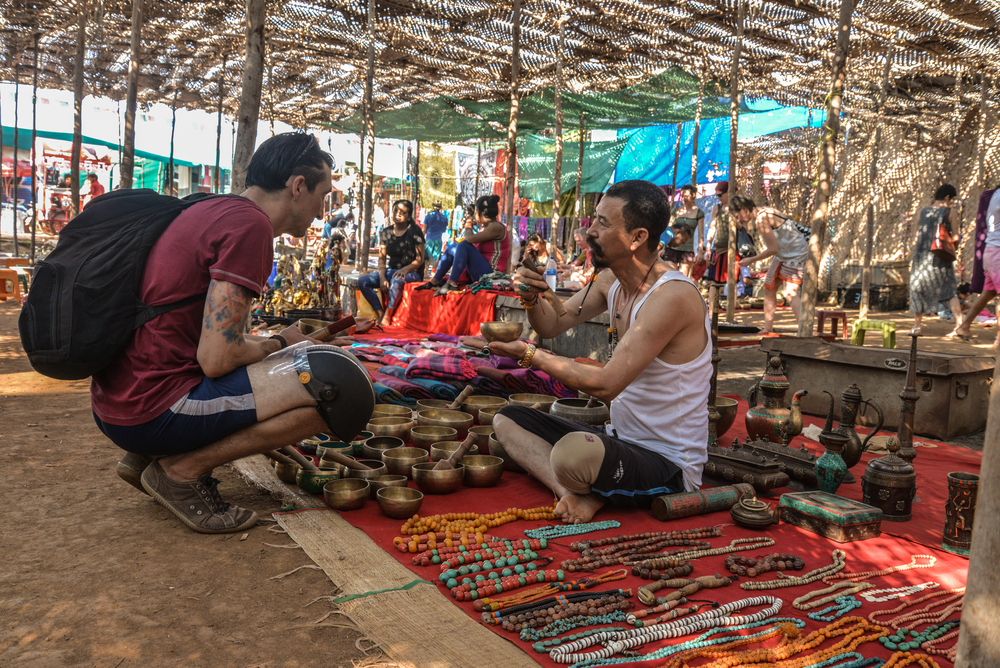 Anjuna Flea Market – Anjuna's flea market is the queen of the hippie flea markets of Goa. Breaking the mainstream ideas of shopping, the flea market welcomes merchandise from all over India. You can easily spot Tibetan and Kashmiri traders, colourful saris from Rajasthan, bags and bedspreads from Gujarat, and much more.

Places to Stay near Anjuna Beach –




Anjuna beach is a sophisticated collection of boutique rooms, suites, and bungalows. With a full range of dining options, spa, nightclubs, and pools, you will never be bored here. 

Casa Anjuna – Built in Portuguese-colonial architectural style, Casa Anjuna is a 3-star luxury boutique hotel in Goa. Along with a swimming pool and elegant upholstery, it would remind you of the 60s and 70s era.

Spazio Leisure Resort – Located in the heart of Anjuna in North Goa, Spazio is set within the lush tropical landscaping. Offering an ideal retreat, the resort provides warm hospitality with nicely built rooms and facilities.

Country Club de Goa – Looking for a soothing getaway? Head to Country Club de Goa for its highlighting features of a plush swimming pool, a gym, a beautiful coffee shop, and modern amenities. 

Evershine Guest House – An excellent accommodation for the Goa vacationers, Evershine Guest House is quite close to the Anjuna beach. A quaint property with a promise of a comfortable stay, tourists usually select this place.

Ginger Tree Boutique Resort – Beautifully constructed 3-star resort, Ginger Tree Boutique is a full package of comfortable and affordable services. The resort also offers complimentary breakfasts and leisure time around the swimming pool.

Inn Anjuna – Searching for sea-facing suites? Head to Inn Anjuna. Boasting the wooden exterior and serene resting place, you can spend your time around this economic beach-side inn, surrounded by swaying palm groves.

La Oasis by The Verda – A true reflection of the Portuguese influence, La Oasis by The Verda offers luxurious opulence of 24 beautifully furnished rooms. Situated within a comfortable motoring distance, the staff is well trained and polite.

Laguna Anjuna – Popularly known for its vintage space in a rural Goan Portuguese set-up, Laguna Anjuna is away from the hustle and bustle of the city. Offering cottage suites and minibar, the tourists prefer this place for tranquility. 

Nirvana Hermitage – Situated on a massive hillock, overlooking the gushing Arabian sea, the Nirvana Hermitage is popular among the tourists. It is also famous for the pool view cottage and the enticing sunbathing lounge. 

Villa Anjuna – Yet another magnificent hotel located in North Goa, Villa Anjuna offers a picturesque view of the silver shores and twinkling skylines. This place is ideal for leisure travellers and a pleasant vacation.

Things to Carry at Anjuna Beach –


There are a few things that you should take with you for a hassle-free beach experience at Anjuna. Some of them are:

Don't forget to carry water and a hat as it can get sunny.

Keep mosquito repellent and sunscreen lotions with you to protect your skin.

Keep that umbrella handy in case of sudden rainfalls.

For walking across Anjuna beach or going shopping around town, have some comfy sneakers, or ankle strap sandals at the ready.

Going to water sports? Don't forget to pack your beachwear and swimsuits.

Take shades and goggles with you to save yourself from the sun's baking rays.

If you are visiting in the winter season, i.e., November to March, you might wanna keep a few hoodies with you.


Shacks at Anjuna Beach –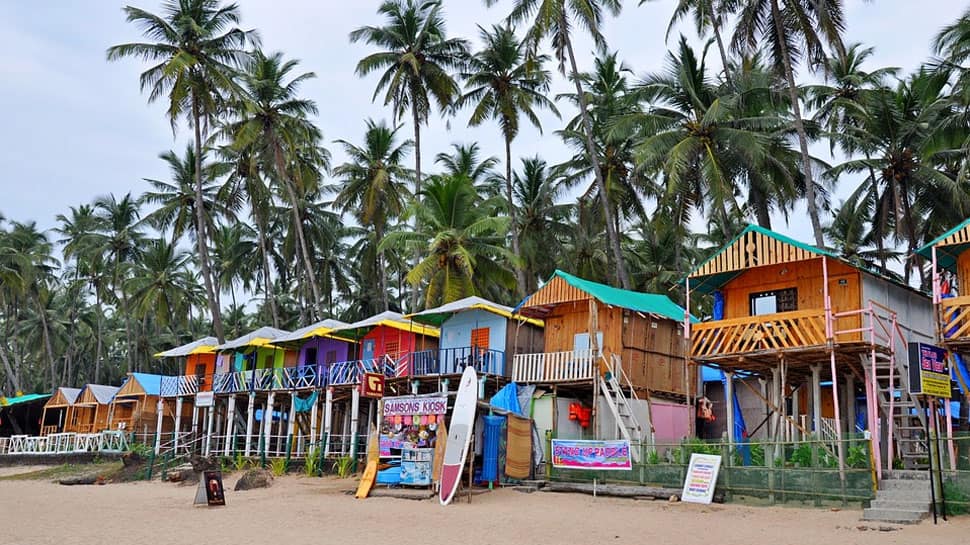 The hippy shacks at the Anjuna beach will have your mouth watering and your feet dancing before you enter there. The shacks are arguably the best joint in town and always packed to the brim with locals and tourists.

Curlies Beach Shack - Deserted by the day, Curlies comes to life after dusk. It is perhaps one of the oldest shacks Goa has seen. From trance lovers to party haters, this place is for everyone. Prepared fresh and tangy, from the best spices of Goa, you can try the amazing Goan, Konkani, and Italian dishes. Moreover, the sunset views are the most scenic and iconic from this shack.

Shiva Valley - Looking for a boisterous Goan nightclub with trance music and different cuisines? Head to Shiva valley. One of the hottest party spots in Goa, you can lose yourself in its beauty. Here, parties can reach frenzied levels because of its discotheque ambience, cool cocktails, and tranquil beachside vibes. In the nights, you can witness dazzling lights and exotic ambience with rocking live music.

Tantra Café and Huts – Yet another beach shack on Anjuna Beach, situated at the coastline of South Goa, Tantra Café and Huts is synonymous to pure heavenly fun and activities. It is popular among tourists for its polite and courteous staff. For relishing on authentic Goan, Portuguese, Konkani, and Continental dishes on Anjuna, you have to head here. Don't forget to try grilled fish and prawns.

Medical facilities near Anjuna Beach –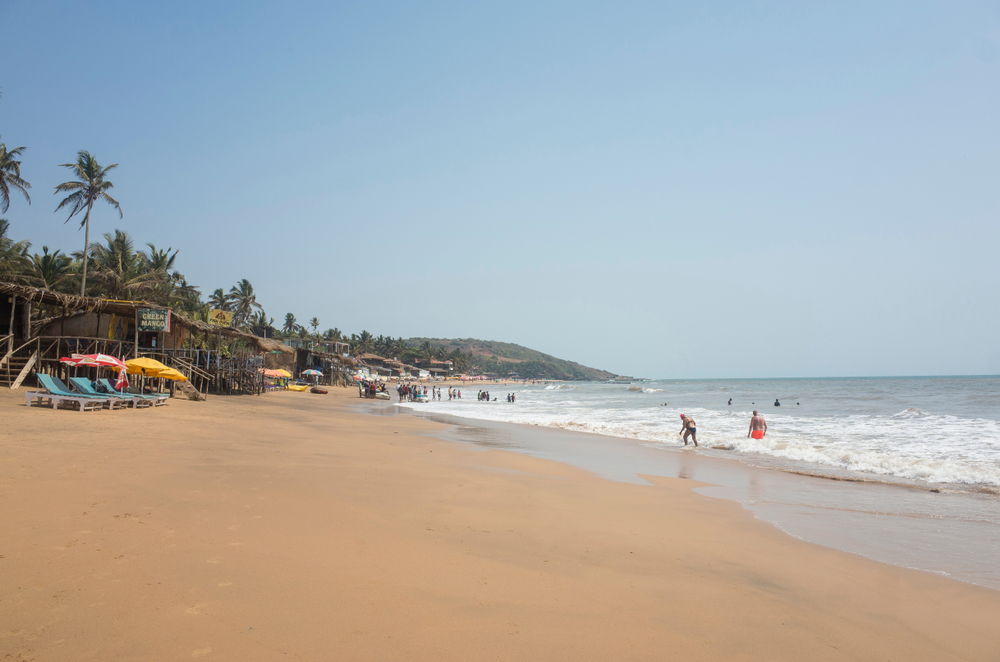 Beaches can be the best way to enjoy your vacation. But it might turn dangerous if you don't take care of yourself while doing any watersports. Don't worry, there are medical stores available near Anjuna Beach at your service. These medical stores have almost every medicine available and can help you with the basic safety kits. You can also bring a medical kit with yourself for basic injuries.
Moreover, Goa has many government hospitals and nursing homes for proper and quick treatment. The doctors and staff are well aware of the knowledge and skills to treat people. 

Travellers' Tip before visiting Anjuna Beach –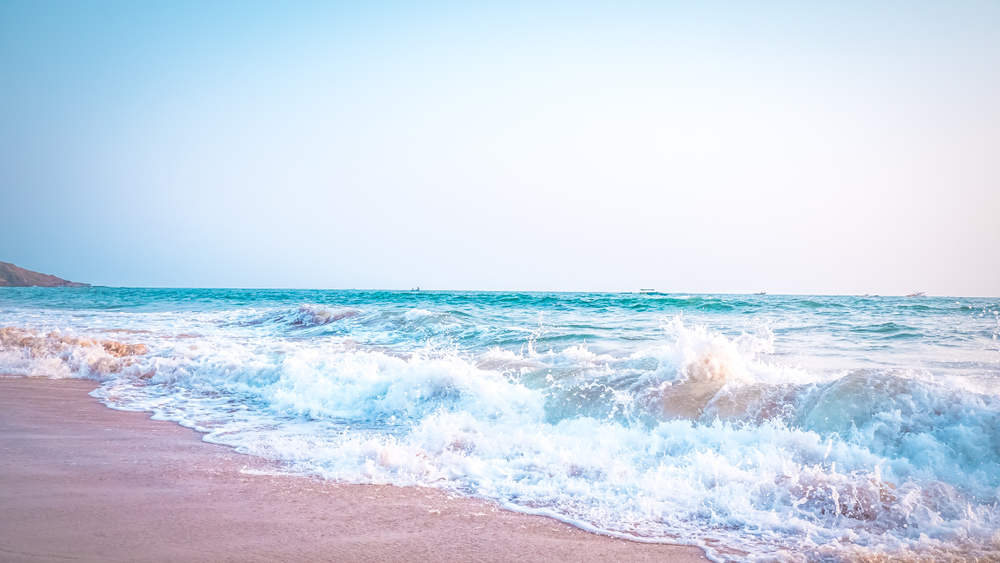 Travelling at a new place can be a tough puzzle to figure out. Read on for what you need to know before visiting there.
Regardless of the laidback Goan vibes, the possession or distribution of drugs is strictly illegal. So, say NO to any such drugs. Err on the side of caution.

Tourists are usually prone to sunburn and sunstrokes. To avoid these risks, apply high SPF sunscreen.

Book your accommodation in advance to save yourself from burning a hole in your pocket. During the long weekends and winter months, things can get more crowded and expensive.

Do not indulge in any watersports before knowing about it. Always take the guidance of the instructor.

Notice and check the safety measures and guidelines for watersports.