About Arambol Beach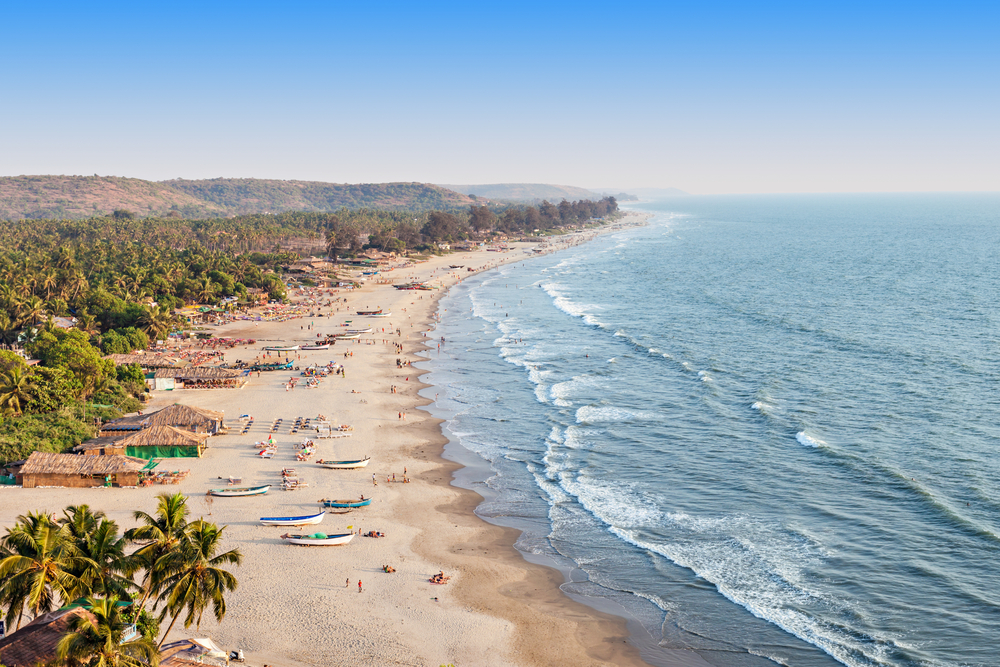 The newest beach developed in Goa, Arambol Beach is a part of a fisherman's village, and attracts a number of tourists across the year. Arambol Beach is considered to be the most beautiful beaches in Goa, and borders the Mandrem Beach and Keri Beach on two sides.

The Bohemian vibe of the beach attracts foreigners of all nationalities to it. Its plethora of beach shacks, open air events, live music gigs and vibrant nightlife make it a must visit for people across all fields and interests. The beach is also often used as a venue for barbeque events or sunset parties. Arambol Beach also hosts two of the most significant cultural events held in Goa- the Tribal Dance Festival and the Indian Juggling Convention.

One can enjoy a number of watersports at Arambol Beach, as well as simply take a stroll along the water. Scooters and motorcycles may also be hired for personal use against a charge.

The streets of Arambol are lined with a number of eateries and street side vendors selling a number of wares. The beach also features a drum circles, where musicians travelling along the beach often come together to make music.

Arambol Beach is also well connected to a number of attractions and popular tourist destinations. A very short walk away from here is the Paliem sweet water lake. This beach is also well connected to other beaches, like the Keri Beach and the Mandrem Beach.
How to Reach Arambol Beach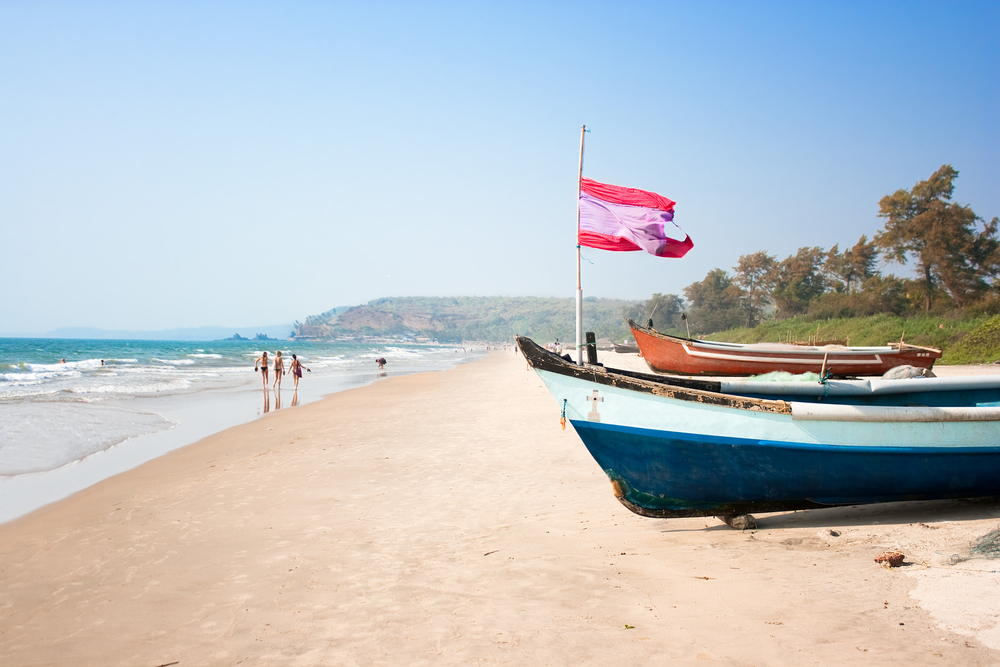 -
How to Reach Arambol Beach from Panaji:
The easiest way to reach Arambol Beach from Panaji is to take a cab or taxi. One may also decide to take a bus to Arambol. There are direct buses from Panaji to Arambol scheduled at every thirty minutes or so. There are also private mini buses connecting the two destinations. The Arambol bus stop is on the main road. To reach the beach, one must take a local transport or walk a short distance of about 1km
- How to Reach Arambol Beach from Goa International Airport:  The cheapest, however hectic, way to reach Arambol Beach from Goa International Airport is to take a number of buses. One must first take a bus from the Airport to Panjim, then to Mapusa, and finally from there to Arambol Bus stop. Once at the bus stop, one must take a local transport or walk to the beach, which is only a short distance into the Arambol village. Alternatively, one can take a taxi or a cab to the place, which would be hassle free but slightly expensive, costing more than Rs. 1500.
Best Time to Visit Arambol Beach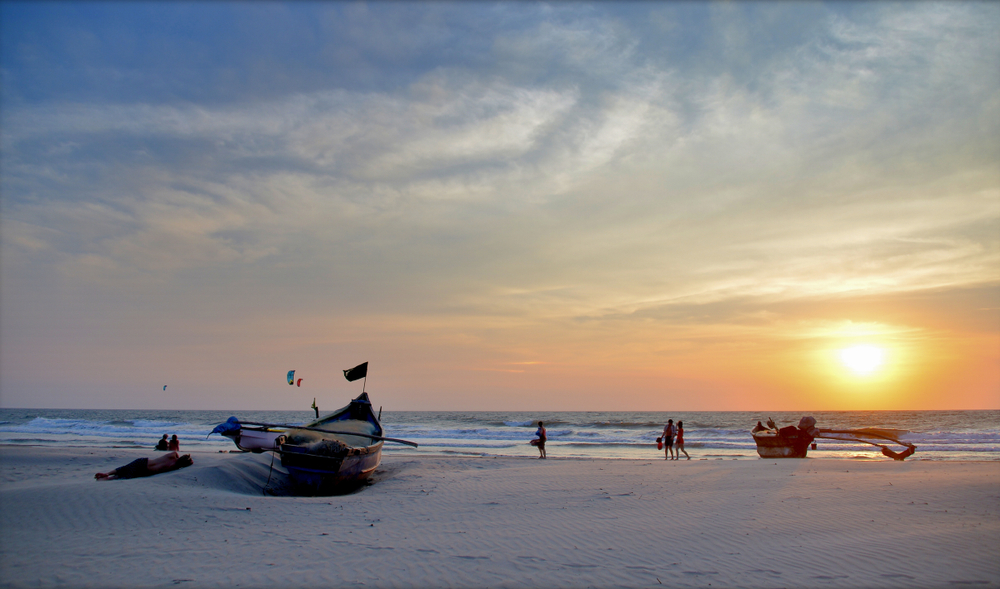 The best time to visit Arambol Beach would be during the winter months, between the months of October and March. During this time, the weather is cool and pleasant, and the temperature rarely crosses 25 degrees, making it a perfect time to enjoy the open beach. 
What Not to Miss at Arambol Beach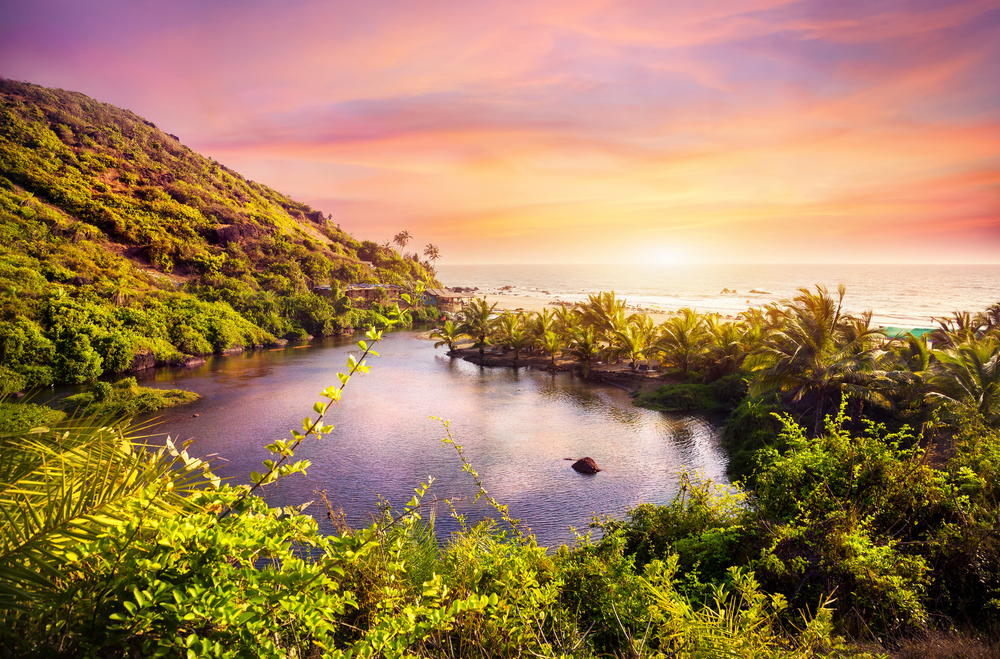 -
Kalacha Beach:
A serene, esoteric beach in lush green setting, Kalacha Beach is a must visit for travelers who are looking for a laid-back, casual beach experience. The Beach is popular for its sweet water lagoon and its new water tidal pond. Apart from providing a perfect spot for beach parties and barbeques, the beach provides its visitors with a number of adventure sport opportunities, such as paragliding or hand gliding.
- Paliem Lake: About a 15 minute walk away from Arambol beach is the Paliem Sweet Water Lake, a sweet water lagoon surrounded by hills and a small strip of land that separates it from the beach. The quaint little lake provides a wonderful swimming experience. Paragliding can also be done here.
- Our Lady of Mount Carmel Church: Only a short trek away from Arambol Beach is the Our Lady of Mount Carmel Church, a popular tourist destination in Goa. The church, with its impeccable white structures, is famous for its architecture.
- Keri Beach: Keri Beach, also known as Querim Beach, is the largest beach in Northern Goa. Keri Beach is popular for its picturesque beauty- on one side where  the sea waters meet with the Tiracol River while on the other side, Rocky Mountains stand tall and proud above the waters. The beach is known for its serene atmosphere and cleanliness, and has about 10 diners along the sandy stretch.
Other Essential Information About Arambol Beach
Watersports in Arambol Beach:
Parasailing: With its towering cliffs, Arambol Beach offers the perfect Parasailing opportunities. The Paragliding is initiated from a cliff between Arambol and Harlam Beaches, and the experience lasts for about an hour. The best time to enjoy paragliding here would be between the months of September and July.  

Jet Ski: Jet skiing is one of the most exciting water sports opportunities offered in Goa. A jet-skiing ride lasts for about 10 minutes, and is supervised by a guidance expert who accompanies the rider on the ski.
Surfing: Surfing at Arambol Beach can be done through Surf Wala. Surf Wala is a surf shop and training institute in the southern part of the beach. It offers surfing lessons to beginners, and surfing facilities for those already trained in the sport.
Bumper Ride: A bumper ride is not for the faint-hearted. The beaches of Goa are popular for its bumper ride opportunities, and Arambol Beach is no exception. The ride involves alighting a rubber tube, which would be tied to a speed boat and dragged around the sea.
Banana Boat Ride: The banana boat ride is one of the easiest watersports in Goa, and can be tried with a family or even a group of friends. The boat is unpowered, a recreational inflated surface that must be towed, and can accommodate around ten riders. Banana Boat rides at Arambol Beach is fairly cheap.


Nightlife at Arambol Beach: 




Coco Loco Club:
Cocoloco Club is a casual night club along Arambol beach. Apart from its variety of beverages and food, the Club hosts a number of different events, including music concerts. The club is known for its selection of Latin and Reggae Music, and even gives out free Salsa and Bachata classes for its guests.
Red Rock Bar Club: Red Rock Bar Club is at once a pub, a central café and a bar. Offering a beachfront view, this diner can accommodate a large number of people and offers multiple cuisines.
 
Sporting Heroes Club: A sports Bar near Morjim, Sporting Heroes Club is a perfect go to spot for music lovers and party animals. The club offers a splendid array of beverages and food specialties, as well as a karaoke system and a pool.
 
Ash Arambol: Apart from its clubbing arena, Ash Arambol offers its space for live music performances as well as performance art theatre. Ash Arambol is a popular hangout spot for tourists in India, specifically the Russian crowd.


Places to Stay Near Arambol Beach: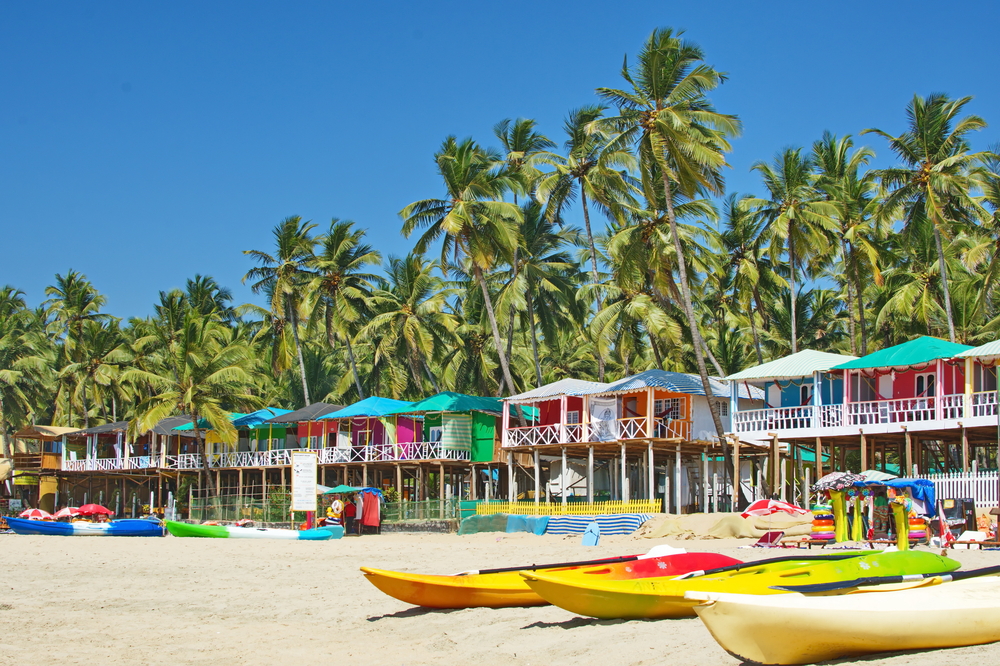 Lotus Sutra: A luxury stay in the heart of Goa, Lotus Sutra is offers a number of Wooden Cottages and deluxe room for stay. Spacious and comfortable, the cottages give the view of the beach and provide a perfect stay for families and couples alike. The resort has a restaurant and bar of its own, offering authentic Goan delights.

Rush4 Resorts: A budget-friendly stay near Canacona, Goa, Rush 4 Resorts provides 14 rooms for comfortable and spacious accommodation. The resort is a smoke-free one with a designated smoking room allotted to guests. The Resort also offers free parking for its guests. The hotel is fitted with Wi-Fi services and has a coffee shop of its own. 
Sunshine Guest House: Sunshine Guest House, with its wood-furnished rooms, provides for a homely stay. The guest house has an in-house restaurant of its own, as well as a number of diners nearby that one can access easily from here. The Guest House is equipped with free Wi-Fi Services, and provides a complimentary breakfast to its guests. 
RAMA Beach Resort: Rama Beach Resort in Goa offers a tranquil beachfront stay in wooden cottages under the open sky. Each room is fitted with a comfortable bed, an en-suite bathroom and a geyser and gorgeous view. Its scenic setting makes Rama Beach Resort an idyllic getaway for honeymooning couples. The resort has a swimming pool open to its guests. It also has a restaurant of its own, offering multi cuisine delicacies.
Hype Beach Resort: This beachfront hotel is only 200 meters away from Arambol Beach. The rooms are spacious and budget friendly. However, they are non-air conditioned. The resort has a restaurant of its own, and free parking services for its guests.


Places to eat at Arambol Beach: 

Cafe Maitree: Offering splendid views of the open blue, this beachfront restaurant is a popular visit by Arambol goers. The café prides in its Italian, Indian and European delicacies, as well as its option of beverages. Café Maitree serves a variety of vegetarian and gluten-free options as well. 
Laughing Buddha: Only 50 metres away from the Arambol beach, the Laughing Buddha restaurant is a part of the Laughing Buddha Beach Resort. The restaurant is open to the public as well, and boasts of delicious Indian delicacies. The tandoori dishes, made in the restaurant's own Tandoor oven, are a must try.
21 Coconuts Inn: The 21 Coconuts Inn restaurant is a venture of the resort of the same name. The restaurant is extremely budget friendly, and well-known for its snack and breakfast options. Although it serves dinner and lunch meals as well, the 21 Coconuts Inn is best known for its variety of pancakes, which are incredibly popular among Goan tourists and locals alike.
Shimon Falafel: As the name suggests, Shimon Falafel has to offer the best falafels in town. The restaurant boasts of authentic Middle Eastern and Israeli cuisine, and serves a stunning rendition of shakshuka and hummus. Shimon Falafel is not wanting of vegetarian, vegan or kosher options on their menu but  provides outdoors as well as indoor seating options.
Cheeky Monkey: Tucked away in the northern end of the beach stretch is the Cheeky Monkey, the heart of Mediterranean cuisine. The restaurant offers a surprise dessert each day, and is also popular for its Italian items. The menu offers vegetarian and vegan options as well.


Shacks near Arambol Beach:




Negi Beach Huts:
Only a short walk away from the Tiracol River, Negi Beach Huts has a restaurant of its own and free Wi-Fi services for its guests. This beachfront bed-and-breakfast has a sun Terrace and offers splendid views of the sea. The Huts also has a free parking facility for its guests.
Basho Beach Huts: Basho Huts is a family-owned beach hut accommodation boasting of a café of its own.  The huts are simply decorated, clean and spacious, offering splendid views of the open waters. The rooms have attached bathrooms, double beds, and a private balcony of its own. The Basho Beach Huts also has a Yoga Centre of its own, open for the use of its visitors. The accommodation also offers free Wi-Fi Services and taxi or cab hire facilities.
Om Shankar Beach Shack: Om Shankar Beach Shack is the first beach shack accommodation ever to be established on the Arambol Beach. The food offered by the shack has been passed down from generations, and its recipes are unique to the place. The shack is well known for its seafood options and the sunset view it offers.
Santana Beach Shack: Santana Beach shack is popular among tourists for its live music gigs as well its offer of food and beverage items. The shack is a budget-friendly option and especially suitable for backpackers. It offers a number of vegetarian and non-vegetarian options to accommodate all.
Paradise Beach Shack: Set on the Beachfront of Mandrem, Paradise Beach Shack, with its bedding and dining options is a tourist-favorite. The shack has Wi-Fi services and the rooms are air-conditioned. The stay has family rooms as well as single bedrooms, all attached to private bathrooms of their own.


Things to Carry to Arambol Beach:




Swimwear. One must carry adequate swimming gear if one decides to enjoy the waters of the beach.
Sunglasses: The sun is usually strong over the open beaches, and may hurt one's eye.
Correct Footwear. The best footwear to wear to the beach would be comfortable sandals or open shoes, preferably water-proof and easily washable ones.
Cotton wear: The best clothes to enjoy beach weather in would be cotton wear, especially loose casual ones like shorts and t-shirts.
Sunscreen: A must have for beach goers, to provide skin with adequate protection.
Hats or Caps: If one finds it comfortable to protect their eyes from the sun. 
Tips for Travelers in Arambol Beach: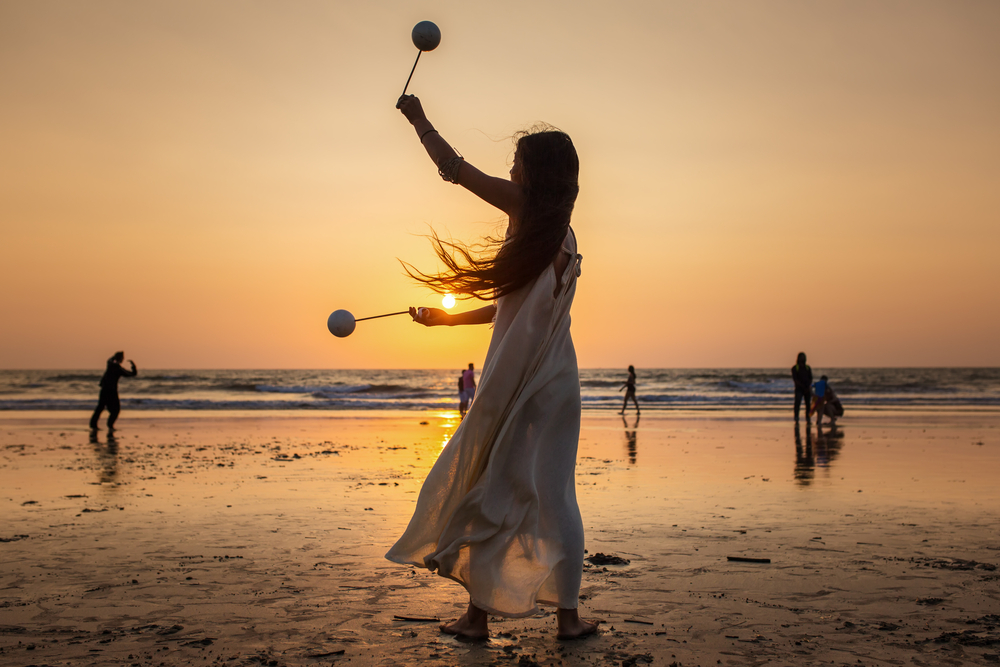 Avoid visiting the beach during monsoon. In this time, Goa experiences heavy showers. The waters are turbulent, and most of the beachside shacks and facilities remain closed.
One must carry their own swimwear, swimming gear and clothes as there are no rentals available.
There are parking facilities available on the beach. Hence, if one is taking a car there, one need not look for exterior parking spaces.
Make sure you are not swimming in the areas marked restricted.
Do not miss the splendid sunset view on the beach.


Health Services near Arambol Beach: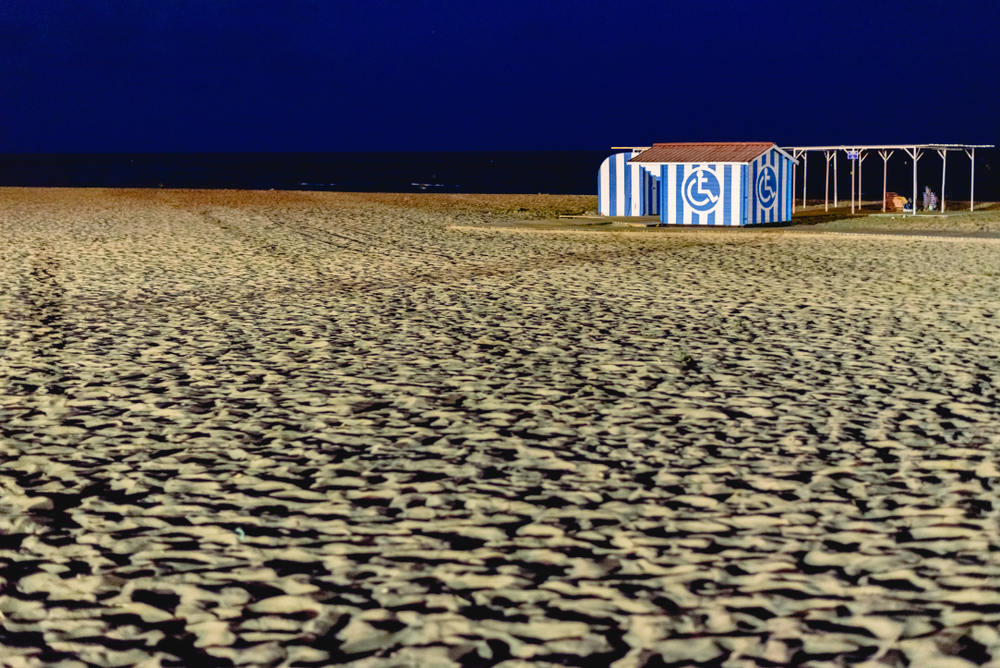 Arambol Beach does not have any first aid or medical facilities of its own. The nearest hospital to Arambol Beach is the Smt. Hirabai M Parsekar Memorial Hospital. Another alternative would be the Dr. Antonio Pinto Rosario Hospital in Porvorim. Right on Arambol Road is the Ayurvedic go to place, Ayurvedic Health Centre.