About Calangute Beach


Known as the "Queen of Beaches" in Goa, Calangute Beach caters to all types of travellers, from nature lovers to adventure junkies to party freaks. Acting as a haven for nature lovers, in particular, this beach is the biggest and the most popular one in North Goa, boasting of scintillating charm as well as beauty. Furthermore, it reflects the uniqueness that the culture of Goa generally has, in addition to offering beautiful and scenic views of the surrounding landscapes, which act as the perfect getaway destination for anyone who wishes to seek respite from the hustle and bustle of the busy city limits. 

Calangute beach in Goa has a lot to offer to tourists visiting here. The vibrant markets here sell everything, from beer and food, to junk jewellery, clothes, trinkets and pawn items. Moreover, the beach is lined with dense palm and coconut trees with the grand Arabian Sea acting as the perfect backdrop. People often visit the beach to soak in the mesmerising sunrises and sunsets which are a special feature of Calangute Beach. For a perfect tourist and holiday retreat, head over to this beach with your friends and family and enjoy the best of what North Goa has to offer. From Portuguese-style ancient buildings and structures, to delicious food and drinks, Calangute Beach has it all. Moreover, it will offer you a one-of-a-kind beach experience, one that is tranquil and idyllic, and cannot be found anywhere else in Goa. 
How to Reach Calangute Beach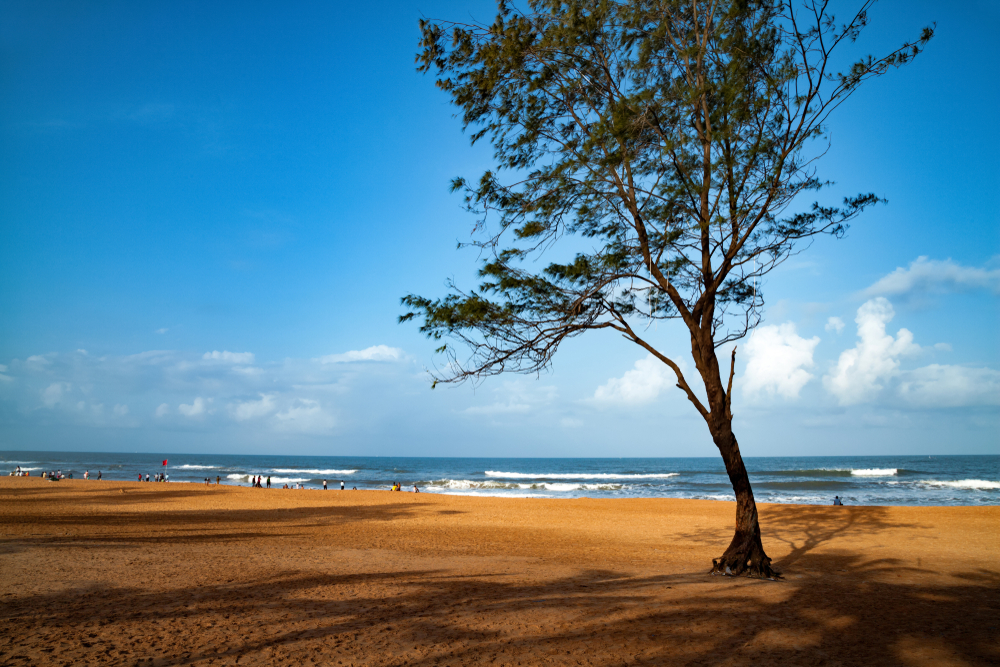 How to Reach Calangute Beach from Panaji: Calangute Beach is located around 11 kilometres from Panaji. The best way to reach the beach from Panaji is via private and public bus services. There are regular buses which run from Panaji all the way to the Calangute Beach. However, if you have a private car or vehicle, it might take you around 30 to 40 minutes to reach Calangute, depending on the traffic. 
How to Reach Calangute Beach from Goa International Airport: The beach is located around 40.3 kilometres from the Goa International Airport. The cheapest way to reach Calangute Beach is via buses, wherein you can reach within an hour and 30 minutes. Alternatively, the fastest and the most convenient way to reach Calangute from Goa International Airport is by taking a taxi, which will take around 40 minutes. 
Best Time to Visit Calangute Beach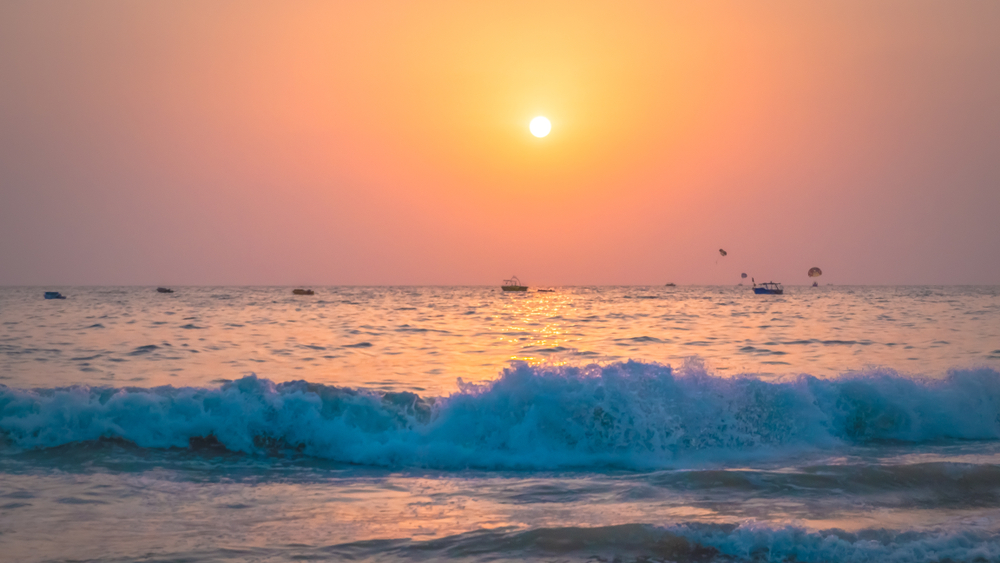 The best time to visit Calangute beach in Goa is between the months of late October to February. Although this beach can be visited at any given time of the year, these months are the most favourable of them all. This is because these months are just between the monsoon and summer months when the weather is pleasant. The monsoon season brings heavy rains in the area, and the sea is quite unruly and rough during these months, which is not suitable for any activities. Additionally, the summer months are hot and humid, thereby not being favourable for having a good time out on the beach. 
What Not to Miss at Calangute Beach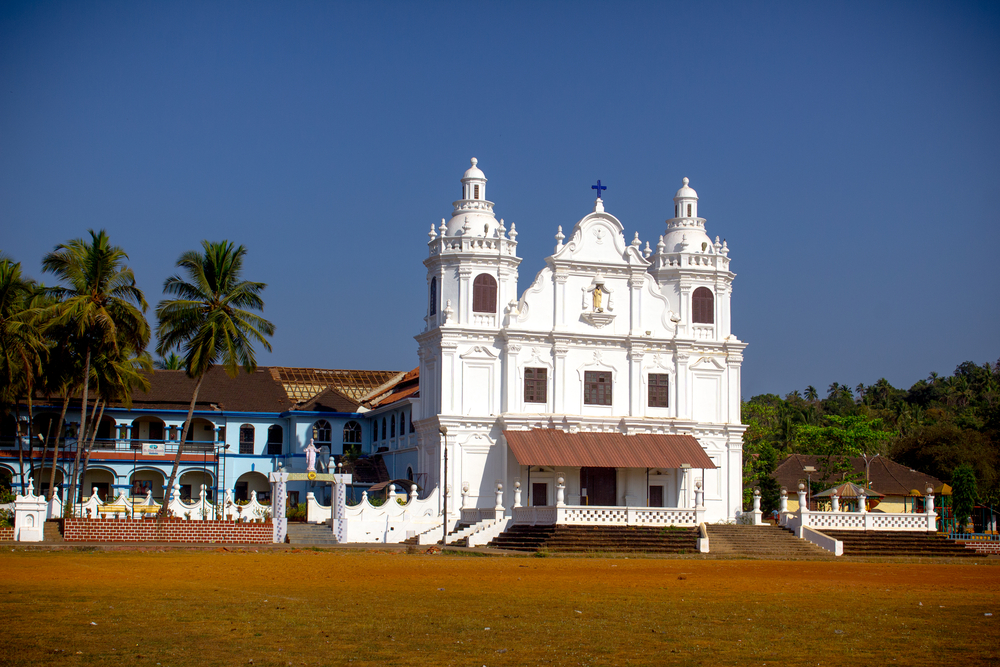 Our Lady of Piety: One of the most famous churches in Calangute, it is situated on top of a hill and offers picturesque views of the beach and the sea. 
St. Alex Church: Boasting of magnificent architecture, with a white-coloured exterior, dome-like towers as well as rococo pulpit with motifs and scrollwork, this Catholic Church is extremely tranquil, and has a soothing ambience. 
Kerkar Art Gallery: One of the most popular art galleries in North Goa, the Kerkar Art Gallery houses the paintings, sculptures and collectables that are made from terracotta and are elliptical in shape made by Subodh Kerkar. 
Baga Beach: Baga Beach is a much quieter and less crowded beach in comparison to Calangute, in addition to being more developed. It is very famous for having one of the best nightlife in all of Goa. 
Aguada Fort: The Aguada Fort stands right in the middle of the sea, with a dark-bricked road leading to it, looking like a picture straight out of movies. Structured in Portuguese style of architecture, the Aguada Fort offers views of the confluence of the Mandovi River with the Arabian Sea. 
Other Essential Information About Calangute Beach
Water Sports in Calangute Beach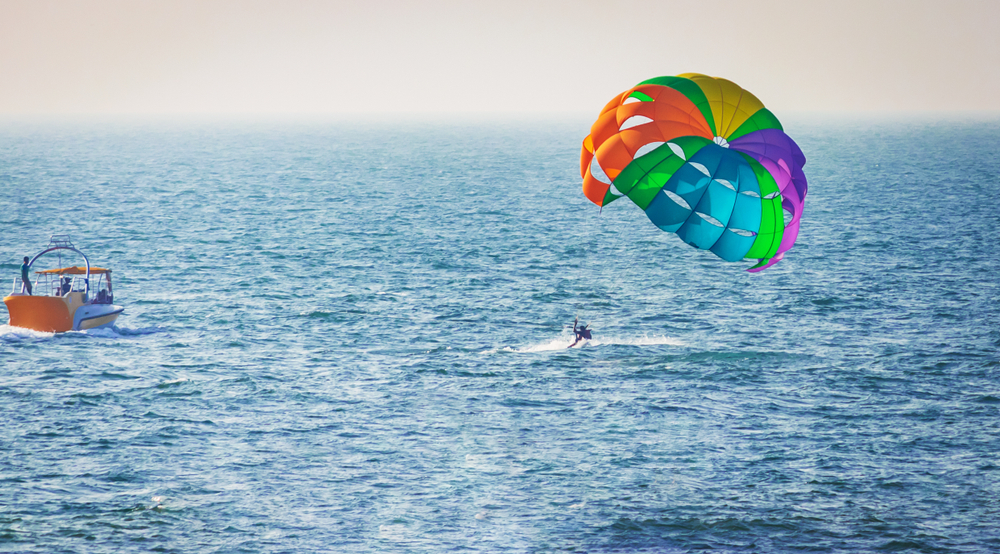 Parasailing: Soar high up in the air while floating in the cool wind and awaken the adventurer in you by parasailing in Calangute Beach, which is thrilling and exciting as well. 

Jet Ski: Get the experience of a lifetime by jet skiing on the waves of the Arabian Sea. Partake in one of the most enjoyable adventurous activities on the Calangute Beach.

Banana Ride: Take a ride in a banana-shaped boat on the cool sea waters while basking in the sun. Create adventurous memories as you get a chance to take a dip in the water. 

Bumper ride: Experience flying on the sea while on a bumper attached to a speed boat. Try hanging on to the bumper for as long as you can while dancing on the sea waves. 
Boat Ride:


Nightlife at Calangute Beach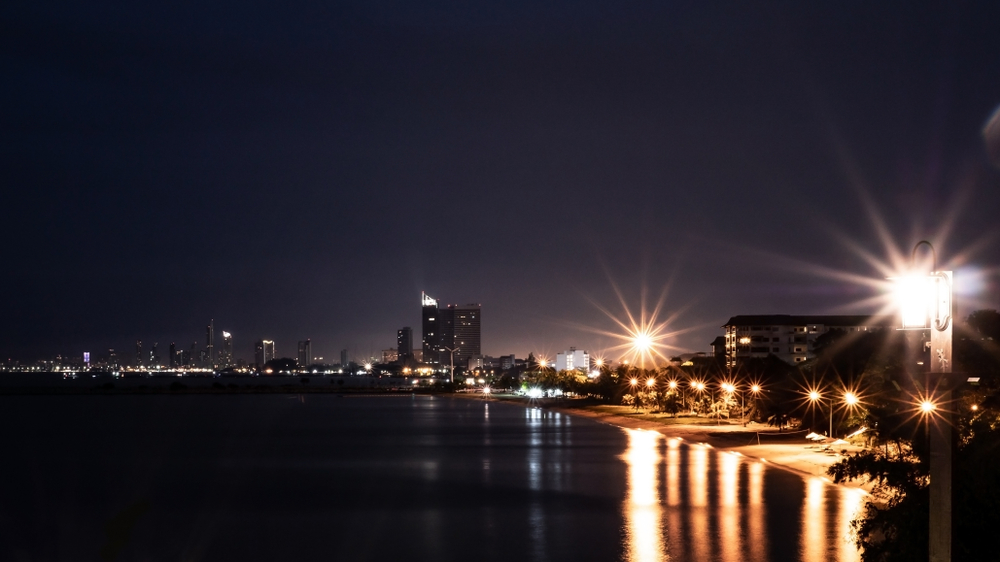 Tio Tilly's Bar and Kitchen: 
One of the most vibrant places in Calangute Beach, this bar offers live entertainment, sports screenings as well as board games to visitors, in addition, to live music and great food. 


The Red Lion Pub:
Located close to the beach, The Red Lion Pub boasts of a full bar and outdoor seating, with extremely helpful and friendly staff and delicious multi-cuisine food. 


Carvalho's:
Known for its amazingly soothing ambience, Carvalho's offers live music, along with lip-smacking Continental, North India, Chinese and traditional Goan food. 


Sportsman's Bar:
This is one of the best places to go to if you are craving International food, like Churros or Fish and Chips. They also have a great selection of cocktails as well as mocktails.


Spice It:
Having a more casual and chilled out vibe, Spice It offers guests with great tasting drinks, as well as a rocking nightlife. Moreover, it also has buffet services. 

Places to eat at Calangute Beach 




Souza Lobo:
Boasting of a cosy ambience, old-world charm, live music and an endless list of wine and other alcohol, Souza Lobo is best if you wish to indulge in authentic Goan delicacies. 

Chelsea Beach Shack:
Known all over Goa for its intensely flavoured, fresh and delicious seafood, the Chelsea Beach Shack is the best place to be for an indulgent meal paired with the best possible drinks. 

The Fisherman's Wharf:
This multicuisine restaurant takes you on a delicious feast trip, with live music, fresh seafood, and a wide range of meat specialities, paired best with their amazing and great-tasting experimental drinks. 

Desi Kitchen:
Offering you the best of food from every part of India, Desi Kitchen has a lot in store for its guests. From chaats and momos to South Indian and North Indian delicacies, they also excel in continental and traditional Goan delicacies. 


Chilladaa Bar & Kitchen: Those who wish to indulge in some of the best European, Goan as well as Chinese dishes in Calangute, should definitely head over to Chilladaa Bar & Kitchen. 

Shopping at Calangute Beach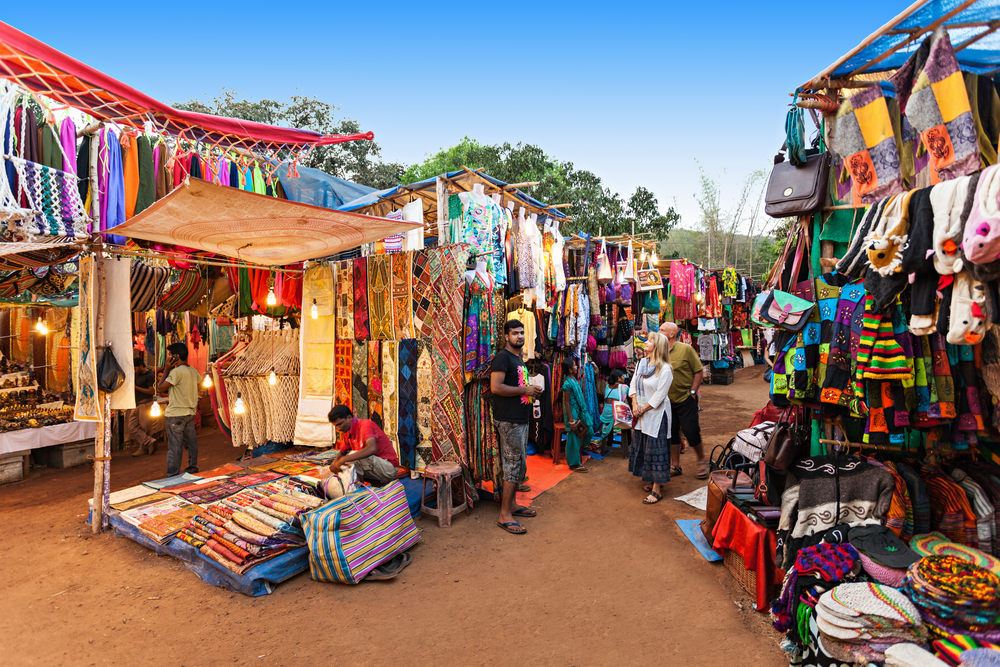 Saturday Bazar
:
This is located near the Post Office in Calangute. One can shop for day-to-day necessities such as groceries, meat, vegetables and fish from here. Additionally, you can also find shops selling pottery and textiles here. 


Tibetan Market
: The Tibetan Market is located between Calangute Beach and Baga Beach. It is known for selling products which reflect the Tibetan lifestyle and culture, such as incense sticks, blankets, statues, prayer flags, and even singing bowls. 

The Fish Market
: Known as the Calangute Naikwadi Fish Market, this is the biggest fish market in all of Goa. One can find authentic Goan seafood, as well as a wide variety of fish here, including king prawns, mackerel and fresh crabs. 
Places to Stay near Calangute Beach




Citrus Goa
: Located around 0.5 kilometres from Calangute Beach,
Citrus Goa is a beautiful resort with amazing interiors. With top-notch facilities and amenities, the resort has 85 huge, lavish rooms designed contemporarily. 


Alor Holiday Resort:
Located in the vicinity of the beach, Alor Holiday Resort has 66 spacious rooms. One can have a great stay at this budget resort while enjoying their holiday to the most. 


Mayflower Beach Resort:
Boasting of a Portuguese style of architecture, the Mayflower Beach Resort is located in close vicinity to all the main attractions in Calangute. It has spacious rooms, along with an in-house restaurant and an open-air bar. 
Water Sports in Calangute Beach. 


Ocean Palms Goa:
Situated in the native Goan settlements, Ocean Palms Goa is just a few minutes away from the Calangute Beach. It boasts of an old-world charm, in its design, structure, as well as in its rooms. 


Sharanam Green Resort Goa:
Located just a few hundred metres from the main beach, this 3-star boutique Goan resort has 32 spacious and elegantly designed rooms. It has all the amenities you would need for a great stay and holiday. 


Resort Terra Paraiso:
Located a few minutes away from the main area of the beach, this resort is best if you wish to have an authentic experience blending the Goan and Portuguese lifestyles. Considered to be the best resort in Calangute, it has 64 well-appointed rooms which open up to the pool area. 


Resort Village Royale:
Lying close to the sandy Calangute Beach, the Resort Village Royale is surrounded by dense palm trees on all sides. Having a staggering 160 rooms, this resort not only caters to your budgetary needs but also makes sure you have a great stay. 


Vila Goesa Beach Resort:
Located in the midst of nature and greenery, Vila Goesa Beach Resort is a short walk away from all the famous restaurants and bars in Calangute. It guarantees the guests a comfortable yet luxurious stay. 


Peninsula Beach Resort:
Located just a few minutes away from the beach, this elegantly designed resort offers guests the view of the beach overlooking the sea. It has 45 rooms as well as hillside cottages which are well-equipped with the basic amenities. 

Chalston Beach Resort:
Located on the Calangute Beach in Goa, this resort overlooks the splendid Arabian Sea. It has 60 vibrant and extravagant rooms as well as cottages which give way to the beach and the surrounding greenery. 

Things to Carry at Calangute Beach



While visiting Calangute Beach, it is important to refer to a Calangute Beach Guide and carry the following things:
-Photo ID cards

-Extra set of cotton clothes

-Cap or hat

-slippers

-Sunscreen

-Water

-Money (cash and cards)

-Sunglasses

-Towel

-Umbrella or raincoat

-Reusable plastic or cloth bag


Things to Keep in Mind



While on a visit to Calangute Beach in Goa, follow the Calangute beach travel guide and keep the below-mentioned things in mind. 

- Calangute Beach is crowded, especially during the evenings. Therefore, it is recommended to keep less cash with yourself. 
- Be prepared with an extra set of clothes if you are going for water sports. 
- Since it is a crowded place, it is important to carry only important belongings with you, thereby leaving the rest at your accommodation. 
- It is advised to avoid strangers, especially those that try to befriend you. 
- Try to remain with your group and not wander around alone. 
Medical Facilities near Calangute Beach



According to the Calangute beach travel guide, there is an appropriate number of hospitals, clinics and chemists near Calangute Beach. All of these are enough to provide the necessary medical attention and facilities if the need arises. Some of these include the Mathew Braganza Hospital and the Jeevan Jal Clinic. Additionally, there are many doctor clinics available too. 

Travellers' Tip before visiting Calangute Beach



Follow the below mentioned Calangute Beach Guide for travellers' tips before visiting Calangute Beach:
- It is advised to rent a two-wheeler to travel small distances near the beach.
- Make sure to eat at known places instead of small unhygienic shacks to stay healthy during your trip.
- Carry the emergency numbers with you at all times. This includes the phone number of the local police station, your hotel, your tour guide and people you are travelling with.
- Keep all your documents safely. Also, try to carry photocopies of the same with you.
- Be aware of your belongings as well as the area you are in.