About Querim Beach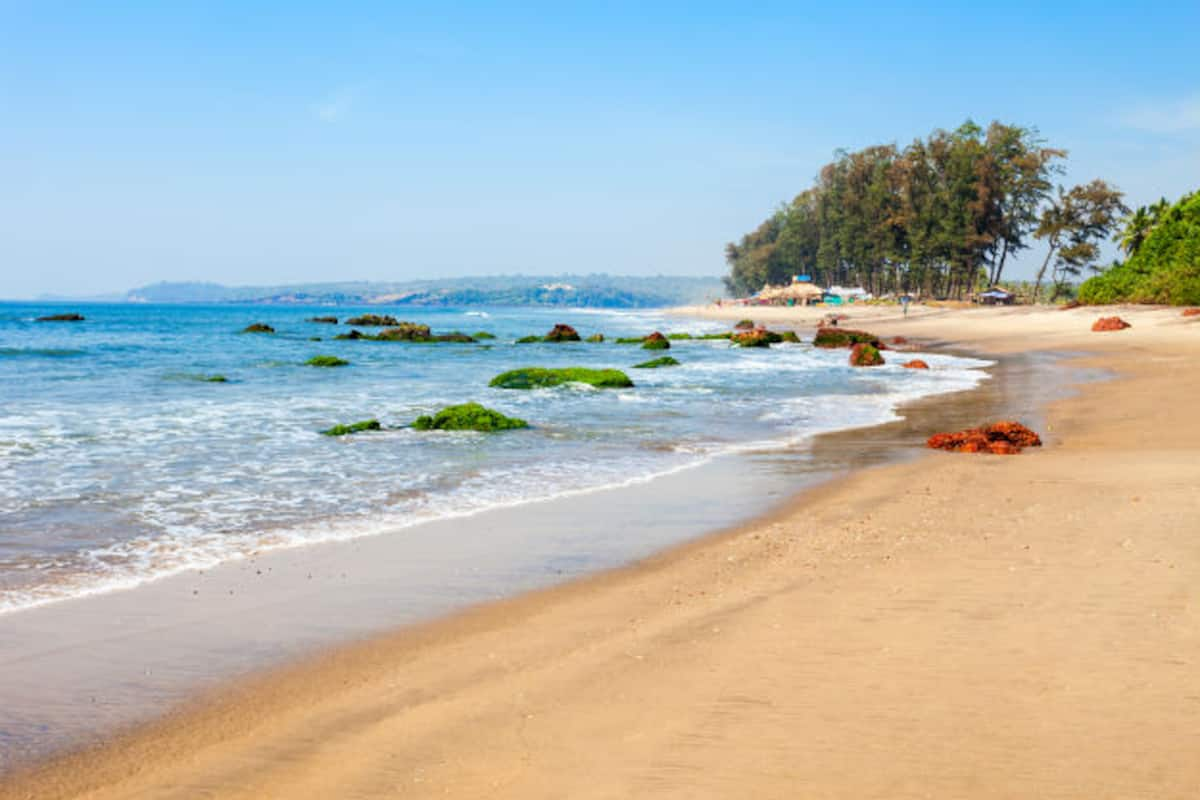 Querim Beach is popular as Keri Beach in Goa which lies in the northern region of the beach state. Due to its secluded location, very few travellers visit this beach on the excursion around Goa. However, if you do plan to visit here, you will not return disappointed. 
Typically, the beach stretches for a good 2 kilometres of white sand, rocky outcrops and trees. A river inlet is one of the most striking geographical features of this beach. The pine trees provide restful shade as you walk down the shoreline or simply sit down under one of them to catch the fresh salty air. 
If you happen to pass the beach during sunrise, you might find the place completely deserted and in a tranquil state. Gradually during the day, the beach is flocked by a handful of people who enjoy sunbathing in a quiet setting. 
You can watch the Terekhol River flowing right out in the sea and even traverse the Querim Village via a crossing on a ferry service. Across the river also lies the Terekhol Fort, which is now a modern hotel. Along the beach is the Ajoba Temple that dates back to an unknown time in history. Also, there are several Goan style houses and a few vendors here who offer local food. 
How to Reach Querim Beach

 
- How to Reach Querim Beach from Panji: You can take the route towards NH 66 via Querim to Arambol and Agarwada Road that will take around 1 hour and 36 minutes of your time and lies at a distance of 44.6 km from Panjim in Goa. The route can be covered in your own vehicle or a rented one. 
 - How to Reach Querim Beach from Goa International Airport: You can reach Querim beach via Goa International Airport on NH 66 and the Querim Arambol Agarwada Road which will take around 2 hours and 4 minutes of your time across a distance of 67.2 km. Another route, which lies at a distance of 75.5 km will take you through the Betim, Pomburpa and Aldona route, will take 2 hours and 23 minutes. 
Best Time to Visit Querim Beach


The best time to visit Querim beach is between the months of November and March. During this time, the weather is quite pleasant and neither too hot nor too cold for the travellers, who can revel in the serene surroundings and enjoy themselves in the sunny climate. Some of the best things to do while you are here are sightseeing and enjoying water sports. The beach is a couple friendly spot and is among the top places to visit near the famous Arambol. It is known that Querim beach is not one of the busiest beaches in Goa, which is why you will not find it crowded during this peak time. 
What Not to Miss at Querim Beach
Some places to explore around Querim Beach are:
Tiracol Fort: Amongst the popular tourist spots in Goa, located near Querim Beach, this fort will take one hour of your time and does not entail any entry fee. The fort is open for visit 24 hours a day and is highly recommended for those who reserve an interest in historical events and seek a unique adventure. 
St. Cajetan's Church: This is a historical and heritage site near Malvan and is regarded as one of the most magnificent churches in Goa. Tourists are attracted by the depiction of statues and sculptures at the church. For the best photography opportunities and a chance to view the amazing divinity of this church, one must certainly put this place on their list. 
Shri Ajoba Temple: Shri Ajoba temple is located just at the entrance to the beach. It is one of the prominent points of attraction for tourists, who come here to view its spectacular yet modest architecture.
Chapora Fort: One of the most popular forts in Goa, the fort overlooks the Arabian Sea where the Chapora river mixes with the sea. The fort has gained immense popularity in the last few years, which is why tourists like to travel up to it and explore the scenic beauty around it. 
Other Essential Information About Querim Beach
Water sports in Querim Beach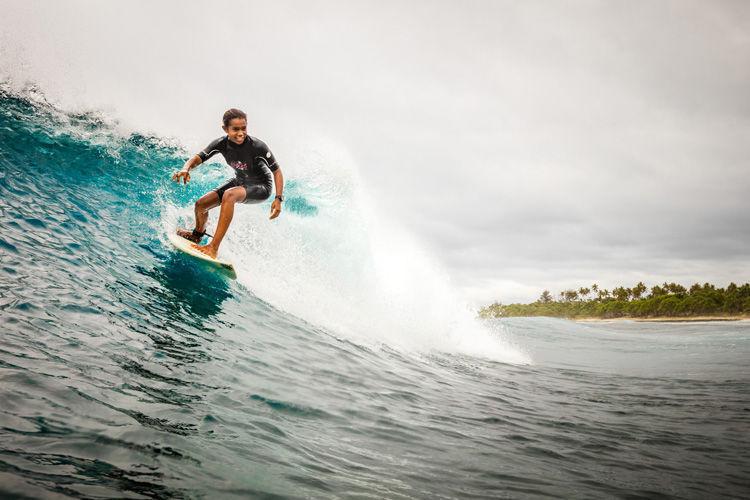 A few popular activities carried along the Querim beach shore are:
Paragliding: Paragliding is among the top water sports to enjoy while you visit Querim Beach. Usually, paragliding operations are run in between the months of September and May here and the activity can last for a duration between 15 minutes to one hour. 
Surfing: A few water sports enthusiasts can always be found lurking around in the water, splashing and surfing on their surfboards at Querim beach. Although the waters here are not quite wild, you will still be able to enjoy 2 – 3 rounds of surf around the waters. 
Kayaking: The tranquil surroundings of the Querim beach make it a perfect place to revel in some kayaking activity. It is especially the best water activity for a solo traveller. Control your kayak and oar and navigate where you like on the silent waves. 
Banana ride: As the name suggests, a banana-shaped tube is connected to a speed boat and is meant to pull you or a group of your friends at a high speed. The inflatable tube is prone to flip you over in the water, which is why you gotta hold the banana tube as tight as possible while the boat navigates the waters so that you do not end up with the fish below. 
Places to eat at Querim Beach 
Querim Beach is famous for a lot of lip-smacking food and drinks options to indulge in. Some of the best places to eat at Querim Beach are:
Rice Bowl: Amongst the famous restaurants at Querim Beach, Rice Bowl specialises in Asian cuisine. Be it the spicy Chinese food, or the simple, yet intricate Japanese cuisine, this is one restaurant wherein you can find it all. Their speciality is gyoza dumplings, which people from all over Goa come to enjoy. 
Suzie's: This fusion eatery at Querim Beach is yet another famous place you can satiate your hunger. From interesting cocktails and a full bar to a complete 5-course dinner menu, Suzie's is a place where you'll get a one-of-a-kind eating experience. 
This Is It: Known for its specially-made local Goan cuisine, with the use of the freshest produce and seafood, This Is It is a very cosy place where you and your friends can indulge in authentic Goan food, along with other Indian and seafood dishes. 

Places to Stay near Querim Beach 



Amongst the most tranquil and idyllic beaches in North Goa, the Querim Beach is best for unwinding and rejuvenating after a day full of activities. Most people visiting the beach look for places to stay nearby, so that they can enjoy their time here to the fullest. Some of the best places to stay near Querim Beach are:
Fort Tiracol Heritage Hotel: This luxury heritage boutique hotel used to be an armed fortress for the Portuguese in the early days. As of now, it is one of the few places in Goa where tourists come to stay and enjoy a panoramic view of the Arabian Sea along with the scintillating estuary of the Tiracol River.
Samaaya Cottages and Café: Quite a new resort, Samaaya consists of luxurious heritage cottages, located just a few minutes away from the main beach area. From elegant yet top-notch amenities and wonderful facilities, Samaayaa offers its guests a memorable and great stay.
Yab Yum Resort: Located in North Goa at the end of the Ashvem village, the Yab Yum resort is tucked amidst 8000 square metres of thick, dense and lush coconut and banana groves. This resort is best known for offering guests the amazing views of sunsets and sunrises. 
The Acacia Morjim OceanFront Goa: Situated in the middle of lush greenery, The Acacia Morjim Ocean Front is a luxurious resort located on top of a cliff. Guests here get to soak in the picturesque sights of Arabian Sea. Moreover, you can also enjoy a sea view luxury spa as well as an infinity pool here. 
Cocoloco Residency: This small resort is located near the beach, and guarantees a comfortable and relaxing stay to the guests. The rooms here are spacious and are equipped with an attached terrace area of their own.
Things to Carry at Querim Beach



Here is a list of things that you must carry with you to Querim Beach on a day trip:
Swimsuits
Sunscreen
First aid kit
Beach towels
Sunglasses
Shade tent
Beach chairs
Snorkels 
Football, soccer ball, sand toys
Floatable items like raft, tube
Lifejacket
Digital devices like camera and chargers
Extra pair of clothes
Beach bags 
Water supply for drinking during the day
Small knick-knacks and snacks 
Rash Guard cream
Ziplock bags
Any other item of personal use, such as medicine. 
Shacks at Querim Beach 
Since Querim is a popular beach in the area, it has a lot of shacks, where people sit and lounge for hours, in addition to gorging on some really amazing food and drinks. Some of the most popular shacks at Querim Beach are:
Dolphin Shack: Amongst the most frequented shacks at Querim Beach, the Dolphin Shack is known for its lip-smacking Indian food and coffee, which is also quite easy on the pockets, in comparison to other similar ones in the area. The staff here is also quite warm and friendly here. The shack is open till late at night and serves as a place for the young crowd to chill and party. 
Beach Valley Shack: One of the most tranquil and beautiful shacks in the area, Beach Valley Shack is known for its huge selection of drinks. In addition to great drinks, this shack further offers amazing seafood and finger food to the visitors. Also, the ambience makes your visit worth the while. 
Beach Paradise Shack: When in Querim Beach, you should definitely pay a visit to the Beach Paradise Shack. Boasting of delicious tasting comfort food, it also offers a wide range of mocktails and juices. Moreover, the staff here is quite welcoming and friendly, making your visit delightful.
Medical Facilities near Querim Beach



Here are the best medical centres near Querim Beach:
Sofiya Clinic in Mandrem – 11.7 km; 23 minutes
Hospital Sawant – 5.6 km; 13 minutes
Hirabai Memorial Hospital and Parsekar Hospital – 12.7 km; 26 minutes
Mauli Krupa Hospital – 13.4 km; 27 minutes
Redkar Hospital Research Centre Redi – 12 km; 25 minutes
St. Anthony's Hospital – 25.6 km; 48 minutes
Primary Health Centre – 12.5 km; 26 minutes
Community Health Sub Centre – 12.1km; 25 minutes
Community Health Centre, Murmushe Tuem Pernem Goa – 18.9 km; 36 minutes
Rural Medical dispensary Mandrem – 12.6 km; 25 minutes
Travellers' Tip before visiting Querim Beach



Here are a few things that you must know about Querim Beach, before heading out here:
The average temperature at the beach is 25 degrees Celsius, so pack your bag with some light clothes. 
There is no fee applicable for entry to the beach. 
You will broadly need a time span of 1 to 2 hours to explore the Querim beach completely. 
Querim Beach lies at an altitude of 6 metre
Common languages spoken by locals and vendors at the beach are English, Hindi and Konkani. 
Among the best months to travel to the beach are from September to April.