About Ashwem Beach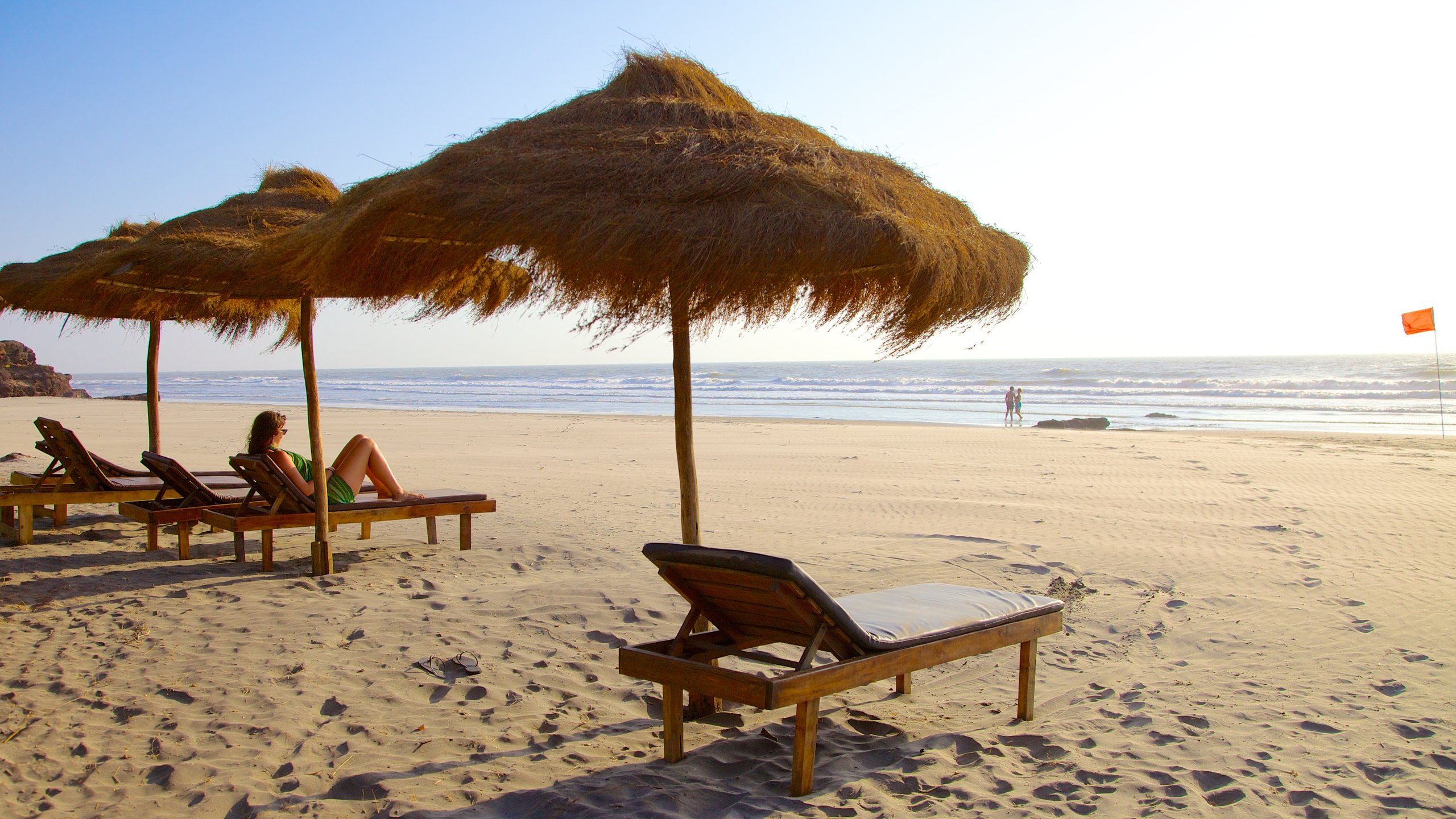 Ashwem Beach is located in the coastal village of Mandrem in North Goa in the Pernem district. It is located between the Morjim beach and Mandrem beach and is very close to the capital city of Panaji. It is one of the most popular beaches in North Goa, along with a few other beaches such as the Junas beach. The reason for its popularity is its extensive stretches of white sand and exotic palm trees that grow along the fringes of this beach. It is also home to the sprawling cashew plantation and people are also attracted to this area due to the thriving fishing and sea-food culture prevalent here. 
Despite being one of the more popular beaches in Goa, it is still possible to find secluded spots and ultimate peace in this place. You can relax on the beach while watching the waters of the Arabian Sea, or you can check out one of the many cafes that line the beach. The restaurants on the beach serve fresh seafood and local delicacies using the best ingredients and authentic recipes. Another attractive feature about the beach is that it is very clean and maintained well by the local authorities as well as the tourists who visit the place. When you are in Ashwem Beach, make sure you also catch the breathtaking sunset. 
How to Reach Ashwem Beach


-Reaching Ashwem Beach from Panaji

The distance between Ashwem Beach and Panaji is 30 km. One can take the bus from the Kadamba Bus stand in Panaji. The Thivim Railway station is 18 km if you are planning to travel by train. Efficient taxi service is available to take you to Ashwem Beach from any of these points with ease and comfort. 
-Reaching Ashwem Beach from Goa International Airport

The distance between The Goa international Airport and Ashwem Beach is 54.6 km. The easiest way to reach the beach from the airport is by hiring a taxi. It will take approximately one hour and the travelling cost will vary from 1,300 to Rs. 1,700 INR. 
Best Time to Visit Ashwem Beach
The best time to visit Ashwem Beach is between November and February. This is the time the area experiences its winter season. Since Goa is a tropical territory, the winters are cool and pleasant and the warm sun is ideal to combat the cold of inland areas. 
Temperatures during the summer months soar to an uncomfortable 40 degrees Celsius and the humidity level is very high and not ideal for a relaxing vacation. The months of June to September are the monsoon months, where the area sees very heavy rainfall and frequent storms, which is also not conducive to a peaceful beach vacation. 
What Not to Miss at Ashwem Beach


Chapora Fort -Chapora Fort is built near the Chapora River and is located in Bardez. It is one of the most spectacular places to visit, not only for its rich history but also for the ethereal beauty of the Fort itself. It is also a popular trekking spot amongst adventure enthusiasts. 
Harmal Beach-Harmal Beach is a secret beach in North Goa that has a beautiful sand curve making the place extremely picturesque. This beach is also suitable for water sports like swimming and waterboarding. Harmal Beach can be reached by bus, rental bikes and autos.
Morjai Temple-The Morjai temple is situated in the Pernum district. The art and the architecture of the temple is its main attraction, consisting of ancient "Kaavi" art décor. 
Arambol Mountain-The Arambol Mountain, located a short distance away from Ashwem Beach, is a quiet and peaceful retreat. One can witness a gorgeous sunrise and a romantic sunset from this mountain top. The place is also ideal for a small picnic with family and friends.
Morjim Beach- Morjim Beach is a popular place to hang out near Ashwem Beach. Apart from the many cafes and restaurants that are located on the beach and the water sports that you can enjoy over there; it is also home to the rare Olive Ridley Sea Turtles. 
Other Essential Information About Ashwem Beach
Watersports in Ashwem Beach 


Ashwem Beach is also known for the many water sports that you can enjoy when you are there. Here are some of the most exciting activities for sports lovers and adventure-junkies in Ashwem Beach: 
Surfing -The gentle waves and the suitable currents in Ashwem Beach make it the ideal destination for surfing in North Goa. Surfers are guided by professional coaches from South Africa, Indonesia, Australia and Russia, to make your experience authentic and exciting. 
Paragliding-  If a tourist wants to enjoy the magnificent view of the sky and the water while spreading wings, then the best time for a visit is between late September and the first weeks of June.
Windsurfing-Windsurfing and kite surfing are some of the most unique and exciting activities on this beach. The clear blue skies and the pleasant ocean currents make it ideal for tourists to go windsurfing. The ideal time for this activity is between October to April.
Boat ride-A unique water-based activity that is conducted on Ashwem Beach is the boat ride. It is both romantic and peaceful. There are many varied boat services available to provide rides to the tourists.
Jet Ski- Jet skiing is the ultimate adventure sport for those looking for an adrenaline rush on their beach vacation. Many efficient and safe services are available here to give you a rewarding jet skiing experience in the waters of the Arabian Sea. 
Nightlife at Ashwem Beach 


Goa is the party capital of India and like all the beaches in Goa, this beach too is home to some great night clubs and discotheques where you can dance the night away. Some of the most popular nightclubs include Club Cabana, Nyex Beach Club and Liquid Sky. You can find internationally renowned DJs, innovative drinks, local and international delicacies and some of the best strangers to party with when you are at Ashwem Beach. 

 Places to eat at Ashwem Beach 


There are some famous restaurants and cafes in Ashwem Beach that serve a multitude of cuisines and delicacies for an exciting food adventure as well. Here are some of the places you must eat at when you are there: 
S2 Beach Shack- Located right on the face of the beach, this is one of the must-eat places on Ashwem Beach. Offering a range of authentic local dishes as well as an impressive menu consisting of other cuisines, S2 Beach Shack is the perfect place to spend your afternoons and evenings in when you are here. 
Paradise Beach Shack -Paradise Beach Shack is also located right on the beach and you can enjoy some incredible seafood preparations along with a chilled beer while resting your feet on the sandy beaches of Ashwem. 
Café Sea Green Back Shack -Café Sea Green Beach Shack is unlike many of the other beach shacks you will find on the beach. The interiors are a mix of rural and modern aesthetics, where you can enjoy a humble local meal in a modern, fine-dining atmosphere. 
La Plage -La Plage is a modern and much sought after restaurant that specializes in French and European food. It also has vegan and vegetarian specialities and other convenient amenities such as a bar, free parking and much more. 
La Cucina- La Cucina is a homely, family-friendly, casual dining restaurant where you can experience the true spirit of Goa. You can enjoy their local and international delicacies while seated indoors, or in the comfortable cafe-like seating outside the restaurant. 
Shopping at Ashwem Beach 


The Saturday Night Market-The Saturday Night Market which takes place every Saturday is the perfect place to get all your souvenirs and get a unique taste of Goa while you're at it. You can find trinets, jewellery, clothes, bags, accessories and spices here. Apart from the affordable range of products, you can also find bands and musicians playing live music.
Anjuna Market -The Anjuna Market is a melting pot for people who travel from all over the world to Goa There are products catering to the taste of Americans, Europeans, South-East Asians, South Americans and any other culture you can imagine. It is the perfect place to buy your souvenirs from because it is truly representative of the culture of Goa.
Mapusa Market -Mapusa Market is a local market that sits near Ashwem Beach every Friday. It is frequented by locals for their weekly grocery shopping and you too can find some amazing fresh produce that is typical of Goa in the Mapusa Market. This market is also known for its metal artefacts and religious trinkets.
Calangute Market Square -If you are in Ashwem, then it is worth your time travelling to the nearby town of Calangute, where you can spend your day roaming about this vintage market. It is known for its hand-made leather goods, metal utensils and showpieces and Bohemian clothes that is always a favourite with the tourists.
The Goa Collective-The Goa Collective has become famous as the ultimate hippie market in Goa, selling a range of items that hippies who travel to Goa are inadvertently attracted to. You can find shops with local artisans working in front of you to create unique handmade items as well as live musicians playing throughout the day to keep your entertainedPlaces to stay near Ashwem Beach 
Places to stay near Ashwem Beach 



Palm Grove Beach Resort -Palm Grove Beach Resort is the perfect place to relax and recuperate during your holiday. Situated at a short distance from the beach, the resort features a massage parlour, a spa and an in-house restaurant- all the amenities you need for a perfect holiday. 

La Cabana Beach & Spa  -La Cabana is a luxury beach resort that is located in one of the more popular areas in Ashwem. The property is spread over an impressive area of 3 acres and features sea-facing rooms and beachside cafes and restaurants.

Rococco Ashvem Beach Resort -Rococco Ashwem is one of the best resorts in all of Goa, offering guests a choice of 43 quality rooms equipped with all modern amenities for the most comfortable stay. You can enjoy services such as free Wifi, round-the-clock room service and much more when you put up at the Rococo. It is also conveniently located just 17 km from the city centre. 

Ashvem Beach Resort -If you are looking for a budget stay in Ashwem Beach but you don't want to compromise on your quality and experience, you must check out the Ashwem Beach Resort. It is the perfect place for a laid back holiday where you can come and go as you please. Its location on the beachfront also offers you some stunning views, right from the window in your rooms.

Marbela Beach Resort -Marbela is one of the most sought-after resorts in Ashwem because of its gorgeous interiors and modern luxurious amenities. You can enjoy spa sessions and relaxing massages on the beach and sample the delicious local food from their in-house restaurant. 
Shack at Ashwem Beach 
Ashwem Beach is home to as many shacks as there are modern hotels. Here are some of the best shacks you can check out when you are in Ashwem. 

GoldenEye Beach -ShackGoldenEye Beach Shack is a renowned beach shack in North Goa that offers luxury accommodations as well as some of the best food in the area. There is an impressive bar as well as a sprawling dance floor where some of the most exciting parties in the area are conducted. 

S2 Beach Shack -Apart from some great food, you can also enjoy a comfortable stay at the S2 Beach Shack. They offer family-friendly rooms that come with air conditioning, room service, free parking and much more. Don't miss out on the seafood dishes from their in-house restaurant when you are there. 

Silver Sand Beach Shack and Coco Huts- If you prefer to explore Ashwem Beach as a local and not as a tourist, then you must pay a visit to the Silver Sand Beach Shack. The staff is friendly and welcoming and you can enjoy some great food and cocktails on lounge chairs that are laid out on the beach itself. They also have live music playing throughout the night. 

Babu Huts and the Pagan Café- The place is frequented by tourists and travellers who are looking for a relaxing time, away from the usual party atmosphere that Goa is known for. You can find a clean beach and a peaceful atmosphere that is perfect for a chilled out and relaxed holiday.

Things to carry in Ashwem Beach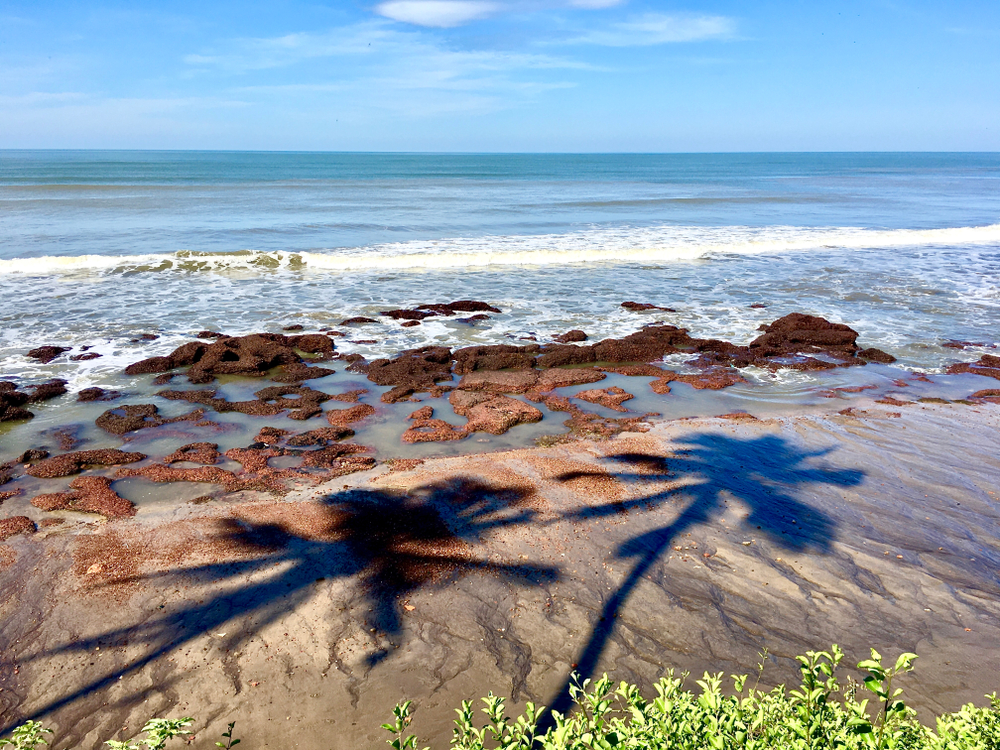 Ashwem Beach is a versatile beach which is known for its cleanliness, local shacks, delicious food and exciting parties. Here are some things you can carry to make your experience even more fruitful: 

Sunscreen 

Flipflops 

Your ID card 

A first aid kit of your own

A camera 

Sunglasses 


Traveller's Tip before visiting Ashwem Beach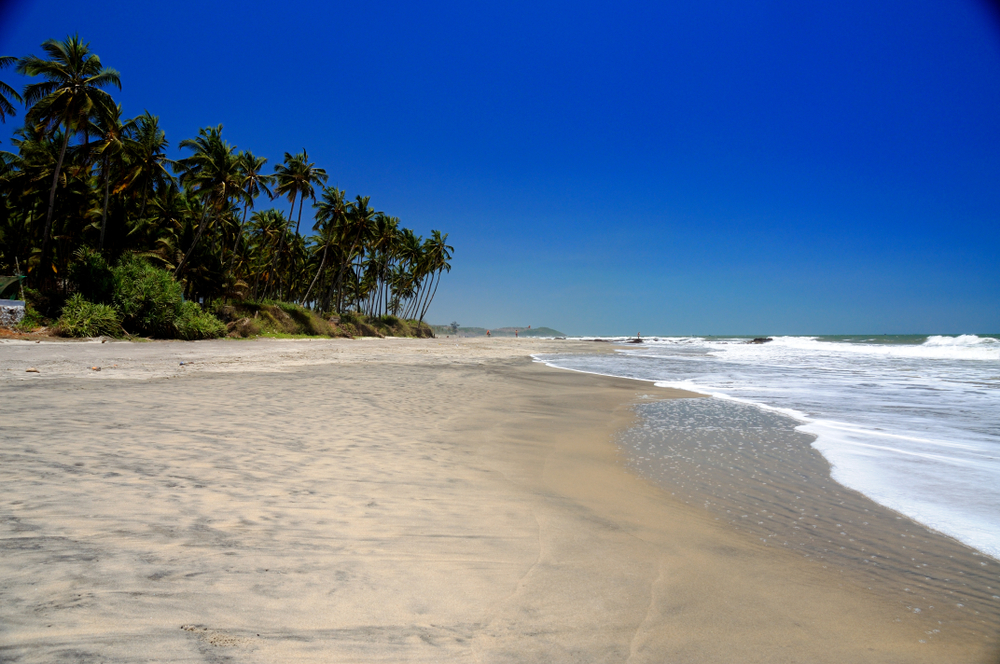 Ashwem Beach is one of the safest and cleanest beaches in Goa. However, here are some traveller's tips that you can keep handy when you are travelling there: 
-Make sure you do your research about the beach before you stay there. 
-It is advisable that no matter where you are going to Goa, you carry your ID with you.
-Exploring the area on a scooter (that you can hire daily) is a great idea. 
-If you are looking for good local food, it is best if you avoid the big restaurant and check out the smaller shacks on the beach. 
-Even though you can have access to safe drinking water, it is best if you still carry your own supplyMedical Facilities near Ashwem Beach 

Medical Facilities near Ashwem Beach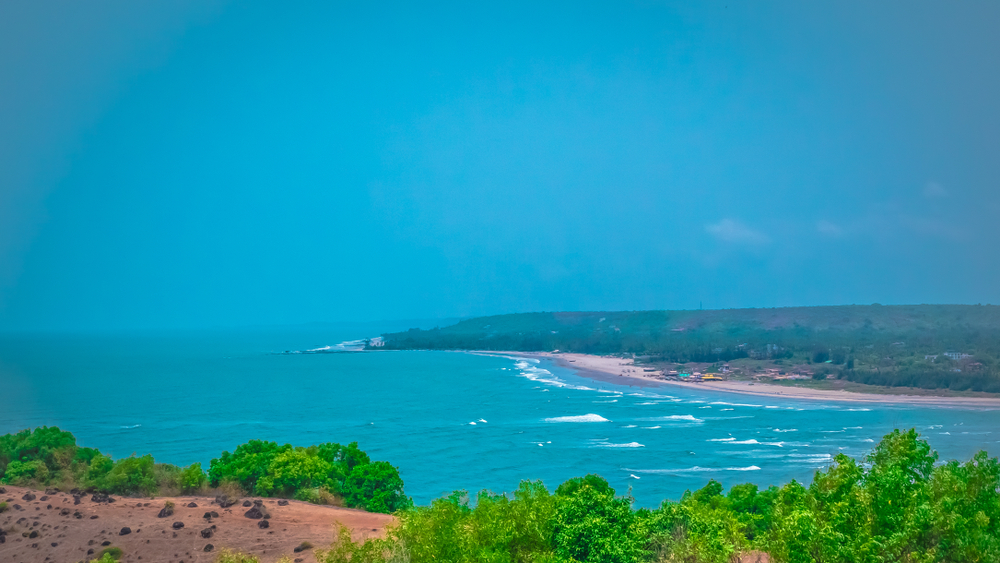 There are several hospitals and speciality doctors who have their chambers near Ashwem Beach. 
Apart from that, no matter where you are staying, there is an in-house medical service along with first-aid that is adequate to take care of any emergencies until a doctor or ambulance arrives from the city centre, which is quite close by.