About Jantar Mantar
Jantar Mantar of Jaipur is an astronomical observatory built by Sawai Jai Singh II. Besides this one in Jaipur, India owns 4 more Jantar Mantar across different states.

 Featuring the world's largest sundials, the astronomical observatory of Jaipur marks its prominence amongst UNESCO's world heritage sites. 


Jaipur's Jantar Mantar comprises of some astounding stone structures which once were used for locating the exact positions of the celestial bodies in space. 

There are around 19 instruments carved out from stone and brass. As it aids in calculating the local time, this massive structure attracts geographers, architects, and historians.

 Even time has failed before the brilliance of this engineering marvel. The observatory still holds its significance in the same manner as it did a thousand years ago. 

The main motive behind the existence of this structure was to gather and study information related to the universe, time and space. The instruments present refers here to those used in the Egyptian study of Ptolemaic astronomy.

 The observatory is known to work on the principles laid down by the classical celestial coordinates. They are a horizon-zenith local system, ecliptic system, and finally the equatorial system. These three systems aid the researchers and geographers to track the position of the heavenly bodies. 

Here at the Jantar Mantar Jaipur, you get to witness a hybrid mixture of different astronomical and architectural instruments. 

The 19 geometric devices present here to contribute towards understanding local time, ascertaining the declination of planetary systems, predicting eclipses, and tracking orbital stars.

 Besides, it also aids in the determination of celestial altitudes. The entire observatory covers a land stretch of 18700 metres.

Samrat Yantra, Ram Yantra, Jai Prakash Yantra, Narivalya yantra, Karnti yantra, Raj yantra, Unnsynhsmsa yantra, Chakra yantra, Disha yantra, Dakshina yantra, and Rasayas yantra are some of the instruments found here.  


History of Jantar Mantar Jaipur - 


Sawai Jai Singh II was a renowned scholar of his time. Once a while, Emperor Muhammad Shah assigned him a task to confirm and rectify the currently available data on the position and movement of celestial bodies.

Sawai Jai Singh was desperate to refine the tables of ancient Islamic zij to determine the exact time. In short, he aimed to create a well-defined calendar. He was keen on making accurate astrological predictions for the benefit of mankind.

 To bring his dream to reality, he decided that he would construct Jantar Mantar in the year 1718. For the same, he set out on a mission to extensively study the cosmological principles as laid down by the philosophical findings of Hindu, Islamic, European, and Persian civilization.

 In this way, five different astronomical observatories were constructed across various states in India.

The largest amongst all was built in Jaipur in between the period 1727 to 1733. After that, it underwent frequent renovations with the lapse of time.

The available instruments have a broad range of cosmological applications. In the year 2010, this astronomical observatory got featured in the list of UNESCO's world heritage sites. 

The architecture of Jantar Mantar Jaipur –
The astronomical observatory of Jaipur – Jantar Mantar, is a collection of both astronomical and architectural instruments. In all, you may find around 19 major geometrical devices here. Each one of them has got its own specific application. 

These devices are used to measure time; ascertain the declination of the planets and the planetary system; prediction of the eclipses; determination of the celestial altitudes, and tracking of the orbital stars.
 Sheltering so many instruments, the entire observatory extends to a land stretch of 18700 metres. Interestingly, some of the instruments available here are amongst the largest in their own species. 
The instruments of this astronomical observatory were carved out purely from stone and marble as they have got a tremendous potential to withstand climatic changes. Some of them were designed by Raja Sawai Jai Singh II himself. 
A few of these instruments were carved out from copper and still are recognised for their undeniable accuracy. In terms of its dimensions, the Jantar Mantar at Jaipur is the largest of all its counterparts present elsewhere in India. 
How to Reach Jantar Mantar
Here's a quick to refer the plan to get transferred between the Jaipur Airport and Jantar Mantar Jaipur – 
 By Line 3 Bus – If you directly opt for a Line 3 bus from Jaipur Airport, you will have to alight at Tonk Phatak. From there, you need to board another bus to drop you at Badi Chopar. Once you get down, start walking in the direction of Jantar Mantar Jaipur. 
Total travelling time – 57 minutes 
Charge – 30 to 45 INR per head 
 By taxi ride – Jaipur Airport is located at 12.6 km distance from Jantar Mantar, Jaipur. Within 12 minutes, you will be transferred between two destinations. 
Charge – 300 to 360 INR per round 
Best Time to Visit Jantar Mantar
Jantar Mantar, Jaipur is located within the state of Rajasthan which faces oppressive sweltering heat of summers. Thus, spring or winter months are best to plan your visit to this astronomical observatory. 
What Not to Miss at Jantar Mantar
Places To Visit Around Jantar Mantar –
Now, when you have sufficient knowledge about the attractions within Jantar Mantar, Jaipur, let's take a look beyond. Here's where you can head after your visit to the Jantar Mantar – 

City Palace – Dressed with the brilliance of Mughal and Rajasthani architectural styles, the City Palace of Jaipur is located within the close proximity of Jantar Mantar. City Place is a shelter to the museums, courtyard, well-decorated gardens, and art galleries

 The complex is lovely to be listed amongst your must-visit places in Jaipur. 


Hawa Mahal – A brilliant blend of pink and red sandstone here amplifies the aura of the entire Hawa Mahal. It is located at a distance of 700 metres from Jantar Mantar, Jaipur. If you've got your own vehicle, you will easily reach there within a flick of 3 minutes. 

Locals do label it as a Palace of Winds. From its highest floors, you get an excellent view of the city to capture with your DSLR. 

Tripolia Gate – Tripolia Gate was built in the year 1734 and was considered to be an entrance to the Pink city. Here, you get to see a blend of 3 different architectural styles – Rajput, European, and Mughal. In earlier days, this grand structure was considered to be the entrance to the City Palace. Being a historical landmark, you could find the presence of a busy bazaar here today. 

Tripolia Bazar – Tripolia Bazar is located just near to the Tripolia Gate in Jaipur. The bazaar is known for selling good quality carpets, ironware and brassware. 

Besides, there are many shops here in the bazaar selling rugs, utensils, textiles, trinkets, furniture, and a wide array of items. Walking a few miles, you will find the presence of Maniharon ka Rasta where you will get some high-quality lac bangles. Indo-heretic designer carpets sold here are quite popular across the borders. 

Goverdhan Temple – Located within the complex of Hawa Mahal, Goverdhan Temple is an age-old temple dating back to the times of the 1790s. It was constructed by Maharaja Sawai Pratap Singh. The temple is dedicated to the pious couple Lord Krishna and his soulmate Radha. 

The structure here gives a resemblance to a haveli and is a popular tourist destination of the present times. This temple has got some exquisite wall carvings, engravings on the marble pillars, and similar work on both sides of the main entrance that leads you to the main shrine. 

You will get to witness the brilliance of Jaipur's haveli style architecture here. 

Maharaja Sawai Jai Singh II museum – The museum complex has got both significant courtyards and some outstanding structures such as Sarvabhadra Chowk, Sabha Niwas, Chandra Mahal, Mubarak Mahal, and Pritam Chowk.

Within the museum, there are five galleries, namely Sarvatobhadra, Textile, Sileh Khana, Sabha Niwas, and Painting & Photography gallery. Here, you get to see the presence of different furniture, artworks, garments, and medals. The museum is wheelchair friendly. There are no restrictions on photography and videography within.
Attractions at Jantar Mantar -


Jaipur's Jantar Mantar is home to a total of 19 astounding astronomical and architectural instruments. Here's a list of some of the attractions you should never miss on while visiting this magnificent structure - 

Vrihat Samrat Yantra – The Huge Sundial – This gigantic sundial is located at the centre of the observatory and is 27 metres long. This equinoctial sundial can measure time at the precision of two seconds. 
The yantra has got a triangular-shaped wall whose shadow travels equal distances in equal time length. The yantra is positioned in the north-south direction and at an angle resembling the latitude of this location. 
The movement of the shadow of the triangular walls is optimized to predict an accurate time.  

Laghu Smarat Yantra – This piece of instrument is known as small Smarat yantra. As the name suggests, it is a small structure which can calculate the time at an accuracy of twenty seconds. 
There is a ramp on the sundial which points in the direction of the North Pole. 
Thus, it becomes easier to calculate the local time of Jaipur by correlating it with the movement of the ramp's shadow through the finer divisions present on to the carved scale. 
Ram Yantra – This yantra measures both the azimuth and elevation of the sun and other planets. Ram instrument comprises of a couple of tube-shaped structures which open in the direction of the sky. 
Each tube structure has got a pole at its centre. All the poles are of equal heights. You get to see this type of yantra only in the Jantar Mantar of Jaipur and Delhi. 
Jaya Prakash Yantra – Jaya Prakash yantra comprises of two hemispherical sundials shaped like bowls and are graded with marble slabs.
 As soon as the inverted image of the sky falls onto it, the inverted shadow movement helps to determine the elevation, hour angles, azimuth, and exact locations of the heavenly bodies. 
Chakra Yantra – This is a ring instrument which helps the astronomers to calculate the hour angle and coordinates of the sun. There are four semi-circular arches where the shadows fall. This process reduces the declination of the sun four times in a day. 
Digamma – Digamsa is the next instrument you can't afford to miss. This instrument has two outer circles conjoint with a pillar in its middle. It is through this arrangement which helps the geographers to predict the exact timings for sunrise and sunsets. 
Nadivalaya – Nadivalaya has got a pair of circular plates facing both north and south directions. The instrument represents two hemispherical regions of the globe. Walls of the device are aligned in such a manner that the instrument always appears to lie in parallel to the equatorial plane of the blue planet. 
Kranti Vritta – Your excursion to the Jantar Mantar of Jaipur won't be completed if you miss on the Kranti Vritta instrument present within. With this instrument, you can quickly gain an insight into the Sun's solar sign during in daylight. 
Other Essential Information About Jantar Mantar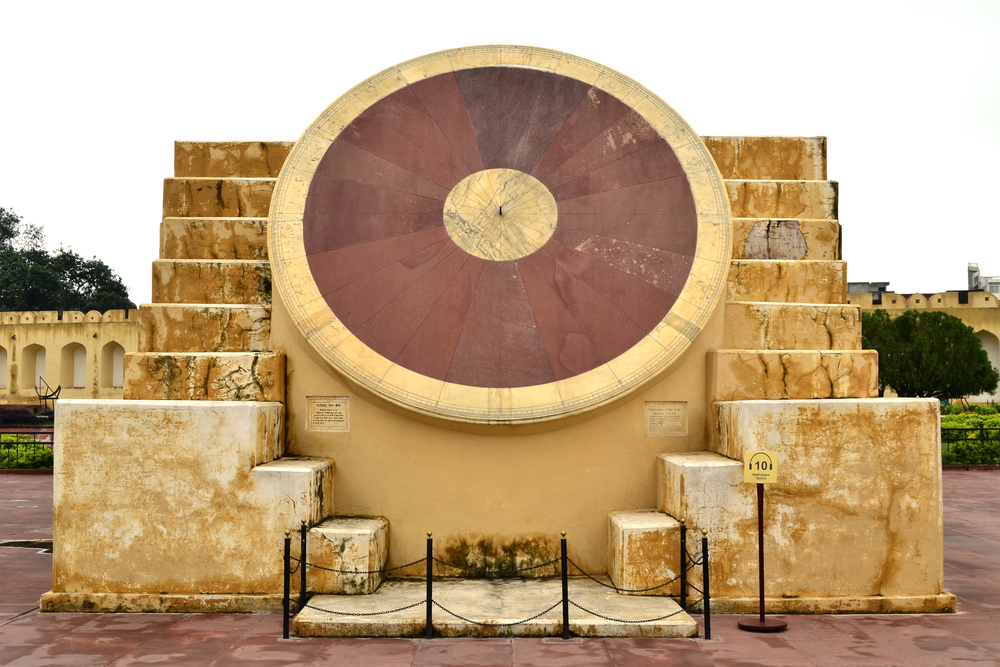 Location – Jantar Mantar of Jaipur is located at Gangori Bazar within the Market Pink City of Jaipur. 

Timings –  You can step in and out of Jantar Mantar anytime between 09:00 am to 04:30 pm 

Fee – The entry fee to Jantar Mantar of Jaipur is as follows – 

For Indians – 50 INR per head 

For Indian students – 15 INR per head 

For foreign tourists – 200 INR per head 

For international students – 100 INR per head 


Tips for Visiting Jantar Mantar Jaipur – 
1. If you are planning your Jantar Mantar visit in the summer months, either plan it early in the morning or late in the evening. 
2. Wherever you go, it is always advisable to keep a bottle of water with you. This will help you to stay hydrated throughout your tour.
3. There is an orientation building within this observatory. It schedules a short film briefing about the observatory and its evolution. 
4. If you are interested in learning more about its history, it is better to hire a guide. They are your best companions to brief you about the instruments available at the Jantar Mantar Jaipur. 
5. Wear comfortable clothing and footwear to walk safely in and around the observatory. 
6. You are permitted to click pictures or shoot a video here. However, you are required to pay nominal charges for the same. 
7. You just need to spend 30 minutes of your valuable time to take a 360-degree tour around the observatory.