About Jal Mahal
Jal Mahal is one of the most splendid architectural palaces sitting in the centre of Man Singh Lake on the outskirts of Jaipur. This masterful creation was earlier a shooting lodge for the Maharajas, but now it has become the most famous spot for sightseeing in Jaipur. Jal Mahal was built by Maharaja Madho Singh in the 1750s for himself and his companions to rest after their duck hunting endeavours. Jal Mahal is a four storeyed building built with red sandstone.

It offers a breathtaking view of the Nahargarh hills and Man Sagar Lake that border it. The most alluring feature of this mahal is that four storeys of this site are submerged underwater, and only one storey lies above the water level. It has a garden at the top that consists of varieties of trees and beautiful flowers.

Jal Mahal is extremely popular among the visitors for it's striking architecture and detailed craftsmanship. This palace has been built by combining Rajput and Mughal style of architecture. Due to it's alluring beauty and rich architectural magnificence it has also been touted as one of the most photographed sites in India. The entry is prohibited inside the fort but you can have a view of this magnificent fort from a considerable distance.


History of Jal Mahal Jaipur




In 1956 AD severe famine was experienced by the people of the area where Jal Mahal is currently standing. This led to an acute shortage of water, and the ruler of Ajmer, therefore, decided to build a dam to deal with the problem of scarcity of water. The dam was initially built with quartzite and earth in the eastern side of the breathtakingly beautiful Ajmer Hills. Later, it was renovated in the 17th century into a masonry structure.

This dam is still standing today, and it's 28.5-34.5 meters wide and 300 meters long. Three gates have also been built in the dam to release a sufficient amount of water to irrigate the nearby agricultural lands. This dam has undergone renovation and restoration by different rulers, but the final renovation was done by Maharaja Jai Singh 11. Other historical places and religious spots like Jaigarh Fort, Amer Fort, Kanak Vrindavan Valley, and Nahargarh Fort were built in the nearby areas of this lake. These are now connected with a tourist corridor of road networks.

It is believed that Jal Mahal was built in 1799 by Maharaja Sawai Pratap Singh as a spot to relax after duck hunting. It is also surmised that this palace was built in 1750 by Maharaja Madho Singh 1. The beauty of this palace was later amplified by Maharaja Jai Singh 11 who completely renovated this palace and added a few more striking structures to it. It is also believed that the Man Sagar Lake was also built by Maharaja Sawai Pratap Singh after constructing a huge dam that served as a source of water for the people in that area.


The architecture of Jal Mahal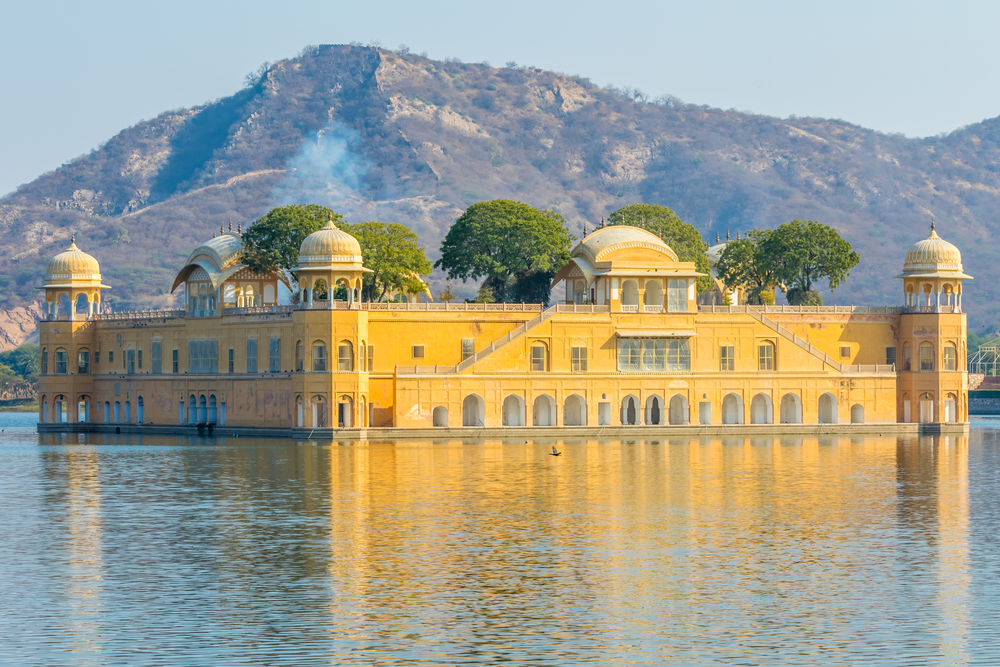 Jal Mahal is known for its exquisite architecture and splendid design that beholds the mind of the visitors. It is the finest example of excellent Rajput architecture, and the technical excellence that were not in vogue in the 18th century. The architectural grandeur of this palace comes to life, especially in the evening when the entire complex is covered by floodlights. The beautiful cravings on the shrines and the white marbles that have been used to build the palace make it look like a gem on its own. The reflection of the palace in the Man Sagar Lake gives an illusion of multi storeys standing over the water level.

At the corner of the palace there are four octagon-shaped chhatris and beautiful domes. In the centre, there is a chhatri made in Bengali style. Twenty one decorative pillars are also located in this palace that are considered to be the cenotaphs of the royal family. A platform is there in the centre of the garden area where dance performances and recitals were organized. The original garden got damaged in the past but now it has been recreated again to captivate the attention of the visitors.
How to Reach Jal Mahal
Fom Airport: The most convenient way to reach Jal Mahal from Jaipur airport is by taking a taxi that will take around 15 minutes to reach over here. You can also take a direct bus from the Sanganer Police station to reach Jal Mahal. It takes around one hour to reach Jal Mahal by bus.
Best Time to Visit Jal Mahal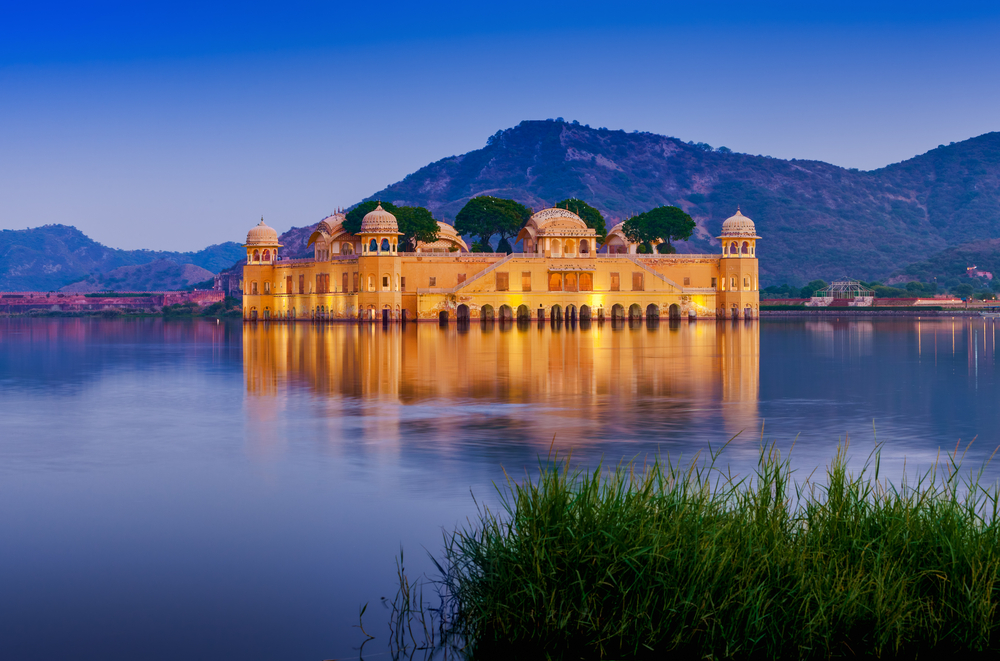 The best time to visit Jal Mahal is during the rainy season when the weather becomes even more pleasant. The rain imparts a great edge to the stunning look of the sandstone of this palace and makes it look extremely stunning. People especially prefer to visit this spot during October as the weather is extremely pleasant during this month.
What Not to Miss at Jal Mahal
Things To Do at Jal Mahal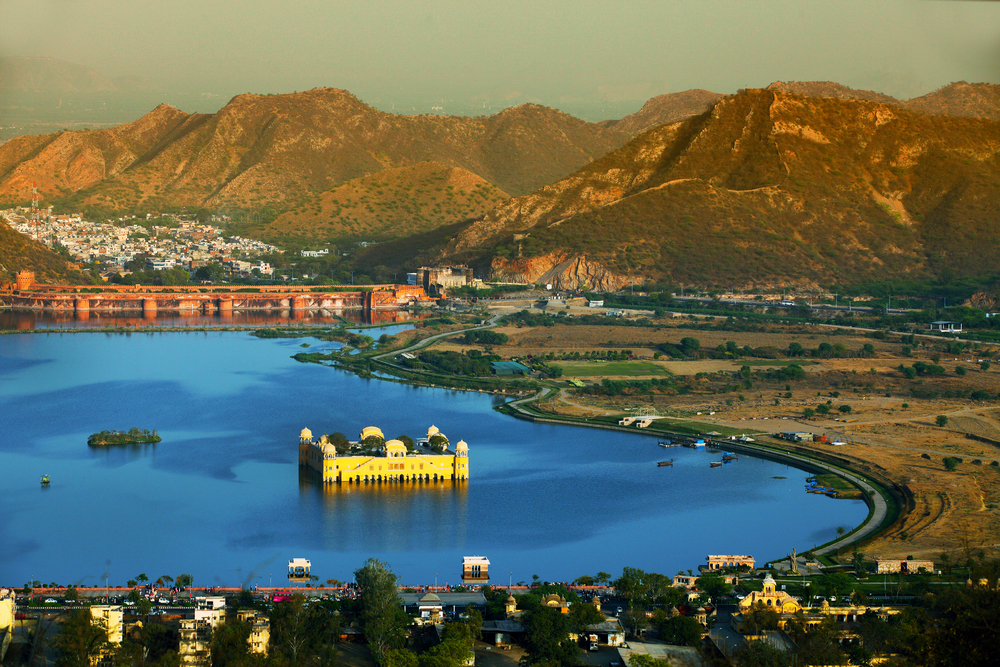 There are umpteen of things that you can do at Jal Mahal to have the best experiences in your memory lanes. Here are a few things that you must try if you're visiting Jal Mahal-

1. A romantic boat ride: One of the best things to do at Jal Mahal is having a magnificent view of this palace while boating at Man Singh Lake. These boats are made with wood by the traditional wood makers of Vrindavan, and they give a royal experience as you take an escapade around the lake. You can also have a view of the Aravali hills, which has umpteen number of forts and temples on it while boating across the lake.

2. Shopping in the local market: There are many small shops located near the Jal Mahal that sell beautiful jewellery items and exquisite handicrafts of Jaipur. You can also buy khadi clothes from the shops located over here at a very budget-friendly rate.

3. Camel ride: The thrilling and bumpy camel ride can be yet another exhilarating activity that you must try near Jal Mahal, at the Man Sagar Lake. This will give you the traditional Rajasthani feeling as you enjoy the camel ride besides Jal Mahal.

4. Sightseeing: The Water Palace is the most beautiful spot nestled amidst the Nahargarh Hills submerged in Man Sagar Lake. You can enjoy the scenic view of this palace during sunset and sunrise as its beauty increases in multiple folds during this time.

5. Flaunt your photography skills: This is something that nobody of you can even think of missing when you're at Jal Mahal as this palace is the most photographed spots all across India. You can have tons of memories to take back with you by clicking beautiful pictures at this site. So wake up the photographer inside you and get ready to capture the immense beauty of this place in your camera.

Nearby Tourist Attractions of Jal Mahal
There are many nearby attractions near Jal Mahal that should be a must-visit in your travel list. 

1. Amer Fort: Located at a drive of eight minutes from Man Sagar Lake, Amer Fort is one of the prime attractions of Jaipur. This is also known as Amber Fort, and it consists of serpentine staircases and maze-like passages that are a splendour on its own. It is clad in yellow and pink sandstone and is an architectural masterpiece that holds significant relevance in Indian history. This fort is so big that it will take around three to four hours to explore it in great detail.

2. Jaigarh Fort: Jaigarh Fort is another major tourist attraction located at a distance of a few kilometres from Amer Fort. It is perched on the hilltop of "Cheel Ka Teela" and this magnificent fort was commissioned by Sawai Jai Singh 11 to protect Amer Fort from the British rulers. It is a palatial structure surrounded by massive battlements and verdant greenery, and it is connected to Amer Fort through many subterranean passages. The fort currently houses the largest cannon on wheels that is also popularly known as  Jaivana.

3. Gaitore: This is the most famous tourist attraction in Jaipur, extremely renowned for its blend of Hindu and Islamic style of architecture. Gaitore is popular for its chattris or cenotaphs which means the resting spot of the departed souls.

This is the spot of the royal families of Jaipur where Jaipur's greatest royals have been cremated. It has many cenotaphs for each ruler of Jaipur, and these cenotaphs have an artistic blend of Rajasthani cravings. The ornamented designs, white marble, marvellous carvings, and peacock structures are something that attracts the tourists to visit the place and get lost in its serene environment.

4. Jantar Mantar: Jantar Mantar is a renowned astronomical observatory consisting of nineteen architectural instruments and the largest stone sundial in the world. This is a UNESCO world heritage site and it stands as a structure of brilliance in the city of Jaipur. It's extremely renowned among the visitors for its clever and smart use of geometrical patterns in the form of instruments.

5. Hawa Mahal: This is a distinctive landmark that every visitor stops by in Jaipur. Made with pink and red sandstones this beautiful palace sits on the edge of the city close to Jal Mahal. Its beehive-like structure consists of small chhatris and carved dome-shaped pavilions to show the richness of Rajputana architecture. The most interesting aspect of this palace is that a light breeze passes through it all the time which is why it has been named as Hawa Mahal.
Other Essential Information About Jal Mahal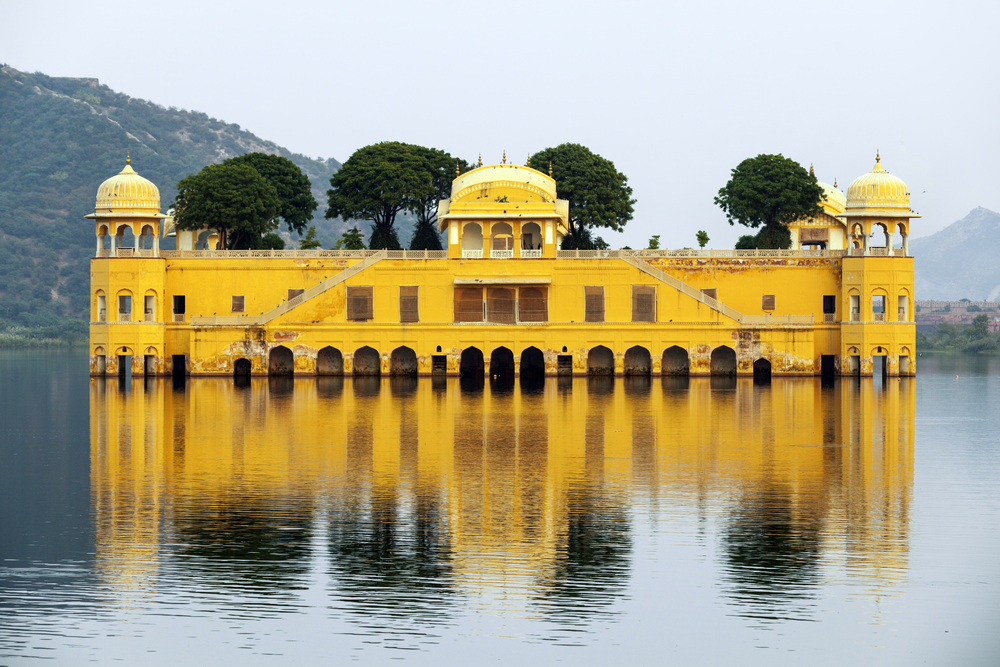 -Location: Amer Rd, Jal Mahal, Amer, Jaipur

-Timings: 12-10:30 pm

- Fee: Rs 10 per person for Indians
           Rs 50 per person for foreigners

Facts about Jal Mahal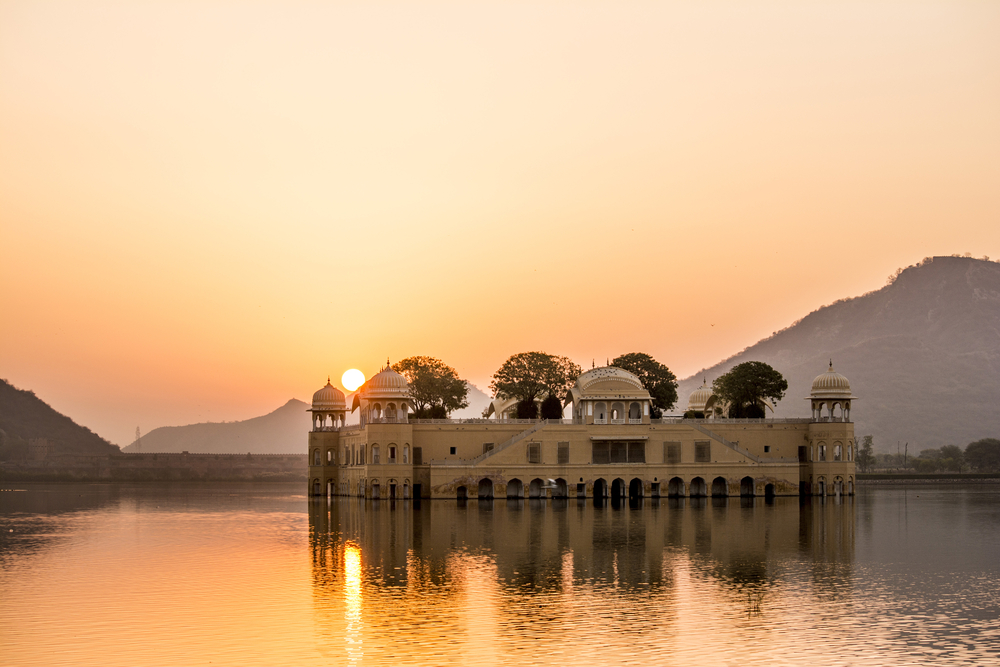 Here are some fun facts about Jal Mahal that will blow your mind completely.
1.
Only the topmost floor of Jal Mahal is visible and accessible. All the remaining four floors stay submerged in the water of Lake Man Singh Sagar.
2.
The palace was used initially more like a picnic spot and less as a residence, and therefore you won't find any personal chambers over here.
3. 
The government of Jaipur continuously takes efforts to preserve and develop the areas surrounding Jal Mahal.

Tips for visiting Jal Mahal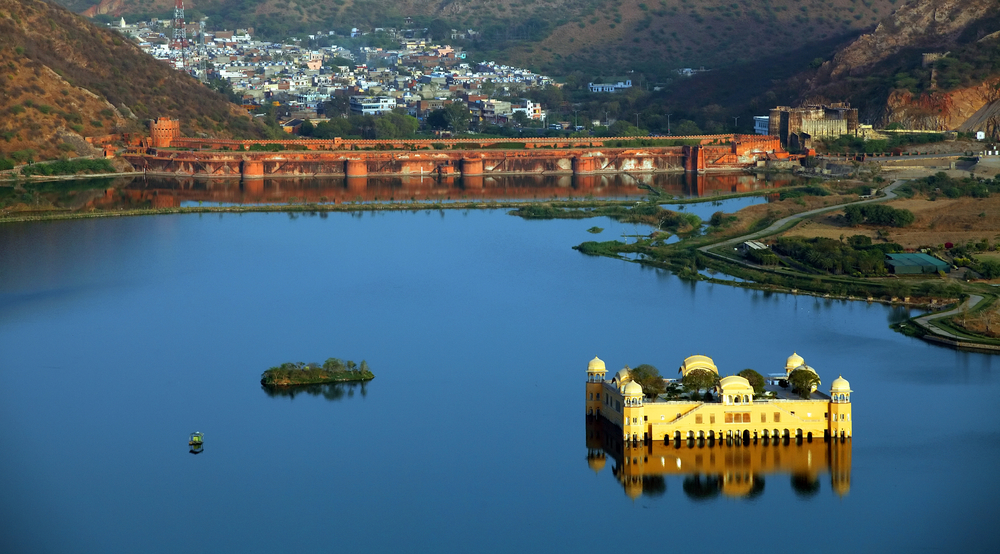 There are a few tips that you must keep in mind if you're visiting Jal Mahal for the first time.
1.
Always carry comfortable shoes that would ensure you a hassle-free trip of this palace and its nearby attractions.
2. 
You should also carry sunglasses and hats in the summer to stay away from sunstroke or sunburn.
3.
You can also carry a camera along with you to capture the beautiful memories over here. You'll have to pay a nominal fee to carry the camera along with you.
4.
It's also important to carry the important medicines that you might need in the middle of the trip.