About Appu Ghar
Appu Ghar, the recreational city of India, is situated in the backdrop of Aravali mountain range in Jaipur city. The park spreading over sprawling 300 acres offers entertainment, exhilaration, respite, and escapade. Appu Ghar is also referred to locally as "Happy Adventure" is a 2-day vacation haven, suitable for people of all ages.  
Appu Ghar, the most excellent water park in Jaipur city is adrenaline on the rocks with numerous breathtaking rides and water slides. The park is developed by IAL (International Amusement Limited) and Mr. Gian Vijeshwar, considered the Father of Indian Amusement Industry, as a third venture after Rohini Amusement park and Noida Entertainment city. 

It encompasses picturesque villas, world-class recreational facilities, star hotels & MICE amenities, and integrated mall with global brands. A perfect outing for people to get away from the hustle-bustle of the busy metropolitan and mundane lifestyle and freak out doing what one likes best. 
Helicopter ride, Toy train ride, Piggy ride, Monkey bars, and trampoline keep the kids amused the whole time. Mechanical Bull Ride, ATV Rides, Bungee Trampoline, Dirt Biking, etc. sets adults' palpitations racing and uncertainty and anxiety about capabilities peaking before each activity. Team games like Cricket Pool, Air Hockey, and Rope Courses build the spirit among the team members.
Online Video Games zone with Playstation and Xbox and 24-lane Bowling alley offer unlimited hours of joy and excitement to the millennia.

The scenic 9-hole golf course at Royal Golf Club spread over 58 acres with Aravali Mountains in the background offers a pleasant ambiance to enjoy the game. 
How to Reach Appu Ghar
From Airport - 
Jaipur International Airport is the nearest airport, which is located at a distance of 34 km from Appu Ghar. Visitors can utilize either local buses or private cabs to reach Appu Ghar from Airport.
Best Time to Visit Appu Ghar
Though all seasons are suitable to visit Appu Ghar, the best period is after the monsoon. The park also remains crowded during the summer vacation from March to June. The least preferred time is the afternoons in summer due to scorching heat. Appu Ghar witnesses the heavy flow of visitors on Saturday and Sundays.
What Not to Miss at Appu Ghar
Attractions in/around Appu Ghar, Jaipur

Royal Golf Club:
The Royal Golf Club designed by famous architect PCD – Phil Rayan was opened to the public in the year 2015. It is spread over an extensive landscape of 58 acres against the beatific Aravali Mountain range. The club houses the 3800 yards regal course with 300 yards driving range.

It comprises 9-holes, man-made lakes, sand traps, testing terrains, outlined verdant patches, and fairways.


The Amber Fort:
Amer Fort is a historical fort located atop a hill, 10 km from Jaipur city in Amer Town. The entire fort along with the famous Sheesh Mahal (Palace of Mirrors) is an ode to yesteryears engineering and creative brilliance.

The Palace of Mirrors is a building, which is completely fitted with mirrors and glass. Gigantic Gates, sprawling courtyards, luxuriant gardens, and quiet lakes mesmerize the visitors. The light and sound show at night spellbinds the audience.

Another attractive feature at the Amber Fort is the elephant ride that kids and families love to undertake.


Lakshmi Narayan Temple:
Lakshmi Narayan Temple, constructed by the Birla Group in 1988 with pure white marble is also referred to as Birla Temple. The temple dedicated to Lord Vishnu and his consort Goddess Lakshmi has the idols sculpted from a single piece of marble stone, stained glass windows, beautiful carvings and inscriptions from Hindu Mythology.

The verdant garden adds charm and piety to the temple. The adjoining Birla Museum and Shopping complex sate the materialistic thirst of the visitors.

Jal Mahal:
The Jal Mahal located in the center of Lake Man Sagar is a visual treat as it appears to be floating in the quiet waters against the contrasting dark robustious backdrop of Aravali mountain ranges.

It is a preferred destination for Kids and families as numerous food stalls and eateries line up the lake. Boating is also sometimes permitted in the Man Sagar Lake. 

Ramniwas Bagh:
The royal garden built by Maharaja Sawai Ram Singh in 1868 is spread over 33 acres. The sprawling lush green garden with impressive fountains is home to many exotic and local floras. The Bagh houses the imposing Albert Hall Museum named after King Edward VII (Albert Edward).

It also comprises a bird park, the Zoo, Ravindra Rang Manch Theatre, and the art gallery.  A haven for picnickers, both locals and visitors, the park's alfresco food joints tempt the young and old with their salubrious and tasty delicacies. 

Albert Hall Museum:
The Museum built around 1876 is a repertoire of rich and varied heritage objects such as pottery, ivory items, Jewelry, sculpture, and crystal works.

It is a treasure trove of coins and currencies belonging to Mughal, Gupta, Delhi Sultanate, and British periods. It provides a unique experience to visitors with an unforgettable darshan of the Egyptian mummy on its premises.


Jantar Mantar:
Jantar Mantar, a historical and UNESCO declared World Heritage Center is a marvel of India's astronomical knowledge and scientific expertise. Jantar Mantar meaning "calculating instrument" was built by Sawai Jai Singh II in 1729 to track the astronomical positions of Stars, especially the Sun with the naked eye.

 It houses Samrat Yantra, the world's largest Sundial along with a set of 20 mammoth masonry instruments. It is a favorite destination of one and all from kids to adults, families and budding science and astronomy students. 

Nahargarh Biological Park:
The Nahargarh Biological Park is one of the biggest zoological parks in Jaipur. It is a perfect place for kids and families for an outing to enjoy the wildlife such as Asiatic Lions, Royal Bengal Tigers, bears, Hyenas, wolves, deer, civets, wild dogs, monkeys, etc from the comforts of a Jeep safari.

Visitors can take pleasure in elephant safaris conducted here.
Other Essential Information About Appu Ghar
Location: Near Daulatpura Toll Gate, Delhi Ajmer Bypass Rd, Jaipur, Rajasthan.

Timings: Monday to Sunday between 10:00 a.m. – 7:00 p.m. 
N.B.: During winters (Nov – Feb) park closes at 6:00 p.m.

Appu Ghar attraction Pass types: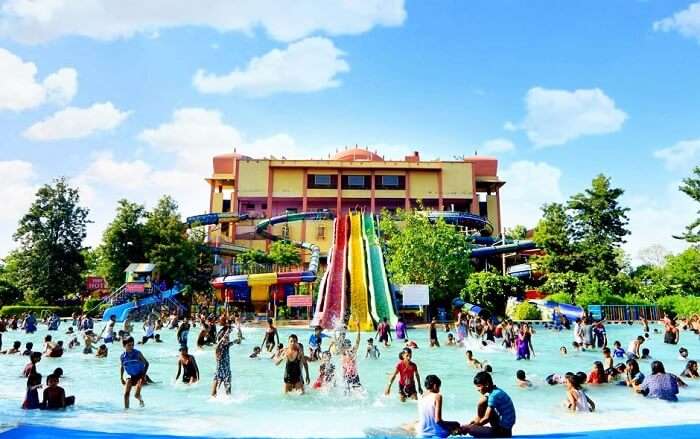 Entry Ticket Charges (Excludes activity and Ride charges) 

Adults (above 4ft. 6 inches) – Rs. 100 per person


Children (below 4.6 ft) – Rs. 50 per child


One day Packages
(excluding Meals & Beverages)


N.B.: One time access to all activities minus coin-operated games


Adults – Rs. 2400 per person


Children – Rs. 2000 per child


Jumbo Packages
(excluding Meals & Beverages)


N.B: Unrestricted access to all rides & activities excluding coin-operated games


Adults – Rs. 5000 per person


Children – Rs. 5000 per person

Restaurants in Appu Ghar:

Phulwari, Appu Ghar: A wholly vegetarian restaurant that dishes out delicious cuisines with exquisite flavors and tastes to satiate a gourmet visitor.

Shree Ram Restaurant & Cafe: The restaurant located at Amer Road, is the most sought after for its fresh, less oily, sumptuous food at affordable rates. Outdoor dining available at night.

Hotel Jaipur King: An excellent place with good amenities and lip-smacking dishes.


The Marmelos House, Kukas: A beautiful indoor and outdoor restaurant with a poolside area to satisfy the hunger pangs and gastronomic pleasures. Cocktails, Mocktails, Beer, and Wine make it ideal for the revelers. The hospitality of the manager and the staff enables to score brownie points and turns visitors' outing memorable.


Heritage Spices Multicuisine Restaurant: A very hygienic restaurant rated good by Indian & Foreigner tourists for its salubrious and yummy food at reasonable rates.

Anokha Gaon: A restaurant that serves authentic Rajasthani food. Nice place for a family get-together. 

La Italia: An Italian restaurant set over rooftop that dishes native and genuine Italian cuisines.

Royal Rajwada Multicuisine Restaurant: Situated on the Amer road, this eatery is known for its prompt service, clean ambiance, healthy and tasty Rajasthani and non-veg. food. Traditional Rajasthani live music entertains visitors.


The Kook: Nice & clean surroundings, generous management & staff, tasty and healthy food, and Rooftop bar makes this place a visitor's favorite.

The Bhoora Dhaba: The Dhaba serves epicurean North Indian Veg. dishes, Rajasthani thali, Chinese food, and beverages.  The Bhoora Dhaba: The Dhaba serves epicurean North Indian Veg. dishes, Rajasthani thali, Chinese food, and beverages.  


Tips for Visiting Appu Ghar : 
1. Do not forget to carry swimsuits.
2. Pay attention to the signboards and respect the instructions. 
3. Do not enter the "restricted areas" and "For staff only" locations. 
4. Follow rules and ensure safety.
5. When riding a roller coaster, make sure you sit tight and firm on the seat and hold the hand bars.
6. If riding a floorless coaster, do not tuck your feet inside the car, which will make your ride uncomfortable. Dangle your legs freely in the air and relax.
7. Carry a pair of goggles, sunscreen lotion, medicinal kit, and water with you, esp. if you are taking kids along with you.