About Van Gogh Museum
Van Gogh Museum is a home where you can appreciate the biggest collection of artworks by Vincent Van Gogh. Here you will not only see the artwork but will also learn about the life and life stories of Vincent Van Gogh. In the entire history of western art, he was one of the widely famous artists. He was born on 30 March 1853 in the Brabant village of Zundert, he was the first child of Protestant minister Theodorus van Gogh and Anna Carbenuts. His journey started as a schoolboy, then to becoming a junior clerk at an art firm, a teacher after that, then onto selling books as a bookseller and a preacher at the end. Finally, at the age of 27 years, he decided to become an artist and change the history of art forever which ended in 1890.

Vincent has always dreamed of establishing a community of artists in the South of France. From the beginning he was an artist known for his passion and powerful emotions through his artworks. Vincent got his inspiration from the Japanese printmaking which gave him a new way to look at the world. There was a low time during 1890 while Vincent's life was falling apart because of personal issues and he finally decided to take his own life and shot himself in the chest on 29th July 1890.

Van Gogh Museum holds a collection of Vincent's famous paintings and drawings along with the work of his artist friends. As per Vincent, his paintings based on sunflowers were among the best of his artwork he has ever made. There is a huge collection of Japanese prints as well, as Vincent Van Goh was a dear admirer of Japanese prints. Even after a century of his death, Vincent's paintings are still inspiring the coming generation of artists over the globe.
How to Reach Van Gogh Museum


You can reach Van Gogh Museum via 3 different modes of transport.

Train & Tram: Catch the Train No. 5 till Amsterdam, Station Zuid and catch a Tram from there till Van Baerlestraat where the museum is situated. The journey will cost you around 8-9 Euro and the time duration will be around 25 Mins.

Bus: Take bus No. 397 and get down at Museumplein, from there the museum is only 400 Meters of walking distance. The whole journey will consume around 30 Mins and will cost you 4 Euro only.

Taxi/ Self Drive: Taking a Taxi or Self-drive car is the fastest way, and you will reach the museum within 12 Mins from the Airport. A Taxi will cost you around 38 Euro and a Self-Drive car will cost you fuel around 3 Euro. You can opt for a shared taxi as well.
Best Time to Visit Van Gogh Museum


The museum opens daily at 0900 Hrs and shut down at 1800 Hrs, except Fridays when the museum is open till 2100 Hrs. Visiting before 11am and after 3pm is the only time slot when you will find this place less crowded. From 11 am to 3 pm the museum stays overcrowded. Booking online is the best way to avoid queues for tickets.

Weekends are the busiest, so if your itinerary allows, then plan your visit to the museum on weekdays otherwise the waiting line can take an hour of your time. The best time to visit is on Friday evening since there are extended opening hours on Friday and less crowded.

The peak tourist season varies from April to May and July to August. During both of these duration you will find this place overcrowded.
What Not to Miss at Van Gogh Museum


You will have plenty of options to explore nearby Van Gogh Museum. You can choose from a variety of options, from clicking a great selfie at "I Amsterdam Singh" to exploring contemporary art at the Moco Museum.

1. Rijksmuseum: It's a wonderful home of art collections, mostly crowded with narrow passageways.

2. I Amsterdam Sign: In a socially active world, everyone craves a nice picturesque spot. This is one famous picturesque spot in Amsterdam.

3. Moco Museum: The Modern Contemporary Museum Amsterdam Moco Museum puts emphasis on proven pioneers and protagonists.

4. Het Concertgebouw N.V.: It's the place of the popular Concertgebouw Orchestra. You can easily spot many famous National and International symphony orchestras playing here in the Great Concert Hall.

5. Stedelijk Museum CS: It's a must-visit place for modern art lovers. A recently renovated museum on contemporary and modern artworks. It is situated right next to Van Gogh's Museum.

6. Diamant Museum:  Amsterdam used to be the hub of diamond trade and polishing, and this museum takes you through the history and science of these beautiful jewels. Here you can learn the diamond's development from start to finish.


Things to Do Near Van Gogh Museum


There is an end number of experiences that you can live near the Van Gogh Museum. You can choose from Canal Boat Tours, Vondelpark, House of Bols and many other options.

1. Canal Boat Tours: Exploring Amsterdam through waterways is one of the best ways to see this beautiful city. Strive your way through the Amsterdam's canals in a Canal boat and appreciate the beauty of Amsterdam from the water.

2. PC Hooftstraat: If you are a fashion lover then you do not want to miss this place at any given cost. It's one of the most expensive shopping streets in the Netherlands.

3. House of Bols: It's one of a kind experience that you may not find anywhere else in the world. It's a self-guided tour that enables visitors to discover every aspect of cocktails and bartending as well.

4. Vondelpark: Amsterdam is a busy city and some people just like to escape the crowd for some time. Vondelpark is the place where you can have some "Me" time in the afternoon while lying under the sun. It's a popular spot for picnics and to grab some quiet space within the city.
Other Essential Information About Van Gogh Museum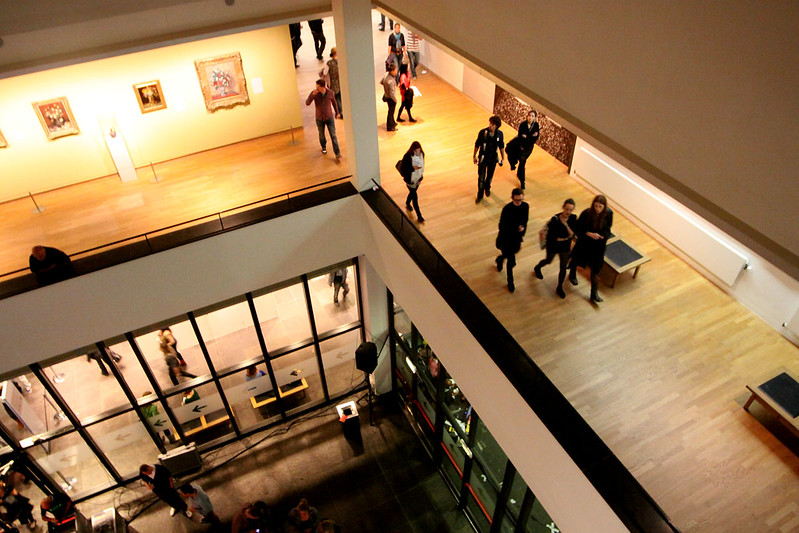 The Van Gogh Museum is a dutch masterpiece amongst all the museums available in Amsterdam. It holds the largest collection of world's renowned artist- Vincent Van Gogh. People from every corner of the world make their visit to Amsterdam to see this beauty. During 2017, the Van Gogh museum was the most visited museum in the Netherlands. During this year 2.3 Million people made their visit here. It is a museum of Dutch art that is purely dedicated to the works of Vincent Van Gogh and his peers in Amsterdam. It holds the largest collection of Van Gogh's artwork in the world.
The museum covers a large area to hold the biggest collection of artworks by Vincent Van Gogh in the world. The museum encloses more than 200 paintings, 500 drawings and 700 of his letters. It is located at the Museum Square in the borough of Amsterdam South. The museum was originally opened in Museumplein on 2 June 1973. Despite its rich history, the Van Gogh Museums still manages to look fresh and updated because of the constant modernizing and upgrading works over the years. The redesigning work was done by Gerrit Reitveld and Kisho Kurokawa. During 2015, the museum opened a new entrance directly on the Museumplein, giving a new and attractive entry point that better caters to the huge number of visitors.
Latest the technology-driven exhibition, named Meet Vincent Van Gogh Experience, was launched by the museum in 2019. This "3D immersive exhibition" showcases the life of Van Gogh's through his work by using computed audio-visual techniques. It won a 2017 THEA award in the category of Immersive Museum Exhibit: Touring.

Location:
 Van Gogh Museum Museum is located at the Museum Square in the borough Amsterdam South, nearby Stedelijk Museum, the Rijksmuseum, and the Concertgebouw. Precisely it is situated at Paulus Potterstraat 7; Amsterdam, Netherlands.

Opening Hours:
The museum opens at 9 am but do checkout the closing timings on museums official website as it varies weekly, closing timings changes with the week.
- Preferred timings are between 9 am to 11 am or after 3 pm, as you will find less crowded during this time. The busiest time is between 11 am to 3 pm.
- Do carry spare time of 1 Hour to 1.5 Hours to have a good tour of this museum and if you are a die-hard art lover then it may take you 2 hours to fulfill your taste buds.

Tickets: 
Museum tickets will cost you 19 Euro, which you can book online. The ticket provides entry to both the permanent collection and the exhibition on view.
If you are under 18 years (school groups excluded), then you can have free entry but you still have to reserve a ticket online.

Photography: 
Photography is only allowed in designated areas, you are not allowed to do photography in the rest of the museum.

Distance from Amsterdam Airport:
 Both are 15 Kms apart, it will take approximately 22 Mins to cover the distance.
The architecture of Van Gogh Museum


Museum is made up of two buildings, the Rietveld building, and the Kurokawa wing. Mr. Gerrit Rietveld was the designer for The Rietveld building and Kurokawa wing was designed by Mr. Kisho Kurokawa.

1. Rietveld Building: It is a crucial structure and holds a permanent collection. It was designed by architect and furniture designer Gerrit Rietveld between 1950 and 1963. Rietveld's modernist vision was more aligned towards geometric shapes and light, open spaces. Initially, on Vincent Van Gogh's demand, new paintings were hung against the tinted colour wall.

Currently the long walls are broken by abutting traverse panels, which end below the ceiling and are given different colours. The surface above the panels have retained the original colour of the building, a broken white, so that Rietveld's concept can be included in this. Originally Museum's walls were covered with wall-to-wall carpeting for acoustical reasons which was later changed to parquet wherever possible, to improve the quality of the light.

2. Kurokawa Wing: 75% of the building's area was made underground to conserve space. This is a newly opened wing and consists of 1 basement and 2 stories. The building is designed by Mr. Kurokawa. by  The interior is more aligned towards curvilinear shapes and lines, giving it a traditional Japanese touch.