About National Gallery of Modern Art
From 1954 National Gallery of Modern Art has added to the success and glory of Indian history of art and culture. It has been a beautiful home to different art forms and their practices by different artists under one roof. You will be delighted to witness the amazing work of many renowned artists in different sections of galleries showcasing the beauty of this country that has diverse talents, millions of different ideas but are all united by one term that is "ART".

This place welcomes you to another world filled with colors, imagination, and knowledge. They are working on their objectives of preserving different art forms with clarity and have achieved good name and success. With the 12,000sqft. Of area, this place is also one of the largest art museums in the world and is home for the artworks of famous artists like Rabindranath Tagore, A.A Almelkar, Jamini Roy and many more.

You can participate in the guided walkthrough arranged here in a fixed time duration which gives you detailed information about any art form or a particular painting or artist that too without any extra charge. There are 21 different galleries which are dedicated to different artist or art forms. Exhibitions and other culture meetups are usually arranged here to keep this place updated.
How to Reach National Gallery of Modern Art


The National Gallery of Modern Art is 20kms away from the Indira Gandhi International Airport and you can easily board public or private transport.Delhi is a well-connected place that provides you multiple options for transportation.

Metro can also be opted as a wise option to reach this place, the nearest metro station to the National Gallery of Modern Art is the central secretariat.
Best Time to Visit National Gallery of Modern Art
If you  live in Delhi then you can visit the gallery during any season round the year according to your preference but if you are coming Delhi then you should not plan your visit during the main summer months that is May-June and also avoid main winter months that is December-January because Delhi ends up having extreme weather conditions in either season.

During the day you should try to visit this place close to the opening hours in order to avoid the crowd. They also have their official site where the timings of the guided walk arranged or the series of walkthrough they offer is mentioned so you can plan your visit  according to it.
What Not to Miss at National Gallery of Modern Art
Places to Visit near National Gallery of Modern Art:  


There are many other places which are near to the National Gallery of Modern Art and are worth your time. Some of the places are as follows:


1. Jaipur House: Located near India gate at the end of Rajpath this place is the previous residence of the Maharaja of Jaipur in Delhi. You will get to witness fine art and historical touch of the royalty here.


2. India Gate: This 42 meters high symbol of proud Indian history,  is a monument built in remembrance of more than 80,000 Indian soldiers who were killed during World War I. You can visit this place and witness the Amar Jawan Jyoti which was another notable addition to India Gate in the year 1971. It is the eternal flame dedicated to the soldiers who lost life in the Indo-Pak war. 


3. National Handicrafts and Handlooms Museum: This museum can be counted as the gem of India as this place takes you into the ride of a different era of art and  the history of this country. It is governed by The Ministry of Textiles, India.

This place hosts many programmes in which different artists showcase their talent to storytelling or live painting and many more. So,  If you are lucky enough you can also witness various artists performing arts and tales here.


4. National War Memorial: The National War Memorial is a monument that will not fail to give you goosebumps.  This place is established by the government of India near India Gate, to honor the Indian Armed Forces.
Other Essential Information About National Gallery of Modern Art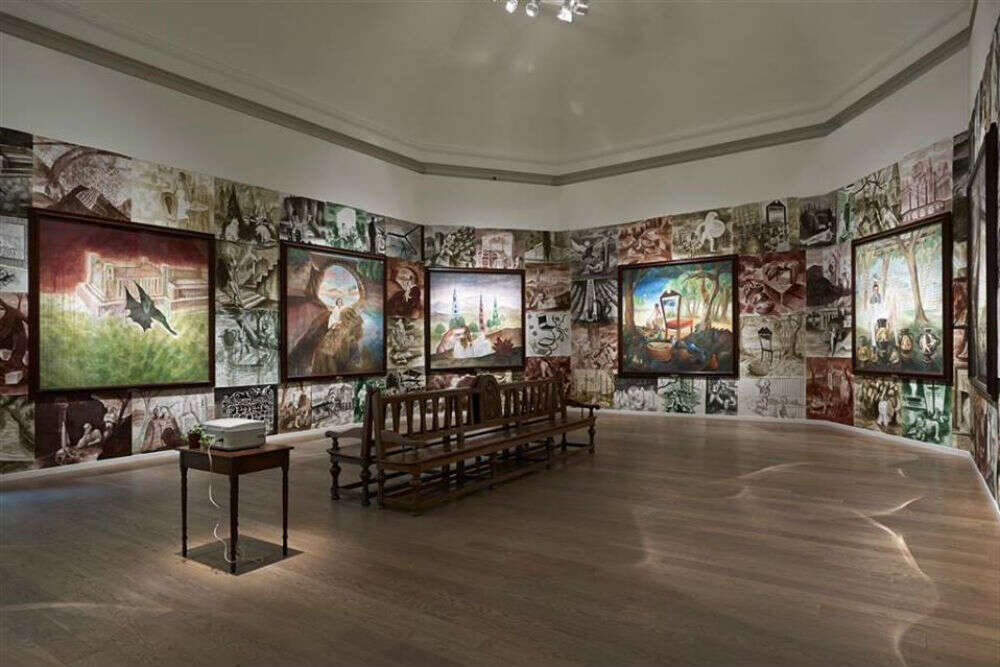 - Location: Located near the India Gate the National Gallery of Modern Art, Delhi is 20kms from the Indira Gandhi International Airport.

- Timings: You can visit anytime between 10:00 am to 5:00 pm expect Monday's and other National holidays as the Gallery is closed then.

- Price: Students are allowed for free, an Indian adult needs to pay 20 INR and Foreigners need to pay 500 INR, each as an entrance fee.


History of National Gallery of Modern Art: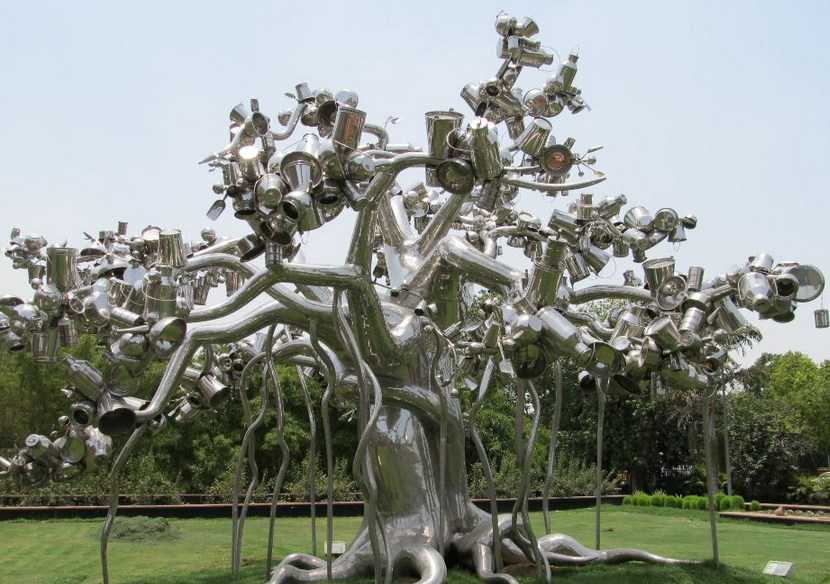 The National Art Gallery is a well- known name of India today, and it took a few very dedicated steps and constant hard work which allowed this organization to shine proudly. On March 29, 1954 India's  Vice President, Dr. S Radhakrishanan, was the person who officially introduced the NGMA within sight of Prime Minister Jawaharlal Nehru and experts who were artistry admirers of the city. And, then the National Art Gallery was established in 1949 and was supported guardedly by Prime Minister Jawahar Lal Nehru and Maulana Azad.

It was Modeler Charles G Blomfield  who structured it along with his sibling Francis B Blomfield, the butterfly-formed structure with a focal vault was worked in 1936. It was styled after an idea of the Central Hexagon imagined by Sir Edwin Lutyens. Later, when the organization started its work, the outstanding sculptors of that time, for example, Ramkinkar Baij, Debi Prasad Roy Chowdhury, Sarbari Roy Chowdhury, Sankho Chaudhuri, and Dhanraj Bhagat, effectively participated in this show.

Gallery's first keeper Herman Goetz later included more offices like Art Restoration Services and art reference Documentation Centre and Library. Its been years of hard work, this organization has been the pride of this nation and has given the world's best paintworks and sculptors.

Galleries in the National Gallery of Modern Art: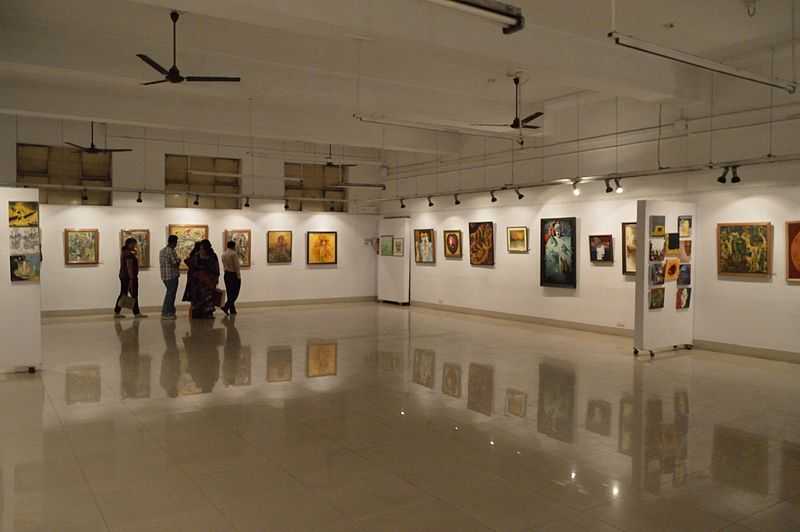 There are 21 galleries in the National Gallery of Modern Art which showcases the different art forms at its best. The different galleries are examples that set the success story of theNational Art Gallery for promoting modern art in the country as one of their objectives. It also aims to preserve and acquire the art form from 1857. Some of the galleries are: 


1. A.A. Almelkar's work: This gallery is dedicated to Abdulrahim Appabhai Almelkar who was an amazing artist and his work was influenced by the works of Bendre and Langhammer. He won many prizes and medals for his outstanding work.

2.
Miniature Painting: This gallery is dedicated to the art form which showcase the Mughal, Rajasthani, Pahari, and Deccani courts most striking traditions of miniature painting in India. This is an art form which has been carried from the 10th century and back then it was done on palm leaves.

3.
Tanjore and Mysore Tradition:  Tanjore is the style of art that was done on fabric and developed on wood while the Mysore style was a detailed painting done on paper. Both methods are lavish in unification and deal mostly with sacred icons painted for religious purposes. Remarkably popular in South India, Tanjore and Mysore ideas of painting have not received the attention that other popular cultures have enjoyed.

4.
Rabindranath Tagore: This gallery is dedicated to Rabindranath Tagore, who is  a renowned name of Indian history. He received the Nobel prize for literature and was a multifaceted genius. He also emerged an intense awareness towards various art forms such as literature, poetry, dance, and music.

5.
Modern Sculptures: It is said that the National Gallery of Modern Art has the most exquisite collection of sculpture in the country.  It showcases the work of the best and renowned artists such as Ramkinkar Baij, Debiprasad Roy Chowdhury, Sankho Chaudhuri, Pradosh Dasgupta, Piloo Pochkhanawala, Adi Davierwala, Chintamani Kar, Amarnath Sehgal, Dhanraj Bhagat and many more.

6.
Abstraction in Contemporary Indian Art: The National Gallery of Modern Art has the artwork, which is the best to showcase the distinct use of material, colors, forms, and texture. Abstract art was not so much admired by the Indians earlier, so it has developed with time and knowledge. You can witness many unique and beautiful creativity of artists in this section.

Tips For Visiting National Gallery of Modern Art: 


1. If you are a person who is into art and craft and have a genuine interest in knowing about the paintings or the art form in detail then you can join the guided walkthrough which will give you the desired information and it does not cost extra.


2.Time management is another good point which should be considered as the museum is large so it will be better if you have the exhibit map in advance to plan and be sure you have enough time to explore the gallery you want to.

3.
You can also visit the souvenir shop if you are willing to buy gifts, pictures, postcards, etc for anyone at a nominal cost.

4.
Do not miss to enjoy an amazing walk through the Sculpture Garden as it will refresh you.