About Dilli Haat
Dilli Haat is one of the most popular shopping gateways in New Delhi, where music, food, fun, and festivities converge in one place. Extending over the area of six-acre, this ethnic marketplace is symbolic of the lifestyle and culture of the people living in this city. 

It has carved the top spot for being the most visited destination by tourists as it presents a vivid world of cultural activities, craft, and cuisine. 

It invokes the vibes of a traditional village fair and is a haven for foodies and shopaholics.  This market offers a wide range of handloom products and traditional crafts, including sandalwood and rosewood carvings, beads, gems, metalcrafts, and brassware items.

It also offers scrumptious food cuisines from different states of India, such as kebabs from Jammu, momos from Nepal, and Puran Poli from Maharashtra. 

Dilli Haat is the ideal spot that allows you to experience a new perspective of the ethnic background of the country through the diverse stalls that have been set up over here. These shops have been set up in thatched cottages to create the atmosphere of the village.

Dilli Haat has been successful in making rural crafts accessible to the city folks as a wide range of skillfully crafted handicraft items from each part of the country are available over here. 

The shops here are rented to the skilled craftsmen from all across the country on a rotational basis, thus ensuring that a varied range of handicraft items are available to the visitors at each visit.

Many interesting shows promoting the handlooms and handicrafts are also held at the exhibition hall in this marketplace. Dilli Haat offers you an incredible experience of India in a microcosm and is a window to the diversity and vibrant contrast that exists in our country. 
History of Dilli Haat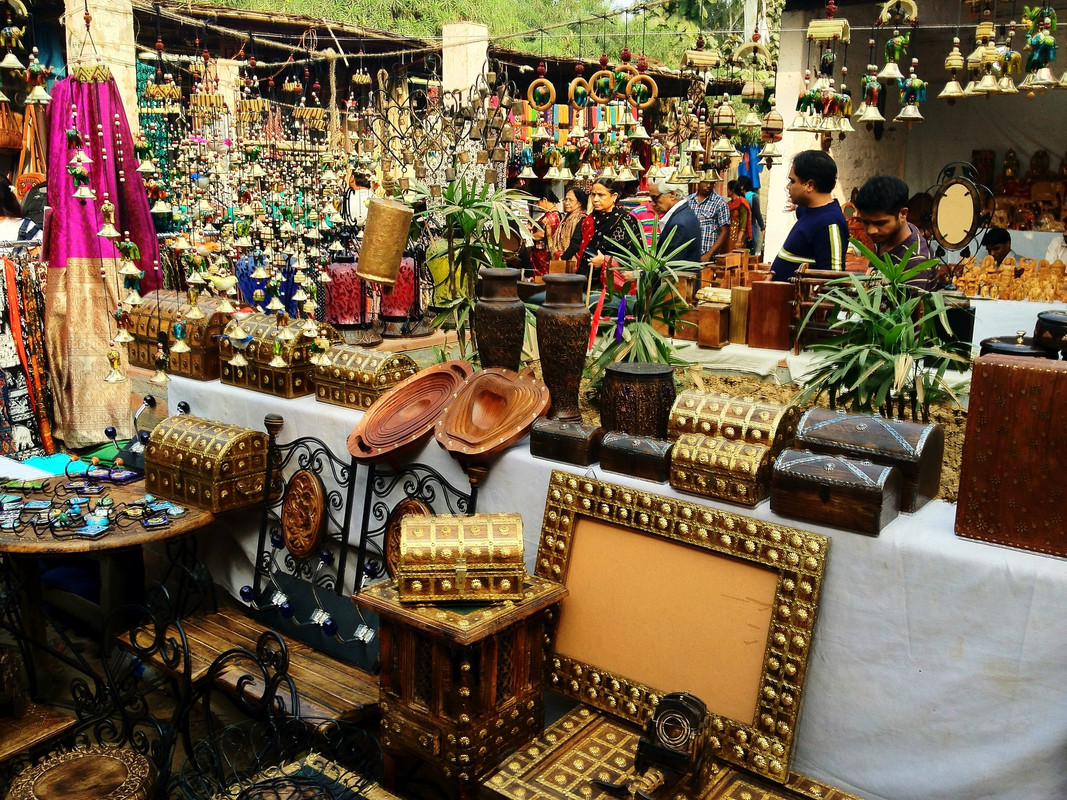 Dilli Haat was established by the joint effort of the Government of Delhi, Delhi Tourism, NDMC, and Ministry of Tourism and Textile.  The first outlet was set up in 1994 by INA in Delhi. By 2003, this market developed into a hub of compulsive shoppers and foodies.

The basic aim behind setting up this market was to provide economic exposure to the local artisans and to showcase their skills to the people.

The artisans from all across the country assemble here to showcase their artistic skills through the wide range of arts and crafts that are held on display in the stalls over here.

Owing to its popularity and the immense success, it has opened up various branches across Janakpuri in West Delhi and Pitampura in North Delhi.

Dilli Haat is continuously expanding in the area that it occupies with the opening of each new branch. The Pitampura branch of Dilli Haat is spread over 7.2 hectares of land, and it was established in 2008. The newest and the largest branch of Dilli Hatt at Janakpuri is spread over 9.8 acres, and it was inaugurated in July 2014.

Dilli Haat was initially opened up to be a global platform for the promotion of the ethnic craft and art forms, but lately, it has become the launchpad for entrepreneurs and small scale businesses in the fashion industry.

The drapery, footwear, leather, handloom, and the textile section of Dilli Haat is extremely popular among foreigners and locals alike.

The eateries over here also promote the regional cuisines of the various states of India. Many festivals are held over here like Teej Festival in August and Baisakhi festival in April to give a glimpse to the visitors about the diversity that exists in the celebrations in various parts of India. The fun festival of Delhi-Comic Con is also organized at the INA branch.

The Architecture of Dilli Haat



Dilli Haat conceived as an Urban Haat was designed by the architect Pradeep Sachdeva in 1994. It displays the north Indian style of architectural grandeur with stone roofs and brick latticework.

This complex has two entrances- the primary face with pedestrian and vehicular zones and a secondary rear entry, for the pedestrians. It has an indoor auditorium for formal concerts and a multi-scaled exhibition hall for seminars.

There is a small souvenir shop located here that sells the mainstream souvenirs of Delhi. The entire architecture of this place is an eclectic mix of traditional and modern spectrum with stone masonry design on the facades and Kota stone and slate work on the walls. 

The stalls are built in cottages and kiosks with thatched roof to give a feel of the village to the entire area. The entire marketplace has stone pathways that are interspaced with greenery, and the shops have courtyards in between to retain the harmonious environment of the rural area.

A play area has also been designed for the kids amidst the central area of the marketplace. The food court houses 48 different stalls from diverse states of the country, and it is a common ground to celebrate the taste of India. 
How to Reach Dilli Haat
From Delhi Airport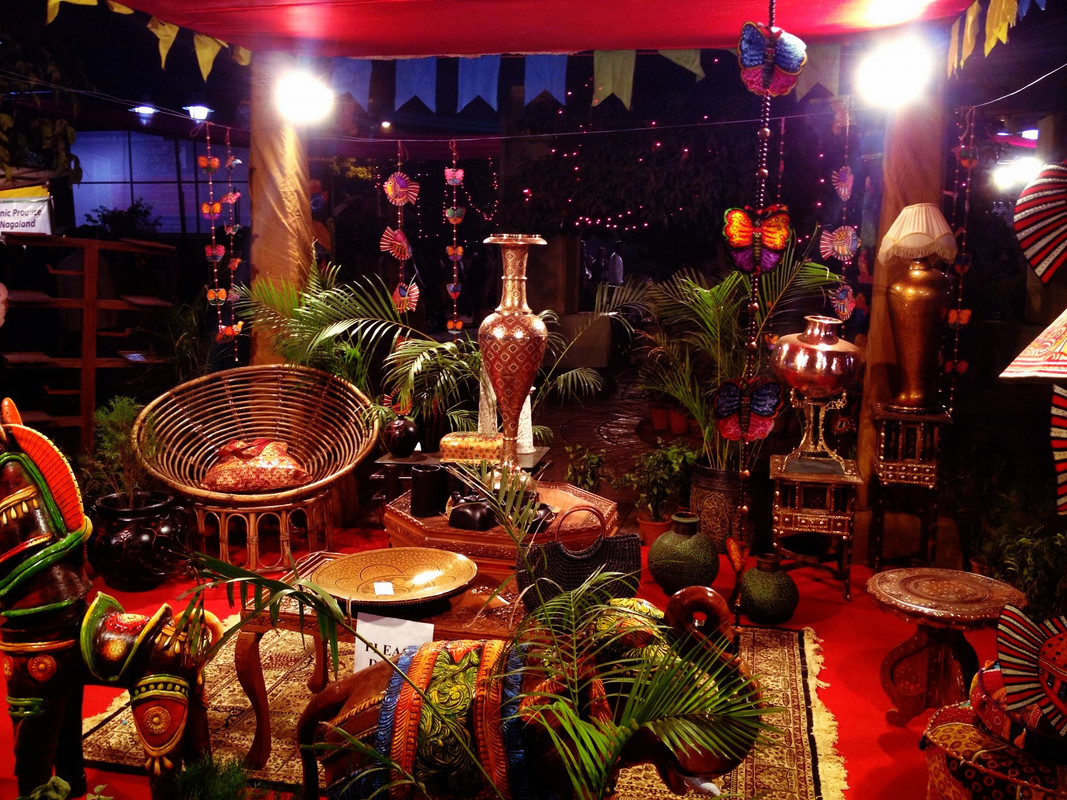 Delhi Airport is located at a distance of 12 km from Dilli Haat. You can take a cab/taxi from Delhi airport to reach Dilli Haat. You can also take a town car or auto-rickshaw from Delhi airport to reach Dilli Haat.
It will take around 15 minutes to reach Dilli Haat from Delhi airport by cab/taxi. You can also take a bus from Delhi airport to reach Dilli Haat. 
Best Time to Visit Dilli Haat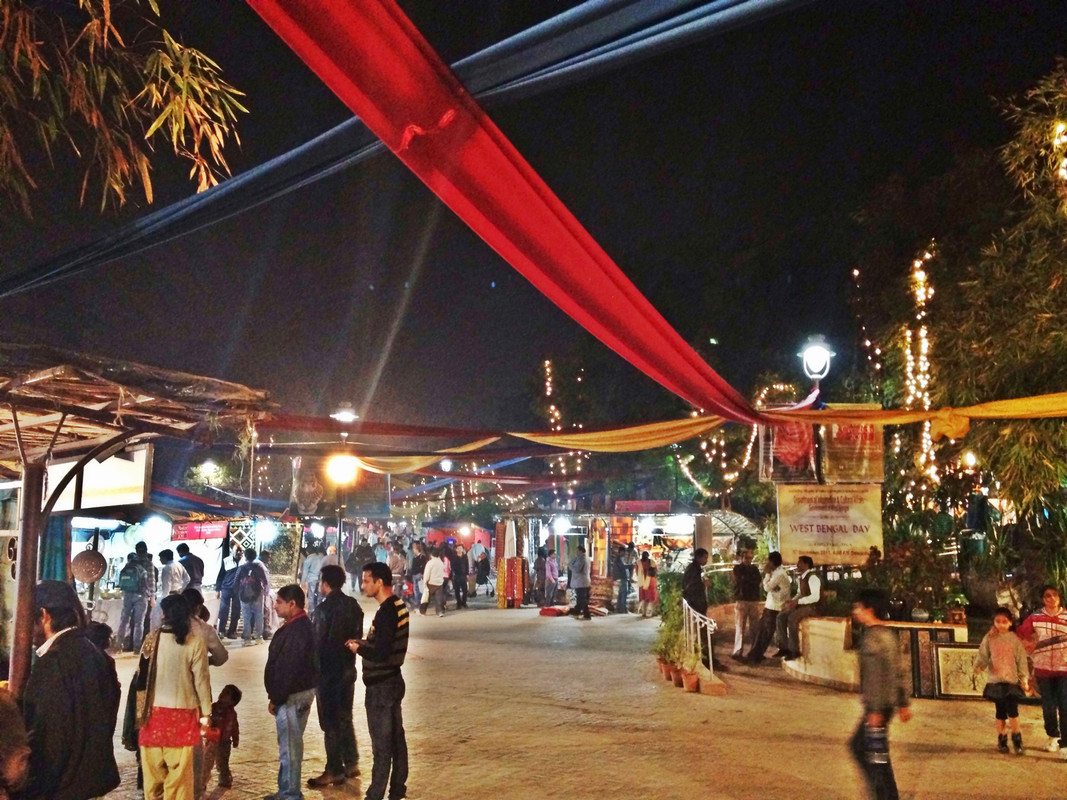 Early spring or winters are the best time to visit Dilli Haat as the weather is extremely pleasant at this time of the year. You should avoid visiting Dilli Haat during summer as Delhi gets extremely sultry and hot during this season. 

Since Dilli Haat is an open-air market it's best to visit this market only during spring or winters to avoid the scorching heat and to stroll through the shops without any discomfort.
What Not to Miss at Dilli Haat
Places to Visit near Dilli Haat


There are ample of places that you should definitely visit near Dilli Haat to explore the magnificence of Delhi in the best way.

1. India Gate: 
This is an awe-inspiring sight located along Rajpath and is often compared to the Gateway of India in Mumbai due to its architectural magnificence. This 42-meter tall structure was designed by Edwin Lutyens and is considered to be one of the largest war memorials in the entire country.

India Gate is extremely famous for hosting the Republic Day Parade. It is dedicated to the 72,000 soldiers who died during World War 1. The premise of India Gate also houses Amar Jawan Jyoti located right underneath the archway. 

2. Qutub Minar: 
This is a 73-meter high tower that was built by Qutub-ud-Din Aibak in the year 1193. It is the highest tower in the country with projecting balconies and five storeys. This architectural splendor was built to celebrate the dominance of Muslims in Delhi.

This soaring tower allures the tourists despite being severely destroyed by natural apocalypses many times. The sight of this monument takes you back to the rich era of the history of India. 

3. Gurudwara Bangla Sahib: 
This is one of the most famous Sikh pilgrimage sites in Delhi that was formerly the residence of Raja Jai Singh. It was earlier known as "Jaisingh Palace" but later it was converted into a gurdwara after the ninth Sikh Guru, Guru Harkishan Sahib.

This golden-domed gurudwara comprises a Sarovar, the main gurudwara, Yatri Niwas, and a school. Free meals are served over here to the pilgrims daily. A small museum is located inside the entrance to this complex, chronicling the rich history of Sikhism and its martyrs. 

4. Hauz Khas Village: 
Hauz Khas Village is the perfect spot for travelers to quench their thirst for architecture, history, and urbane refurbished markets. It has a spellbinding aesthetic appeal and is flushed with happening places and well maintained green parks.

It is also known for its eclectic nightlife with vibrant cafes, pubs, and bars. This place has now turned into a posh locality with a countless number of art galleries, boutiques, and restaurants. 
Other Essential Information About Dilli Haat


Location: Commercial centers of South Delhi, opposite INA market

Timings: 11:00 AM to 09:00 PM

Price: Rs. 30 for adults, Rs. 20 for children under 12 years of age


Places to Eat near Dilli Haat



There are various places near Dilli Haat, where you can relish into the magnificence of the finest delicacies. 

1. Bukhara: This is an award-winning restaurant that is considered to be a beacon of culinary excellence all across the globe. It is the most preferred dining destination of the presidents, renowned celebrities, and heads of states for the last 35 years.

You can have the scrumptious tandoor-cooked kebabs, bread and vegetables over here. The rustic furniture and stone-clad walls evoke the royal feel among the visitors. It has won numerous accolades over the years for its culinary excellence and the most heavenly vibes. 

2. Hauz Khas Social: This is the first-ever co-working space that has been clubbed into a café with magnificent interiors and recyclable furniture. The view of the Hauz Khas lake further makes this spot buzzworthy. 

The unique aspect of this place is that the menu here comes in tabloid format, and the napkins look like the toilet rolls. It serves a wide range of global delicacies and quirky cocktails that will instantly uplift your mood. 

3. Varq: This is the first-ever restaurant that hones the concept of serving pre-plated Indian food. This award-winning restaurant guarantees a memorable gourmet dining experience with artistic presentation and lip-smacking taste. 

The interiors are extremely captivating with oil paintings, sculptures, and beautiful carvings on the wall. It is known for reinventing Indian food with unique pairings and creations. It is symbolic of luxury, elegance, and preciousness, which is reflected amply in the décor and cuisine of this restaurant.

4. Wasabi by Morimoto: This is touted as one of the best Asian restaurants, offering authentic Japenese culinary treats to the guests from the repertoires of Chef Morimoto. The best thing is that the menu of this restaurant keeps on expanding so you'll never have to compromise on the food choices. 
Tips for Visiting Dilli Haat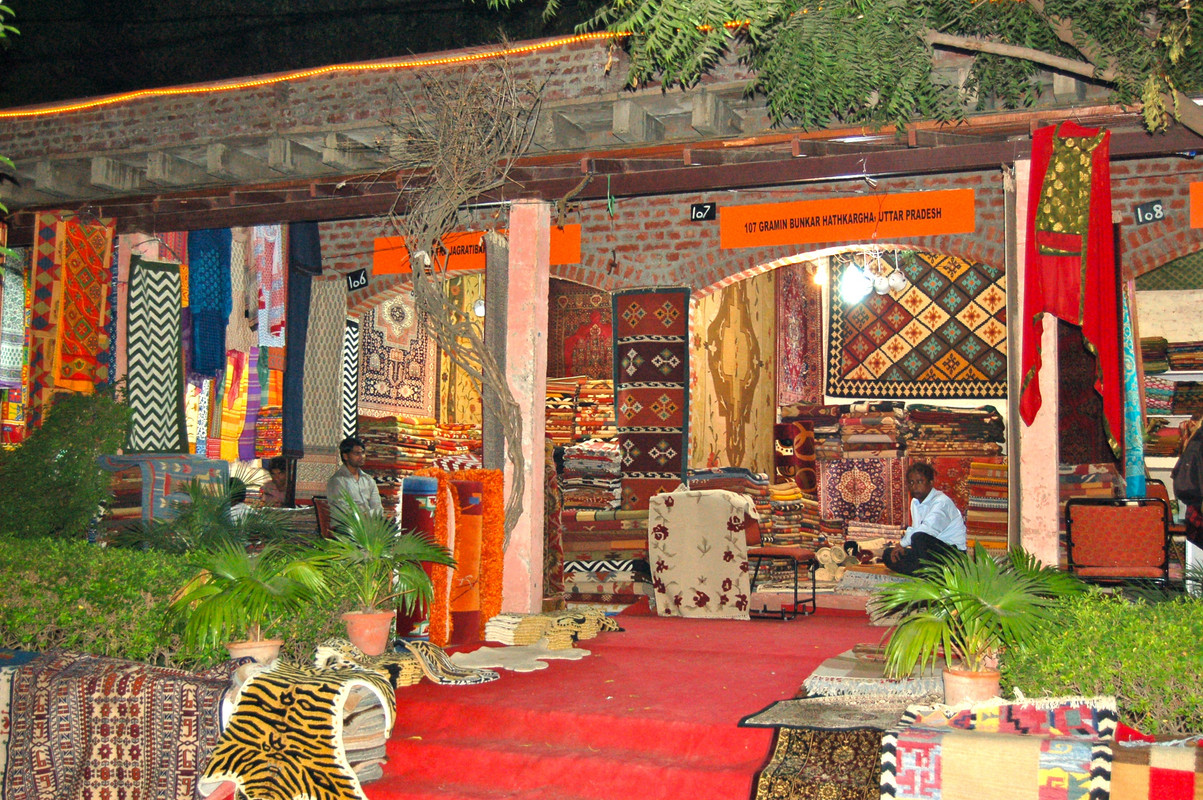 If you want to explore Dilli Haat at it's best and want to take home the best items that are sold over here, then here are a few tips that you must keep in your mind.

- If you want to have a peaceful experience while exploring Dilli Haat then it's best to visit this spot during the weekdays. During weekends this spot seems bustling with crowd, and it might become difficult for you to shop the best items at the best rates.

- If you're visiting Dilli Haat during summer then don't forget to wear a cap or hat to combat the humidity and heat. You should also carry a water bottle along with you to prevent dehydration during summer.

- Make sure to haggle and argan over the things that you intend to buy over here as the prices are mainly high at the shops over here. You need to have good bargaining skills to buy your favorite items at the best rate.

- If you have kids along with you then they can relax in the play area that has been designed for the kids visiting this spot.

- Don't litter or throw the waste anywhere you feel like in this marketplace. Dispose off waste in the dustbin to keep the marketplace clean. 

- There are umpteen number of shops located over here, so it's best to walk around the marketplace and look into the various shops located over here to pick the best items. It's always better to compare prices at different shops and then make a buying decision. 

- Since this marketplace is extended in vast acres of land it's best to wear flip flops and shoes to explore the shops comfortably over here. 

- Don't forget to relish your taste buds by having a fare of delicacies at the various eateries that have been set up over here.