About Mehrauli Archaeological Park
Located in the national capital of India, the Mehrauli Archaeological Park is an important historical site covering over 200 sq km area. The park is most famous for being the only area in Delhi to have 1000 regular years of occupation. Holding one of the highest cultural distinction in Delhi, the park is home to the worn-out tombs of many significant historical figures including Balban, Quli Khan, and Sufi poet Jamali. The archaeological park is also famous for housing the stepwell, 'Rajon ki Baoli'. 

Along with being packed with the most prized relics of the medieval era, the park is home to numerous plants and trees that add to its natural charm. To the delight of bird watchers, several rare aviary creatures also dwell in the branches of the park's trees. In the heart of these trees is a beautiful lake that offers a mesmerizing view of the sunset.

Mehrauli Archaeological Park proves to be an excellent source of recreation for people of all ages. The educational aspect of ancient ravaged monuments entices young minds while the organic beauty of several gardens crowded with thick rose bushes bewitches the adults. Bustling with school expeditions and family picnics on the busiest of days, the park brims with a sense of an inexplicable nostalgia. Regardless of what part you decide to explore, you are met with a wave of history and heritage. A subtle reminder of ancient art and medieval culture, the Mehrauli Archaeological Park is no less than a paradise for every history enthusiast. 


The Architecture of Mehrauli Archaeological Park 


The Mehrauli Archaeological Park located right in front of Qutub Minar is an architectural marvel of the medieval times. Inspired by the Indo-Islamic style of architecture, the monuments of the park combines intricate stonework with elaborate masonry. Nested in the heart of the Aravali mountain range, the Mughal piece of architecture stands as proud as the mountain peaks that surround it. 


Encapsulating the apparent success of architectonics of the bygone era, the heritage shrines of monument closely resonate with the national identity of the time. With a varied range of ornate carvings adorning the earthly walls, the park showcases the heterogeneous nature of the many faces of Indian society. 


Spreading over an expanse of 200 acres, the park is held in high cultural regard as it hosts more than 100 unique ancient relics. Along with being a hub of famous graves and tombs, the park abounds with several mosques, gardens, lakes and other historic structures. 


Hosting several wells, step wells, sulphur wells, barracks and gateways, this archaeological marvel is often referred to as a people's architecture. With functional underground aquifers controlling the water supply, the site was prominently constructed as a village to be inhabited by a civilisation.
How to Reach Mehrauli Archaeological Park


By metro: One of the most economical ways to reach the park from Delhi Airport is via metro. One can reach the park through the Qutub metro station or Transport metro station.

By taxi: There are many taxi services available in Delhi that one can avail online or through telephone. Taxis are the most convenient way to travel across the city. 

By autorickshaw: Numerous auto rickshaws are available at the Delhi airport for hire. 

By bus: Buses are more affordable than cabs. If you are in a money crunch, you can take a service bus heading towards Andheria or Lado Sarai that will drop you near Ahinsa Sthal. From here, a 5-minute walk will take you to the park. 
Best Time to Visit Mehrauli Archaeological Park


It is best to visit the Mehrauli Archaeological Park during the months of October and November or February and March as Delhi enjoys the most pleasant weather during this time. The park can be best enjoyed during these months because the weather of Delhi is most bearable and almost pleasant during winters.

The best time to visit the park during the day is early in the morning. This way, you have ample time to fully explore all the monuments in the park before it closes down in the evening. The place is much less crowded in the mornings with a cool breeze flowing.
What Not to Miss at Mehrauli Archaeological Park
Attractions at Mehrauli Archaeological Park
1. Balban's Tomb:
Built-in 1287 CE, the tomb of Ghiyas ud din Balban, the famed Emperor of the Slave Dynasty, is a one of a kind example of Indo-Islamic architecture and rubble masonry. Famous for introducing the signature Islamic 'arch' structure into the Indian subcontinent, the tomb holds supreme value in the Indian historical narrative. With tales of hauntings and curses surrounding the structure, the monument attracts thousands of tourists and history enthusiasts every day.  

2. Rajon ki Baoli:
Commissioned by Daulat Khan of the Lodi Dynasty in 1506 CE, Rajon ki Baoli is a famous stepwell located in the Mehrauli Archaeological Park. Originally built under the ground to facilitate water supply for the common people, the structure has now evolved into a structure of cultural significance because of its elaborate architecture. An exemplary showcase of skilled stonework masonry, the old monument is donned with a rectangular well surrounded by aligned arched walls. 

3. Lal Kot Qila Rai Pithora:
Built by the Tomar Rajputs in 1050 CE, the fortified town of Lal Kot was conceived as a safe shelter for soldiers in the army. When the Chauhan Rajputs captured Delhi, they reworked and modified the existing structure. The once impregnable town, adorned with a proud Citadel and numerous forts, now lies wrecked and demolished. Scattered around the Qutub complex, the wreckage of these ancient structures also hold extreme historical significance in the country. 

4. Quli Khan's Tomb:
  Belonging to the foster brother of Emperor Akbar, the tomb of Shah Quli Khan is one of the less-famous, forgotten monuments of the park. Built entirely out of red and grey sandstone, the tomb was conceived and constructed in the 17th century. A majestic structure in the shape of an octagon, the tomb is adorned by a massive white dome. 

5. Boat House:
Built by Charles Metcalfe, an East India Company negotiator, the boathouse was initially a watchtower used to supervise and spy on Emperor Bahadur Shah Zafar. Now it is a centre for fun water activities like boating and swimming. A favourite of children and teens, the Boat House is the perfect destination if one is traveling with family. 

6. Jamali Kamali Masjid and Tomb:
Built during the Sultanate Period, this 16th-century monument is famous for two distinct monuments. On one side is a beautiful mosque dedicated to the Sufi saint Jamali Kamboh. Next to this mosque is a tomb dedicated to Kamali, a person closely related to the Saint. 

Places to visit near Mehrauli Architectural Park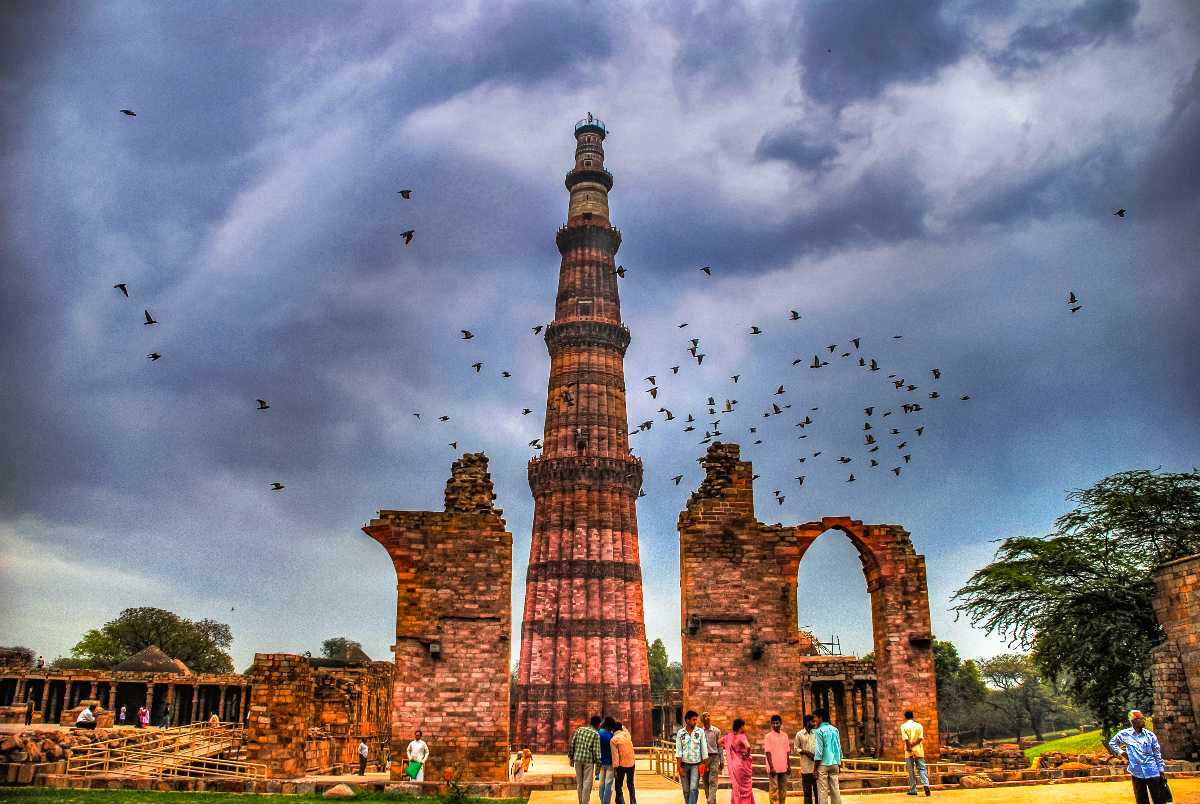 1. Qutub Minar:
A high-rising tower in the heart of Delhi, Qutub Minar is one of the most famous historical sites in the country. Deemed a World Heritage Site by UNESCO, Qutub Minar is an outstanding specimen of Parso-Arabic architecture.

Standing at the height of 73 metres, the minaret is surrounded by a spiral staircase made of 379 steps. This monument is a must-visit for the lovers of history and anthropology as its inscriptions reveal the story of its conception, modification and restorations, along with telling the story of the different phases of the administration of the capital city. 

2. Sanskriti Museum of Everyday Art: 
Established in 1993, the Sanskriti Museum of Everyday Art lives up to its name by showcasing a diverse range of Indian cultural artefacts. Filled with different kinds of unique textiles, fabrics, sculpture and pottery of the medieval era, this museum is no less than a paradise for those of us who enjoy exploring village arts and ancient crafts. From Terracotta displays to carved 'Jharokhas' to vintage textiles, a plethora of medieval artefacts find a home in this unique place. 

3. Iron Pillar of Delhi: 
About 1600 years old, this strange pillar situated in the core of Mehrauli, seems not to have aged a day. Built by King Chandra, the pillar is made of a unique iron composition that does not rust. It has a number of carvings and inscriptions on it belonging to different eras and timeframes. 

4. Chhatarpur Temple:
Located downtown in the elite area of South Delhi, Chhatarpur temple is a famous religious site dedicated to Mother Goddess Katyayani. Established in 1974 by Saint Sant Nagpal, this monument is considered to be the second-largest temple in India after the Akshardham Temple. Along with being the abode of Goddess Katyayani, the temple is also home to a number of other Hindu deities including Lord Shiva. This temple is an indispensable spot for visitors who have a religious inclination. 

5. Select Citywalk:
A shopping complex filled with adventure, intrigue, top-notch fashion and delicious cuisines, Select Citywalk is a destination where desires meet reality. Expanding over 1.3 million sq ft of area, this unique fashion junction celebrates the latest styles wrapped in tradition.

This bustling, air-conditioned complex has many modernized attractions like the country's first six-screen, the two Gold Class and four Premier class PVR cinemas, high-end retail stores, and international restaurants. With something to offer to everyone, Select Citywalk is a must-visit destination for anyone and everyone who decides to visit New Delhi.
Other Essential Information About Mehrauli Archaeological Park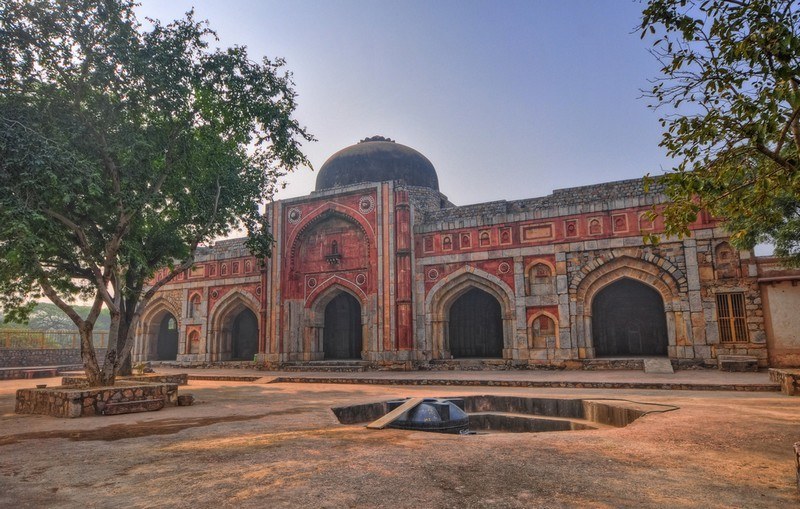 - Location: The park is located at Anuvrat Marg, opposite Qutub Minar Metro Station at Mehrauli in New Delhi, 110030.

- Fee: The fee to enter the Mehrauli Archaeological Park is free. 

- Timings: The park is open to visitors every day of the week from 5:00 AM to 6:30 PM. 


Places to eat near Mehrauli Archaeological Park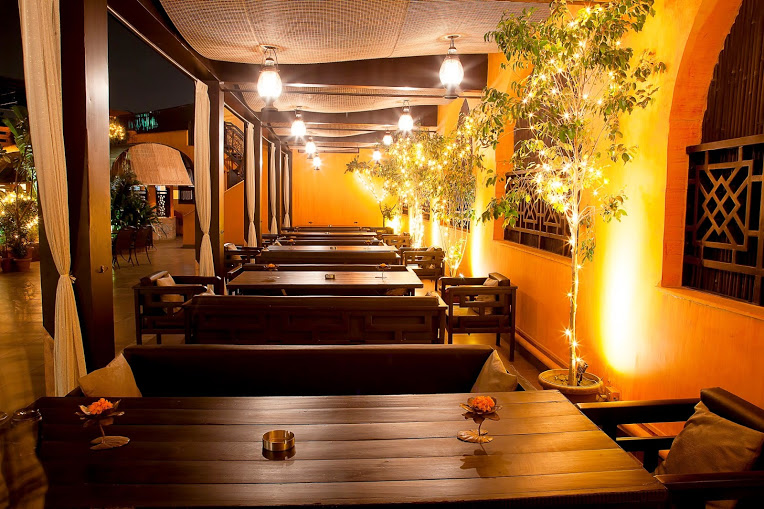 1. Thai High: 
This casual dining restaurant situated at a distance of 850 m from the Mehrauli Park is a fantastic place to spend your evening. Known for its delicious and rare dumpling treats, the restaurant offers one of the most diverse ranges of food varieties in their lengthy menu. This vegetarian-friendly restaurant with alluring interiors, delightful staff and super-fast are perfect for any and every self-proclaimed connoisseur.

2. Bo Tai:
The Bo Tai restaurant located at Mehrauli is an exquisite, high-end Thai restaurant. Famous for its posh service and gold-tinted interiors, this elite food joint offers an opulent experience wrapped in delicious meals, soothing drinks and mildly upbeat music. With exemplary service and quality, the restaurant bestows a luxurious escape to all its visitors. 

3. Dramz: 
Stationed against a mesmerizing European style setting, this casual dining lounge situated at Mehrauli is an excellent place to dine in with your family. The top floor of the restaurant offers a splendid view of the Qutub Minar as one is served the best delicacies with the most attentive care. 

4. The Grammar Room: 
This cute little cafe based in Mehrauli is simplicity in its most glorious form. Best known for its Chinese dishes and fresh juices, the restaurant is exceptionally vegan-friendly with rare beverages like vegan cocoa iced latte and vegan affogato in its menu. With its speedy service and skilful staff, The Grammar Room is the perfect place for a quick weekend brunch. 

5. Lavaash by Saby: 
With its distinct menu filled with dishes of Armenian and Bengali cuisines, Lavaash by Saby is a unique casual dining bar and restaurant at Mehrauli. Famous for its alluring assortment of food available in both vegetarian and non-vegetarian options, the food joint offers balcony seating that overlooks the beautiful, bustling city of Delhi.

6. Qla: 
At a distance of only 2 km from the Mehrauli Archaeological Park, Qla is a fine dine, vegetarian-friendly restaurant that offers European, Italian and Spanish cuisine. Serving the finest and most authentic of dishes, this food hub is graced with live music and bright interiors. The ambience of this restaurant has romantic undertones which makes it a perfect destination for dates and romantic getaways. 

7. Pa Pa Ya: 
This fine-dining restaurant located in the sprightly complex of select Citywalk is a beautifully decorated restaurant offering a plethora of seafood varieties. Boasting of Asian, Chinese, Thai and Japanese cuisines in its menu, the restaurant serves the most lip-smacking meals and refreshing beverages. The service provided in this food place is efficient, and the staff is incredibly courteous. 

Tips for visiting Mehrauli Archaeological Park


1. Wear full skin-covering and light clothes: If there is one thing that Delhi is notorious for, it's heat and severe weather. Make sure you wear clothes that can protect your body against the sun without making you feel hot and flustered. Cotton is always an excellent fabric choice for extreme expeditions in Delhi.

2. Do not litter: It is essential to maintain the sanctity of monuments and cultures and hence littering around and dirtying the place is highly inadvisable. 

3. Wear comfortable footwear: There is a lot to be seen and explored inside the Mehrauli Archaeological Park. Hence, it is advisable to wear soft, comfortable shoes to facilitate long-distance walks.