About Akshardham Temple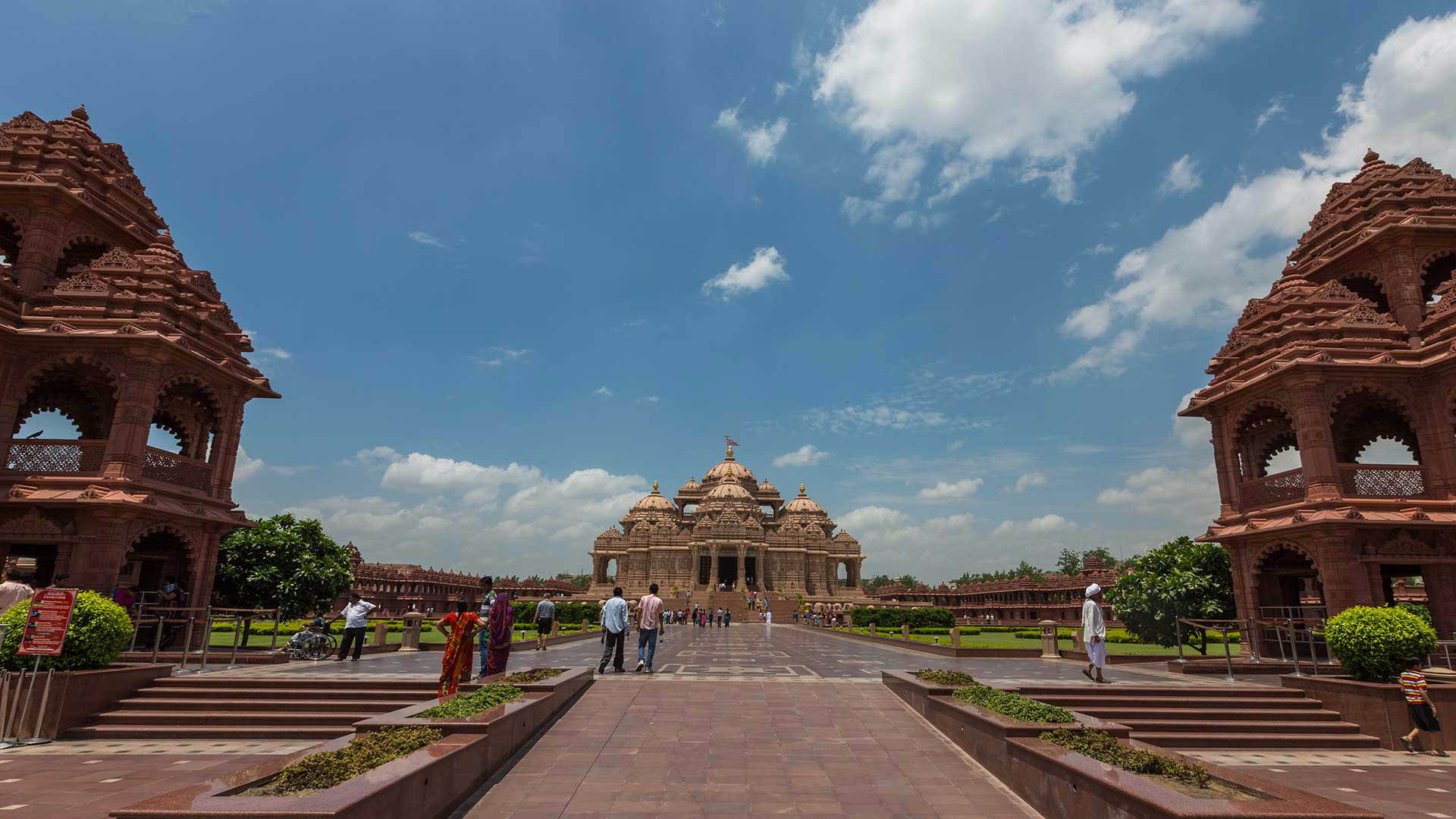 A place of eternal holy communion, Akshardham is a temple complex located in the capital city of India, Delhi. The godly establishment is highly recognized for its mesmerizing architectural design, divine prayers and devotion and a locale where tourists from all around the county visit to participate in a number of festivities and events that transpire throughout the year. 
The temple is dedicated to Bhagwan Swaminarayan and various embodiments of Hinduism who have a great impact on the Hindu religion. Built-in the year 2005, the Akshardham temple homes more than 200 idols of a number of gods and avatars. 
Created completely in sandstone and marble, the entire construction of the temple took more than 8,000 workers and 300,000,000 hours.  A visit to the temple allows visitors to embark on a spiritually rich journey dictating ancient Hindu techniques of achieving eternal peace and serenity.  
Apart from prayers, tourists can also partake in various exhibitions on Hinduism that also preach the learnings of Bhagwan Swaminarayan's on non-violence acts, prayers and more. Water shows are also a recurring event that happens in the temple premises and it is one of the top crowd pullers.
There is also the Abhishek Mandap where visitors can participate in a series of spiritual events. From narrating a holy Sanskrit Shlok to bathing the Neelkanth Varni idol, the entire mandapa provides a more sacred and religious experience to the tourists.
In short, the Akshardham complex is a place of complete serenity, holiness and a calm atmosphere where visitors are encouraged to pray and participate in a variety of spiritual events.
The architecture of Akshardham:



- Garbhagriha -
 Found right in the epicenter of the Akshardham complex, the Garbhagriha holds a giant Bhagwan Swaminarayan idol. Leading to the idol there are several other murtis of Hindu connoisseurs designed in a variety of poses illustrating eternal devotion to Bhagwan Swaminarayan.
These murtis of the followers include Shastriji Maharaj, Yogiji Maharaj Gunatitanand Swami, Bhagatji Maharaj, and Pramukh Swami Maharaj. Looking around the architecture visitors will also find a number of tombs of gods and devotees including pairs of Shri, Radha-Krishna, Shri Lakshmi-Narayan, Sita-Ram, and Shri Shiv-Parvati. At Garbhagriha daily prayers are also conducted. Visitors can partake in these aarti between 10:00 AM and 6:00 PM.
- Mandovi -
Standing at a staggering 25 feet in height and 611 meters in length, the entire Akshardham complex is one of the greatest temples to be built in more than 8 centuries. The temples hold a Guinness book record for the same as well.
The distinct architecture of Mandovar, especially it's roof, entices visitors to lean into a life filled with peace and spirituality. The Mandovi also encompasses close to 230 pillars with a vast exhibit of inscriptions and carvings.
In the middle of the Mandovi, also known as Vibhuti, lies a number of sculptures and idols of avatars, gods, devas, acharyas, and devotees. Furthermore, the floor of Mandovar is embedded with a number of animals and other living beings.
- Gajendra Peeth -
At the lower pradakshina, Gajendra Peeth is a hymn to the elephants. It's architecture also depicts an ancient tradition that involves the Mayamtam, Shilpa Ratnakar and Diparnav among other carvings and sculptures of elephants.
The tradition has been very commonly used in the construction of mandirs and other holy establishments from the beginning of the 12 century. The series of elephant's structure at Gajendra Peeth also depict a variety of stories some describing the relationship of humans with elephants with others narrating stories of the Panchatantra.
All in all, the place holds more than 148 elephants weighing more than 3,000 tons. 
- Narayan Peth -
The Narayan Peth consists of 3 gigantic bronze relief panels, racing up to 60 feet,  that depict a series of incidents from Bhagwan Swaminarayan. These include inviting the visitors to keep God above all and describe them the significance of maintaining faith in the divine God.
Narayan Peth is also an ancient sign of respect and humility while conducting pradakshinas. Devotees can take a walk around the panels depicting that God should be in the middle of it all. 
How to Reach Akshardham Temple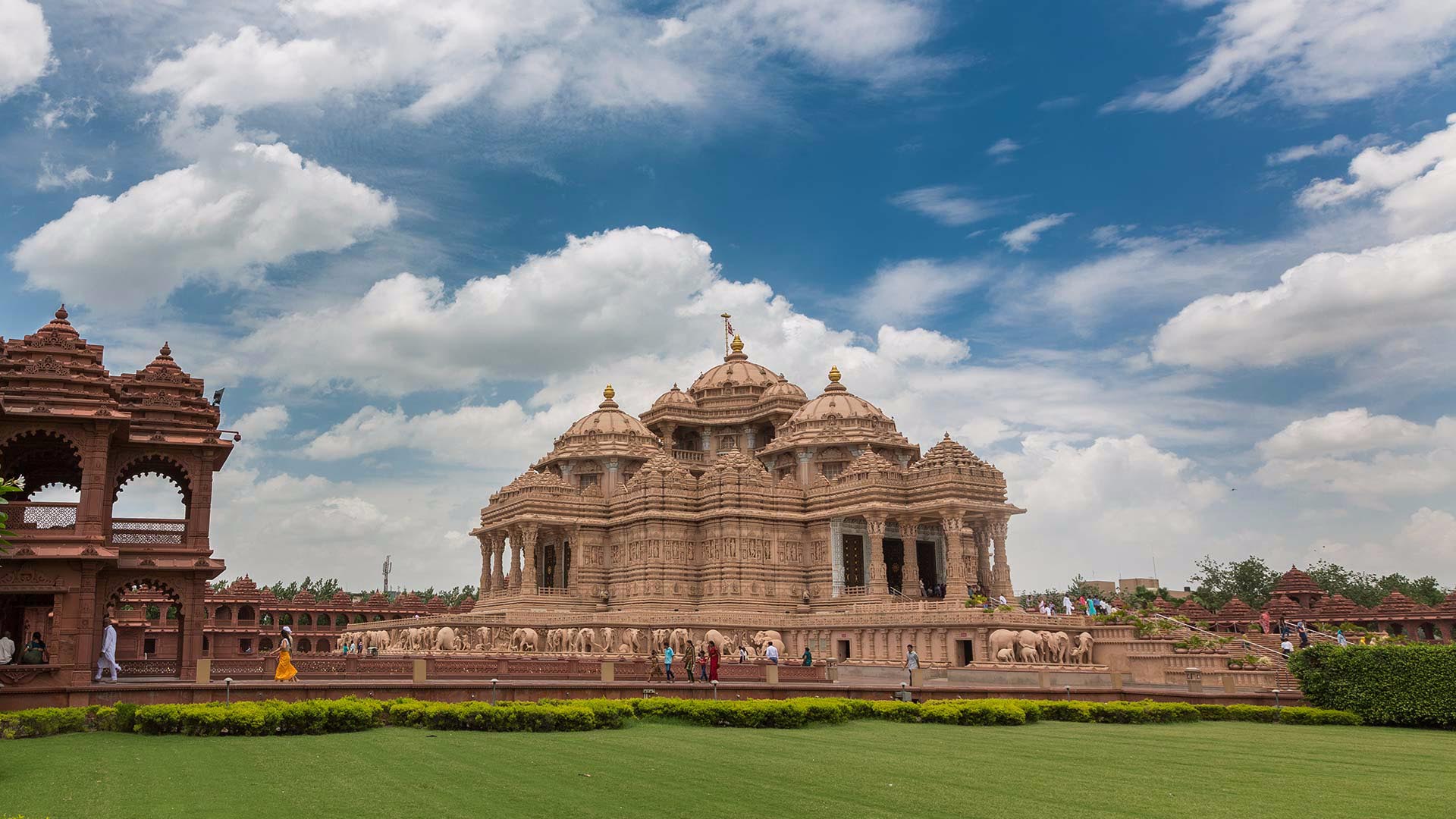 The distance between Akshardham and Delhi Airport is around 20 kilometers which is close to an hour if you take the local taxi or cab service available outside the airport. Visitors can also take the metro from Indira Gandhi International Airport to Shivaji Stadium, walk to Rajiv Chowk metro station and directly to Akshardham.

The entire journey can take up to 45 minutes. Bus service from the Airport to Dhaula Khan and then to Ganesh Nagar is also available which can again take up to two hours but is one of the cheapest options.
Best Time to Visit Akshardham Temple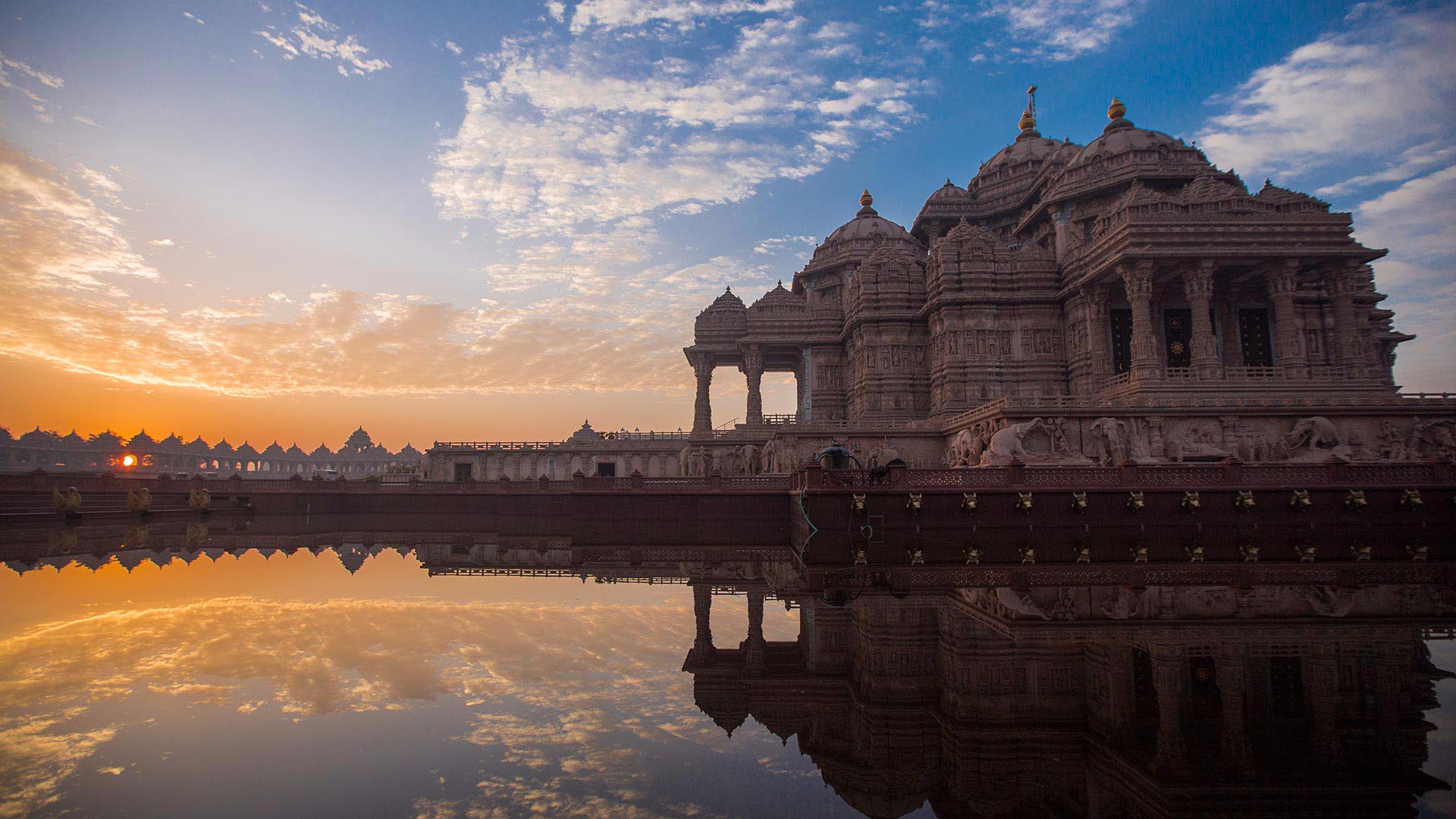 Between October and November, which is the winter season in Delhi is the best time to visit Akshardham. The temperatures during this time are not too harsh and visitors can calmly explore the entire complex.

If you are looking to explore the place just before the summer season then between February and March are the best times to visit Akshardham. The place can take up to 7 hours to scour and hence, travelers should visit the place well before in time to explore it in its entirety.
What Not to Miss at Akshardham Temple
 Things to do at Akshardham:




1. Pray - The mesmerizing temple of Akshardham provides for the perfect spot to enjoy a calm and peaceful prayer. There are also daily aartis that are conducted in the Mandir between 10:00 AM and 6:00 PM which the visitors and devotees can be a part of.

Surrounded by such tremendous illustrations and depictions of Hinduism and the teachings of some of the greatest Hindus of the time, praying here is surely a divine experience. There are also mandapas where visitors can participate in reciting sacred Sanskrit prayers among other spiritual scenes.

2. The Multimedia Water Show - The Akshardham complex also organizes a water show every day in the evening. The show depicts the teachings of Kena Upanishad. The show incorporates a variety of lasers, videos, projections, underwater flames, water jets followed by a piece of melodious music that makes the show an absolute entertainer and a crowd puller.

Elements including footage of children playing near a lake, laser fountain flowers and videos of a number of gods are included in the water show. The entire presentation goes on to 24 minutes and each and every moment of the show is just spectacular. In short, the show is a must-attend for anyone who visits Akshardham.

3. Exhibitors - Visitors can also spend a couple of hours enjoying the Exhibitions organized in Akshardham. Their exhibitions are spread across 3 different halls namely Hall of Values; Neelkanth Darshan – Large Format Film; Sanskruti Darshan – Cultural Boat Ride, each help visitors learn about a unique part of the ancient India.

The displays use a variety of science, cultural and spiritual illustrations to establish the same. Integrating both the modern media technologies and ancient techniques, the exhibition is able to teach the visitor a lot in a minimalistic time.

4. Thematic Garden - The mesmerizing Akshardham garden also holds two of the best and carefully maintained thematic gardens. The gardens are designed and developed to help visitors relax, unwind and learn about the country's history.

The first garden, Bharat Upvan, provides a soothing atmosphere that dictates a lot of Indian cultures. The lush green grassland also incorporates bronze monuments of some of the greatest Indian role models.

These include statues of Indian freedom fighters and warriors among other gems. The second garden, Yogi Hriday Kamal, is built with the motive to bring wisdom to visitors. The garden shaped in the form of a lotus is named after the fourth successor of divine Bhagwan Swaminarayan, Yogiji Maharaj. 

Places to visit near Akshardham:



1. Sanjay Lake -
Spread across an area of about 17 acres of land, the Sanjay lake is found amidst lush green tropics. The lake is home to a number of aquatic creatures and birds from across the globe migrating here on a seasonal basis.
Visitors are found here enjoying a soothing walk and bird watching, among others. The place also homes an adventure park that is spread across 6 acres of land and holds lawns, dens, cattle ranch, and an artificial beach. 
2. National Gandhi Museum -
The place is embedded with a rich history of India and the contributions of Mahatma Gandhi. The museum depicts several life aspects of Gandhi in a very detailed manner.
Exhibitions like the Doll display are also an integrated part of the museum making it an interesting and informative show for children. The museum also illustrates Gandhi's contributions to the development of India and South Africa and quite fascinating, in the vicinity of the museum also lies in his original house.   
3. Sunder Nursery -
Housing more than 300 trees, 80 species of bird and world heritage monuments among other exhibits, the Sunder Nursery is one of the best gardens in Delhi. The park was opened for public in 2018 thanks to the contributions of Aga Khan's trust who spend years building the park.
The natural park also consists of an array of fountains and is an incredible place for visitors to have a claiming walk amidst the wonderful nature. 
4. Gurudwara Bangla Sahib -
An amalgamation of rich cultural and religious Sikh facets, the Gurudwara Bangla Sahib is a place of eternal peace and serenity, visitors must visit in Delhi. There are also voluntary services visitors can partake in.
Clean and extraordinary maintained, the place is perfect for a peaceful morning visit. Visitors can also visit the kitchen here where they can learn how the Gurudwara makes food for many less privileged and help them every single day.
5. Humayun's Tomb -
The enigmatic piece of ancient architecture, Humayun's tomb depicts a significant time in the Mugal empire. Built-in 1570, the tomb is one of the first models The Tajmahal is based out of.
The places are perfectly made for a getaway trip with family and friends. Not just architectural enthusiasts but history buffs will also find this place extremely interesting. There are a number of guides also present at the entrance of the tomb and these individuals can really help one learn more and more about the tomb, how it came into existence and its significance. 
Other Essential Information About Akshardham Temple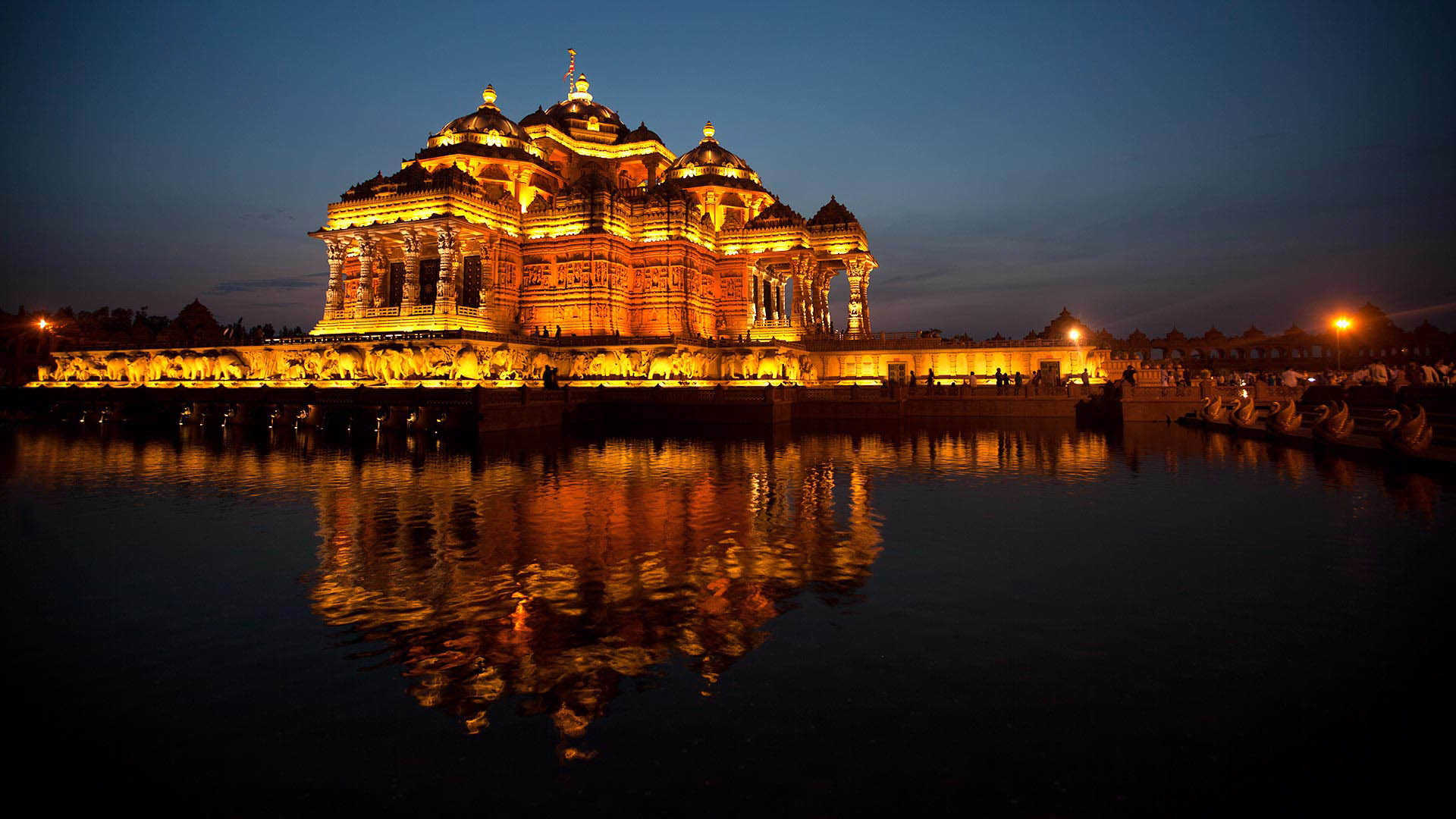 - Location:
 Akshardham, Noida Mor, Pandav Nagar, New Delhi, Delhi 110092
- Timing:
 9:30 AM to 6:30 PM, All day. 
- Price:
 INR 170 (Adults), INR 100 (Children), INR 125 (Senior Citizen).
Places to eat near  Akshardham:



Exploring the Akshardham complex can take hours which means breaks are a compulsions. There are several restaurants, fast food courts and eateries around Akshardham one can explore. 
1. Akshardham Complex Food Court -
Sitting right next to Akshardham, the food court is a vegetarian restaurant serving a variety of dishes. Good Foodservice and a calm atmosphere makes it perfect for a great time with family and friends.
The Akshardham complex is large and reaching out to a restaurant can be quite tiring, hence, the best and quick option for visitors is the food court itself. Additionally, the food here is delicious and cheap. 
2. Anna Madras Cafe -
A small cafe sitting close to the temple, Anna Madras Cafe is known for quick snacks and meals. Open between 10:00 AM and 10:00 PM the restaurant serves breakfast, lunch, and dinner. The restaurant specializes in South Indian dishes and amenities like Air Conditioning are a part of the cafe. 
3. Haldiram's -
A large restaurant with a number of seating areas, Haldiram's is one of the oldest names in serving quality snacks and meals to the visitors. The restaurant only serves vegetarian food and comes with offers including all you can eat.
Its large area allows group visitors and large families to enjoy meals and have a good time here. The restaurant timings are between 9:00 AM in the morning to 10:30 PM at night.  
4. Veggie Meal -
A fast food restaurant residence loses to the Akshardham complex, the Veggie Meal serves a variety of mini and large vegetarian meals with various vegetables, daal, sweets and more. Open between 9:00 AM and 11:00 PM, the restaurant provides a good atmosphere for kids and families to enjoy a delicious meal.  
5. Get Grubs -
Acknowledged for its spread of delicious fast food, Get Grubs specializes in American, Indian and Chinese cuisines. The place is especially known for evening snacks and late dinners. Chocolate shakes, burgers, french fries and cheese pop among other dishes are enjoyed here by foodies. The fast-food restaurant is also very cost-effective.
6. Golden Dragon Restaurant -
If you love feasting upon Chinese food, Golden Dragon is the spot for you. The restaurant serves some of the best Chinese dishes and is the perfect spot for wholesome lunch and dinner. The restaurant is also reasonably priced and due to its great hospitality and service, the restaurant has seen visitors returning again and again.