About South Melbourne Market
A popular and unmissable landmark in the vibrant city of Melbourne in Victoria, Australia is the South Melbourne Market. While it is known as a "local village market," it is actually a major tourist attraction that caters to people from all over the world who travel to Melbourne and it is one of the best places to visit in Melbourne. The primary philosophy of the market is to procure, sell, display and celebrate local cuisine, local culture and local food. The most popular goods that can be bought at the South Melbourne Market include foodstuff like dairy, eggs, fresh fruits and vegetables that are organically grown, preserves, spices and seafood, all of which is locally sourced.
Apart from its vast array of groceries, you can also buy merchandise that is curated by local artisans, merchants and locals. This includes clothes, handicraft items, furniture, homeware, books and much more. The South Melbourne Market is especially popular for its quaint cafes and restaurants, where you can sample local food that is made with fresh produce sourced locally. There are also frequent live music concerts, events, competitions and exhibitions that are organized here throughout the year.
Apart from being a thriving goods market for vegetables, fruits, spices, seafood, dairy and much more, it is also a historically significant landmark. The market was established in 1867 and has since only grown in size and scale. The market takes place inside a massive Victorian building in South Melbourne that is made of red brick and wood, which adds to the old-world charm of the market. Because of the ever-increasing number of vendors and visitors, the market has been refurbished and renovated many times to accommodate all the stalls, while maintaining its original structure.
How to Reach South Melbourne Market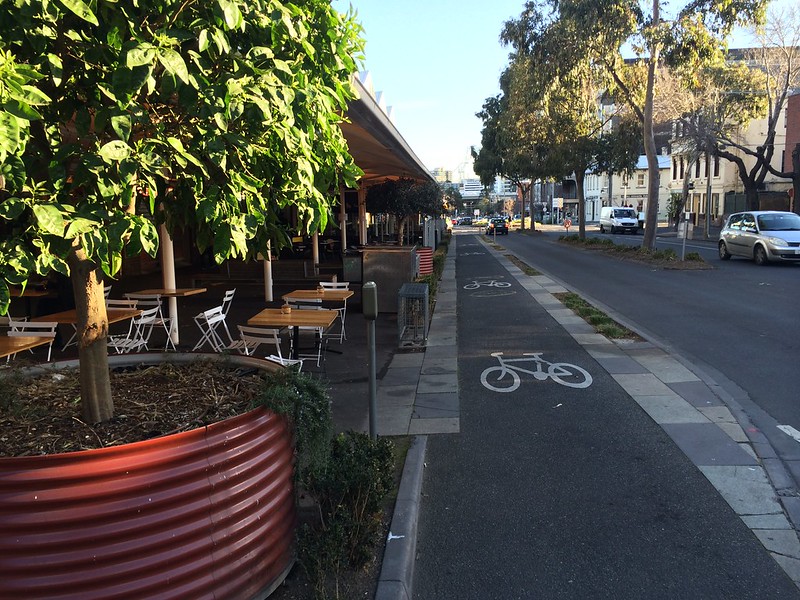 There are several convenient ways in which you can commute between the airport and the South Melbourne Market.

By Bus: There are almost 300 bus services operating in Melbourne. One of the easiest ways to travel to the South Melbourne Market from the Airport is by taking one of the many buses that depart from Terminal 1 of the Airport. You have to get down at Spencer Street or Whiteman Street after which is a short, 10-minute walk to the South Melbourne Market.

By Tram: Instead of walking for 10 minutes after alighting from your bus, you can also take Melbourne's famous trams to the South Melbourne Market. You can get on from Spencer Street or Whiteman Street and get off at 127-South Melbourne Station.

By Car: There are several private cars and taxis you can hire to cover the 25km distance between the market and the airport. If you take the Citylink road, it should take you approximately 20 minutes in normal traffic to reach the market.
Best Time to Visit South Melbourne Market


Although you can visit the market throughout the year, the best time to visit Melbourne, in general, is during the summer months, which is between December and February in Australia.

Summer (December – February): This is the most pleasant time to visit Melbourne, and consequently, the South Melbourne Market. Temperatures vary between 22-26 degrees Celsius, which results in very pleasant weather conditions for tourists to explore the place. Summers also yield some of the best produce, which is what the market is famous for.

Winter (June – August): This is the least popular time for tourists to visit Australia, which is why the market remains mostly empty, except for locals. Temperatures vary between 4 degrees Celsius to 10 degrees Celsius, and the weather remains wet, grey and gloomy.

Spring (September – November) and Autumn (March – May): These are the two transitional seasons in Melbourne, where the city is either transitioning into summer (spring) or transitioning out of the warm weather (autumn). The weather is largely unpredictable, with high chances of rain and extreme heat and cold conditions. 
What Not to Miss at South Melbourne Market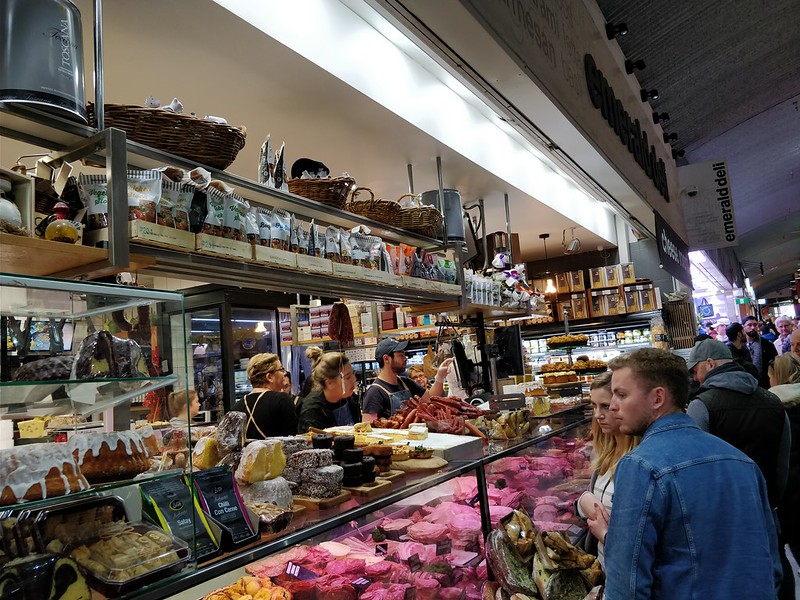 If you are planning to visit the South Melbourne Market, you should keep an entire day for explorations because of the vast range of experiences you can cherish when you are there.

1. Eat and Drink- You cannot come to the South Melbourne Market without stopping by one or more of the quaint delis and cafes that run inside the compound. You can get an assortment of baked goods, coffee, pastries, dim sums, salads, juices, Chinese food, fruits and their juices and incredibly fresh seafood preparations inside. You should check out places like Agathé Pâtisserie, Aptus Oyster Bar, Bambu, Joy Cupcakes, Lat's Sushi, Small Town Pie Co., The Village Juicery, to name a few.

2. Shop for fashion and accessories- The South Melbourne Market might be known as a farmer's market for local produce, but is also a popular hub for indigenous brands that sell unique jewellery, quirky accessories and fashionable clothes. Some great shopping spots are Aron, Faslini Leather and Travel Goods, Hemp Shop, Koenji Vintage, Lost in Seasons, The SuperCool Kid, and much more.

3. Embark on Melbourne Brewery Tours- Melbourne has a number of independent microbreweries that are located in close proximity to the South Melbourne Market. You can sign up for a guided tour where you can go around tasting unique beers and learning about the local beer-making process.

4. Attend the Moomba Festival- The famous Moomba Festival takes place every year during the Labour Day weekend, so if you are visiting during that time, you must check it out. It is a colourful festival which consists of a display of floats that are paraded down the Yarra River. The 4-day festival where the whole local community, including school children, natives, dancers and musicians come together to celebrate their culture.

5. Check out local performances in the South Melbourne Market- The South Melbourne Market frequently organizes music festivals, live performances, spontaneous concerts by local artists and other exciting events that you can observe and participate in when you are in South Melbourne. This includes food festivals, art exhibitions, competitions and many more interactive activities.

6. Take a market tour- There are several tour options that you can sign up for before visiting the South Melbourne Market. These tours give you a comprehensive guide to the place, take you to the best spots, help you sample some of the best food found there and also gives you incredible insight into the history of the market. If you are visiting for the first time and want to experience the true essence of the market, a guided tour can help you experience just that.

7. Sign up for cooking classes at the Neff Market Kitchen- If you are interested in cooking and an insightful culinary experience, you must check out the Neff Market Kitchen, the home to some of the best cooking classes with Melbourne's finest chefs. No matter what your expertise level, you can sign up for a class that could be beneficial for you in many ways.


Places to Visit near South Melbourne Market


Apart from the South Melbourne Market, there are many fascinating places in and around South Melbourne that can make your day trip worthwhile.

1. South Melbourne Town Hall- The South Melbourne Town Hall is an ancient building that is testimony to the unique architecture that is characteristic of old Melbourne. It is now home to the Australian Academy of Music, with frequent concerts being organized there. There is also a beautiful rose garden on the compound, making it the ideal place for a quiet picnic.

2. The See Yup Temple- One of the oldest Chinese temples in the city is the See Yup Temple, built in 1856. It is decorated with many ancient Chinese artefacts, and the Chinese interior elements combined with the 18th-century Victorian style architecture makes for an exceptional experience for visitors.

3. South Melbourne Beach- The South Melbourne Beach is straight out of a magazine, where you can find palm trees, a pleasant sea breeze, sand beaches, carts selling seafood and coffee, beer and other knick-knacks. It is the perfect place to watch the sunset after a long day of touring.

4. Smart Artz Gallery- The Smart Artz Gallery on Clarendon Street is a great place to check out local artwork, including painting, sculptures, photos, sketches and installations. This is a hidden gem for local art, where you can see exceptional pieces and even catch an exhibition if you are visiting at the right time.

5. Emerald Hill Library and Research Centre- If you are interested to find out more about Australian culture and history, you must stop by at the Emerald Heritage Centre, which houses lots of books, reading material and brochures. You can learn about the culture of aboriginals, local history and the life of the locals.
Other Essential Information About South Melbourne Market


Location: 322-326 Coventry St, South Melbourne VIC 3205, Australia

Timings: Friday (8:00 am – 5:00 pm), Saturday and Sunday (8:00 – 4:00 pm), Wednesday (8:00 am – 9:30 pm). Closed on Monday, Tuesday and Thursday.

Distance from Melbourne Airport: 24.5km


South Melbourne Night Market


The Melbourne Night Market is a summer festival that takes place on the premises of the South Melbourne Market. It is one of the most anticipated events of the year for locals as well as tourists because of the vibrant art installations, lights, and hundreds of food stalls that pop during this time.

The Night Market occurs on 5 consecutive Wednesdays in January, which starts at midday and goes on till the late hours of the night. You can experience food festivals, live music concerts, cooking classes, free workshops, and sample food from the many stalls that are set up by locals, apart from the existing vendors of the South Melbourne Market.


Shops at the South Melbourne Market


The South Melbourne Market is teeming with shops selling a variety of items including fresh fruits and vegetables, dry fruits, clothes, leather goods, fashion accessories, hand-made jewellery, baked goods, pre-loved furniture and much more. Here are some of the most popular shops that you must visit when you are there.

1. Lost in Seasons- If you're into shoes and accessories, you must stop by Lost in Seasons, one of the most vibrant shops in the South Melbourne Market. They have a range of quirky and trendy shoes, including metallic boots, Aztec prints, animal patterns and much more. This home-grown brand offers a unique selection of shoes that you won't find in retail outlets.

2. The Australian Natural Soap Company- This is a unique shop selling handmade soaps for all purposes- even for men and their beards! You can buy soaps containing coffee, lavender, roses, other local flowers, hand-pressed essential oils and so much more. The shop also smells divine, which is an added bonus.

3. Klopper- Klopper is a microcosm of the entire South Melbourne Market- home to all kinds of quirky knick-knacks that make for perfect souvenirs and mementoes. You can find brilliant indigenous brands represented here, selling all kinds of stuff including jewellery, accessories, homeware, stationery, candles, skincare and much more.

4. Aptus Seafood- While most of the shops selling fruits and vegetables are colourful and fascinating, you should stop by Aptus Seafood if you want to taste or buy some of the best fresh fish, oysters, mussels, squids and much more. They are known for their unique local catches like Sashimi-grade tuna, Tasmanian salmon, prawns, crayfish and oysters.


Places to Eat in South Melbourne Market


The South Melbourne Market is a food-lover's paradise, where you must try out their famous dim-sums, sushis, baked goods, Italian food and much more. Here are some remarkable delis, restaurants and cafes where you can grab a bite to eat in the South Melbourne Market.

1. Agathe Pâtisserie- Although there are many bakery shops in the market, a visit to Agathé Pâtisserie will reveal why it is probably the most unique. Chef Agathe Kerr has put her signature French flair in all the delicacies at this quaint bakery, where you must sample her Chestnut Mont Blanc Cheesecake, Almost Croissants, Escargot and Crème Brulee.

2. Simply Spanish- You'll definitely hear about the fantastic Spanish food that can be found at the South Melbourne Market. One of the best places to try out this Spanish food is Simply Spanish, which sits right in the middle of the restaurant section. You must try out their paella, which is simple, authentic and soul-stirring.

3. Proper & Son- Proper & Son is the perfect place to grab an authentic Australian breakfast and your regular "cup of Joe" when you are at the South Melbourne Market. Try out their sandwiches made from free-range meat and eggs, cheese, cupcakes and much more.

4. Dim Sims- The most iconic place for Chinese and Cantonese food (possibly in all of Melbourne) is Dim Sims in the South Melbourne Market. Some of the most popular items that fly off the shelf at Dim Sims include siu mai and the steamed pork and prawn dumplings (dim sims). They are also known for their deep-fried spring rolls.


Tips for Visiting the South Melbourne Market


The South Melbourne Market is open to all, without an entry fee, and is sought out by tourists and locals alike. While it is relatively easy to navigate your way through the well-planned market, you can keep some tips handy for a seamless experience:

1. Research the shops and the events before you go so that you don't feel lost or overwhelmed by all the choices.

2. Make sure you pick up some of the local produce that is sold by the local farmers and citizens.

3. Participate in the events that take place in the market, such as a musical concert, a live show, a food-eating competition, cooking classes or a festival.

4. Explore the places around South Melbourne Market for a comprehensive cultural insight into life in Melbourne.

5. Make sure you visit during the peak hours, which is between 9:00 am and 12 noon, when all the shops are open, and you still have a chance to get some of the freshest produce.