About Federation Square
Federation Square or the Fed Square is Melbourne's leading hub of significant cultural attractions and world-class events. It is located at the intersection of Flinders and Swanston Streets on the edge of the Melbourne central business district and opposite Flinders Street station and it is one of the best tourist places in Melbourne.

It opened in 2002 and since then, it has been a major point of attraction in Melbourne and has seen millions of visitors per year. It is also named the 6th Best Public Square in the World and won several awards for its architecture and design.

Fed Square is an open square with nine elaborately designed and attractive buildings surrounding it and is spread over an area of 3.6 hectares. It has two civic spaces; one is a huge Plaza with an open-air amphitheater that boasts of being capable of hosting up large gatherings at a time, while the other is an Atrium that is exquisitely glazed and comprises a glass-walled theater on the south side.

Fed Square offers multiple tourist attractions, like the National Gallery of Victoria's Australian collection, The Ian Potter Centre, the Australian Centre for the Moving Image (ACMI), and an outstanding array of restaurants, bars, and specialty stores. Here, you get to enjoy free Wi-Fi, free daily health and wellness classes, and free sports events on the giant TV screen.

The Fed Square has become the city's iconic meeting place as there's always something going on here, with an exciting schedule of events and activities happening throughout the year. It lets you delve into the city's acoustic acts through a series of free outdoor concerts and festivals that are held every Thursday during the summer.

It is the perfect place to cherish Melbourne's matchless cultural scene through eclectic and diverse theatre performances at The Edge, modern art exhibits, and presentations of Australian artworks at the National Gallery of Victoria, and live concerts and yearly events at the Zinc.
How to Reach Federation Square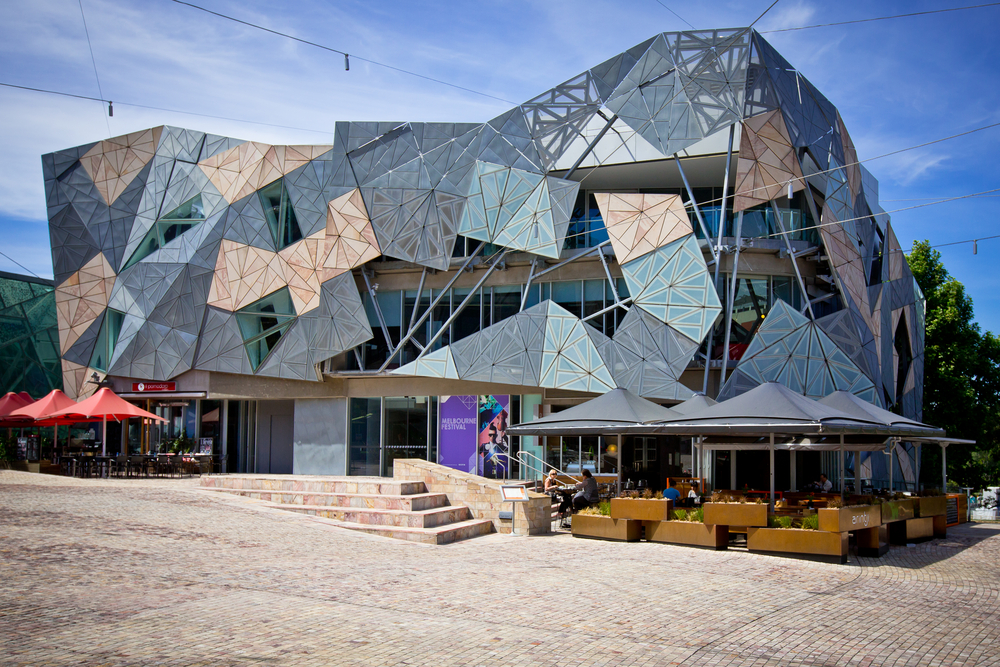 The road distance from Melbourne Airport (MEL) to Federation Square is 23 kilometers and you can easily reach by bus, taxi, car, or shuttle.

You can pick a direct bus from Melbourne Airport T1 Skybus/Arrival Dr, which departs every 10 minutes. It drops at Skybus Coach Terminal/Spencer St. Services and from here you can either take a train or walk to Fed Square.

This is the most favored way to reach Fed Square from Melbourne airport. But, if you want to cut short the time of traveling then a hired taxi is most preferred.
Best Time to Visit Federation Square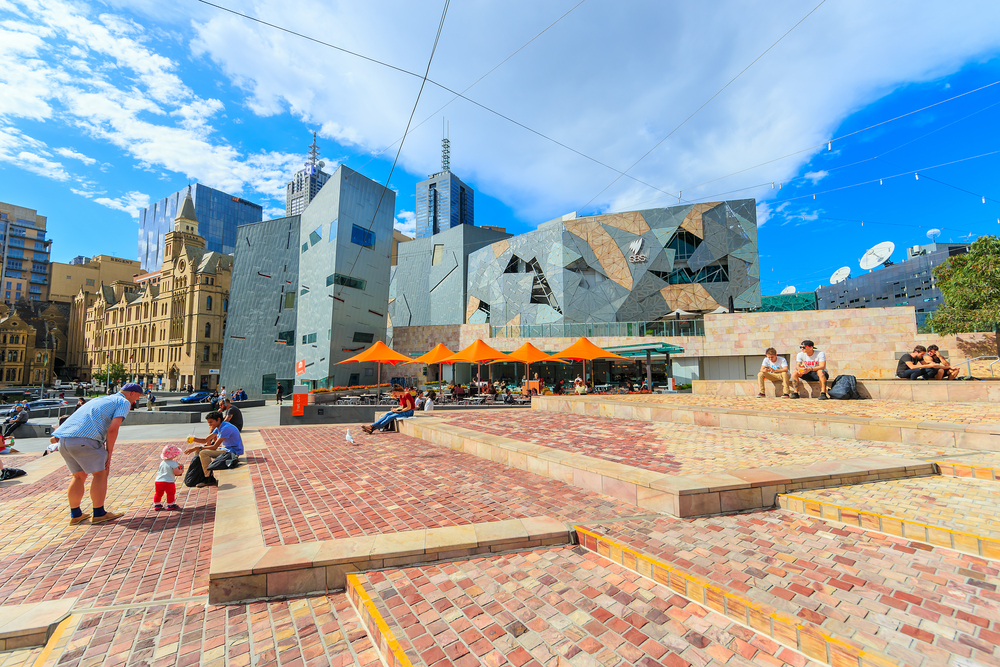 Fed Square is an all-year-round destination as there is something exciting happening throughout the year. But, as it is an open amphitheater, visiting this place during a pleasant climate is advisable. March to May, and September to November are the most comfortable seasons, and temperatures are much more suitable during this time (highest reaching about 75°F/24°C).

Whereas, December to February are the busiest and packed with tourists from all over the world. The temperatures during this summertime can sometimes be a lot higher. So, plan a visit during morning hours or in the evening to escape the scorching heat. Many cultural events and festivals are also held during the summer and let you explore the diversity of the city.

Also, the winter season (June to August) gets quite cold and gloomy, but if you can brave the cold, then you can get the best travel deals and hotel rates during these months. And what more you get the chance to be part of the most fascinating Christmas Carnival and remarkable light and sound shows.
What Not to Miss at Federation Square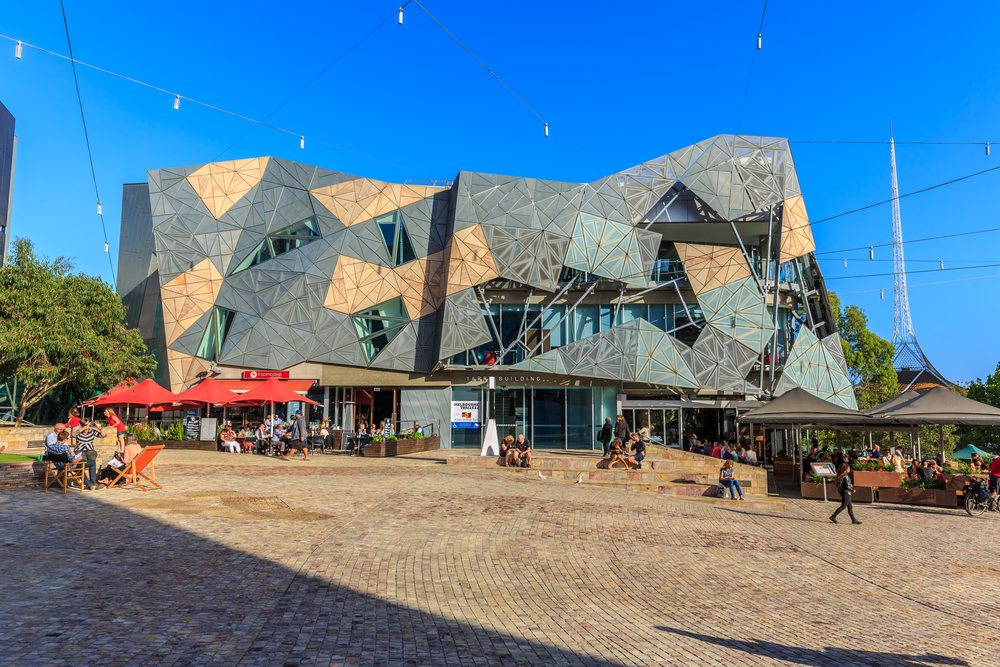 Federation Square is a symbolic venue for numerous arts, culture, and civic events. It has in store, several exhilarating things to do that surely deserve a visit. Here you can indulge in diverse activities that explain inherent Australian art, rich culture, history of Australian Cinema, etc. Besides, it serves as a promenade to enjoy the delicious food. Few of these famous and exciting activities which should be on your bucket list:

1. Becoming a part of Melbourne City's events: Do not miss to be part of the cultural and community festivals or sporting events as this place hosts numerous of these every year. So you can experience the event that contrasts the date and time of your visit and enjoy being there.

2. Relishing the delectable cuisine: Fed Square is a foodie's paradise too and lets you taste the diverse menu at high-grade cafés, bars, and restaurants. Time Out and Transport Hotel, Chocolate Buddha, Il Pom, and Bokchoy Tang are some of the famous restaurants offering cuisines from all over the world and let you satisfy your palate without any compromise.

3. Spending leisure time with books: If you are an avid book reader then here you can use quality time in searching for something new to read. Federation Square's Atrium organizes Melbourne's largest weekly book market every Saturday and the ambiance is lively, musical and entertaining with Melbourne's best buskers.

4. Unforgettable Aboriginal Walking Tour: Discover more about the Aboriginal community with the historic walking tour and know about the times when Federation Square was only bush and grassland. These tours are operated every Wednesday, Thursday, Friday, and Saturday.

5. Experiencing the wonderful moments of a lifetime at the Winter Garden and the Winter Village: If you are here during winters then you should not miss traversing Winter Garden which is a beautifully manicured botanical garden and offers a wonderful display of colorful hand knitted florals. 

Also, you can spend time with friends and family at Winter Village, the winter wonderland complete with large igloos, an ice-skating rink, and delicious food and cocktails.
Other Essential Information About Federation Square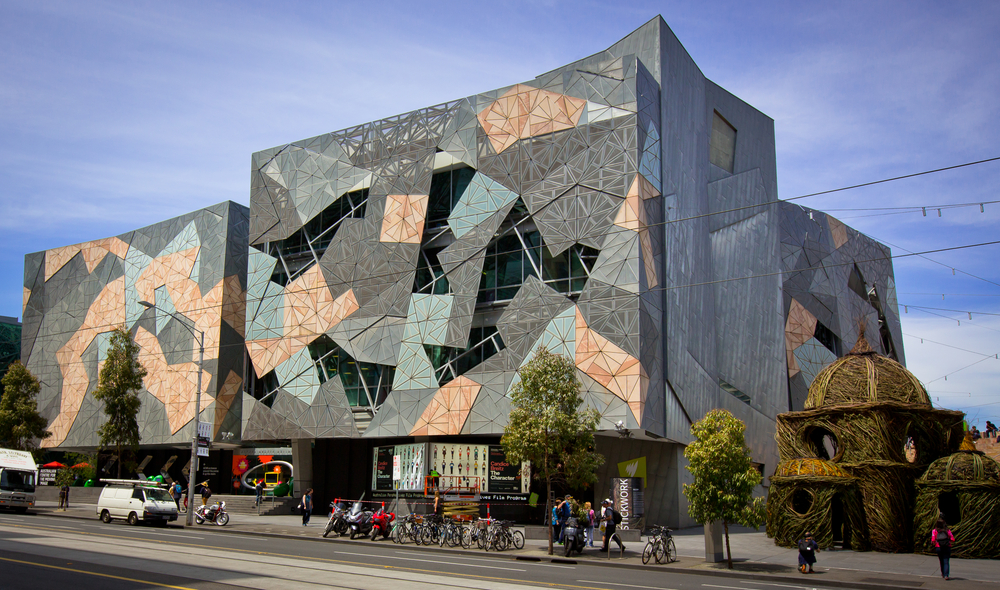 1. Location: Corner of Flinders and Swanston Street, Melbourne, Victoria, 3000

2. Timings: All-Day

3. Entry fee: Free

4. Distance from Melbourne Airport: The distance between Melbourne Airport and Fed Square is approx. 23 Km and you can easily cover the distance in about 19 minutes by car, taxi or shuttle.


History of Federation Square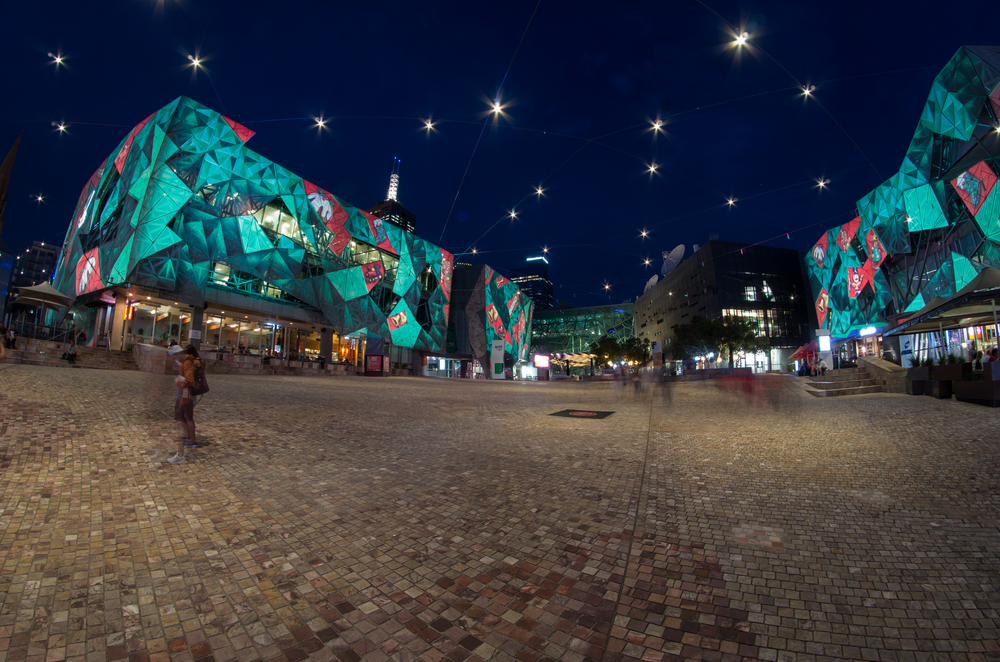 Fed Square's site was earlier an area packed with a morgue, a dirty fish market, plenty of Brutalist office segments, stinking rail yards and more until the Victorian Government decided to redevelop it as the city's new community space. In 1996, an international design competition was held to plan the design of Melbourne's inspirational public space and a contemporary world site.

The Lab Architecture Studio's design got shortlisted which included cultural and commercial spaces and an open amphitheater capable of holding up to 15,000 people. The Studio in partnership with Bates Smart (an architecture firm) started construction of Fed Square in 1998 with a budget of $450 million, which was sponsored by the Victorian State Government, City of Melbourne, the Commonwealth Government and many of the private sectors.

The project faced lots of criticism over the high budget, delayed deadlines, design and many more issues, but became a point of attraction since its opening on 26 October 2002. And, only a year following its opening, it became the most bestowed project in the history of the Royal Australian Institute of Architects Victoria (RAIA) and received five major awards for architectural and design excellence.


Restaurants and Bars at Federation Square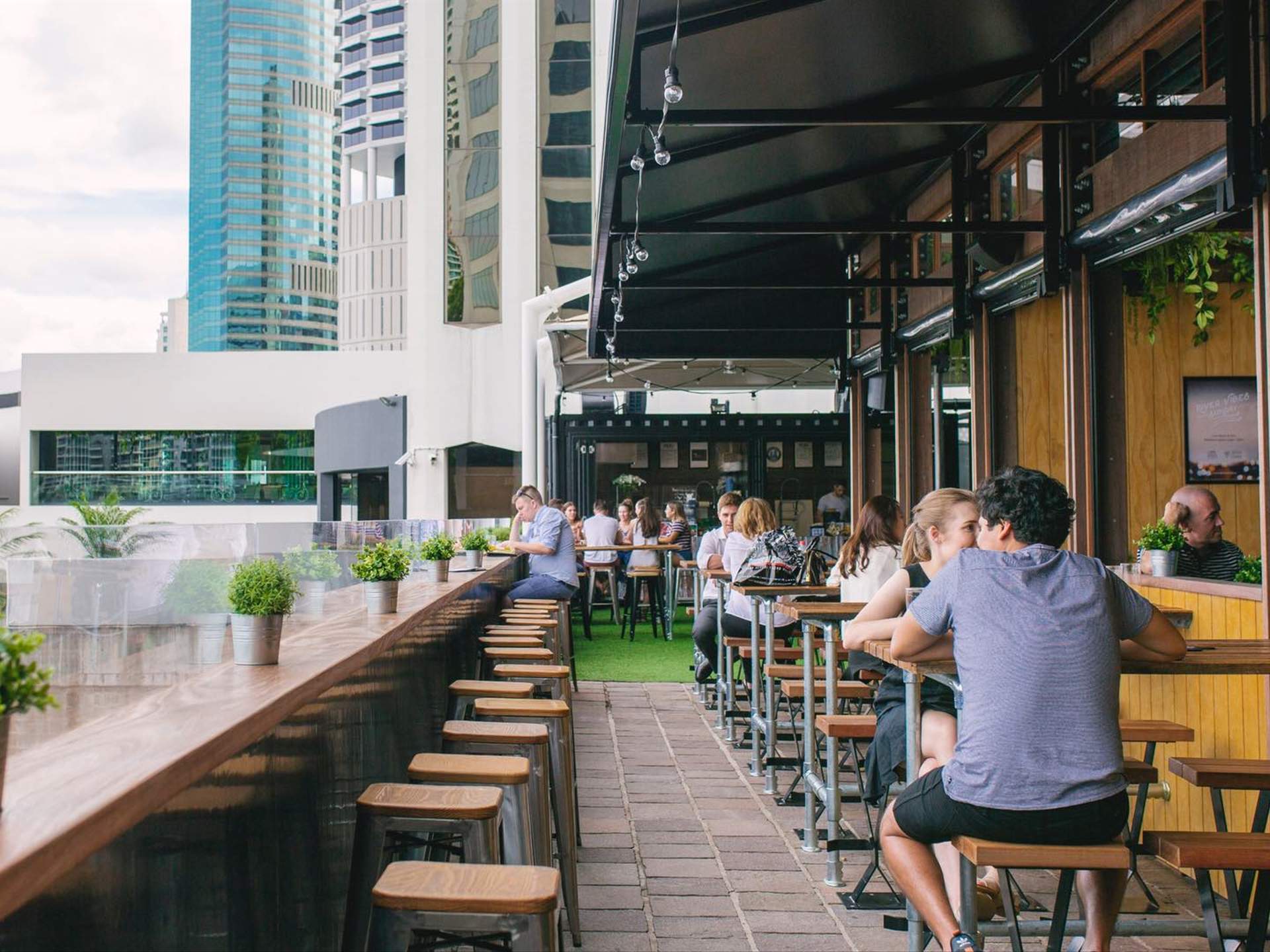 Federation Square is not only famous for its attractions, museums, and exclusive galleries but a perfect place to relish on the delectable recipes, beers, and wine in multiple restaurants, cafes, and bars. Some of the food places that are famous for their exclusivity, fine dining, and the ambiance include:

1. Riverland Bar and Cafe:
It is one of the supreme locations to savor fresh beer, snacks, and BBQs while praising the beautiful surroundings, as it is located on the banks of the Yarra River and is just below Fed Square. Here you can also relish on the famous Popstic ice cream which is pure classic flavors made using only local and fresh products.


- Opening Hours: Open daily 11 am – late


- Location: River Terrace

2. Chocolate Buddha:
The perfect place to savor on Japanese delicacies including Ramen, Donburi and Izakaya along with Japanese beer, wine, and shakes. It welcomes its visitors with a sushi train and an express delivery train, which help in delivering hot food ordered through a tablet.


- Opening Hours: Sunday & Monday: 11:30 am – 9:30 pm


Tuesday to Saturday: 11:30 am – 10 pm


- Location: The Main Square

3. Il Pom Italian:
This Mini Italy in Fed Square offers Italian specialties and involves home-style cooking of pizzas, risottos, and zuppas. It is an ideal location to satisfy your appetite with any of the four courses, lattes, lunch, dinner or drinks.


- Opening Hours: Open daily 12:00pm – late


- Location: Upper Square

4. Transport Public Bar:
This is another excellent destination in Fed Square to try the different flavors of the delicious food and drinks while enjoying live music, sporting events, cultural fests, etc. It is visible from a distance and is distinguished for its complete glass wall window and a huge T. It is very close to trams and trains and is the epicenter of activity in Melbourne.


- Opening hours: Open daily 11 am – late


- Location: The Main Square
Shopping at Federation Square
A trip to any place cannot be complete without buying something, and this place has numerous stores to satisfy the shopaholic in you. You can buy exclusive souvenirs, accessories, artifacts, and many more household items to take back home. Below are some of the famous shopping joints which house a diverse collection of articles, gifts and much more:

1. The NGV design store at The Ian Potter Centre:
It offers a wide range of Australian and International art, fashion, photography, and design books. Here you can also shop for the design products including exclusive NGV products, latest, and hot selling fashion accessories, beautiful homewares, interesting gifts for kids, and unique native Australian articles.


- Opening Hours: Open daily 10 pm – 5 pm


2. ShopKoorie:
Located at the Koorie Heritage Trust, this shop serves a perfect location to buy a souvenir or authentic Koorie-made art and artifacts. If you purchase from here, you are indirectly helping the Aboriginal Victorian artists and 60,000 years old art and culture. 


- Opening Hours: Open daily 10 am – 5 pm

3. The ACMI Shop:
This is the most exemplary location for the shopping of film books, movies inspired merchandise and other collectibles. It is located at the Australian Centre for the Moving Image and has a vast collection of uncommon gifts, off-beat souvenirs, movie-themed games, fascinating accessories, toys, and cards, etc.


Opening Hours: Open daily 10 am – 5 pm

4. 7-Eleven:
Located on Swanston St Forecourt, this is a 24 by 7 convenience store and has in offer a wide range of assortments including the daily need items, newspaper, magazines, Myki passes along with hot food and snacks items.


- Opening Hours: Open 24 hrs

Tips for Visiting Federation Square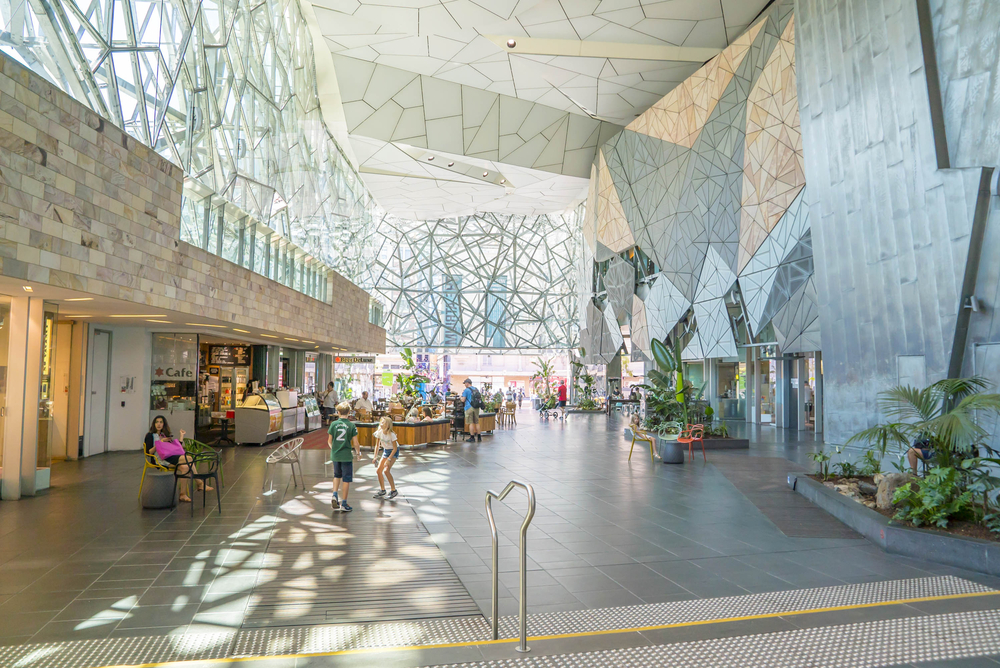 Coming to Fed Square for the first time? If you are a first-time visitor to this lovely place, you must take care of a few points to make the trip memorable and fun-filled. Here is the list of tips every visitor need to know before visiting the Fed Square:


1. Fed Square is open 24 hrs a day and the entry is free but galleries, shops, bars, and cafes have their own working hours.


2. There is always something happening there at Fed Square, so plan your visit after checking for the events you would like to attend.


3. Melbourne's weather is unpredictable. Keep yourself armed with a raincoat, boots, and layers to stay comfortable, even if there is an unexpected change in weather. 


4. Do not forget to bring sunscreen, sunglasses, and an umbrella if you are visiting the place in summer and want to be part of the event at the open theatre.


5. If you are visiting the place during the winter season, then Winter Garden and Village are a must to include in the itinerary.


6. Do check for details of the work's provenance and proof of authenticity before buying Aboriginal art as all art pieces are not authentic or ethically sourced.


7. This place is heaven for all foodies. So do not miss savoring mouth-watering food and beer served in various restaurants, bars, and cafes.