About Oude Kerk
Standing bold and monumental within the boundaries of the Red Light District of Amsterdam, the Oude Kerk is one of the oldest churches in the city. It paints an image full of contrast on the pages of De Wallen with distinct colours of a coffee shop to its left, the Princess Juliana Nursery School at its right and numerous street workers on their way to work in front of it.

The Oude Kerk acts as a cynosure for contemporary art and heritage having renowned artists like Marinus Boezem, Janet Cardiff, Christian Boltanski and George Bures Miller tasked to produce site-specific artworks for the church.

It is the most important church in Amsterdam after the Nieuwe Kerk (New Church) and carries a fascinating history weaved from important events that shaped the old building over centuries into its present form.

Built around the early 13th century and consecrated by the bishop of Utrecht in 1306, the Oude Kerk was originally a Roman Catholic church which later adopted Calvinist practices following serious revolts in the mid and late 16th century.

Alongside a remarkable architecture, the church also houses old artefacts consisting of paintings and the four organs built in 1658, 1767, 1724 and 2010, which together form the main source of attraction for tourists. Visitors also get to enjoy occasional music concerts and art exhibitions that are arranged about three or four times a year.

The Oude Kerk is easy to reach from the Amsterdam airport with a number of travelling options including train, bus and car at your disposal.
How to Reach Oude Kerk


- By Train:
Take an 18-minute train ride (Sprinter, Intercity direct, Intercity) from Schiphol Airport to Amsterdam Centraal followed by an 8-minute (740 metres) walk to Oude Kerk. Entire trip costs around €6 to €13. 

- By Bus:
Take a 34-minute Night Bus ride (N97) from Schiphol, Airport B17 to Amsterdam, Nieuwezijds Kolk followed by a 5-minute (457 metres) walk to Oude Kerk. Entire trip costs around €4 to €6. Shuttle service is also available for the same route from Schiphol Airport to Oude Kerk, which is 17.6 km in 18 minutes. 

- By Car:
A car ride from Amsterdam Airport (AMS) to Oude Kerk will take 18 minutes (19.6 km). A taxi ride for the same route will cost €49 to €59. Uber service is also available at a price ranging from €25 to €36. Rideshare from Schiphol Airport to Amsterdam before a 7-minute walk to Oude Kerk will take 32 minutes and cost you €2.5.
Best Time to Visit Oude Kerk
The best time to visit the church is between the months of June and August as the weather at that time is warm and sunny while the temperatures are pleasant and moderate. The average temperature during July is 17.9 degrees celsius. It is the most ideal time for tourists to visit and explore the church and other attractions of the city on foot.

Another great time to visit Oude Kerk is during the procession of stille omgang that takes place in the month of March when around 5,000 Catholics from all over the Netherlands gather to take part in the Silent Walk.

Oude Kerk is also the host to an array of activities centring on art. The current one, which includes events like Poems for Earthlings and Silence concert, started on 21st November 2019 and will continue till the 26th of April 2020.
What Not to Miss at Oude Kerk
The things that you should not miss at Oude Kerk are:
1. Live shows at Oude Kerk -

Oude Kerk hosts three or four high-profile international exhibitions every year alongside near-weekly concerts, permanent collection presentations and numerous other activities. After the restoration of the monumental church building in 2013, it was opened once again to the public and has since then been the venue for several programmes revolving mainly around art.

Performances organized by the church include pieces that are site-specific by artists thrice a year. The Oude Kerk also contains side rooms which hold historical collections of contemporary art works. Upcoming events include Poems for Earthlings (artworks by artist Adrián Villar Rojas), Rembrandt (a display of the painting 'Head of Christ') and Silence (contemporary music concert).

2. Stille Omgang -

Stille Omgang or the "Miracle of Amsterdam" is an event that occurred in 1345 and is now celebrated by Catholics in the form of a Catholic procession in mid-March every year at the Oude Kerk. The miracle refers to the not burning of the Host (Sacramental bread) vomited by a dying man when the vomit was thrown into a fire.
Things to Do near Oude Kerk

1. Check out Statue "Belle" -
 It is a bronze sculpture of a prostitute, in the heart of the red-light district, crafted by Els Rijerse that has a plaque reading the message - 'Respect sex workers all over the world'. It was placed in the district in the year 2007.

2. Shop at Dam Square -
Considered the true heart of Amsterdam as all roads in the city finally lead to Dam Square. It is home to The Royal Palace, War Memorial, Nieuwe Kerk and wonderful street performances. Crowds of shoppers and tourists can make it a really busy place to visit.

3. Have a Beer at Brouwerij de Prael -
Famous for its lovely ambience and amazing beer, Brouwerij de Prael is a must-visit if you want to taste some fine brew and also the best bitterballen in all of Amsterdam. It is located at a walking distance from the central station.


Places to Visit near Oude Kerk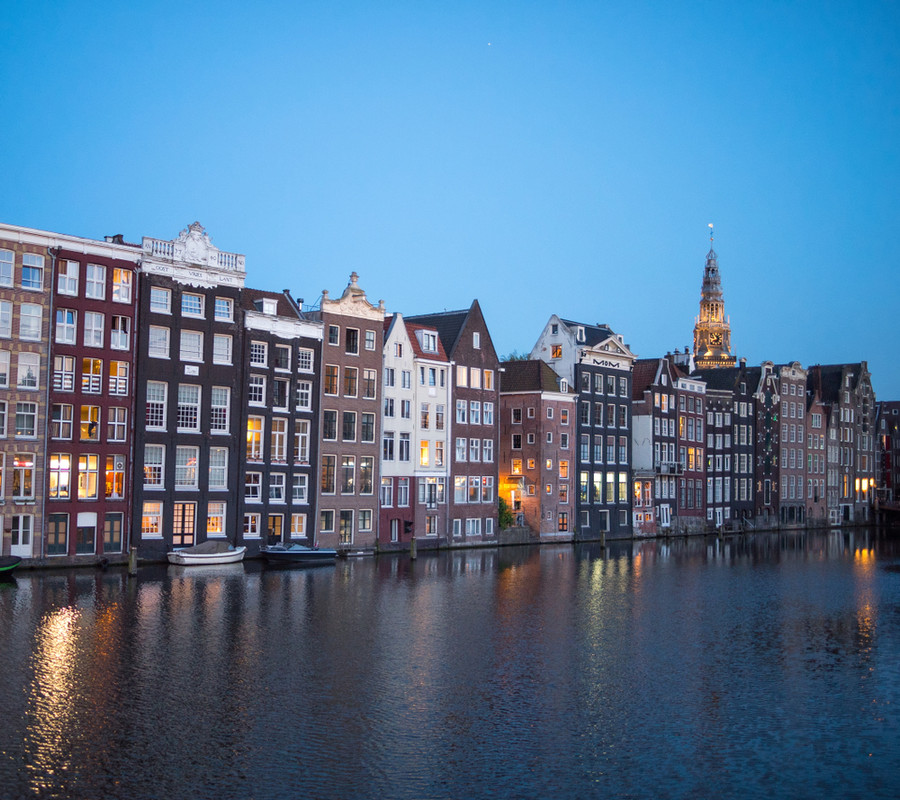 1. Museum of Prostitution -
Red Light Secrets: Located just 0.1 km from the church, the museum of prostitution is a favourite among tourists for its intriguing and eye-opening details and information regarding the world's oldest profession.

Presented from the point of view of the sex workers, the museum educates visitors with subjects such as how much do they earn, what is it like to work there and how the entire district functions.

2. Oudekerkstoren -
The Oudekerkstoren is another church close to the Oude Kerk. Built in the thirteenth century, the church also houses a tall tower that was erected in the sixteenth century and now makes a good scope for nice photography.

3. Museum Ons' Lieve Heer Op Solder -
This is one of the city's oldest museums which promises visitors an unforgettable experience of the Dutch Golden Age. It is a 17th-century canal house whose top floor is converted into a Catholic church.
Other Essential Information About Oude Kerk
Location:
The church is located in Amsterdam's main red-light district, De Wallen. Oudekerksplein, a square in the centre of Amsterdam, is the square surrounding Oude Kerk.
Entry Fee:
Tickets can be booked online as well as offline. The pricing of tickets are as below -
- Adults (general entry): €12
- Adults (in a group of 15 or more): €10 per person
- Students: €7

If you plan on buying tickets offline make sure to carry your credit or debit cards as purchase is only permitted through cards.
Timings:
Oude Kerk stays open from Monday to Saturday from 10 AM to 6 PM and on Sundays from 1 PM to 5:30 PM. The church remains closed on two days of the year, 27th of April (King's Day) and 25th of December (Christmas). The Oude Kerk tower is open for tourists between April and September on Thursdays, Fridays and Saturdays from 1 PM to 5 PM.
Photography:
Photography is not restricted in Oude Kerk. The church's architecture provides a huge opportunity for lens enthusiasts to play with shadows for quality images.
Distance from Amsterdam Airport:
Oude Kerk is 23.7 km from the Amsterdam Airport via A4 and A10 (32 minutes by car), 31.5 km via only A10 (35 minutes) and 32.6 km via A9 (38 minutes).


History of Oude Kerk
Initially made out of wood in the 13th century on the banks of the river Amstel, the Oude Kerk was rebuilt to a stone church by the end of the same century. To match the pace of growing Amsterdam, the Oude Kerk too was rebuilt and enlarged quite a many times.

The interiors of the Oude Kerk were destroyed during the proceedings of August 1566, when the Catholic Church was revolted against by the city's population. Hints of demolition and vandalism can still be traced to this day. After the Alteration in the year 1578, the church became a Reformed Protestant one and has stayed the same ever since.
Architecture of Oude Kerk

The architectural style of the Oude Kerk is Hollandse gotiek (or Dutch Gothic). Although most Dutch Protestant churches have simple interiors with only a handful of artefacts, the Oude Kerk shows off with its well lit high windows, choir misericords and old gravestones on the floor.

After the destruction of most of the catholic paintings and artworks by the Calvinists, the only hints of the church's magnificence that remained were the stained glass windows and the arched ceiling holding a few 15th-century illustrations. Overall, the church became a unique building that helped depict the national disposition of Protestantism in the Netherlands.

Places to Dine near Oude Kerk

1. Pizza Pino Amsterdam -
It is less than 100 metres away from the Oude Kerk and serves pizzas and other Italian and European cuisines. It also specializes in vegetarian-friendly diets and is a recommended place for having dinner or lunch.

2. De Koffieschenkerij -
Specializing in Cafe, Dutch and European cuisines, De Koffieschenkerij is just 100 metres from the Red Light District and provides options for vegan and gluten-free diets.

3. Martine of Martine's Table -
Located just 0.2 km from the Oude Kerk, this private dining restaurant serves French, Dutch and European cuisines.


Places to Stay near Oude Kerk
1. NH Collection Amsterdam Grand Hotel Krasnapolsky -
This family hotel provides amenities like airport transportation, bicycle rental, bar/lounge e.t.c and has air-conditioned rooms with facilities like minibar and flatscreen TV. It is about 0.2 km from the Oude Kerk. 

2. Hotel Luxer -
Hotel Luxer is a centrally located hotel, also 0.2 km from the Oude Kerk, that promises provisions like taxi service, concierge and free internet. 

3. NH Collection Amsterdam Barbizon Palace -
300 metres from the Oude Kerk, the hotel offers services like business centre having internet access, gym/workout room and babysitting.
Tips While Visiting Oude Kerk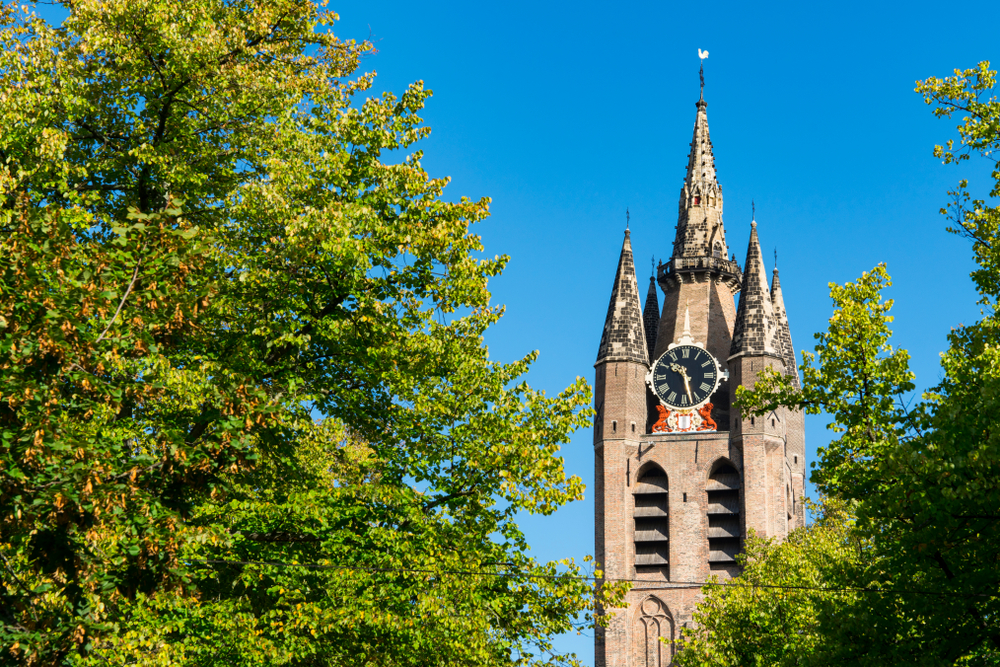 For individuals and groups, who are planning to visit the Oude Kerk church for the first time, the following tips will be helpful.

- Make sure to carry your credit or debit cards as admission will only be accepted through cards if you want to buy tickets offline.

- The offline ticket desk stays open till 3:45 PM. 

- Use public transport for a better experience on this tour.