About Kaza
Nestled in one corner of the beautiful Indian state of Himachal Pradesh, Kaza happens to be a tranquil and serene destination in Spiti Valley. Packed with majestic snow-covered mountains, bubbling rivers, picturesque landscape, and shimmering streams, this dreamy place is no less than a paradise on earth. 


The entire town of Kaza is categorized into 2 parts – New Kaza and Old Kaza. While the former accommodates the king's palace, the latter is home to government offices. The presence of historical wonders, monasteries, and gompas adds a sense of magic to this charming town. At present day, the Himalayan town of Kaza features an exotic amalgam of ancient culture and modernity that is sure to leave every traveler totally awestruck and spellbound.
 
The pristine locales and mountainous terrain of Kaza lure tourists who are interested in experiencing spirituality as well as adventurous activities. The place even forms a base camp from where travelers can venture to experience activities such as mountaineering and trekking. Some well-known trails that start from the town of Kaza include Pin-Bhaba, Parang-La, and Pin-Parvati. In addition to trying adventure sports and visiting various Buddhist shrines, tourists flocking here also like to take a walk to the small villages nearby Kaza town, which offers an exciting and unique experience.


One can access Kaza from Lahaul Valley and Kinnaur Valley. While the latter route stays open all year round, the former route only opens during the summer season. Winter season in this destination comes with extremely low temperatures that make the weather of the town immensely cold. During this time, the locals prefer staying indoors and only venture out in case of absolute urgency. They always keep food supplies stocked up for this time of the year and utilize the whole time indoors by producing handicrafts.


The town of Kaza is blessed with a plethora of decent accommodation facilities and food outlets, helping tourists in having a comfortable vacation. All the elements put together, make tourism flourish in this small Himalayan destination.
How to Reach Kaza
By Road
The town of Kaza is connected conveniently to all the major parts of the country by roadways. Regular government buses frequent to and from Kaza. Two daily buses run from Shimla to Kaza with one leaving at dawn and the other leaving at dusk. Two HRTC daily buses are also available from Manali to Kaza and both of them generally leave early in the morning. 
By Air
Unfortunately, there isn't any direct flight service to the city. The nearest airport to Kaza is Bhuntar airport located at a distance of around 250 kilometers from the town. Once you land at this airport, you can take a bus to reach Kaza.


By Rail
No direct train is available to Kaza from other parts of the country. The closest railway station to the town is at a distance of 365 kilometers, in Joginder Nagar. After reaching here, you can catch a bus to arrive at Kaza.
Best Time to Visit Kaza
The best time to visit the Himalayan town of Kaza is between the months of June and October. During this time Manali, as well as Shimla routes, remain open for travelers to reach Kaza conveniently. In addition, the Kunzum Pass also remains open during these months. 

Tourists also prefer visiting the cold desert of Kaza during the winter months of November to February. During this time travelers can take the Shimla route to reach the town as this route remains open throughout the year.
What Not to Miss at Kaza
1. Kibber village


Lying at an altitude of 4,270 meters, Kibber Village happens to be the most inhabited village in the state of Himachal Pradesh. One of the unique aspects of this beautiful village is that the houses here look very similar in design and architecture and add to the town's overall beauty. 


Although remotely placed, Kibber Village is well-equipped with high school, telegraph office, hospitals, and post office. The uncluttered charm of the village attracts a host of tourists from across the globe. Some of the major tourist attractions of the place include Parang La Trek and Tso Moriri Lake. 

2. Tabo



Perched at a height of about 3050 meters, Tabo happens to be a spectacular and tranquilizing tourist destination in the Indian state of Himachal Pradesh. The town exhibits a truly picturesque and stunning sight to tourists. Surrounded by lofty brown hills, Tabo is home to a plethora of interesting and alluring tourist spots, the most popular being the famous Tabo Monastery.

Built about 1000 years ago, this monastery forms the biggest royal complex within Spiti Valley. The monastery shelters a total of 23 chortens and 9 temples and gets a heavy influx of devotees all year round.  

3. Key Monastery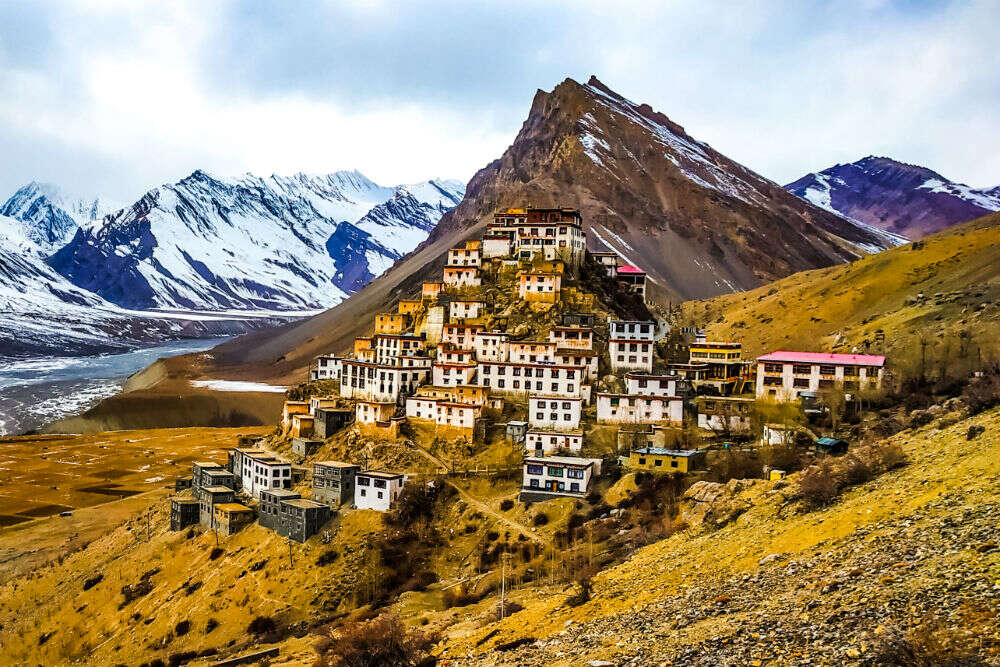 The well-known Buddhist Monastery, Key Monastery lies near Spiti River in Himachal Pradesh. Situated at a height of around 4,166 meters, this monastery was established by Dromton some thousand years ago. Counted among the biggest monasteries of the state, Key Monastery exhibits a truly amazing architecture.
Known popularly for its historical significance, this magnificent monastery also forms a reputed religious training hub for the Buddhist Lamas. In the present day, Key Monastery gets a heavy influx of tourists from various parts of the world. The calm and peaceful atmosphere of the place lures tourists to keep returning to the destination over and over again. 

4. Dhankar Monastery

Lying at a height of about 12,774 feet, Dhankar Monastery is known as one of the top attractions in Himachal Pradesh. Offering a spectacular panoramic sight of Spiti Valley, this monastery dates back about 1000 years. Having its name among the hundred most endangered monuments of the world, the Dhankar monastery is counted among the important hubs of Buddhist culture and art.


The monastery is home to a beautiful museum and a figurine of Dhyana Buddha. Visitors flocking here can also take a glimpse of the breathtaking Dhankar Lake located at a distance of about 2 kilometers.    

5. Kunzum Pass



Situated at a height of around 4551 meters, Kunzum La or Kunzum Pass is a popular gateway to Spiti Valley. This pass offers the visitors a stunning 360 degrees sight of the beautiful Shigri-Bara Glacier, an alluring view of Spiti Valley, and an enthralling view of the spectacular Chandrabhaga Range.  

Tourists like to take the 15 kilometers long trek from Kunzum Pass to the popular Chandratal Lake. Trekkers usually halt at Kunzum Devi and pray before the goddesses to help them journey safely via this rugged terrain.

6. Chandratal Lake



Forming a paradise for trekkers and campers, Chandratal Lake lies at a height of around 4300 meters. Once considered as a home to the Tibetan traders visiting Kullu Valley and Spiti Valley, the place invites a host of adventure seekers from across the globe, in the present day. Owing to its religious significance, the destination also lures many Hindu devotees throughout the year. 

Tourists visiting Chandratal Lake usually enjoy camping and trekking in the pleasant weather. They also engage in landscape photography at the destination. 

7. Dhankar Lake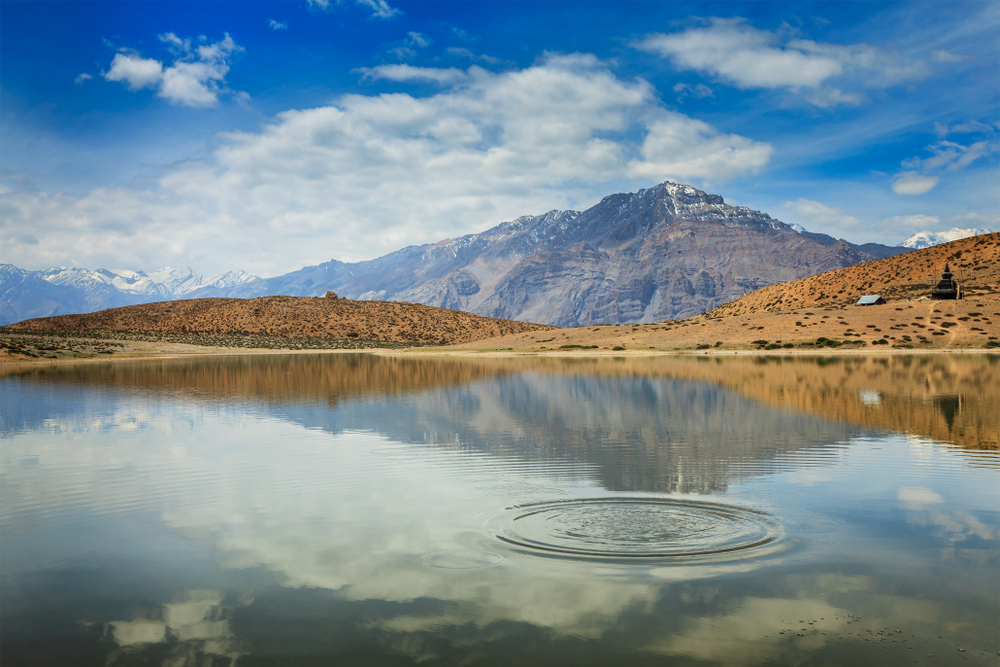 Located at an approximate distance of around 2 kilometers from Dhankar Monastery, Dhankar Lake is a pristine water body, luring tourists from all over the world. It generally takes around an hour for reaching this spectacular lake after seeking the blessings of the Buddha at the monastery. 

Tourists flocking to the lake spend time strolling and relaxing in the serene and tranquil atmosphere. You can also witness the blue sky changing its colors and reflecting on the clear waters of the lake. 

8. Pin Valley National Park

Lying between semi-frozen water bodies, Pin Valley National Park is packed with every awesomeness of nature. Located at an altitude ranging from around 3,500 meters to over 6,000 meters, this national park shelters rare wildlife species including Himalayan Snow Leopards, Siberian Ibex, Red Fox, Marten, Weasel, and Bharal. 


The park also houses umpteen varieties of birds like bearded vulture, golden eagle, Himalayan chough, snow cock, pika, griffon, raven, and chukar. Pin Valley National Park has also gained a lot of popularity among tourists for its amazing trek.   


9. Sakya Tangyud Monastery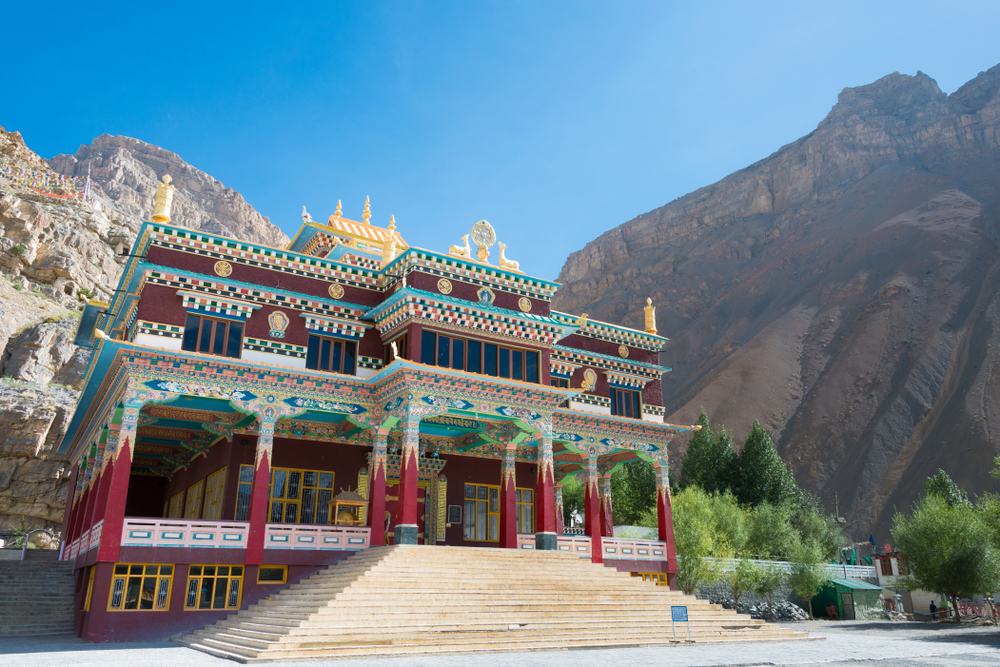 Located at an approximate height of about 4520 meters, Sakya Tangyud Monastery happens to be a must-visit destination in Kaza. Lying on the border of Kibber Wildlife Sanctuary, this monastery forms one of the best sites to gain religious lessons about Buddhism. 


Depicting a similar architecture to that of a beautiful castle, Sakya Tangyud Monastery is surrounded by spectacular sights. Adorned with vertical white stripes and red ochre, this iconic shrine exhibits an incredibly stunning look, offering tourists an unforgettable view. 
10. Komic Village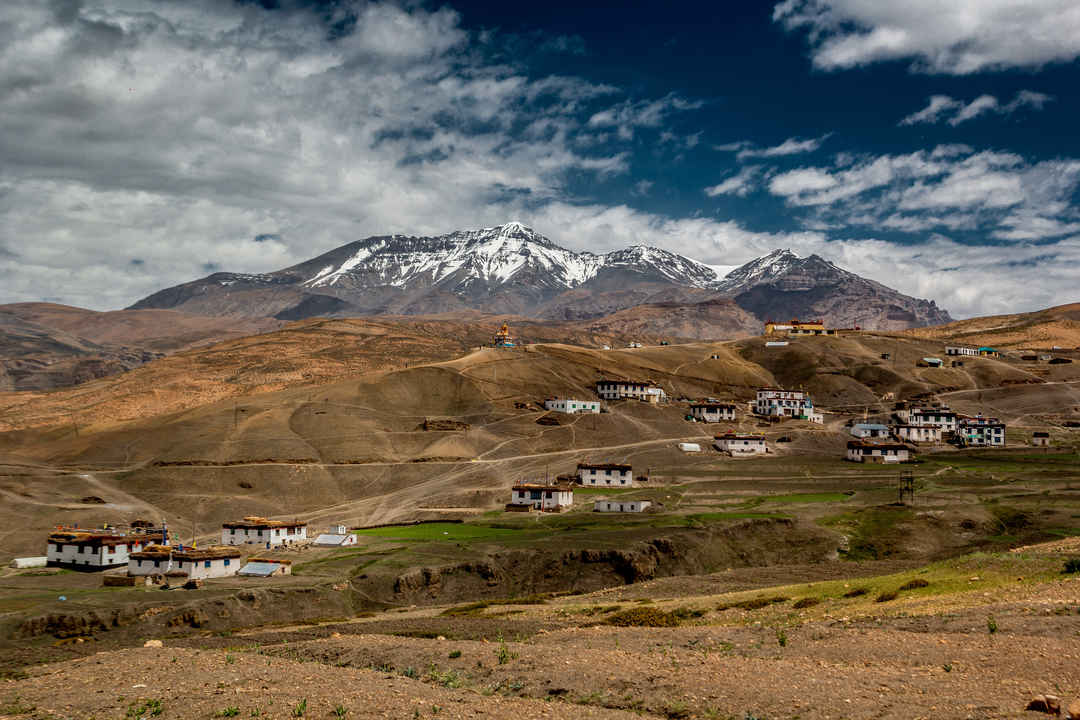 Located at an altitude of whooping 4275 meters, Komic Village is one of the most beautiful treasures of Kaza. This village is the hub of fossils in the country. The village is also home to a small beautiful monastery. 

Known widely as the world's highest village connected to a motorable road, Komic Village attracts a host of tourists throughout the year.There are a plethora of interesting and amazing places to visit within and around this village including Hikkim Village and Langza Village. The meadows and pastures of Komic Village also form a major attraction among tourists.  
Other Essential Information About Kaza


Distance from Spiti:
Kaza is located at a short distance of around 5.5 kilometers from Spiti Valley and it hardly takes 10-15 minutes to reach the place from here.  

Distance from Manali: Kaza is situated at an approximate distance of about 202 kilometers from Manali and it generally takes around 6 hours to reach the Kaza from Manali. 

Distance from Shimla: Kaza lies at an approximate distance of about 407 kilometers from Shimla and it generally takes around 12 hours to reach the Kaza from Shimla.

Mobile Connectivity: One can only get a cellular network of BSNL in Kaza, which usually remains very weak. 
Places to Eat in Kaza



1. Sol Café
Located in the Kaza Main Market, Sol Café happens to be a popular vegetarian and vegan-friendly food joint in town. Boasting a nice and cozy ambiance, this café welcomes both tourists and locals for breakfast, brunch, and evening snacks. Specializing in handmade chocolates, ice-cream, chocolate cakes, and umpteen varieties of sandwiches, Sol Café is an ideal destination for a perfect hangout.   

2. The Himalayan Café
Lying in the Main Market of Kaza town, The Himalayan Café is a well-known place to eat in the state. Specializing in Chinese and Asian cuisine, the café is known for its delicious local delicacies and quick service. Welcoming people for breakfast, brunch, lunch, and dinner, this place also allows guests to read books and indulge in various fun activities.

3. Taste of Spiti
Specializing in Italian, Tibetan, and Indian cuisines, Taste of Spiti invites locals as well as tourists for breakfast, lunch, and dinner. This food joint is a famous place to relish the local delicacies of the Spiti Valley and Himachal Pradesh as a whole. The most preferred delicacies to try at Taste of Spiti include sandwiches, Himalayan burgers, and Spitian pasta.

4. Hotel Deyzor
Hotel Deyzor is a popular name in the Spiti Valley when it comes to a decent place to try good food. Offering a widespread vegetarian-friendly menu, this food joint invites people mainly for breakfast, lunch, and dinner. Known for its excellent hospitality and wonderful décor, Hotel Deyzor is the most ideal stop for delectable food in Kaza.

5. Tara Travelers Café
Located in Pin Valley, Tara Traveler Café specializes in Chinese, Asian, Tibetan, and Indian cuisines. Known for its budget-friendly menu, this food outlet gets a heavy influx of locals and tourists for breakfast, brunch, lunch, dinner, and drinks. Tara Travelers Café boasts a clean atmosphere, mesmerizing valley view, and of course good food.


Places to Stay in Kaza 



1. Winter White Guest House
Situated amidst the mesmerizing surroundings of the town of Kaza, Winter White Guest House provides everything that a traveler is likely to seek. The guest house flaunts well ventilated and comfortable rooms, amazing views, an in-inhouse restaurant, free wi-fi, 24*7 cold & hot water, and unmatched hospitality. This kids-friendly accommodation facility also welcomes pets. 

Cost: Rooms at Winter White Guest House generally start from INR 2,800 per night. 

2. Nyingma House
Featuring a cozy in-house restaurant and free wi-fi, Nyingma House provides an amazingly comfortable accommodation facility in the Himalayan town of Kaza. Some of the attractive amenities of this hotel include a free parking facility, rental bicycles, and rental ski equipment to enjoy skiing.

Cost: Nyingma House has spacious and well-equipped family rooms starting from INR 1800 per night.

3. Wanderer's Nest
Wanderer's Nest is one of the most preferred places to accommodate during a trip to Kaza town. This accommodation facility boasts all the basic amenities including a decent in-house restaurant, a spectacular garden, a breezy terrace, and a shared lounge. 

Cost: A stay at Wanderer's Stay generally starts from INR 600 per night.  

4. Spiti Sojourn
Spiti Sojourn has gained a lot of popularity among tourists in recent years for its outstanding hospitality and comfortable rooms. This well-equipped homestay features a shared lounge and an in-house restaurant serving lip-smacking English, Irish, and Continental delicacies. Spiti Sojourn welcomes families, friends, and couples for a pleasant and memorable stay during their vacation in Kaza.

Cost: A stay at this homestay usually starts from INR 1,000 per night.


5. Moustache Hostel Kaza
Moustache Hostel Kaza is one of the highly recommended and budget-friendly accommodation options in the town of Kaza. Packed with all the facilities to allow guests to enjoy a riverside stroll, experience stargazing, and indulge in bonfire and leisure activities, this accommodation facility assures travelers an unforgettable stay. 
Cost: 
A stay at Moustache Hotel Kaza generally starts from as low as INR 765 per night.
Tips for Visiting Kaza 



1. There is no internet connectivity in Kaza. If you want a cellular network, you have to use a BSNL SIM only.

2. Consider carrying warm clothes along with you as the climate of Kaza is generally very cold.

3. As getting an ATM at Kaza can be very difficult, it is always advisable to carry enough cash.

4. As food and water are not available everywhere in Kaza, you may consider carrying some snacks and sufficient drinking water.

5. Never miss out on relishing the local dishes like chicken, pork, and mutton momos, Tibetan bread, and thukpa.

6. If you are taking your personal vehicle to Kaza, you must have sufficient petrol in stock. It is also advisable to carry RC, vehicle insurance, and pollution certificate.