About Kibber
Kibber is a picturesque little village on the higher regions of Spiti Valley in Himachal Pradesh. Also known as Kyibar, Kibber is known for the Kibber Monastery and the Kibber Wildlife Sanctuary. This small, recluse village is made of only 80 houses with approximately 366 residents.

Standing at a height of 4270 metres, Kibber is known as the highest motorable village in the world. Surrounded by the Himalayas, this village attracts a large number of tourists every year for trekking and mountaineering. It is also a preferred camping destination during summers.

Barter is still an active mode of commerce in Kibber. Villagers continue to take travel on the trade route, a three-day journey, from Parang La to Ladakh to barter their horses for yak or sell them for cash. The houses in this village are its most unique feature. Identical to look at, all the houses are made of stone instead of the adobe brick that is used in other parts of Spiti Valley. Even though remote in location, Kibber has its own dispensary and hospital, school, post office, telegraph office, and a community television set.

Transportation is a challenge in Kibber due to underdeveloped roadways. You can avail the regular bus service that connects Kibber to Kaza or travel by shared taxi. But it is advisable to have your own mode of transport if you don't intend to walk. But with all its limitations, Kibber is a must-visit for all the surrounding mountain range, green meadows, and all its natural beauty.

How to Reach Kibber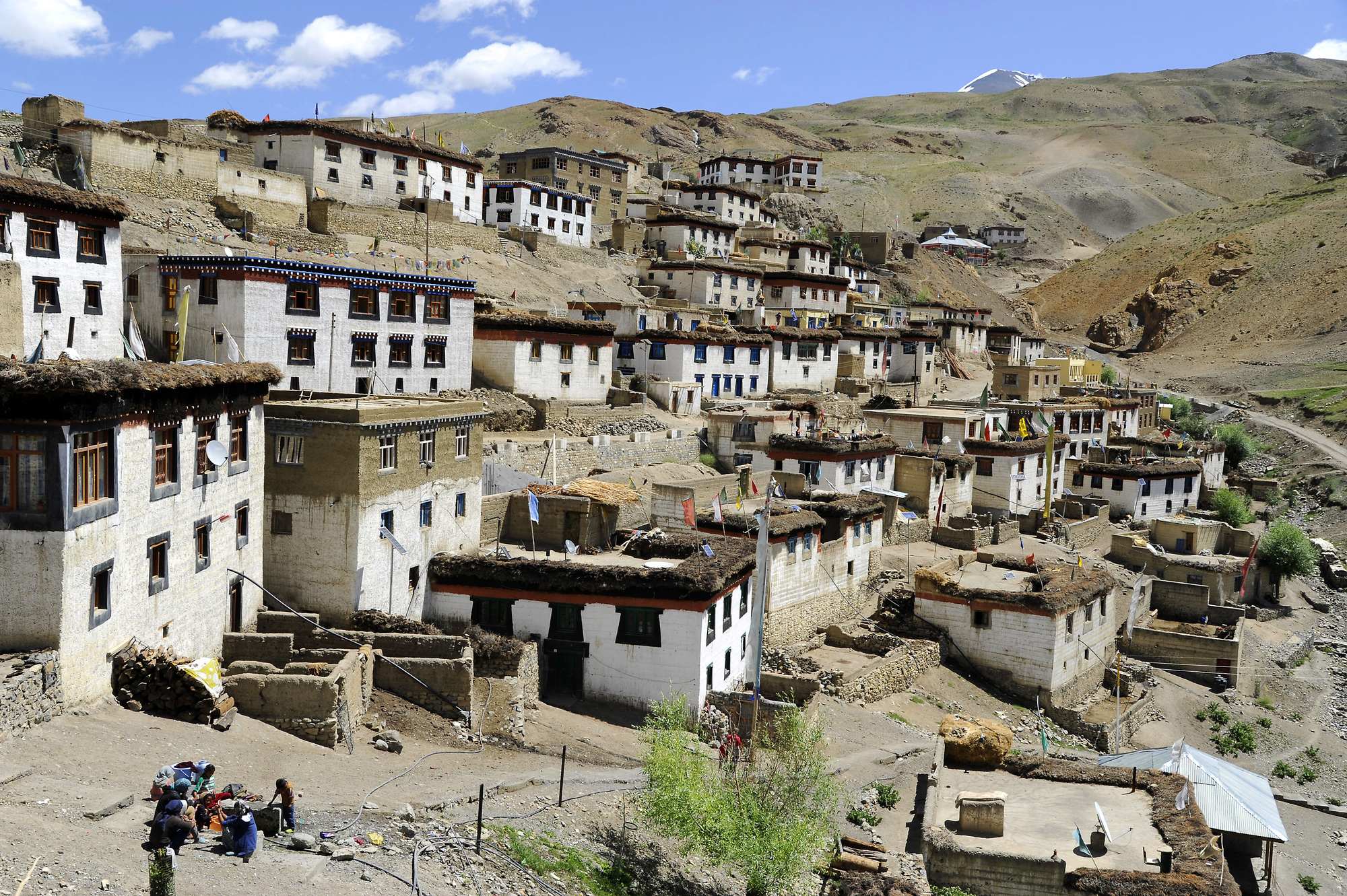 Kibber can be reached by road from Kaza. There is a local bus from Kaza to Kibber that starts at 5 pm everyday and reaches Kibber in an hour. After an overnight halt, the same bus returns to Kaza in the morning. During peak tourist season, they may run a second bus service in the morning, depending on demand. 
You can also hire a cab or take a shared taxi that will bring you to Kibber. Since this is an additional source of income for the villagers, they may ask for high prices. Don't forget to bargain to get the best price.
Best Time to Visit Kibber
Summer months of May to July are the best time to visit Kibber, and as an extension, Spiti Valley. The weather, although cold, is pleasant. This is the ideal time for sightseeing and trekking. Avoid coming in the winter months as the temperature drops below zero, and roads may be shut down for months.
Carry a light jacket and umbrella as rain is unpredictable in this region. We recommend avoiding monsoons as high amount of rainfall often leads to landslides and accidents. In addition, since this is a mountain area, roads become even more difficult to navigate during the rains.
What Not to Miss at Kibber
1. Short treks: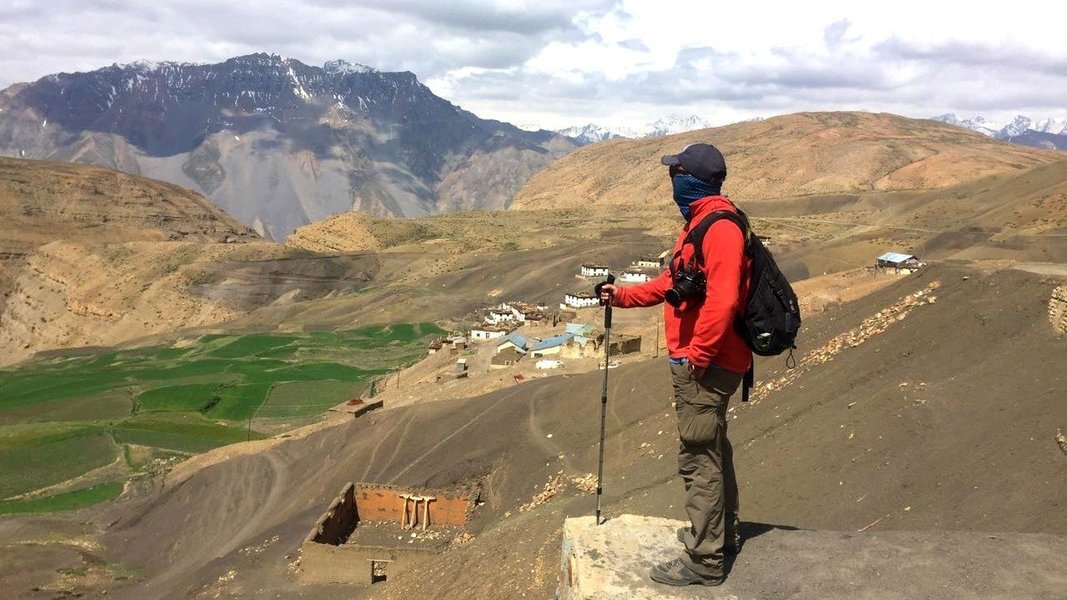 Kibber is a popular trekking spot for tourists and adventure sports lovers. There are a number of trekking destinations close to Kibber that are ideal for short, one day treks. Most popular amongst these are Chichum, Gete and Tashigang. These 2-3-hour treks are the ideal way to enjoy the natural beauty surrounding Kibber. Since road transportation is a challenge in this region, these short treks are the best way to explore the area and enjoy the holiday.


2. Chicham Bridge & Ropeway:


Excellent examples of engineering, the Chicham bridge and ropeway connect Kibber to Chichum village. If not in the mood to trek, then the ropeway is a good way to reach Chichum. This hand-operated ropeway was made by the people of Spiti valley for convenience of transport. It has been over 10 years since the construction, but there have never been any accidents reported. From human beings to heavy-duty luggage, this ropeway has transported everything without any glitch. The Chicham bridge holds the record of being the highest bridge of Asia. It stands over a 1000-feet gorge. Crossing this bridge on foot is an experience in itself.


3. Visit monasteries:

Thanks to the Tibetan Buddhist history of the region, Kibber is surrounded by a number of monasteries. Key Monastery is the most popular in the region. Standing on a hilltop at a height of 4166 meters, this is the largest monastery of Spiti Valley. It is also a training ground for Llamas. Komic Monastery and Sakya Tangyud Monastery are also worth a visit.



4. Hikes & treks:

Kibber is a favoured starting point for hikers and trekkers. Trek to Tso Moriri Lake and Tso Kar Lake (both in Ladakh). Since these are longer treks, we recommend advance planning. You can also hike to Dangmachan peak. At 5157 meters, this peak is right above Kibber village, and gives a breath-taking view of the entire village.



5. Temple visit:
Close to Kibber village is the Trilokinath Temple. A place of worship for both Hindus and Buddhists, this temple is believed to have been built more than 2000 years ago. Local Hindus worship Lord Shiva, and believe that this temple was built by the Pandavas. The local Buddhists worship the same God in the form of Arya Avalokiteshwar, the God who embodies compassion. A small, white shrine with lingam and Nandi bull reside in the same compound as a large Buddhist prayer wheel does.


6. Kibber Wildlife Sanctuary:
Built in 1992, the Kibber Wildlife Sanctuary is popular due to sightings of snow leopards. It is also home to the Golden Eagle and the Himalayan Griffon. Kibber is the only cold desert wildlife sanctuary in the country, and remains isolated for almost 5 months due to weather conditions. But this has allowed a number of medicinal plants and herbs to grow in the region without intrusion.
Other Essential Information About Kibber


Location: Lahaul and Spiti District.

Distance from Spiti: 18.4 kms (40 minutes approximately)

Distance from Manali: 185.5 kms (4 hours 50 minutes approximately)

Mobile Connectivity: Poor.

Temperature: 11.5 °C (average temperature during summers), -9.5 °C (average temperature during winters)

Historical significance of Kibber
Just like the rest of the Spiti Valley, Kibber also follows Tibetan Buddhism. The religion holds a special significance for the people of this village because Serkong Rinpoche, teacher of current Dalai Lama, lived here in his last years in the 80s.

Kibber also has an ancient trade route between Parang La and Ladakh. This trade route was the primary means of trade and livelihood for the nomadic tribes of Changthang (Ladakh) and the residents of Spiti. Barter system was the primary mode of commerce. The annual festival of La Darcha was the main time and spot for the trade of horses, yaks, and edible items. Villagers of Kibber continue to use this trade route for business and travel.


Another significant attraction of Kibber is fossil hunting. The neighbouring village of Langza is more popular when it comes to finding and studying fossils. But finding an ammonite or marine fossils in Kibber is not unheard of due to its proximity to the Himalayan range.


Kibber is surrounded by monasteries, a testimony to the Tibetan Buddhist history of the village. Primary amongst these are the Kibber Monastery and the Key Monastery, the largest monastery of Spiti Valley. The monks are a delightful resource of stories of Tibetan history and culture.

Kibber Weather


The weather in Kibber is cold and temperate throughout the year. Kibber receives a large amount of rainfall. Even in the driest month Kibber witnesses' days of rainfall. On an average, the year-round temperature is about 1.6 °C, with nearly 518 mm of average rainfall.

July is the warmest month of the year, while January is the coldest. November is the driest time of the year and August has maximum precipitation. Temperature in Kibber can drop to as low as -9.5 °C, blocking all roadways, and bringing this small village to a standstill.


Where to Stay in Kibber


Although a remote village, Kibber receives a high number of tourists every year. There are a number of pocket-friendly hotels and homestays in Kibber village that provide all basic amenities. They also help tourists plan sightseeing trips and mountain treks.

1. Norling Home Stay:
One of the most popular home stays in Kibber, Norling Home Stay offers rooms with all modern amenities. The rooms provide beautiful views of the Kibber village and Rhino Khaplang peaks. The roof-top terrace is the ideal place to enjoy the early morning and twilight view. Norling Home Stay also has a house physician on call, a must-need facility in a remote area. If you are looking for additional adventure, speak with the owners. They can help organise snow leopard sighting, Kanamo Peak trek, and Parang La trek.

2. Deshek Home Stay:
Standing in the heart of Kibber village, Deshek Home Stay is right opposite the local high school. Built into three floors, each floor has an independent terrace where you can sit and enjoy the view. The home stay provides all basic amenities. Enjoy the warm hospitality, and the delicious cooking of the local family that runs the home stay. They can help you organise short and long treks around Kibber.

3. Kanamo Home Stay:
With a breath-taking view of the Spiti Valley from every room, Kanamo Home Stay is preferred by trekkers due to its proximity to trekking points and its location. Equipped with all modern facilities, Kanamo Home Stay also provides home-cooked, Spitian meals.

4. Zostel: 
This new and upcoming staying option is perfect for the modern traveller. Equipped with all modern facilities and food arrangements, Zostel is the ideal choice for backpackers, trekkers and solo travellers. Camping and bonfires are allowed, depending on the weather condition. If requested in advance, they can arrange for pick-up and drop to nearby locations.

Where to Eat in Kibber
All home stays in Kibber provide home-cooked food, using local, organic produce. Thanks to centuries of cohabitation, the local cuisine is a healthy mix of Himachal and Tibetan dishes. And due to harsh weather conditions, the locals have invented dishes that can easily be made from whatever is available. But if you are out sightseeing, and wish to taste some local delicacies, try these places.

1. Tashi Zom Guest House: 
This is the first place that you will spot as soon as you enter Kibber village. Food cooked with local produce, Tashi Zom has an open restaurant that serves even those who are not staying at the guest house. Peas, potatoes and barley are the most important local produce. So, most of the dishes served here use these three as primary ingredients and all the food is prepared from scratch. Relax and enjoy nature while you wait for your order.

2. 
Norling Guest House:
Another place with a public restaurant, Norling is run by a local family. And they cook for the guests what they eat in their own home. If you want to find out what Kibber villagers eat in their houses, this is the best place to find out. Along with local delicacies, they also serve Italian, Continental, and other Indian dishes. But we recommend that you stick to the local cuisine.

3. Serkong Homestay & Café:
Boasting of the highest rooftop in the entire Spiti Valley, Serkong is ideal to eat with a large group of friends or your family. This is also a good place to bring children as they serve both local dishes, and kid-friendly food.

4. Rainbow Guest House & Restaurant: 
Rainbow is a good place to stop when out sightseeing. This small, cosy place offers home-cooked meals, including some Tibetan delicacies. Their outdoor seating arrangement is perfect if you want to enjoy your meal surrounded by a picturesque location. An attached confectionary makes it easy to get eatables for the road.

Things to know before visiting Kibber


There are certain things you should know before visiting Kibber.


1. This is a high-altitude mountain area.


2. Roadways are not well-developed. Walking is a great alternative.


3. This is a good spot for trekking.

4. 
The wind is always a little chilly in Kibber. It is best to carry a warm jacket. 


5. Since this is an isolated village, we recommend you carry your own medicines, if needed any.

6. 
Kibber has a high school, a hospital, a post office, and a telegraph office.


7. Kibber experiences extremely harsh winters.

8.
If planning to trek or camp, carry your own gear.

9. 
The villagers are hospitable. If you don't find a place at a home stay, you could easily spend the night at one of the families.