About Suraj Tal
Suraj Tal also known as Surya Taal, is a divine lake surrounded by breathtaking valleys and splendid mountains. It lies beneath the Bara-lacha-la pass in Lahaul Spiti valley and is known to originate from Bhaga tributary of Chandrabhaga river. This magnificent lake has been entitled as the 21st highest lakes across the world and third highest lake in India. It is also revered as the lake of Sun God, and it is believed that you can cleanse yourself from all the sins by taking a dip in this sacred lake. During winters the beauty of this lake completely enhances as the mountains surrounding it gets covered by layers of snow, and it seems not less than a heavenly abode. 
The regions surrounding it are mostly uninhabited as the climatic conditions prevailing here are akin to those in the Polar region. This lake is not only a scenic paradise for nature lovers and a blissful treat for the divine souls, but it is also a hotspot for trekking and motorcycling enthusiasts. The most prominent reason why this lake has gained immense popularity is that this lake comes en-route of the Manali-Leh path, which is extremely renowned for bike trips and trekking.

It also encompasses Baralacha-La-Pass on the way that is the commencement spot for various thrilling treks. The motorcyclists and adventure lovers often stop at Suraj Tal to give a break to their journey, and they set camps over here for a pleasant stay. This sacred and stunningly beautiful lake is also a dream for every photographer as the scenic beauty prevailing over here seems to be something straight out of a storybook.
How to Reach Suraj Tal


Suraj Tal doesn't have a train, bus or flight connectivity but it is well connected with road, and you can easily reach here by hiring a taxi or cab from Keylong.

By road: Suraj Tal is located at around 65 kilometre from Keylong. Keylong district is easily accessible through road from National Highway NH 21, also renowned as Leh-Manali highway. This is the most prominent road link for the inhabitants of Lahaul Spiti. The road that leads to Suraj Tal is only 3 km away from Bara-lacha la pass. This scenic route extending from Rohtang Pass to the district of Leh is totally inaccessible during winters.
Best Time to Visit Suraj Tal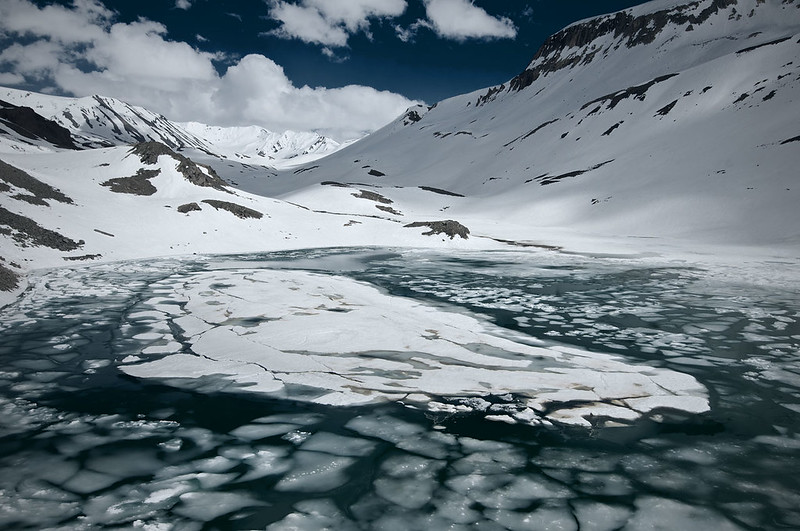 The best time to visit Suraj Tal is between April to mid-May when the snow starts melting, and the weather of this place becomes extremely pleasant. You can also visit this place during mid-May to mid-July when the summer is in its full swing and hordes of tourists visit this place to enjoy its ethereal beauty. 

During Winters: You should avoid visiting Suraj Tal during winters as the roads through which you can enter Suraj Tal are also blocked during winters due to the inhospitable environment. Also, the temperature falls beyond -2 degrees Celsius and the entire water body gets covered with snow.

During Monsoon: You should also avoid visiting Suraj Tal between July to September as this place experiences incessant torrential rainfall during monsoon coupled with dangerous landslides. Most of the roads that allow you to enter this place are also blocked during monsoon owing to the chances of calamities.
What Not to Miss at Suraj Tal
Trekking at Suraj Tal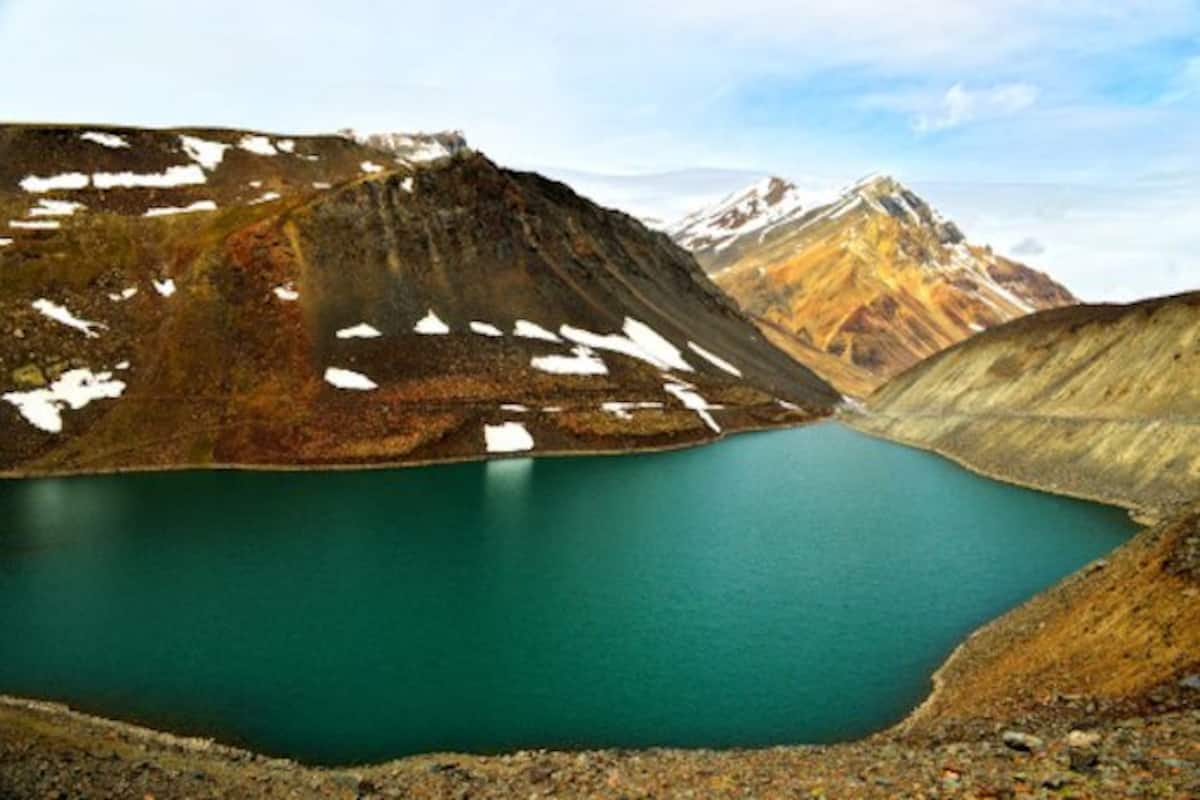 Suraj Lake is a heaven for the trekking enthusiasts as it features some of the most awe-inspiring treks and takes you on an expedition that you'll never forget. It is located close to Baralacha Pass, which is the meeting point of the roads that lead to Zanskar and Spiti Ladakh. Baralacha Pass is also home to various exceptional treks that boast of innumerable surreal and ethereal sights of nature. Suraj Tal trekking route initially starts from Zingzingbar and from here you can thread across Bhaga River up to 3 km to cross a bridge on the northern bank. After climbing the stretch for around 2.5 km, a steep downhill will start that will eventually end at Suraj Tal. 

The trekking enthusiasts mostly choose Manali-Leh Highway as their base camp, and during this entire trekking expedition, you'll get to cross two of the most scenic passes Baralacha la and Rohtang Pass. The trails within this trekking route will not only allow you to witness yourself being nourished within the open arms of nature but will also give you a chance to explore the rich culture that adorns the land of Spiti. After the thrilling trekking experience, you can pitch your tents at Suraj Tal under the starlit clear night skies to end the tale of your adventure.

Places to Visit Around Suraj Tal

Some of the most splendid getaways near Suraj Tal that you must visit are-

1. Jogini Falls



This a picturesque waterfall that cascades down to river Beas in Kullu Valley. It is known to be the abode of Goddess Jogini, and many divine seekers visit this place to be showered by the blessing of the goddess. You can easily reach the waterfall by trekking from the Vashisht Temple that is lushed with apple farms and tall pine trees. The trek to this waterfall is considered as the most beautiful mini treks close to Manali.
2. Shashur Gompa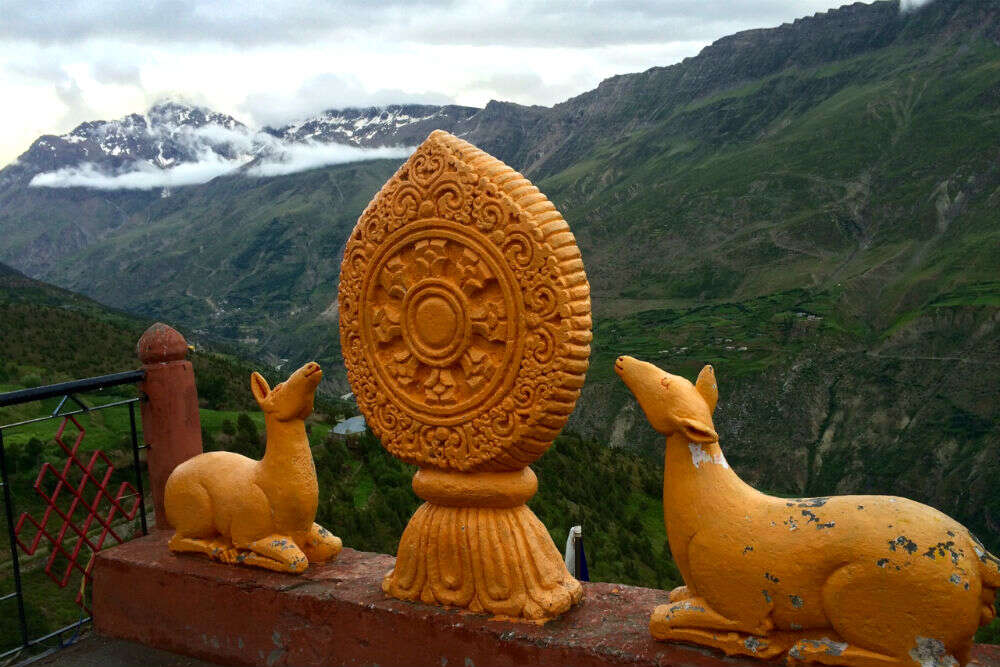 This is a highly revered Buddhist gompa also known as the Palace of the Blue Pines because it is surrounded by pine trees from all three sides. It is dedicated to Zanskari Lama and is also a training centre for the Buddhists. This monastery is decorated with flags, conventional paintings and chortens that enhance its beauty to the next level.  

3. Kardang Monastery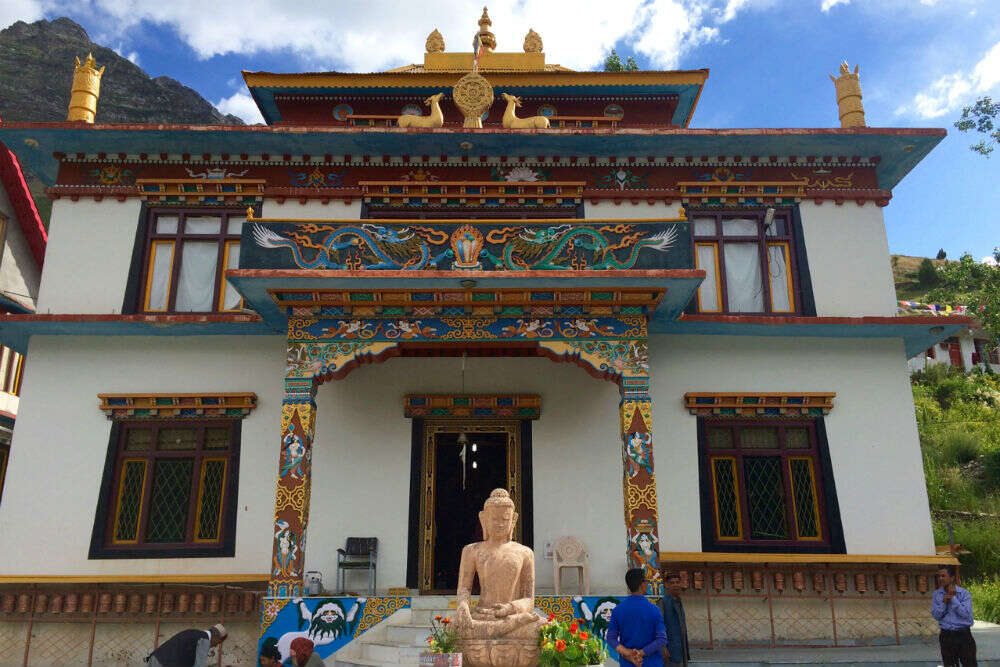 This is an extremely renowned Drukpa Lineage monastery in Lahaul valley. It was established in the 12th century and is a nine hundred-year-old monastery. It serves as a repository of several important Tantric, Buddhist relics, and Thangka paintings that adorn its interiors. You can also spot here ancient wall frescoes, golden Buddhist statues and a huge library.

The library is stocked with volumes of texts and Buddhist scriptures. It is also extremely renowned for having a huge collection of Kangyur texts and old weapons. Around thirty Buddhist nuns, and monks live in this monastery. They have the right to marry someone they like, and they can even go to meet their families.
Other Essential Information About Suraj Tal


- Location: Lahaul Valley, Keylong, Himachal

- Elevation: 4950 meters

- Altitude: High, the third highest lake in India

- Distance from Spiti: 16.0 km

- Distance from Manali: 187.2 km


About Bhaga Valley


Bhaga Valley, also known as the Stod valley has formed from Surya Tal up to Tandi, and it begins from the south-western foot of Baralacha Pass. It is located in Lahaul and is completely uninhabited and barren up to Darcha. After Darcha this valley broadens out, and you'll find a few more settlements in the areas beyond this region. As you move ahead from Darcha, you'll find small villages after every seven to eight-kilometre.

This valley is called Stod from Darcha to Kolong and Gnat from Keylong to Keylong. Suraj Tal lake, which is touted as the third largest lake across India is located in the Bhaga Valley and it is one of the most splendid lakes that the visitors truly admire. Bhaga valley also offers the trekking enthusiasts an instant adrenaline rush as it is flanked with some of the most scenic trails that can be conquered by both experienced as well as the beginner trekkers. The entire valley gets covered with snow in the winter, and it seems like a sheet of white ice. Adding to it are the pine trees and lush greenery that makes it look like a wonderland of nature that every visitor must explore.

Tips for Visiting Suraj Tal


Here are a few tips that you must follow while visiting Suraj Tal: 


1. Make sure to carry your snow boots and a comfortable pair of shoes for long walks near Suraj Tal.


2. Dress in layers so that you don't get hit by cough and cold due to the cold climate prevailing here.


3. Carry snacks along with you so that you can level up your energy in between the trip.


4. Carry a map so that you don't get lost on the way due to darkness or other emergency factors.


5. Research about the area beforehand so that you can be aware of the difficulties that might arise on your way.