About Agonda Beach
Agonda Beach is a carpet of white sands dotted with colourful shacks giving the authentic Goan vibes. The Arabian Sea on this part is passionately touching the shores of the shining beach dotted with lush green coconut and palm trees. It is one of the cleanest beaches of Goa which are remarkably less crowded. You can spend a very calm alone time amidst the peaceful silence of the beach. You can find some cosy shacks which have a warm, welcoming vibe attracting people to enter it and relax a little bit.

These shacks serve a variety of original local cuisines along with chosen delicacies from around the world. They provide you with beach beds where you can lie down under the umbrellas or hang inside a hammock watching the scenes around the beach. There are various spots at the beach, where you can sign up for water sports and enjoy a distinct variety of adventure. They even train you for some water sports like jet skiing and surfing so that you can enjoy them also if you are a beginner. This whole package of fun on one stretch of sand is no less than a party. So you are required to come here and enjoy everything the Agonda beach has for you.
How to Reach Agonda Beach

-How to Reach Agonda Beach from Panji:
Agonda Beach is 69 KM from Panaji Kadamba Bus stand. You can catch a bus from there to the beach, or if you have a little more luggage, then you should hire a cab. The route follows the NH66 in case you wish to drive to the beach on your own.
- How to Reach Agonda Beach from Goa International Airport:
The distance between Agonda Beach and Goa International Airport is 62.7 KM. You can hire a cab from the airport if you have luggage and wish to save time. But if you want to save some bucks then it is highly suggested to get a local bus to Vasco and switch the bus going towards the Agonda Beach.
Best Time to Visit Agonda Beach


The best time to visit Agonda Beach is from November to March. The crowd is at its peak in December and January so if you wish to skip the group, then come either before or after December and January.
Summer Season: March to May and October are the summer months of Goa. These months get extremely hot with temperature touching 40s. It is nearly impossible to enjoy the outdoor activities when the sun is emitting this much of heat straight on your head.
Monsoon Season: May to September are the rainy months of Goa. Although the temperature is very pleasant in these days but travelling to the state is not a smart move. One can not enjoy water sports in these months and rain will increase humidity which will last till October.
Winter Season: November to March are certainly the best months to travel to Goa. This is the time when the daily temperatures are co-operative and water sports are on its peak. You can enjoy every leisure in Goa during these months.
What Not to Miss at Agonda Beach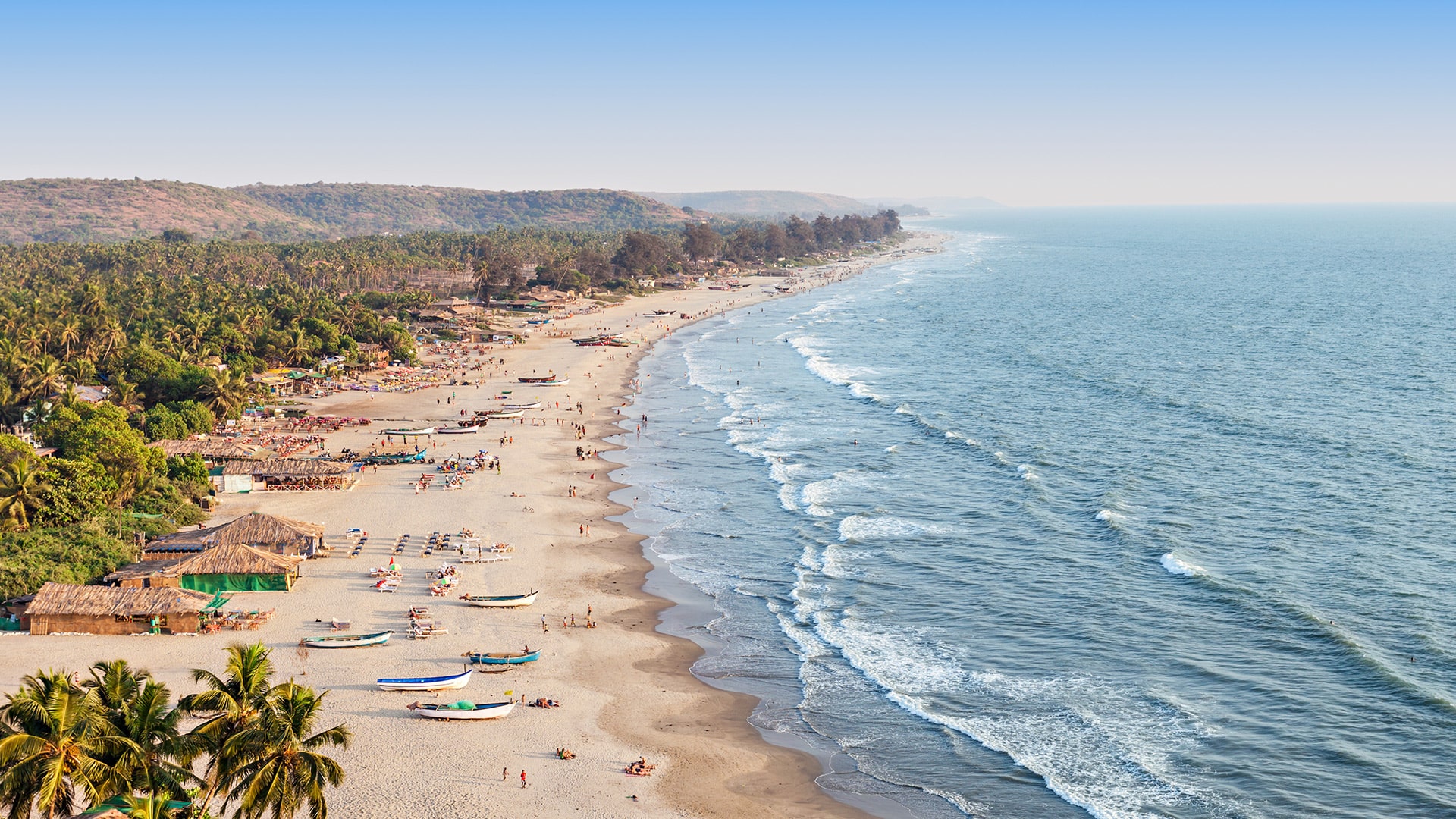 There are a lot of good places to visit around Agonda Beach. The list is as follows:
Palolem Beach: It is an exotic white sand beach edging calm waters of the Arabian Sea. Most of the tourists are attracted towards its nightlife which has a world-famous 'Silent Disco'. 
Mobor Beach: It is extremely neat and clean beach, which is very less crowded. It doesn't have many shacks but the calmness surrounding this beach is very attractive. People come here to witness the sun setting down into the majestic Arabian sea, making the sky orange.
Rock Formations: This place is least visited by tourists, thus giving you a quiet and calm shore to relax. It is unique with sprouting rock formations where you can spend some time alone.
Cabo De Rama Fort: The fort is an excellent example of Portuguese architecture in Goa. Although it is entirely ruined now, the height gives a lovely view of the Arabian sea touching the white sand surrounded by clusters of coconut and palm tree.
Chapoli Dam: Chapoli Dam is a neat 'portrait of silence' which has calm waters of the lake having sweet waters. The lake is surrounded by small hills giving the whole picture a magical view. You can also go fishing here.
Other Essential Information About Agonda Beach
Watersports in Agonda Beach 




There are a lot of clubs which organises watersports for you. You can engage in various water sports while you are on the Agonda Beach.

Kayaking: There is a club offering Kayaking to the guests. You can enjoy kayaking in sea waters and explore the surroundings by paddling on your own.

Surfing: The waves of the Agonda beach are perfect for surfing. If you are a surfer, then make sure to engage in surfing at the beach. However, that makes the waves unsuitable for swimming.

Parasailing: This is a fun water sport where you are tied to a motor along with a parachute on your head to keep you in the air. You can also get an occasional dip into the salty water if you demand.

Motorboat ride: In this ride, you sail in a motorboat to go far away from the edges of the beach which gives panoramic views of the Agonda beach from a distance.

Banana Ride: This ride have you sit on a giant banana tied to a motorboat. At a distance, the very same speed boat takes a sharp turn so that you can fall into the sea.

Jet Skiing: It is a self-driven motor vehicle that runs on the surface of the water. You need to get training in case of wanting to ride on your own. Once you have been trained and practised quite enough, you can take the jet ski into the midst of salty waters and enjoy splashing water along with beautiful views of the white sand beach. 

Cruise: It is also an activity to give views of the beach from a distance. However, the only difference is the speed. The cruise takes you slowly away from the edge into the middle of the sea where you can enjoy the sun setting into the horizon on the one side and the white beach dotted with palm and coconut trees on the other side.


Nightlife at Agonda Beach 



You can have a lot of fun enjoying the nightlife at Agonda Beach. Here is a list of some parties and pubs you can join to make your night happening:
Silent Noise Club: The club organises one of a kind party in India which lets you slip on your personal headphones where you can play the DJ chosen by you. It is a bizarre situation where everybody moves according to their own tunes.
Gatsby's Pub: It is a small lounge and bistro where you can get food and drinks at reasonable prices. Moreover, the place is known for the excellent music among all the nearby pubs and clubs.
Johnny's Cool: It is a very pocket-friendly place which serves a rich variety of beers and Kajufeni, Goan cuisines along with local music making itself a pure Goan delight.
Smuggler's Inn: It is an European style lounge where you can watch a movie screened on a big screen, and you can engage yourself in karaoke nights and gaming competition over drinks and authentic Brit food.

Places to eat at Agonda Beach 


Goa is a hub of tourism hence there are numerous amazing places to eat at Agonda Beach. All these restaurants serve some of the best foods around the world.
Mandala Cafe: This cafe serves authentic local and international cuisines at very low prices. You will get an amicable atmosphere here along with super helpful staff making your meal pleasurable.
Sea Breeze: It is a cluster of brightly coloured shacks which serve authentic Indian food, Seafood and Asian cuisines at excellent prices.
Sonho Do Mar: It is a shabby wooden restaurant facing the beach where you can enjoy traditional Asian atmosphere as well as western standards. You can also chill at the hammocks hanging out on the beach.
Duck and Chill Bar Restaurant and Beach Huts: It is a typical Goan style shack which serves a variety of finger-licking food. They have a menu including Indian, Seafood, International, Asian and typical seafood.

Shopping at Agonda Beach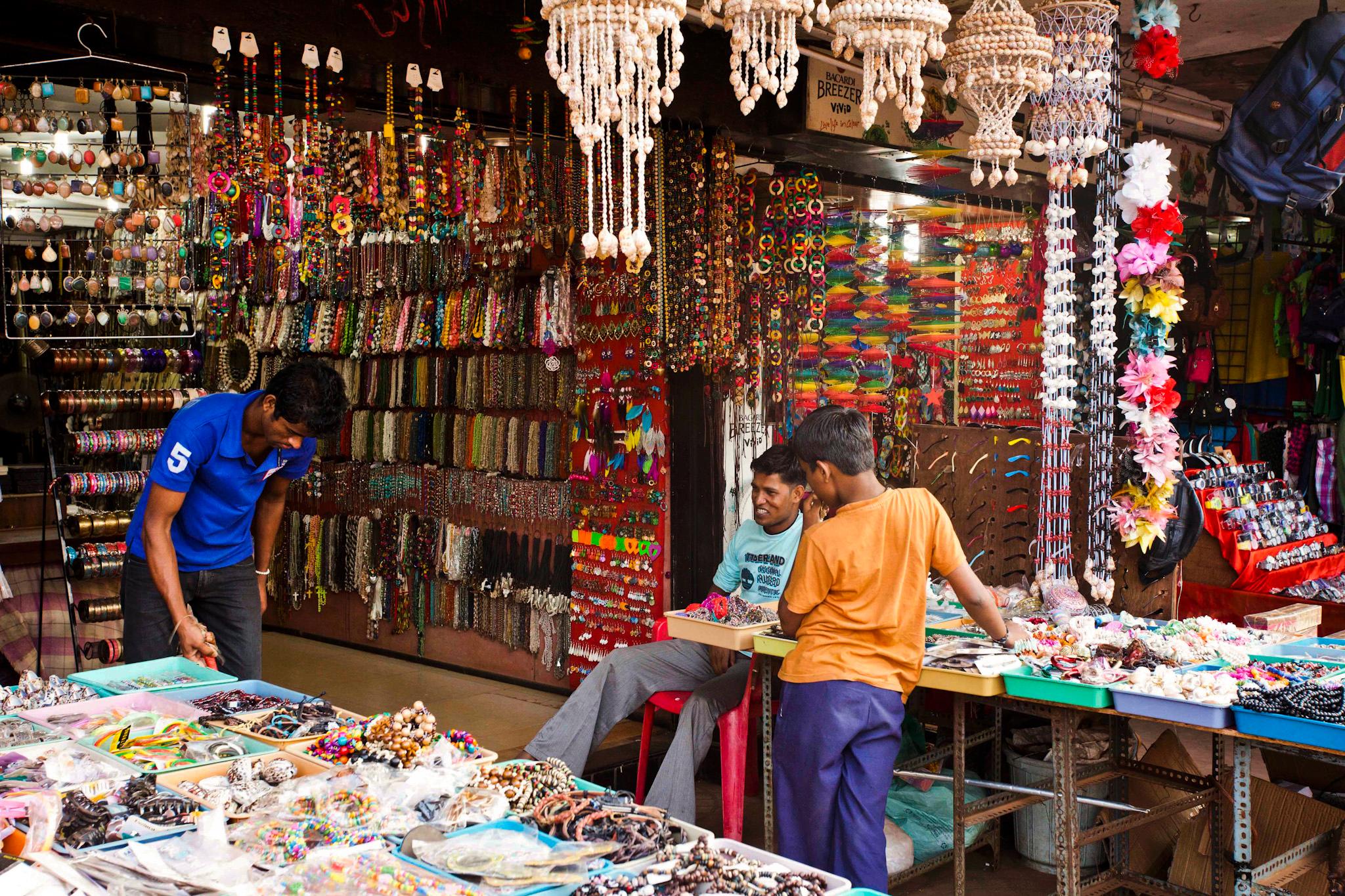 The Anjuna Flea Market: It is a very famous market held every Wednesday. You can get everything like clothes and home décor to Indian spices and musical instruments inside one cluster.
Night market at Arpora: It is lit market where you can enjoy street food and other entertainment options. You can also find many clothes and knickknack vendors there.
Tibetan Market on Baga Road: It is open from October to May. You can buy various jewellery, prayer flags, bells, chimes and furniture.
Places to Stay near Agonda Beach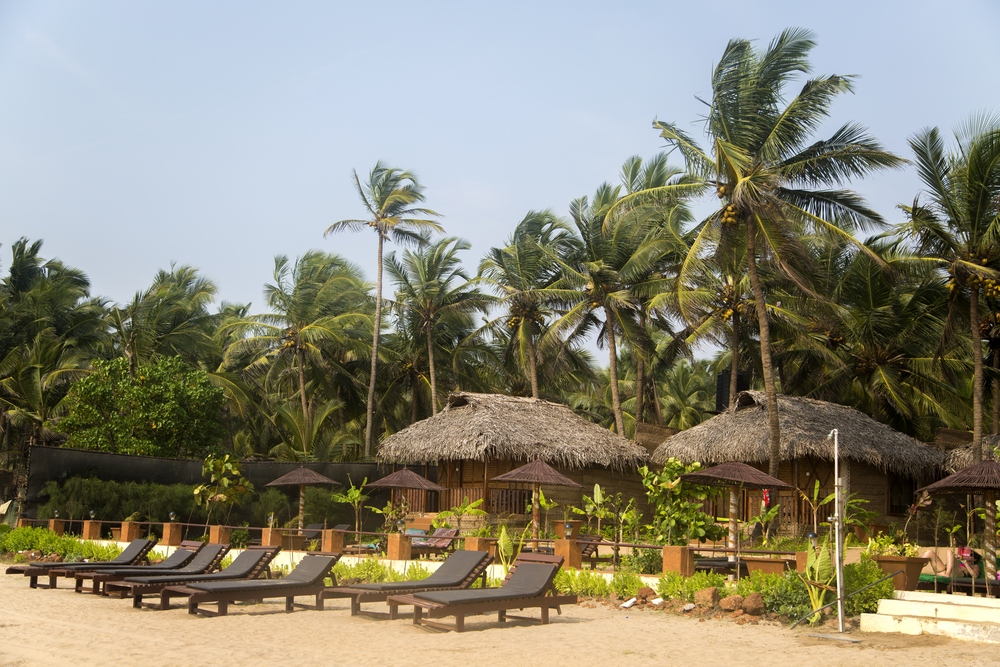 Dunhill Beach Resort: Dunhill Beach Resorts have classic wooden cottages equipped with all the modern amenities required for you to have a comfortable stay. The patios of the rooms are facing a well-maintained garden. They also have a shack where you can enjoy mouthwatering cuisines from vegetarian and non-vegetarian choices overlooking the majestic Arabian sea.

New Common Home Resort: The resort is located right in the centre of the beach touching the white sands, and the rooms give views of the mighty Arabian Sea feeling the same sand. The restaurant of the resort provides a vast menu covering cuisines from Indian, Chinese and Continental cultures. You can enjoy watersports at the resort along with fishing.

Agonda Paradise: It is a stay which will perfectly fit into your pocket. You can stay in these authentic wooden cottages which are emitting Goan vibes. The patios of the cottages are overlooking the playful Arabian Sea. You can enjoy tasty Goan cuisines from their restaurant.

Wild Berry Resort Agonda: It is a luxurious resort offering you well-furnished rooms amidst the Goan countryside. It is the perfect choice if you wish to have a raw jungle experience.

The White: The resort has a gleaming pool with sea beds placed near it. You can relax in the sun and spend some quality 'me-time'. The whole property is surrounded by palm and coconut trees which could be enjoyed from the balconies of your luxurious rooms.


Shacks at Agonda Beach


It is a traditional hut made with thatched roof blended with the hues of blue. The shack has sea beds where you can enjoy your delicious seafood, Indian and International cuisines.

Maria Paulo Guest House and Bar N Restaurant: The shacks have authentic Goan seafood along with a vast menu of Indian, Chinese and Continental cuisines. You can enjoy these yummy food while enjoying a drink from the list having a variety of electrifying drinks.

Agonda Beach Huts: It is a typical wooden hut which gives the perfect Goan vibes. You should order vegetarian and non-vegetarian dishes from the local Goan cuisine. However, they also serve Indian and International cuisines.

H2O Agonda: They serve healthy organic food infused with International recipes. They also try to make the amazing seafood as well as Goan cuisine a little bit healthier. They serve cocktails and wines, so do not forget to have one accompanying your healthy meal. You can enjoy all this amidst tastefully lit shack with dim lights creating a unique ambience.

Things to Carry at Agonda Beach



There are a lot of things you should carry while visiting Agonda beach:
A hat and a scarf to save your head from the scorching day sun.

An extra pair of clothing.

Cash and debit card.

A jacket for the night.

Mosquito repellent.

Wear your slippers.
Travellers' Tips before visiting Agonda Beach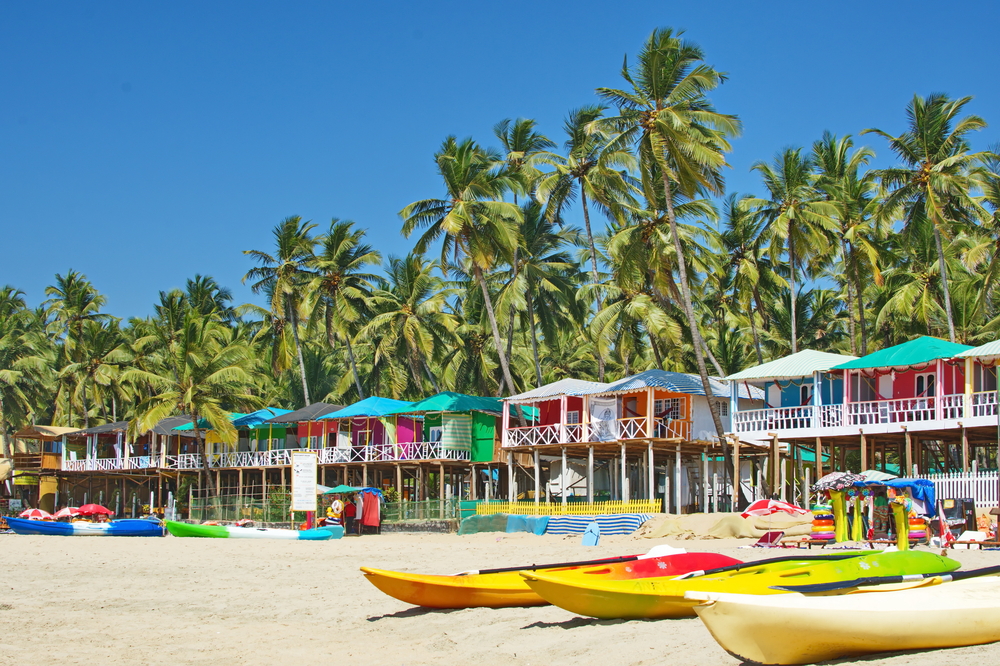 In case you are visiting during the peak season, then it is advisable to book your stay in advance to avoid fuss. It is suggested to stay at a beach hut.

Nights at the beach requires you to bring a flashlight and mosquito repellent.

A sweater is a must if you wish to stay outside late till night.

Eat food at different places to try on new tastes and variety, which will even help you minimise your expenditure.

Rent a bike or scooter or use local transport to roam around the state or else the cabs are the only way to commute, which are extremely expensive.

Try sharing your cab with other passengers so that you all can cut off some expenses as cabs are the only way to commute and they are very expensive.