About Varca Beach
Varca is a 12 km stretch of marvelous white sandy beaches in South Goa. The Varca beach is absolutely a natural phenomenon and a place that attracts several tourists with its natural beauty. The calm blue water joins the glittering beach to create a mesmerizing vibe. Furthermore, the black color lava rocks and the green forest backdrop add-on to its charm. Visitors will locate the elongated strips of the rocks on the seashore that act as an ideal place for taking part in fishing and other water activities. 

So, when your soul yearns for some tranquil and quiet holidays, then you need to head to Varca beach in South Goa. Disconnect from the hustle and bustle of the city life and reinvigorate yourself with the dose of lush greenery and enticing nature. Beach lovers will find a lot of beaches in and around Varca, such as the Benaulim beach, Colva beach, and much more to linger around. Additionally, various beach shacks lined up around the Varca coastline, where you can enjoy a drink along with tasty authentic Goan cuisine. Also, several luxury resorts, private villas, and hotels are surrounding the Varca beach, such as Club Mahindra, Ramada, and Sterling. Thus, you can stay at the proximity of the beach.
How to Reach Varca Beach

-How to Reach Varca Beach from Panjim
Varca can be conveniently reached by taxi from Panjim. Varca is at a distance of 39.2 km by road from Panjim. It will take around 45 minutes to cover this distance. The taxi will cost you between INR 1,200 - 1,500.

- How to Reach Varca Beach from Goa International Airport
After reaching Goa International Airport, Dabolim, you can hire a cab or taxi to reach Varca Beach. The distance between Goa International Airport and Varca Beach is approximately 29 km.
What Not to Miss at Varca Beach


Sunset Beach- As the name goes, if you are a sun set lover, this beach is for you. Get ready to be bowled by the captivating dusk and dawn scenes at the Sunset Beach near Varca.
Our Lady of Glory Church - No matter where in Goa you are staying, it's incomplete without visiting the ancient churches. In Varca, explore the history behind this 300 years old Portuguese architecture at Our Lady of Glory Church. 
Zuri White Sands Casino- Zuri White Sands Casino is for those who want a unique experience; you never know you hit the jackpot during the vacation in Varca. So, choose your favorite game and try your luck.
Benaulim Beach- Benaulim Beach is a famous tourist spot to go on long walks with your partner or to enjoy swimming. Further, adventure lovers will find a lot of options like paragliding, water jet ride, banana boat ride, and see cruise. You will also find many shacks at the shoreline to relish some lip-smacking food.
Madgaon - It is the second-largest city in Goa, found at 10 km distance from Varca. This place has a lot to offer to tourists ranging from lovely beaches, forts, and churches to museums. Moreover, one gets to behold the Portuguese era at this place by wandering through its streets dotted with ancient style villas and houses. 
Colva Beach- It is considered to be amongst the largest beaches in the world, found on the western side of Margao. The white sandy beach dotted with coconut palms and stretching to more than 25 km is a site to view. While here also visit the nearby Colva church and ancient-style villas showcasing mesmerizing latticework architecture.
Margao Market - This is one for the shopaholics! Margao Market is 4 km away from Varca. It is your one-stop destination to shop anything like trinkets, jewelry, handbags, clothes, shoes, fenny, souvenirs, and much more.
Other Essential Information About Varca Beach
Water Sports in Varca Beach 
Water Skiing- This water sport is a refreshing choice for visitors. One gets to enjoy the cool sea breeze as it hits your face while you perform some stunts on the waves. You will be floating over the sea while pulled by a rushing speed boat in full force.
Jet Skiing- Jet Skiing is a favorite water sport for many, and Varca won't disappoint you with this as well. With the wind, you will glide through the eternal waters of the Arabian sea. You will definitely love riding at full pace on the waves and under the golden sunshine.
Windsurfing - It is no less than an exciting adventure that is a combination of sailing and surfing. So, indulge in the unusual experience by riding around the pristine water of Varca beach.
Banana Boat Ride - A must-do water activity if you are on a trip with friends. Sit on the giant banana-shaped boat and try to balance yourself and avoid flipping over while moving ahead on the waves. On weekends you can relish the Sunday brunch with live music or go for Karaoke on Friday.
Travelers' Tip for visiting Varca Beach 
The best time for visiting Varca beach is between November and February. The weather is cool, and the humidity is low at this time of the year.
Most beach shacks remain closed from March to June as it is a low season with temperature ranging from 32°C to 36°C.
You can't take part in any water sport during monsoon, i.e., from the middle of June to early September.
Varca is a secluded beach with lesser hawkers and crowd, thus, a perfect spot for couples to have a private moment.
Visitors will easily find banks, ATMs, and a Currency Exchange Office near the location.
Accommodations of all types are available close to Varca beach to complement the budget need of every tourist. It ranges from 5-star resorts, luxury villas, 3 & 4-star hotels, to budget properties.
Be cautious with staying at the beach after sunset as there is a chance of high tides and goons.

Shacks at Varca Beach
Varca beach offers only a couple of beach shacks, where you can savor the authentic Goan cuisine. The lounge chairs and umbrellas adorn the majority of shacks at Varca beach. Tourists can simply sit back, chill, and relish the delicious food and drinks from their diverse menu. The must-visit beach shacks at Varca are as follows:
Pereira's- This beach shack has an extensive menu offering Seafood, Continental, North Indian, Goan, and Pan Asian meals. You won't find delicious food at such a reasonable rate anywhere else.
Evisha- Evisha is a quaint beach shack which has indoor and outdoor seating area. You get to savor delectable seafood while enjoying the stunning scenes all around. 
Mamas Kitchen - If you are looking for quick-bite after some beach fun, head to this little beach shack situated right on the shoreline. Here you can get different types of seafood at great value. Staff is also friendly, serving with smile on the face.
Seagull Shack - Hog on delicious meals and drinks available at an affordable price in this beach shack. Seagull shack is adorned with cane seats, yellow curtains, and sea loungers outside that create a lovely ambiance.
Nightlife at Varca Beach


Though nightlife at Varca is not as vibrant as in North Goa. Still, there are a few options available to fulfill your night desires. The bars and clubs are pretty reasonable in rate here. Also, some spots seldom organize happening rooftop parties. One can go to the following places to experience and revel in Varca Beach's nightlife:
Sunset Bar- Sunset Bar is nestled at the luxurious Ramada Caravela Resort. Get ready to enjoy the full swing after dusk with a sundowner at this spot. Here visitors can experience crazy nighttime with a range of spirits and lots of grooving.
Blue Lagoon- You won't be disappointed after hitting this happening location. It is no doubt one of the best choices to enjoy the nightlife at Varca. You will find it at the famous 5-star The Zuri White Sands, Resort & Casino.
Atrium Bar- Another fantastic location within the Ramada Caravela Resort to experience one of a kind nightlife at Varca. The place will bewitch you with eye-pleasing decor and lively aura. You can choose from a plethora of beverages available here.
Solo Bar -
For an exotic dining experience, head to Club Mahindra Emerald Pearls. The Solo Bar serves a diverse assortment of light meals and beverages so that guests can have a memorable night.


Island Bar-
 What about enjoying the night at the poolside bar? Island Bar is for you to have a unique and stunning experience.
Places to eat at Varca Beach 
Farm House Bar & Bistro-
It is a beautiful open-air restaurant perched near the water body, creating a mesmerizing aura. The feature of this place is that you can catch the fresh fish yourself and let the chefs cook it for you.
Misha Beach Shack-
This small shack is a hidden gem established right at the Varca beach. The delicious traditional Goan food served here will win the heart of every foodie. The extensive seafood menu offers the chilli prawn, chilli crab, the fish in Recheado fry, and much more.
Waterfall Cafe-Waterfall Cafe is nestled inside the Zuri White Sands Resort. Here one can devour multi-cuisine food around the luxurious ambiance. Relish the delectable meals at its themed dinners during Saturday, along with traditional Goan music and dance show.
Carnaval-It is found within the luxurious Ramada resort that you can visit to eat appetizing cuisines from all over India. The menu also features the best cuts of meat and freshest seafood. As Carnaval only opens for dinner, you can plan a dinner date here. 
Neil's Cabana-If you are looking forward to relish European cuisine in Varca, this one is your ideal spot. Apart from this, you'll also find various other cuisines to devor here. Neil's Cabana is an upmarket seaside shack with a lot of seafood at the display, along with the open grill and open kitchen setting.


Shopping at Varca Beach
Souvenirs-
 At Varca Beach, you will find plenty of shops selling Goan handicrafts and antiques that you can buy for your loved ones back at home. 

Beverages- 
You can discover many stalls and shops selling famous local Goan drink Feni in various markets at Varca. 

Fresh Produce-
 Go to Margao in South Goa that features covered markets, famous for fresh fish, and produces market. You can buy different types of fish and other seafood that are available on sale here. 

Places to Stay near Varca Beach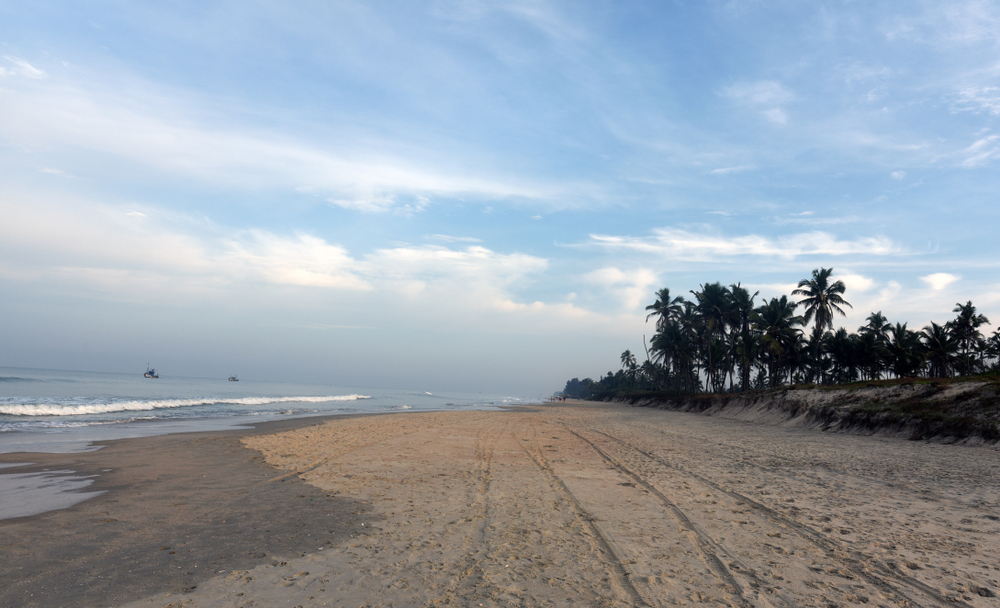 Caravela Beach resort- As the name implies, it's a beachfront resort featuring all the rejuvenating amenities that one needs during the holidays. Guests can enjoy at its open-air pool, water sports, nightclub, DJ, and nine-hole golf course. This Arabian Sea facing resort has many in-house restaurants and lounges. 
Sterling Goa Varca- It's a 4-star resort that has a lot to offer for its guests to make the staycation worthwhile. You can choose any massage and spa facilities here to rejuvenate your tired muscles. In terms of recreation, the resort presents table tennis, cycling, swimming, diving, billiards, and fishing options.
The Zuri White Sands, Goa Resort & Casino- It is a perfect accommodation to experience the natural charm of nearby of Varca Beach. You can spend a relaxing day while taking advantage of its full-service spa. Also, the resort boasts five restaurants serving delicious multi-cuisine. Other amenities include a casino, jacuzzi, huge outdoor swimming pool, and adventure sports.
Beach Paradise - If you are looking for a budget-friendly staycation, this one is an ideal choice. Beach paradise is near the beach and features a swimming pool, an outdoor pool, and a free parking facility. The accommodation are villa-style in which guests will also get a garden and terrace access.