About Om Beach
Om Beach of Gokarna carries a spiritual significance concerning its geographical appearance. The shape of this beach resembles the symbol 'Om' and hence, it is considered to be highly auspicious amongst the locals. You can witness the joining of two semi-crescent pieces of land here and this is why and how the beach derived its present identity.

Known for its early morning and late evening sightseeing delights, Om Beach is a photographer's paradise. It is simply amazing to observe the transitory phases of the skyline from the shores of Om Beach. Do not miss on your cameras as there are surely going to be plentiful moments for you to capture here. The sand of this beach is fine and delicate, and the rock creations are simply astounding!

You may witness the presence of fishermen boats throughout the shores. Some of them might be busy with their deep-sea fishing activity. If you are communicative, you may approach the local fishing community to get some insights into their daily lives.

Banana boat rides, bumper boat rides, dolphin spotting, jet skiing, fishing, trekking, and speed boating are some adventurous activities to try here. 


How to Reach Om Beach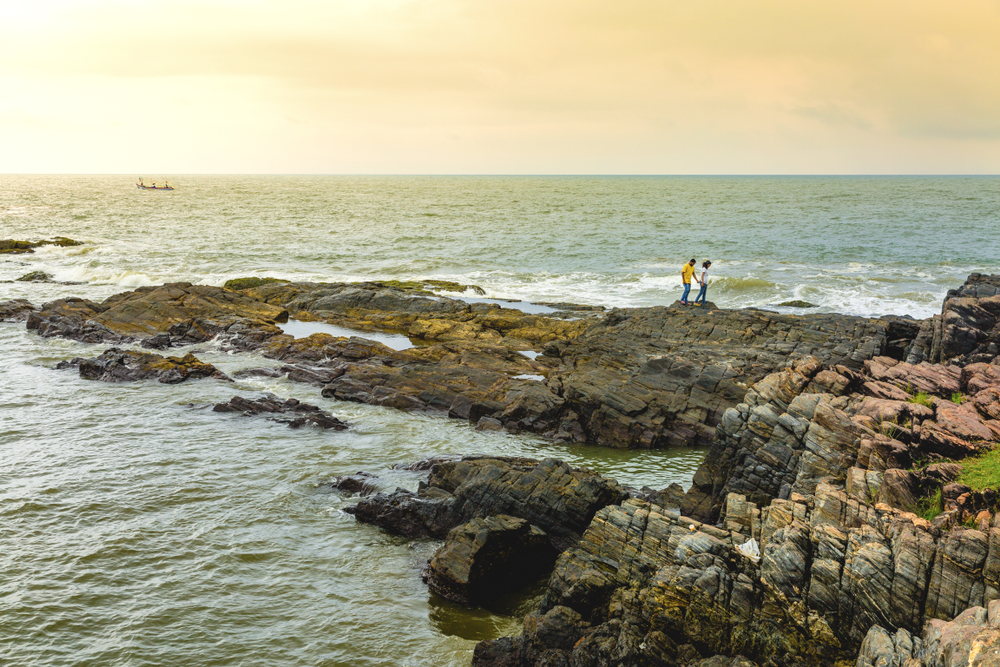 You can either opt to reach Om Beach by bus, air, or road. Here's a quick look at the mode of transportation – 
By Road:

Gokarna is situated at a distance of 59 km, 483 km, and 238 km from Karwar, Bangalore, and Mangalore, respectively. Gokarna Bus Station receives buses from Panaji, Karwar, Bangalore, and Mangalore. Further, you just need to move 6.5 km more to reach Om Beach. For this, you can hire a rental cab. 
By Rail:

Konkan Railway passes through Gokarna. This makes it comfortable for people from Mumbai, Mangalore, and Goa to reach here easily. Besides, there are railways from other major Indian cities to reach Gokarna. From there, you can either opt for local bus service or a rental cab or an autorickshaw to reach Om beach from the railway station. 
By Air:

If you are flying here via air, you need to book tickets to reach Mangalore International Airport. This is located just at a distance of 238 km from Gokarna. Once you get down at the airport, you can easily find your way through a rental taxi or local buses.
Best Time to Visit Om Beach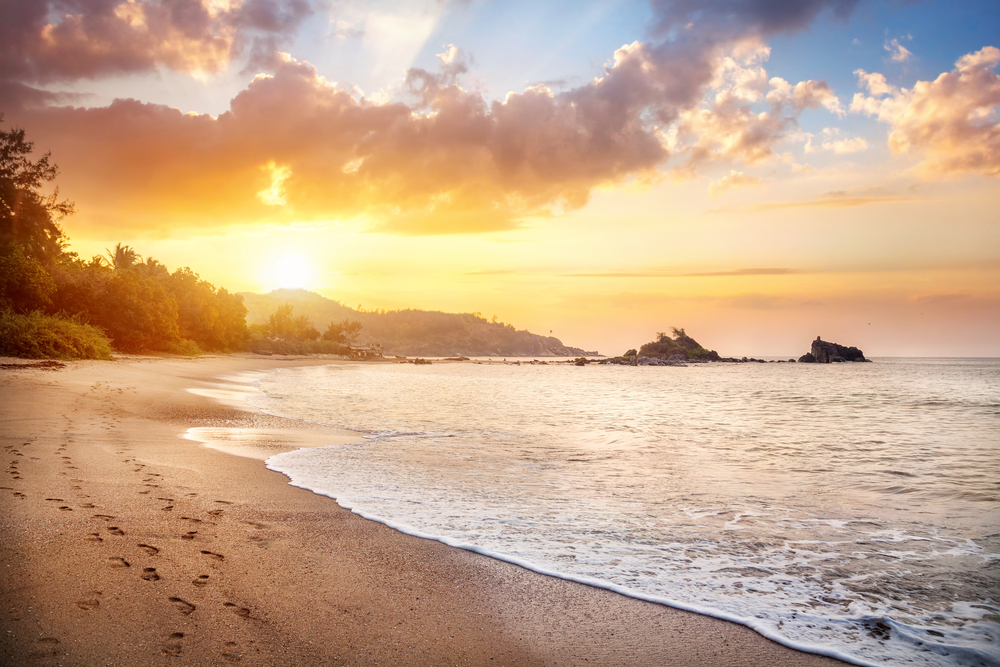 Om Beach region exhibits a tropical climate. Summers here remain hot and humid, while the coastal zone is blessed with sufficient showers during monsoons. On average, the post-monsoon period i.e., October to March is the best time to plan your visit to Om Beach in Gokarna.
This is the time when you can expect a low humidity level. Also, November to February is especially a peak season here when you can witness a huge crowd. 
What Not to Miss at Om Beach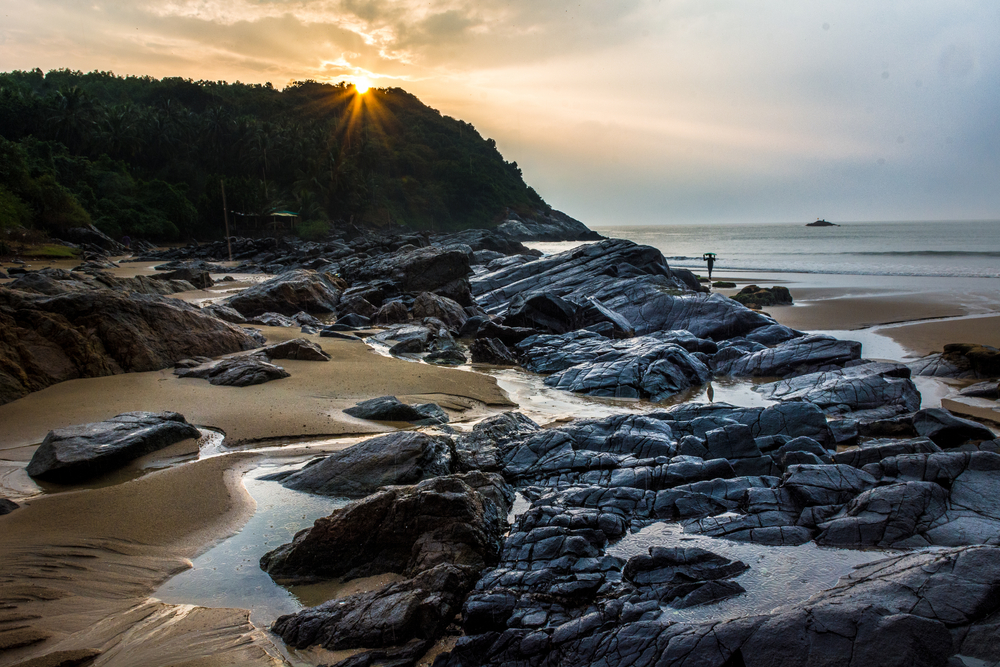 1) Kudle Beach: 

Kudle beach has a perfect C shape and is a real treat for all those Gokarna tourists who are in constant search of tranquillity. Both sunrise and sunsets are delightful moments that can be enjoyed at the beach. Swimming, hiking, surfing, and yoga are some activities that backpackers love to experience here. 
2) Mirjan Fort:
This majestic masterpiece stands firm along the banks of the Afghanistan river. History buffs should check the calendar for related historical events and plan their visit here. 
3) Anshi National Park:
This is a Kali Tiger Reserve of Gokarna and forms the part of Dandeli Wildlife Sanctuary. Bengal Tigers, Indian Elephants, and Black Panthers are some important wildlife species here. 
4) Paradise Beach:

Paradise Beach is also famous as Full Moon Beach. Camping and swimming are some of the water adventures to enjoy here. 
5) Koti Theertha:
This is a famous man-made tank situated in Gokarna. There are beautiful small temples that surround this piece of land. Locals visit here for immersing idols and ritual bathing activities. 
6) Mahabaleshwar Temple:

Watch the classic Dravidian architecture at the Mahabaleshwar Temple of Gokarna. This beautiful piece of art and culture is sure to soothe your soul inside out. 
Things to Do at Om Beach Gokarna



1)
Om beach is known for its serene atmosphere. If you are in search of a spot to relax from all your personal life complications, you may visit here to find some moments of silence.

2)
Simply rest on the sand barefoot and relax your body. 

3)
Om Beach features myriads of water sporting adventures. Banana Boat Ride, Jet Skiing, Speed Boat Ride, are some activities offered here, under professional guidance. 

4)
Guests visiting this beach for the first time like to trek all along the beach shores and explore the adjoining beaches such as Half Moon beach. 

5)
This is the place to enjoy a free dolphin sightseeing adventure. You can click their random moments while they jump in and out of the bluish waters of Om Beach. 

6)
Various food stalls and cafes line the beach on all major sides. Food buffs can explore these and try their favorite delicacies and cuisines here. 

7) Om Beach is also known as a photographer's paradise where you can click some panoramic moments of the charming location.

Water Sports at Om Beach, Gokarna


Om beach in Gokarna offers innumerable adventurous water activities for every single visitor who steps in here – 
1) Banana Boat Ride
: 
With a favorable climate and crystal clear water, Om Beach is perfect for enjoying a banana boat ride adventure. Be at your ease with this water activity as there are lifeguards to guide you correctly. 
2) Bumper Boat Ride:

The thrashing waves of the Om Beach are best to go for a bumper boat riding adventure. A complete beach bumper boat ride will last for around 15 minutes. Before riding, you will have to undergo safety lessons here.
3) Dolphin Spotting:
Bluish waters of the Om Beach are renowned as the hot spots to watch the mischievous activities of dolphins here. You can capture many pictures of the dolphins darting in and out of the sea. 
4) Jet Skiing:
Speed through the azure waters of Om beach and curate some of the best memories for your beguiling vacation. 
5) Speed Boating:
A round trip with a speed boat will let you click some precious moments of the coastline. 
Other Essential Information About Om Beach
Places to Eat At and Near Om Beach Gokarna


1) Namaste Café: 
This café offers both good food and ambiance to its customers. You have ample options amongst Indian, European, and Asian cuisines and seafood to choose from. 
2) White Elephant Restaurant and Café:
 Here, you'll get to eat Indian, Italian, and Chinese cuisines. 
3) Mantra Café Gokarna: 
Here, you can enjoy both Indian and International food varieties.
4) Surya Café:
This café serves Indian and Asian style food. 
5) Sunset Café:
Here you can enjoy some quick to eat Indian snacks as well as seafood. 
Places to Stay Near Om Beach Gokarna


1) SwaSwara: 
SwaSwara features both suites and non-smoking rooms with bathrobes and air-conditioning facilities. Apart from this, there's a free parking facility, outside pool, fitness center, airport transportation, bath, or shower facilities available at this place. 
2) Kudle Beach Resort:
The rooms are quite good here with an ocean view. Free parking, internet connectivity, pool, infinity pool, restaurant, dining area, coffee, or tea maker are additional facilities to find here. 
3) Sanskruti Quality Resort:
 Sanskruti Quality Resort offers you both deluxe rooms and supreme cottages to ensure a luxurious stay. Air conditioning systems, telephone services, bath and shower facilities, room service, and 24-hour security and front-desk assistance are the key features here. 
4) Om Beach Resort:
 Om Beach Resort features family rooms. They also have non-smoking rooms with facilities such as air conditioning, bathroom facilities, and dry cleaning. You can also opt for the fitness center in your spare time. 
Medical Facilities at Om Beach Gokarna


It is a bit troublesome to find some hospitals or medical facilities in and around Om Beach. Yet, you may find some in the main part of Gokarn. You may approach the locals for some quick first aid requirements or to get some directions to Gokarna hospitals. 
Mobile Connectivity at Om Beach Gokarna


You won't find good mobile connectivity at Om Beach. However, once you start moving in the direction of hotels or good restaurants, you may find the presence of some connectivity there. 
Travelers' Tip Before Visiting Om Beach Gokarna


- If you are travelling to Om Beach during the off-season, make sure to carry sufficient packaged food with you. You won't find many food stalls to enjoy your favorite food. 
- There are possibilities that the sand on the shore might contain some broken glass pieces. While walking, make sure that you do not step on it. 
- Om Beach is all about walking under the open sun. It is therefore advisable to pack your bag with sunscreen, sunglasses, and hats. 
Things to Carry while going to Om Beach Gokarna


You just need to bring a few things listed here while visiting Om Beach – 
- Packaged drinking water (if you are uncomfortable with the local water) 
- Sunscreen – to protect you from sun damage
- Sunglasses – to protect your eyes from sun damage
- Hats – to shield your head from the sun's rays 
- Ball - to enjoy beach activities with a ball
- A mat to relax 
- Mosquito repellent creams and nets