About Mullayanagiri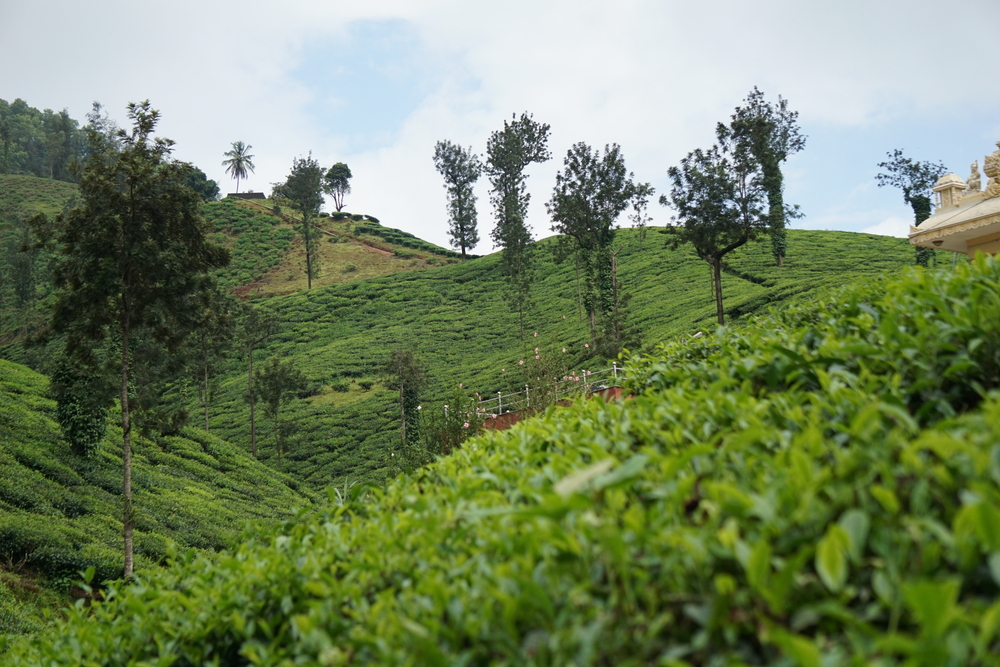 Situated at a distance of 20 km and 23 km respectively from Chikmagalur and Baba Budangiri, Mullayanagiri is Karnataka's highest peak with an altitude of 1950 meters. 
There's a small temple located on the topmost summit of this Mullayanagiri peak within which you have a small statue of Tapasvi Mullappa Swamy.

According to the regional mythology, Tapasvi Mullappa Swamy observed meditation for years at the cave on top of the Mullayanagiri peak.
 This is the reason why the peak got its present identity. The old Kannada literature, however, relates the term 'Mullai' to the forests. 
The caves at the top of the Mullayanagiri hills are not so deep and has an entrance which directly leads you to the temple's garbhagudi.
 Adventure buffs have a lot of things to do here as the destination serves as a hub for trekking, mountain biking, and road biking. 
Nestling amidst the Nilgiris and the mighty Himalayas, the panoramic beauty of Mullayanagiri is astounding. This is what makes the Mullayanagiri peaks as one of the most appealing destinations for intermediate trekkers.

 The trekking route to the topmost summit of Mullayanagiri starts from Sarpadhari which extends up to 3 km. It is relatively steep; yet you can easily cover the distance within 1.5 hours.

There's a Nandi statue, small streams, and a cave with a small water source to adore on your way. 

As there are no food or water reserves, you need to carry enough of them with you. Otherwise, you need to hold on your hunger and thirst until you reach the Lord Shiva temple located at the top. 
History of Mullayanagiri -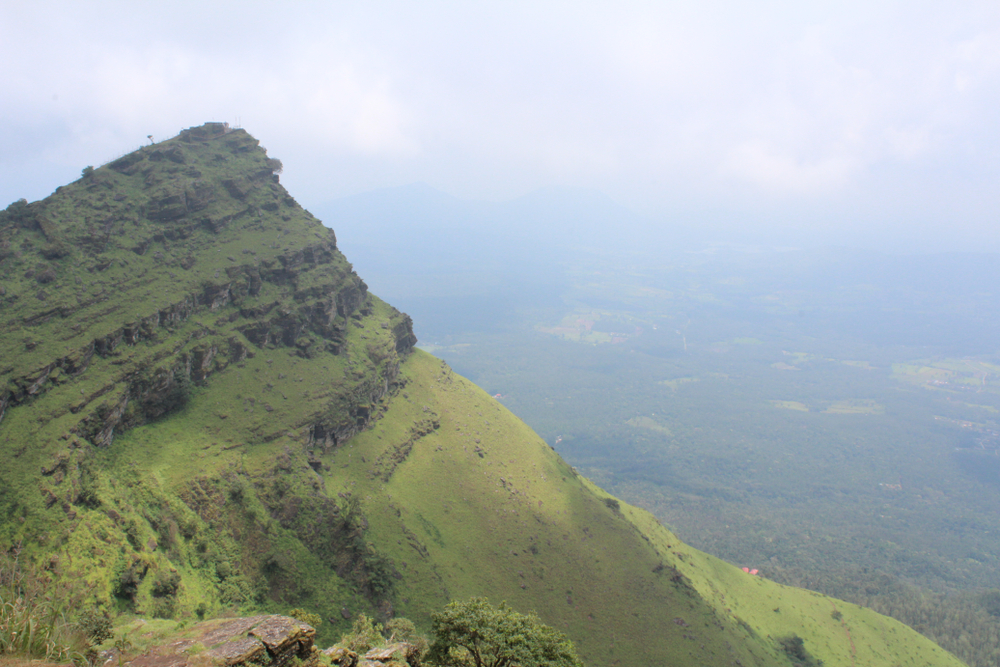 Once there was a saint named Tapasvi Mullapa Swamy. Locals of the regions in and around the Mullayanagiri believe that he used to meditate at the top summit of this Mullayanagiri hill. In this manner, the mountain got its current identity. 
In the early days, when the asphalt rock and concrete steps were totally absent, people used to climb the summit by a trail known as Sarpanadi or Sarpadari. This is not so famous trails in modern days.
How to Reach Mullayanagiri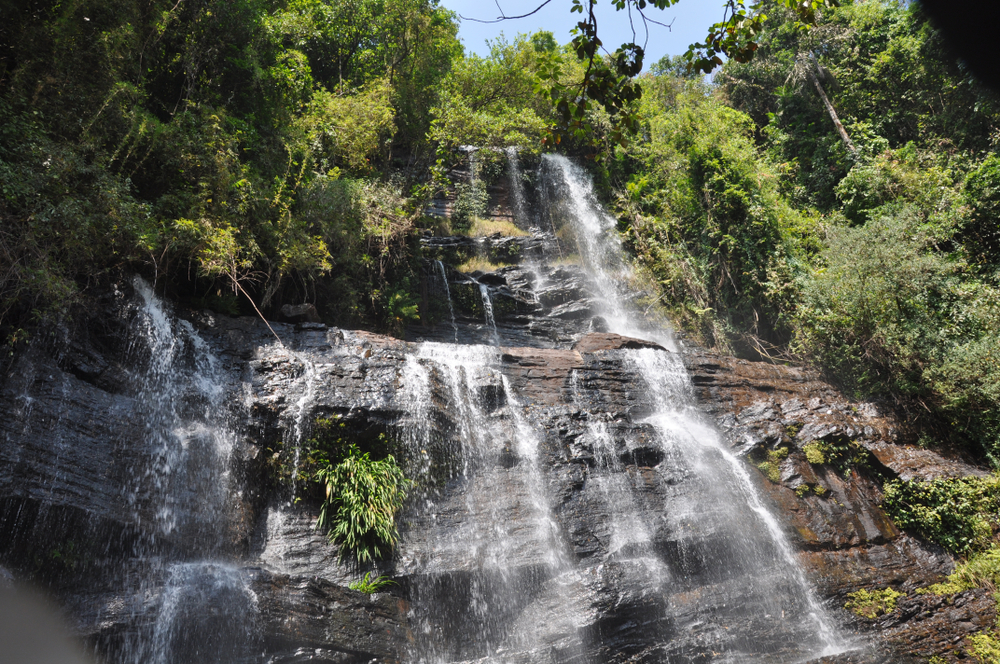 From Chikmagalur Bus Stand – 
Mullayanagiri is situated at a distance of 20 km from Chikmagalur Bus Stand. You may opt for state-run bus services, which will drop you at the foothills of Mullayangiri. Later, you may go for a hired jeep to reach to the top summit. 
Nearest airport – Mangalore Airport – 170 km 
Nearest railway station – Chikmagalur Railway Station – 2.4 km 
From Bangalore - 
By train –  You can opt for a train from KSR Bangalore to drop you at Birur Junction. From there, you will have to choose for a hired taxi ride to take you to Mullayanagiri. 
Cost – 2000 to 2500 INR per head 
Traveling time – 4 hours and 17 minutes 
By bus – Take a bus service from Bangalore to Shimoga. From there, hire a taxi to take you to the foothills of Mullayangiri. 
Cost – 4000 to 5000 INR per head 
Traveling time – 8 hours and 06 minutes 
By Road – You can either opt for a self-drive or book a direct taxi to transfer you between Bangalore and Mullayangiri. Both the places are situated at a distance of 256.6 km from each other. 
Cost for a taxi ride – 7000 to 8500 INR 
Cost for self-drive – 2000 to 3000 INR 
Traveling time – 3 hours and 51 minutes 
By Flight – First, take a flight to Mangalore Airport from Kempegowda International Airport. After that, you need to opt for a hired taxi ride to drop you at Mullayanagiri.
Cost – 8000 to 15000 INR per head. 
Traveling time – 5 hours and 42 minutes 
Best Time to Visit Mullayanagiri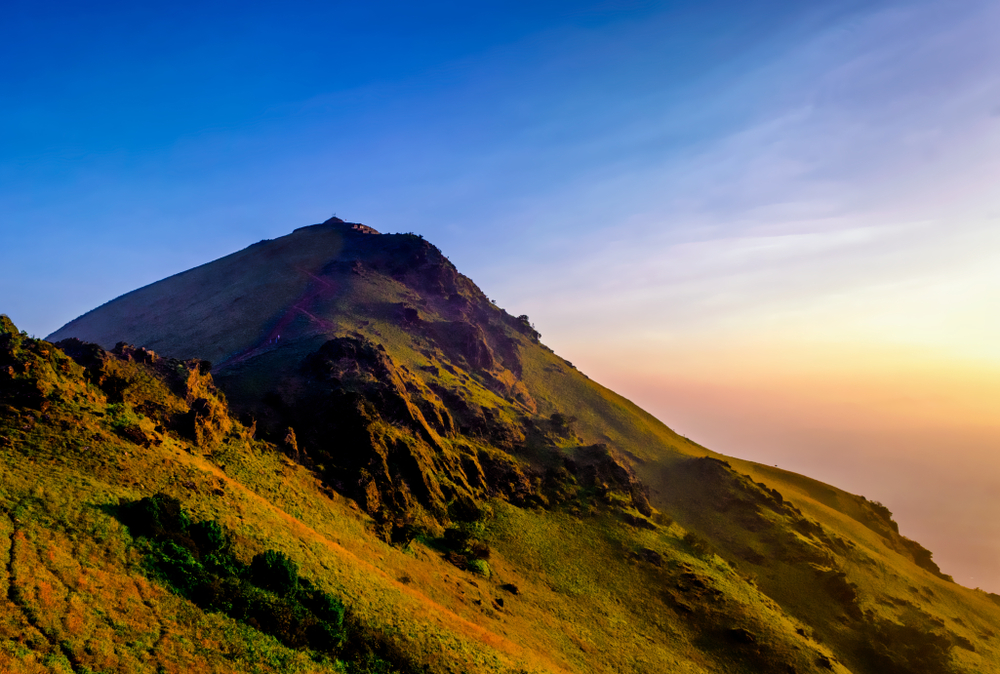 It is always good to plan your Mummayangiri visit during the spring season. The heat in summers could turn out to be slightly exasperating while winters witnesses inundated trails. Mullayanagiri receives heavy downpours, and hence, the rainy season is also not a good season to plan your visit. The thick sheets of rain received here might blind you for the rest of your ascending journey. 
What Not to Miss at Mullayanagiri
Places To Visit Near Mullayanagiri –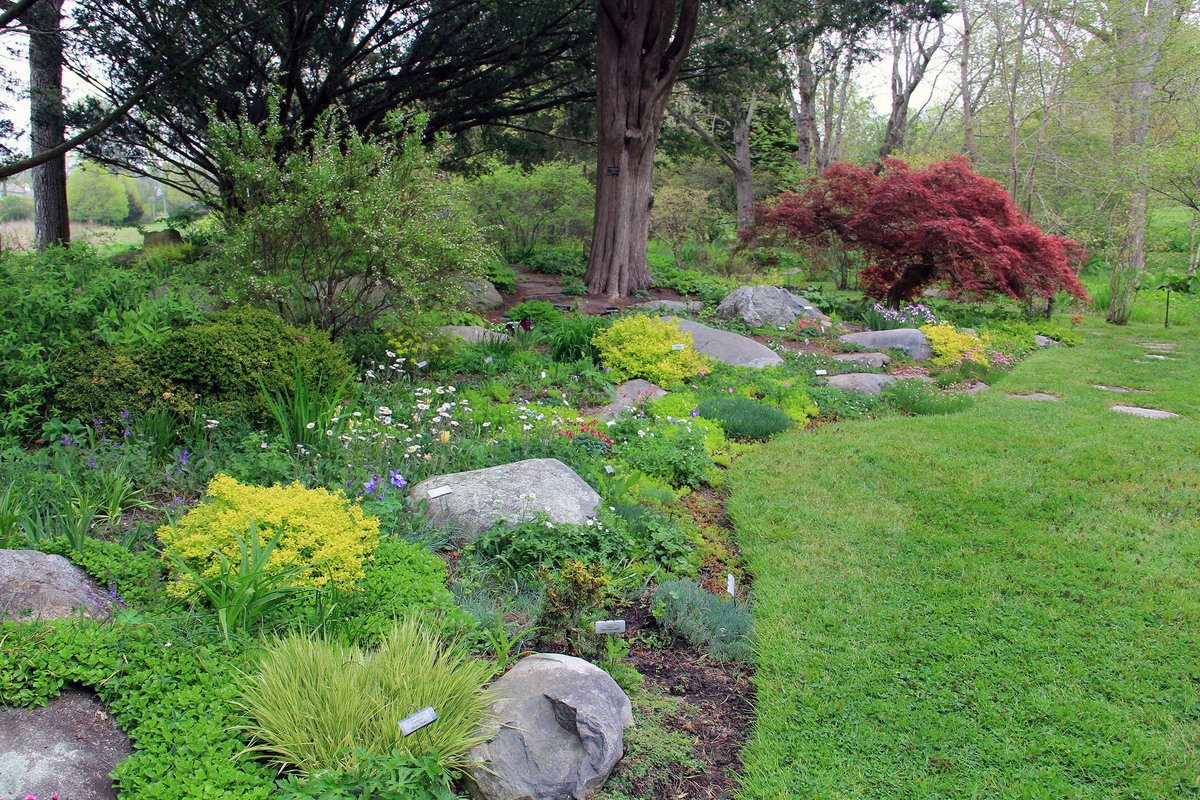 Here's a list of some places to explore around Mullayanagiri – 
Tapasvi Mullappa Swamy Temple – This is a holy Hindu shrine built in the memory of Tapasvi Mullappa Swamy, who meditated atop the Mullayanagiri Hills. 
Jhari Waterfalls – Jhari waterfalls is situated near Attigundi and crown itself as one of the gorgeous waterfalls of Chikmagalur. The presence of dense forest cover and lush green coffee plantations amplifies the beauty of these waterfalls.

At its base, you get to see a small pool where you can enjoy swimming in the water or relax along its side. 

Distance from Mullayanagiri – 12.4 km 
Rock Garden – This is an undertaking of the Karnataka Horticulture Department. It resembles an orchid house where you get to see a wide array of exotic plant species and elegantly spread out gardens. The city dwellers find this place as a great weekend respite. 
Distance from Mullayanagiri – 0.2 km 
Jayanthi Coffee, Chikmagalur –  This is a place to shop for some real flavors of the best quality South India filter coffee. You can buy filter coffee, pure coffee, spices, honey, coffee makers, and other accessories here. 
Distance from Mullanyangiri – 0.6 km 
 Hirekolale Lake – Nestling amidst a dense forest cover of the Western Ghats, Hirekolale Lake is a beautiful sightseeing adventure to plan your visit. This awe-striking man-made lake is an idyllic place for the sunset lovers and avid photographers. 
Distance from Mullayanagiri – 8.3 km 
Bababudangiri – Bababudangiri is an attractive destination of the Baba Budan range of the vastly stretched Western Ghats. Besides being a trekkers' paradise, the place is known for hosting the Hindu's Dattatreya Peetha and Muslim's Baba Budangiri dargah. 
Distance from Mulllayangiri – 12.8 km 
Kalathgiri Falls – If you are an avid nature lover, this place is meant for your visit. Surrounded by a dense valley, these falls portray a cascading effect. 
It has also got a high spirituality amongst the locals as the place homes to a holy shrine of Veerbhadra. Nevertheless, it is a popular trekking destination of Chikmagalur. 
Distance from Mallayangiri – 11.8 km 
Bhadra National Tiger Reserve –
 This protected tiger reserve is spread across a land stretch of 490 km. The Bhadra National Tiger Reserve is all over surrounded with a vast stretch of tanning brown forest cover.
There's a sparkling white Bhadra River which trespasses this piece of land. Trekking, bird watching, rock climbing, and island camping are things to enjoy during your visit to the Bhadra National Tiger Reserve. 
Trekking at Mullayanagiri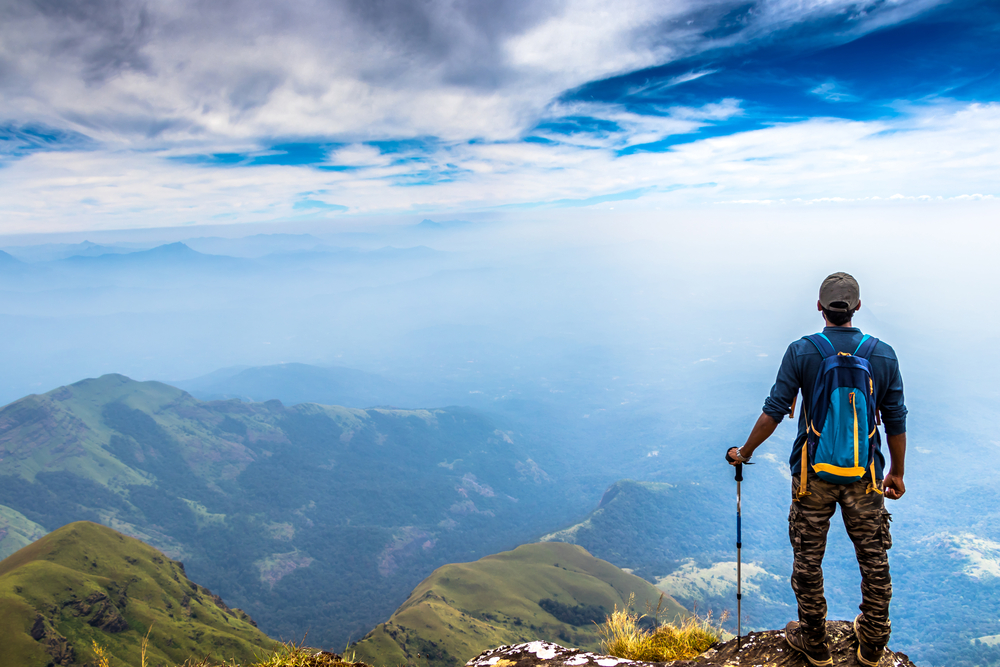 Price – Your Mullayanagiri trekking experience differs with your trekking service provider. With Thrillophilia, you just need to spend around 3000 INR per head for your trekking adventure. 
This charge shall be inclusive of charges for your breakfast (day 1 & 2), lunch and dinner (day 1), trekking, camping, bonfires, lead fee, professional guide, and first aid support. 
Timing – The entire trekking journey turns to be of 3 to 4 km. It will just take you around 3 hours to ascend to the top summit. To get the best views and spend some more time at the hilltop, it is advisable to start climbing early in the morning. 
Best Season for Trekking - The months of September to February are best to undertake this adventurous trekking to Mullayangiri. The weather remains pleasant, and you get to witness some amazing rare flora and fauna of this region. 
Other Essential Information About Mullayanagiri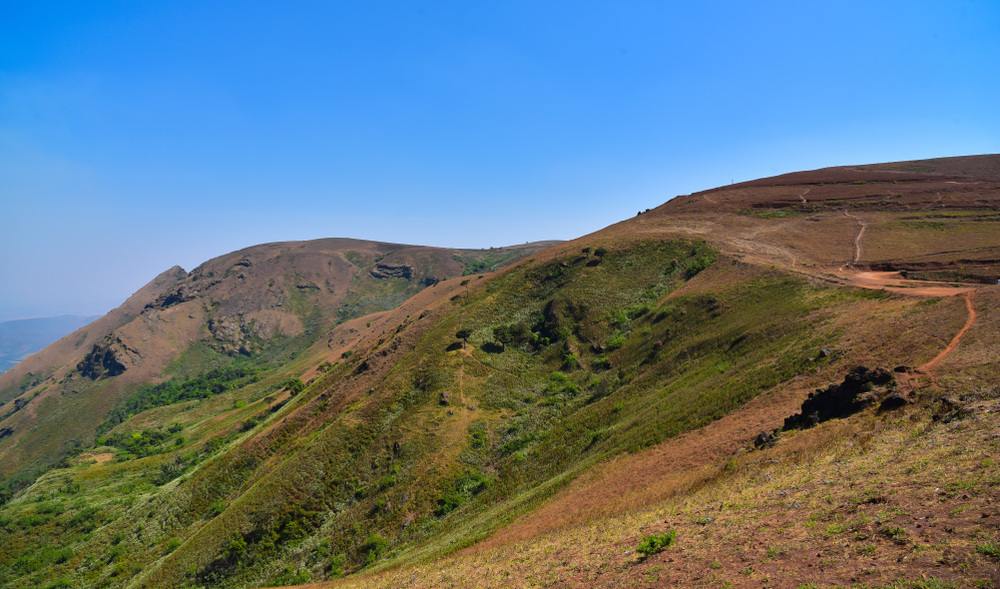 Location – Mullayanagiri is a part of Baba Budangiri Range of the Western Ghats in Chikmagalur district of Karnataka state. 
Mobile Connectivity -
  Mullayanagiri is the highest peak in Karnataka with an altitude of 1950 meters. At such a high altitude, you won't be able to get access to your mobile connectivity. So, make sure that you dial or attend all your calls either before ascending or descending the hills. 
Places to Eat –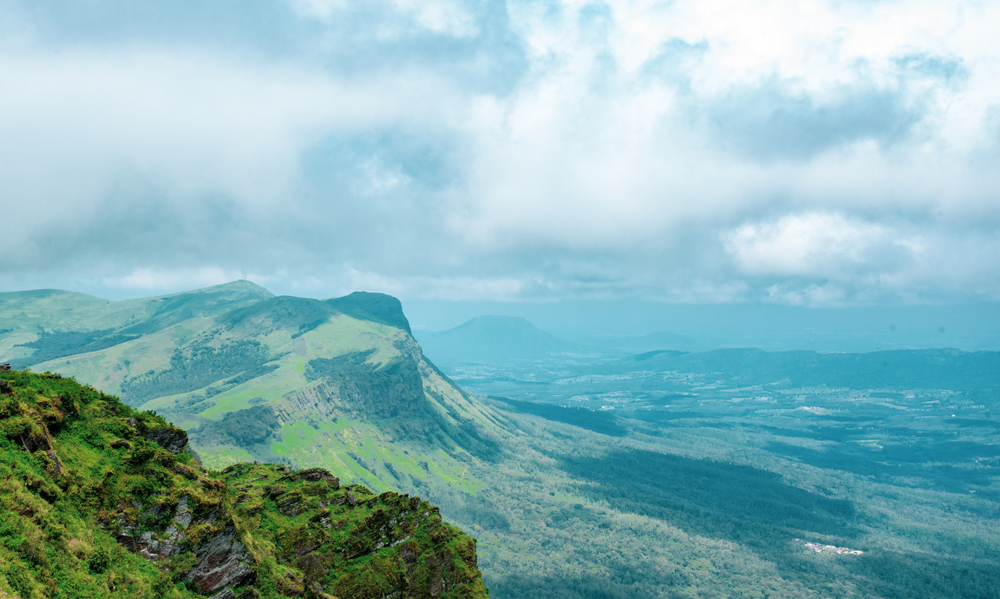 The trekking route that takes you to the topmost summit of Mullayanagiri has no source of food or water. You will have to carry resources of the same for yourself. However, the Lord Shiva temple at the topmost summit has got a few small shops where you can get some good local food to eat. Remember one thing that you won't exactly get what you want to eat. 
Homestays near Mullayanagiri -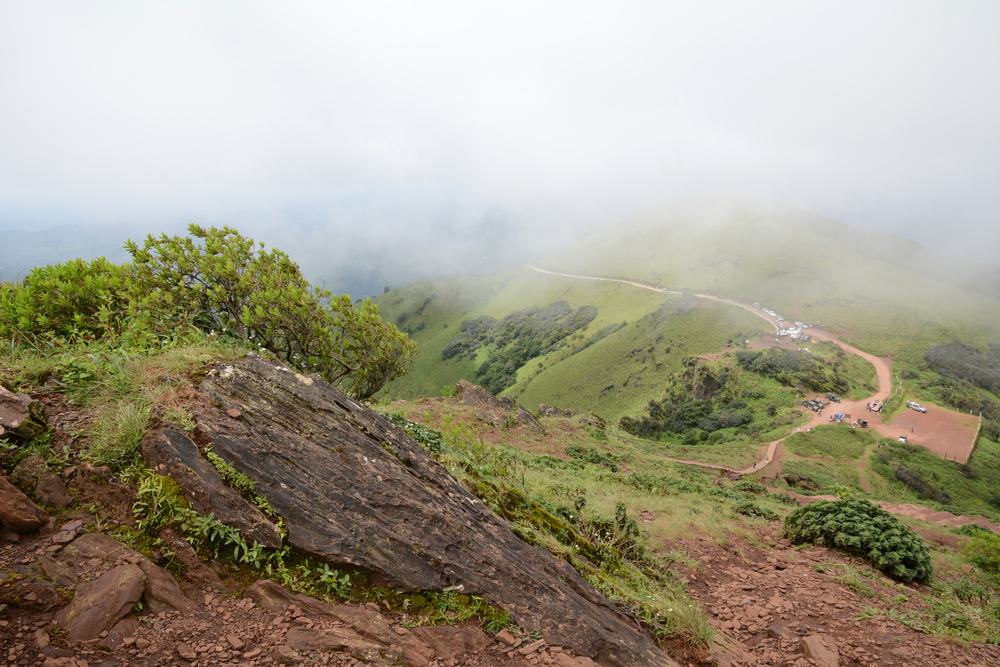 Planning for a 2 to 3-day visit to Mullayanagiri? Here's a list of best homestays in and around Mullayanagiri – 

Halenahalli House –  This homestay is located on your way to Mullayanagiri from Chikmagalur. Every room here is facilitated with a cable or satellite TV, a balcony, Wi-Fi availability, and ceiling fans. The property supports a secured parking service and a private garden.

Distance from Mullayanagiri – 3.2 km 

Bedroom Family Farmhouse – This is ideal for a large family stay at Mullayanagiri. Every room here has an attached toilet and a shared bath. You can either opt for stay only or stay with meals option. 

Distance from Mullayanagiri – 6.5 km 
Silvershine Homestay – This homestay is located close to the foothills of the Western Ghats of the Chikmagalur region. The property is known for its serene environment, colossal mountain ranges, a lush green forest, and a trekkers' paradise. 
Distance from Mullayanagiri – 7.2 km 
Siya Homestay – Here, every room has a balcony of its own. The entire property features a free Wi-Fi availability and a free car parking facility. Every morning you can enjoy your style of Asian breakfast. 

Distance from Mullayanagiri – 6.7 km 
Pranava Mandira – This property has 3 bedrooms with three attached bathrooms, freezer facility, trampoline, DVD player, ceiling fans, iron, and refrigerator. For the entertainment of their guests, the staff of Pranava Mandira organizes cycling trails and hiking trails.
 Close to this property, you can also find a hub for a tennis court, golf course, and watersports. 
Distance from Mullayanagiri – 2.4 km 
TT Nature View Cottage – This property lets you wake up to the sweet fragrances oozing out from the nearby coffee plantations. It is well-furnished and well-equipped with all the essential amenities to give you the comfort of your home. 
Distance from Mullayanagiri – 4.7 km 
Tips to Visit Mullayanagiri -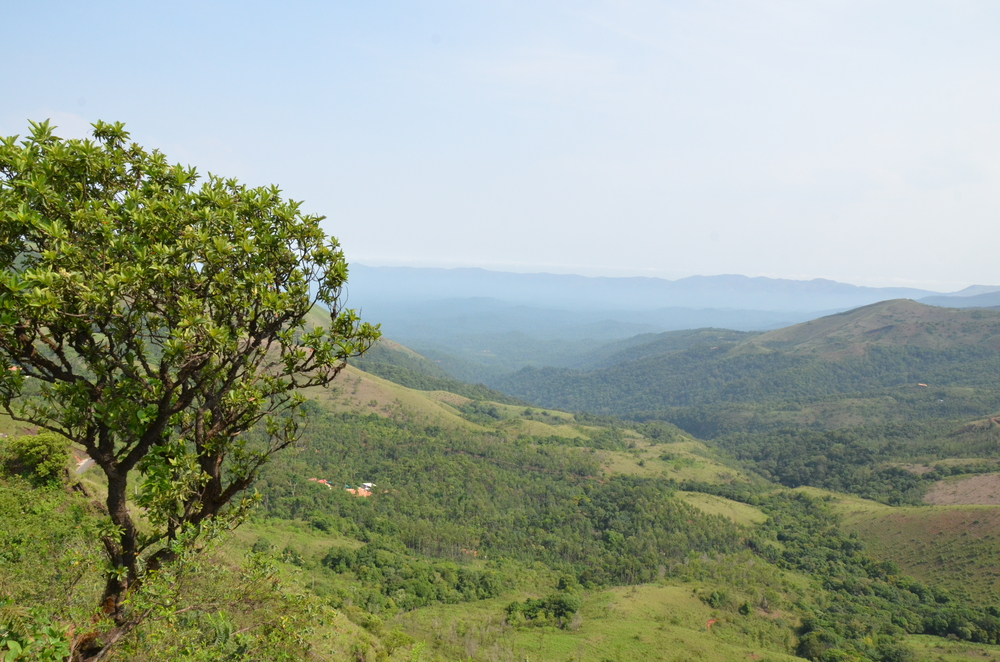 1. It is advisable to check with your tour operator whether you require any forest permissions or not. 
2. Avoid uncomfortable clothing such as sarees while you are ascending to the topmost summit of the Mullayanagiri hills.
3. Likewise, uncomfortable footwear needs to be avoided to trek smoothly. 
4. Light sweater, raincoat, sunglasses, sunscreen, and a wide-brimmed hat have to be there in your Mullayanagiri travelling backpack. 
5. It is advisable not to carry any precious items or jewelry while you start ascending the trek. 
6. You are required not to drink alcoholic drinks while you are on your trek.
7. Do not litter chocolate wrappers, beverage bottles, water bottles, or poly-ethane covers anywhere. 
8. If you want to try an arduous trek to Mullayangiri, start with your trekking from Bababudangiri hills. For this, you need to reach the base of Bababudangiri from Kaiwara and then hire a jeep to drop you to the topmost summit of Bababudangiri. Make sure that you reach the peak before 4:00 pm. 
9. The trekking route that starts from Sarpadhari has got an inclination of 60 degrees and is quite steep in its overall appearance. You need to be extremely careful if you opt for this trekking route. 
10. Do not be surprised by the misty appearance. It is a common phenomenon here when the visibility of the surrounding drops beyond 10 meters. 
11. There are few eateries at the top summit around Lord Shiva temple. However, it is always good to carry your personal stuff to avoid any unacceptable circumstances.