About Lake Zurich
Offering panoramic views of the steel grey mountains with their tips covered in snow at a distance, Lake Zurich is crowned as one of the biggest and most beautiful lakes in Switzerland. Extending to the south east of the Zurich city, the lake is the creation of the river Linth which takes birth from Glarus Alps glaciers.

Carved like a banana, the lake streams passing through the city are termed Limmat, the downstream at Seedamm is called Rapperswil whereas the upstream is called Obersee. Flanked by forested chain of hills on both the sides, Lake Zurich has Albis and Zimmerberg hills on its south and Pfannenstiel hills on its north.

The gentle slopes of the banks of the lake are covered with fragrant vineyards and orchards to enhance its beauty several times. Edging the the largest city Zurich on its west, lake Zurich is a popular place for excursion in the present time.

People from all around the world and the locals come here to unwind themselves and spend a day with peace. The gently rocking waves accompanied with laziness and fine food becomes a synonym for vacation in Zurich. The best thing you could do is to take a boat and explore the untarnished distant banks of the pristine lake.
How to Reach Lake Zurich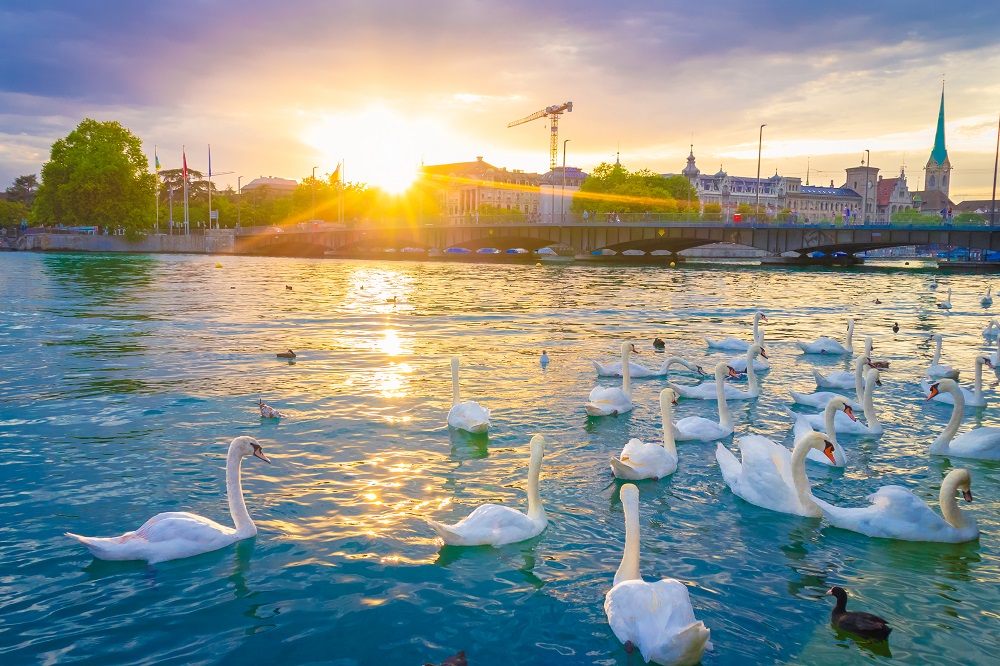 Lake Zurich is situated 40.1 km from the Zurich Airport and there are three ways which you could take to cover this distance:

By Train:
Line 7 directly takes you from Zurich Airport to Lake Zurich. It would cost you around 1,200 to 3,200 INR and around 55 minutes to cover the distance. You first need to take a train from Zurich Airport to Zurich HB and then from there to Stafa.

By Bus:
Line 768 bus and line 7 night bus will take you to Lake Zurich from the Zurich Airport in 1 hour and 55 minutes. First take a line 768 bus until Glattbrugg Post which will take 7 minutes. From there, you can walk the 600 m of distance till Opfikon where you would get your next bus till Stafa which would take around 48 minutes. This entire journey will cost you around INR 500 to INR 745.

By Car:
You could hire a taxi which would take no more than 33 minutes to cover the distance. However, it would cost you between INR 12,000 to INR 15,000. Whereas if you could drive your own car then it wouldn't take more than INR 360 to INR 550.
Best Time to Visit Lake Zurich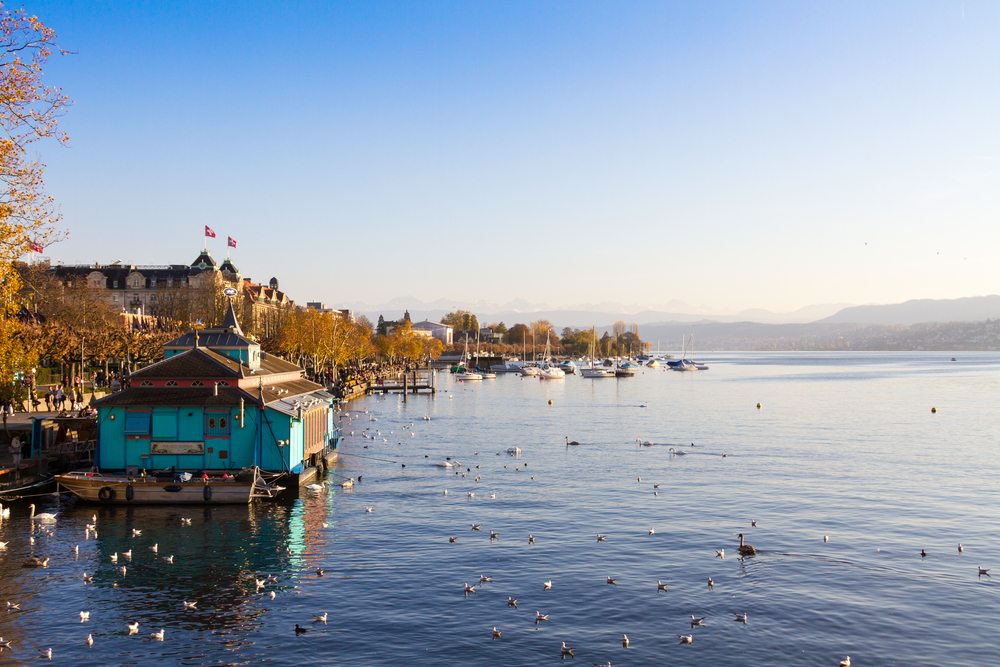 Zurich is a popular tourist destination which could be flocked throughout the year.

Winter Season (November to February) -
Winter season gets really cold and snowy in Switzerland which makes it ideal for skiing activities in the Swiss Alps. 

Summer Season (May to August) -
However, summers are very pleasant if you wish to explore the corners of the city and enjoy the lake at its fullest. However, during both seasons, the area is very crowded and highly expensive. This makes spring and fall months ideal times to visit Zurich. 
Spring Season (March and April) and Autumn Season (September and October) -
The temperature is cool and nice enough to visit all tourist destinations without putting too much pressure on the purse. The city becomes less crowded and the prices of hotels and accommodation become very reasonable.
What Not to Miss at Lake Zurich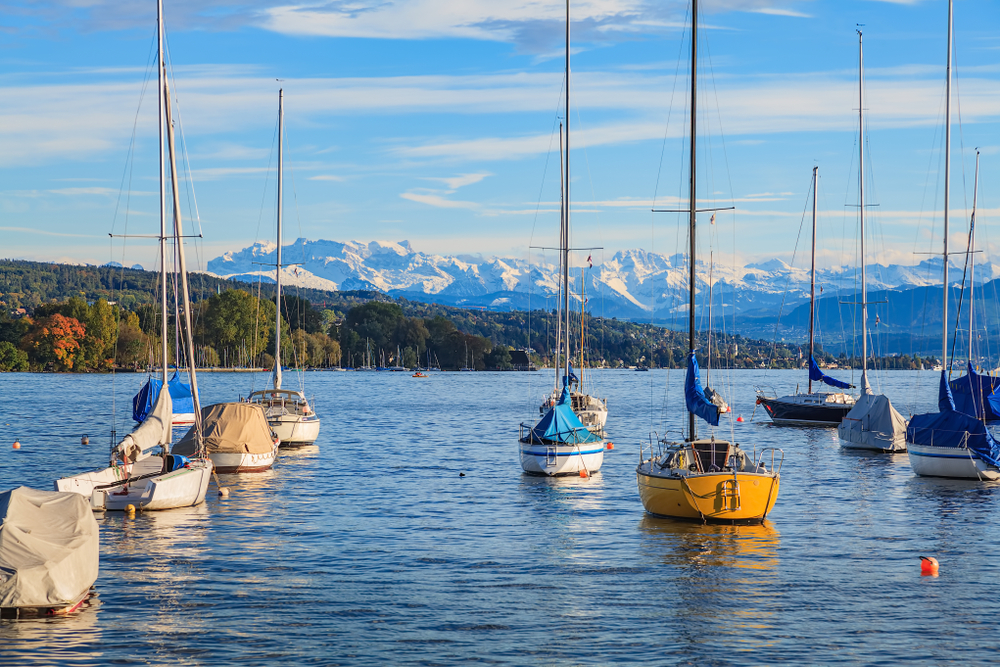 Here are some of the best things to do at Lake Zurich:
1. Visit the Rapperswil Castle
Located on the shores of Lake Zurich, Rapperswil castle is the landmark of the City of Roses. The castle was built in the 12th century and was renovated on numerous occasions since then. It towers high above the town, positioned atop Lindenhof which extends through Rapperswil and could be seen from a distance.

This area especially attracts wine lovers since it is the home of the oldest vineyard which cultivates Blauburgunder (Pinot Noir) grapes.

2. Luxurious Cruises
Many companies offer cruise rides on Lake Zurich. A relaxed cruise ride provides an opportunity to experience the lake, city and its surroundings from a different angle. The companies offer numerous tours on the lake daily short tours as well as the long ones. A selection of special culinary cruises treats their guests with various cuisine choices.

3. Culinary Delights in lavish restaurants
The restaurants around Lake Zurich provide magnificent views, scrumptious culinary treats and delightful experiences. The region is known for its organic meat, vegetables, fishes, tasty cheese and delicious wines. Fresh Lake Zurich fish is savoured in many fish restaurants on the lake shore. Romantic sunset from lake restaurants is to die for.

4. Water Sports on Lake Zurich
There are enormous options of water sport activities available at Lake Zurich and River Limmat for water enthusiasts. The river is perfect for swimming or floating while the lake is best for lazing around on an inflatable mattress.

Speed lovers and adventurers should try wakeboarding, wakesurfing or water skiing while others can choose between a trip in a sailboat, canoe or kayak. Also, stand-up paddling is in trend right now. Other than water sports, one can always opt for relaxed sunbathing around the lake.


Places to Visit near Lake Zurich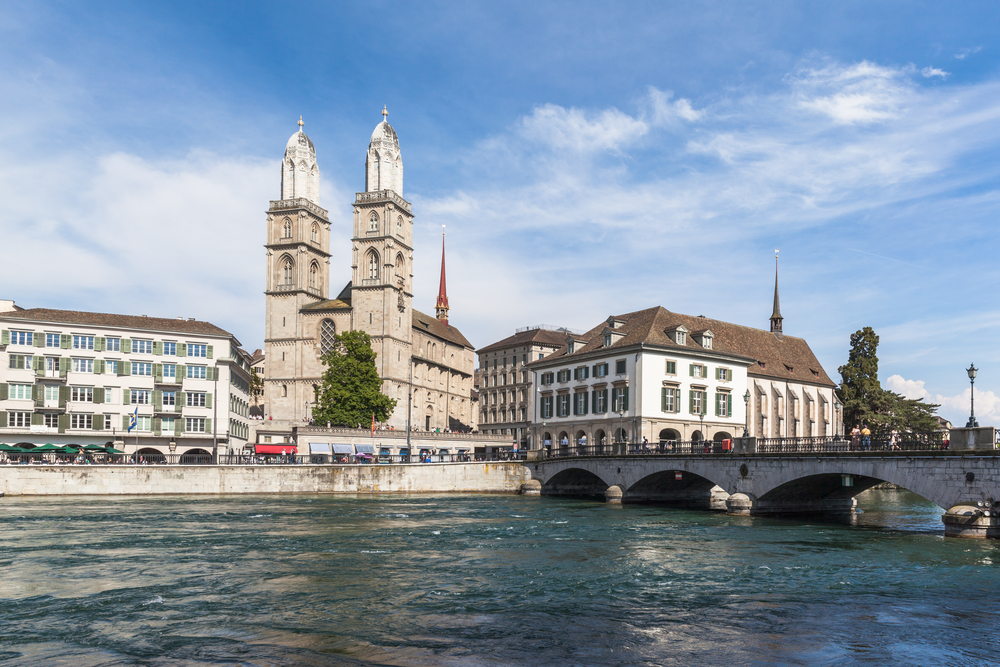 1. Old Town (Altstadt)
Zurich's Altstadt – or Old Town - has the highest concentration of clubs, restaurants, shopping centres along with its historic charm and enchanting architecture. Tourists can visit churches like Grossmunster, the Peterskirche and the Fraumunster in this cultural epicentre.




2. Fraumünster Church
Often referred to as Women's Church, Fraumünster was founded by Emperor Ludwig for his daughter, Hildegard in 853. The three – aisled, pillared basilica with a Gothic nave – Fraumünster is one of Zurich's most visited tourist attractions.





3. Grossmünster Church
Grossmünster Church or the church of Great Minister is another fabulous site to visit near Lake Zurich. It is one of the four main churches besides Fraumünster, Predigerkirche and St. Peter. It is a Romanesque – style Protestant church built near the banks of the River Limmat. 





4. Kunsthaus Zurich (Museum of Fine Arts)
Kunsthaus is one of Europe's best art museums strong in impressionists, post – impressionists and modern schools. Driven by the Zurich Society of Arts, its history can be traced back to a society of artists founded in 1787. It has a large collection of works by various artists and obtaining works of living artists is a significant mission here.





5. St. Peter's Church
St. Peter's Church is the only parish church of the Old Town in Zurich. Standing on a little hill on the west bank of the River Limmat, it is the only parish church in the town. St. Peter's 13th century late Romanesque structure had replaced 1000 A.D. early Romanesque church. In 1538, the church made a record by acquiring the largest clock dial, 8.7 meters in diameter, in Europe.



6. Zurich Zoo
Zurich Zoo takes pride in being one of Europe's finest zoos encompassing more than 360 various species of animals, birds, amphibians and reptiles. Animals live in their preferred habitats and ecosystems and so you can find snow leopards amid the rocky Himalayan landscape, flying foxes from a canopy walk of tropical rainforest and penguins enjoying chilly waters in the zoo. Zurich zoo is a special attractive point for children.

Other Essential Information About Lake Zurich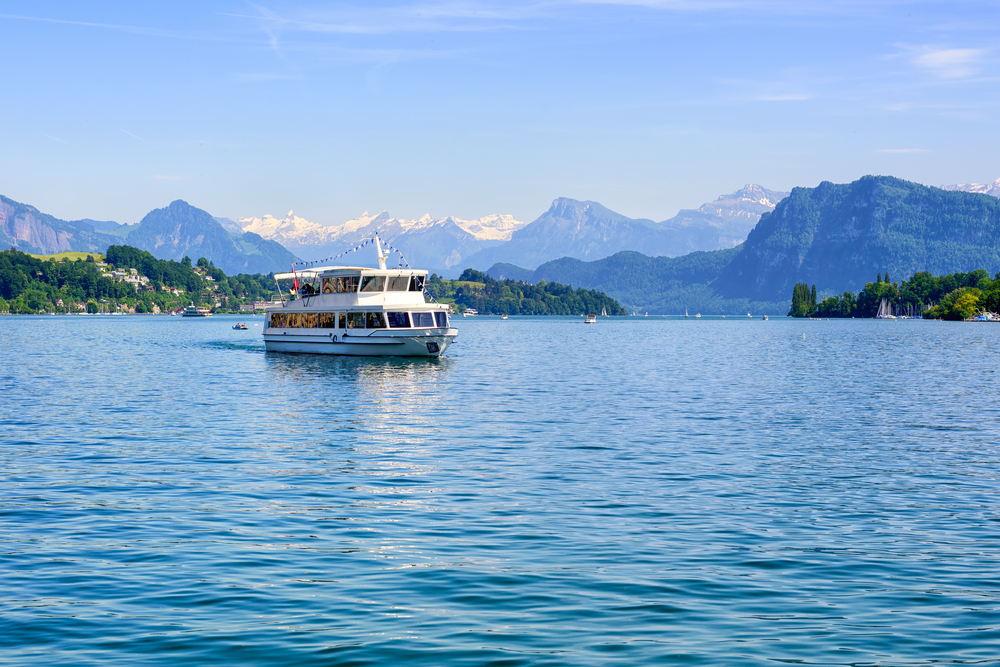 Location –
Zurich, Switzerland

Entry Fee – There is no entry fee for visiting Lake Zurich. However, there are some beaches which charge admission but they promise a lot of fun and facilities in return.

Public Facilities – There are several public facilities present on Lake Zurich for the comfort of the visitors and tourists. There are eleven official outdoor swimming baths on the lake and the river. Facilities such as fitting rooms, cloakrooms, toilets, kiosks, water chutes, diving boards, ping pong tables, playground and kiddie pools are available at the lake.

Distance from Zurich Airport – Lake Zurich is at a distance of approximately 27 kilometres from Zurich airport. You can use five modes of transportation to reach Lake Zurich – Bus, Tram, Train, Boat, or taxi.
History of Lake Zurich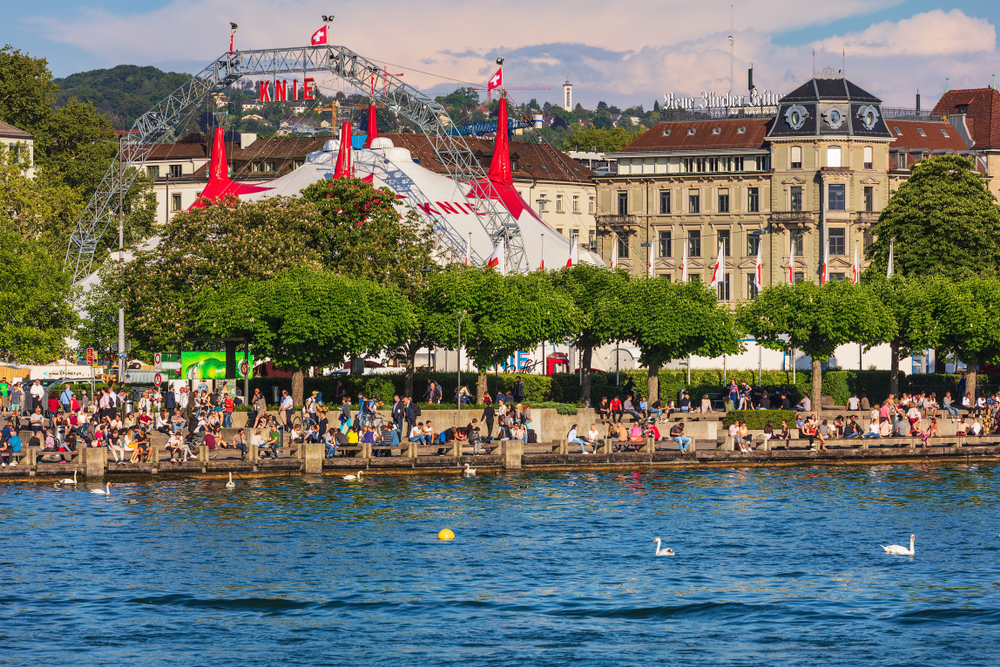 Founded in the year 1836 and further incorporated in the year 1896, Lake Zurich has been attracting people to reside on its banks since the Neolithic Age. The evidence found around the lake has proved that humans were settled around the lake even in the Stone Age and Bronze Age.

First settled by European descendants in the 1830s, the banks of the lake Zurich slowly started accommodating New Zealand farmers as well as German immigrants by the 1840s. In that era, the Zurich lake was known by the name Cedar Lake which was incorporated in the year 1896 on September 29th. 

Initially it primarily housed farmers as the waters of the lake could feed the vast fields of crops. After the establishment of the highway Rand Road in 1922 and Half Day Road in 1927, Lake Zurich got popular as a great summer resort and the lake turned into a travel destination.
After that time, the place has been an evergreen tourist destination ever since. People from around the world and locals alike flock to the banks of the river and enjoy their day by having a picnic in peace.
Tips for visiting Lake Zurich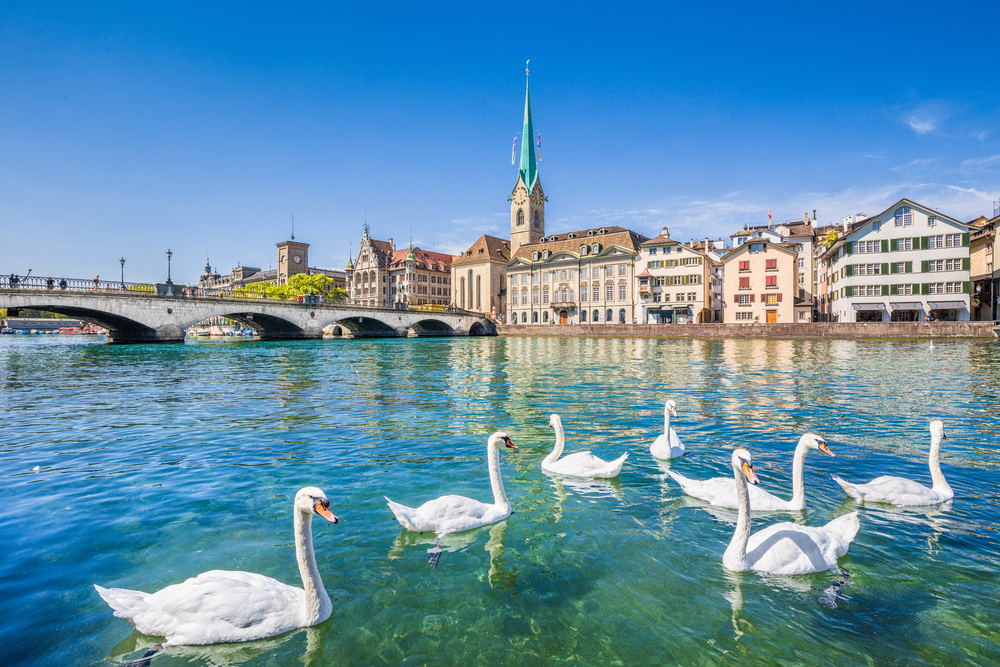 These travelling tips might come in handy when you are visiting Zurich for the first time.

- Explore Altstadt or Old Town on foot. Its narrow lanes with an extraordinary architecture offer spectacular sites with a chance to understand its history.

- Definitely experience a cruise tour on River Limmat. A cruise tour provides different beautiful lake and city views along with special delicious regional culinary treats.

- You can enjoy a picnic with your family at Zurich Botanical Garden.

- Wear a coloured bathing cap on your head while taking a swim in Lake Zurich. A lifeguard might not necessarily be present in the lake, so swimming is advisable for good swimmers only.

- If you are an art lover, you should browse the art collections that the city's largest art museums have to offer.