About Bürkliplatz
An exquisite lake shore promenade, Bürkliplatz is a town square in Zurich canton of Switzerland. Located in the historic Alpenquai region near the sublime Lake Zurich, the Quay Bridge is also situated next to it which crosses the river Limmat at the outflow of Lake Zurich known as Quaianlagen.

Also called Stadthaus Anlage and City Hall Enclosure, the square is enclosed between the Bahnhofstrasse on the west side, the Fraumünsterstrasse on the east and Bürkliplatz in the south. You could stroll on the shaded boulevards, explore the lush meadows and bustling parks and click some amazing pictures with the dock in the backdrop situated around the square.

Beside these, a vegetable market becomes a major attraction twice a week where you could purchase the local produce of fresh vegetables and fruits. The square is also home to Zurich's second biggest flea market held every Saturday where traders sell antique pieces and people sell their household before moving.

To mark the importance of the square, many athletic events make this square as either the starting or ending point of the race. Also, it is considered as the starting point of the tour on Lake Zurich. With all this happening at the square, you would find this place always jam-packed with people enjoying various activities or simply soaking in the bright sunlight to mark the day.
What Not to Miss at Bürkliplatz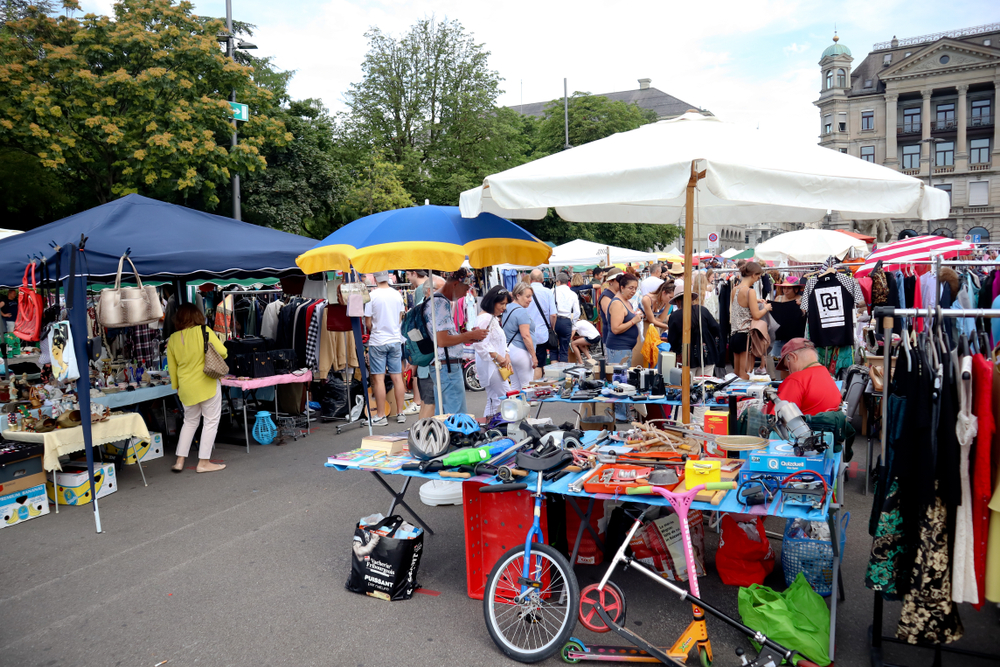 Known as Bürklimäärt to the locals, the weekly market at Bürkliplatz is undoubtedly the most cherished market among Zurich's residents. You can find fresh vegetables, beautiful flowers, delicious cheese, best meat from local farmers and pristine bread straight from the oven.
Owing to the outstanding products, the market is a source of inspiration for young entrepreneurs and the best shopping point for Zurich restaurateurs.

1. Vegetable Market
Bürklimäärt offers the best variety of herbs, seasonal and regional vegetables and various other special produce from the farms in the vicinity.

2. Flower Shops
Zurich believes that flowers are essential for every big and small occasion such as weddings and ceremonies, or simply a romantic gesture to your loved ones. The weekly market at Bürkliplatz is renowned for its various best quality beautiful cut flowers. 

3. Flea Market
It is a place for antique lovers to rummage for rarities, antiques as well as other valuable items. This market boasts of the best collection of second – hand jewellery.
The opening timings for the market at Bürkliplatz are 6 am to 11 am on Tuesday and Friday. The idyllic market is situated between chestnut trees and Lake Zurich. So, you can enjoy the pleasures of the market along with a leisurely walk on the lake shore.
Places to Visit around Bürkliplatz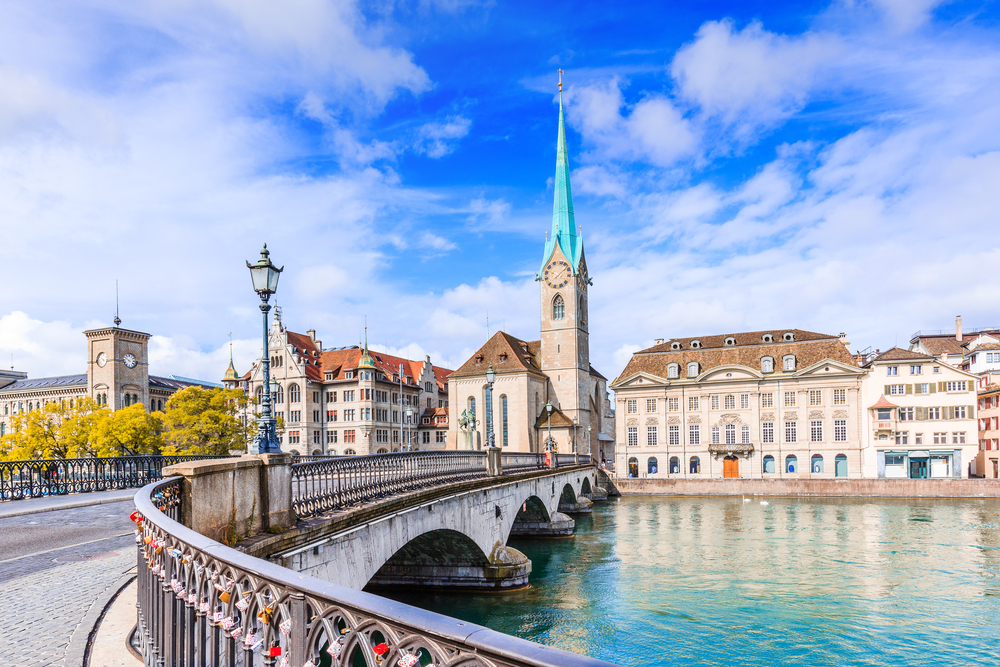 There are numerous historic, artistic and aesthetically pleasing tourist sites near Bürkliplatz to enjoy.

1. Grossmünster Church
Grossmünster Church or the Church of Great Minister is one of the four main Romanesque – style Protestant churches of Zurich. It was built on the shore of the River Limmat on the site of a Carolingian church. According to the legend, the graves of the city's patron saints Felix and Regula were discovered here.
2. Fraumünster Church
Fraumünster literally meaning 'Women's Minister', is a church founded by Louis the German for his daughter Hildegard in 853 AD. According to the historic references, the church along with its convent was inhabited by the aristocratic women of Europe. This pillared basilica with a Gothic nave is worth enjoying. It is among the most visited sites in Zurich.

3. St. Peter's Church
St. Peter's Church is the ancient Parish church in Zurich with its original foundation of the 9th century still available beneath the chancel. It is one of the four major churches of Old Town besides Grossmünster Church, Fraumünster Church and Predigerkirche Church. 

It is located next to Lindenhof Hill on the west bank of the River Limmat. It contains an early 13th century Romanesque choir under its tower. It boasts of the largest clock face in Europe with a diameter of whopping 8.7 meters. St. Peter's Church is a must – see tourist site in Zurich.

4. Quaibrücke
Quaibrücke is a road and tramway bridge located at the outflow of Lake Zurich that connects Bürkliplatz with Bellevueplatz. It was constructed between 1881 and 1887.

5. Kunsthaus Zürich
Kunsthaus Zürich is one of the best art museums in Europe and run by the Zurich Society of Arts. Its history can be traced back to a society of artists in 1787. The Zurich – based museum houses the largest collection of works by several artists. It contains more paintings of Charles Munch than any other museum besides Oslo and the most significant works of Monet outside of Paris. Art lovers must visit this museum.

6. China Garden
It is a temple garden located by Lake Zürichhorn and one of the most amazing places to visit in Zurich. It is the highest ranking temple garden outside China. The Chinese garden was a gift from Zurich's Chinese partner town of Kunming. At the centre of the garden are a pond with a small island, pavilions and a small palace. The garden temple is dedicated to The Three Friends of Winter.


7. Botanical Garden
For nature lovers and botanists, Botanical Garden is a treat for the eyes. Exhibiting the bright side of the spring, the garden also houses a reserve of plants from all over the world in 16 different sections. Started in the year 1877, it also has greenhouses for storing the plants in the bad weather.

8. Swiss National Museum
Situated in the heart of the city, the Swiss National Museum is a castle–like structure with neo–Gothic furnishing. It is an excellent museum exhibiting the cultural history of Switzerland. It takes pride in showcasing the most significant collection of Swiss historic and cultural artefacts covering various subjects from prehistory to the 20th century.
Other Essential Information About Bürkliplatz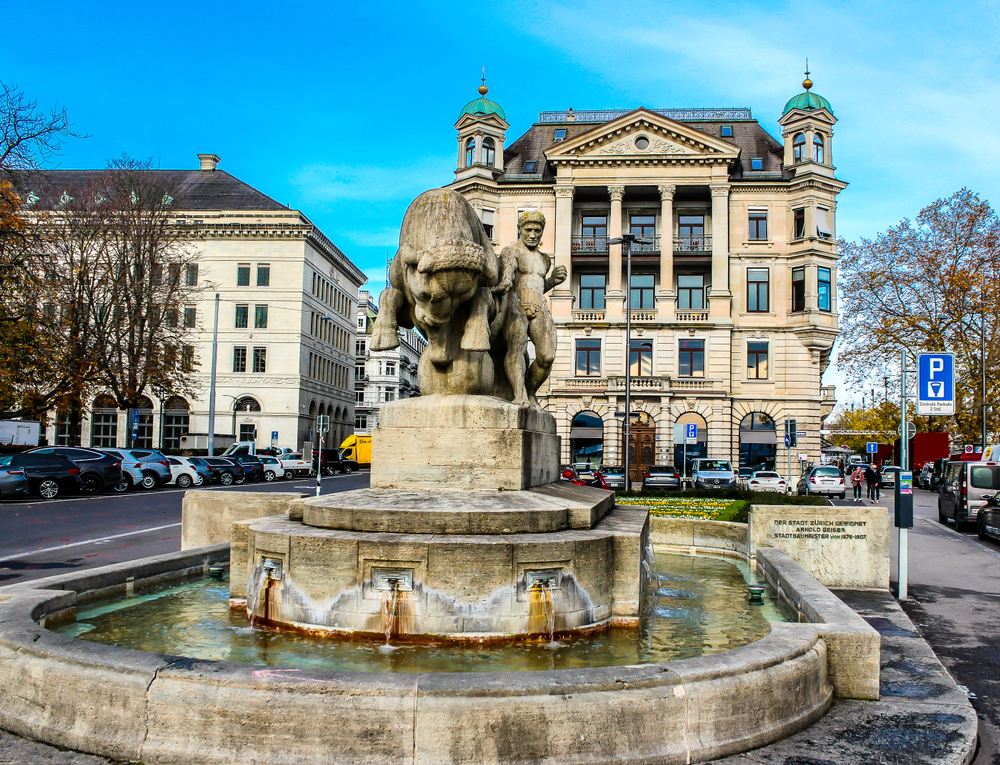 Location:
Bürkliplatz is located on the shore of Lake Zurich in the historic locale of Alpenquai. It is a town square in the Zurich canton. It is on the western side of Quaibrücke or Quay Bridge.

Entry fee: No entry fee is charged for visiting Bürkliplatz.

Distance from Zürich Airport: Bürkliplatz is approximately at a distance of 12.4 km from Zurich Airport. On average, it takes 15 to 20 minutes to reach Bürkliplatz from Zurich Airport.


Places to Stay near Bürkliplatz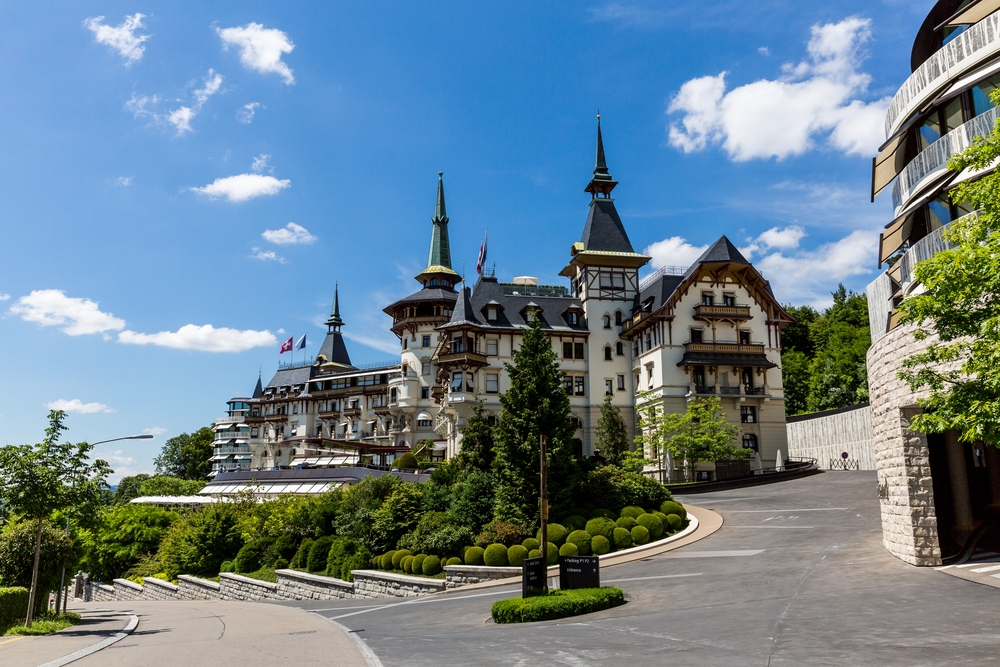 The best hotels to stay near Bürkliplatz:


1. The Crown Penthouse Bellevue
Furnished with subtle shades of beige and brown, The Crown Penthouse Bellevue offers you comfortable rooms with life size windows to witness the outside sceneries of the city. You can expect every modern facility inside the comforts of your room from fully-furnished bathrooms to luxury living room to relax after a hectic day of exploration.

2. Baur au Lac
A brilliant treat of Venetian architecture, Baur au Lac is a huge mansion in Zurich. You can expect chic and neat rooms furnished with contrasting furniture and huge balconies facing the calm waters of the town. They also have a common living room tucked inside the tropical greenery where everyone could enjoy a chit-chat over a cup of coffee or a meal.

3. Small Luxury Hotel Ambassador Zurich
Settled right on one of the squares of Zurich, Small Luxury Hotel Ambassador Zurich is a marvellously huge hotel which is adorned with white walls and dark gray roof. They have cosy rooms furnished with bright colours and all kinds of required facilities.

Not only this, the building is a treat to the eyes at night when all the lights around it lit up to make it look rustic gold.

4. Storchen Zurich – Lifestyle Boutique Hotel
Reflecting its shadows in the calm waters of the Lake Zurich, Storchen Zurich – Lifestyle Boutique Hotel is an excellent example of Swiss architecture. You can expect neat white rooms with a set of double beds and a table chair along with a well-furnished bathroom. Beside that, the windows of the rooms give a splendid view of the adjacent lake and the distant city lights.

5. Helmhaus Swiss Quality Hotel
A classic building coated with white paints, Helmhaus Swiss Quality Hotel provides spacious rooms to its guests. They are fully furnished with all the modern amenities where you could also order for room service. They have a restaurant which cooks fresh Swiss cuisines you can order in the comforts of your room.
Restaurants near Bürkliplatz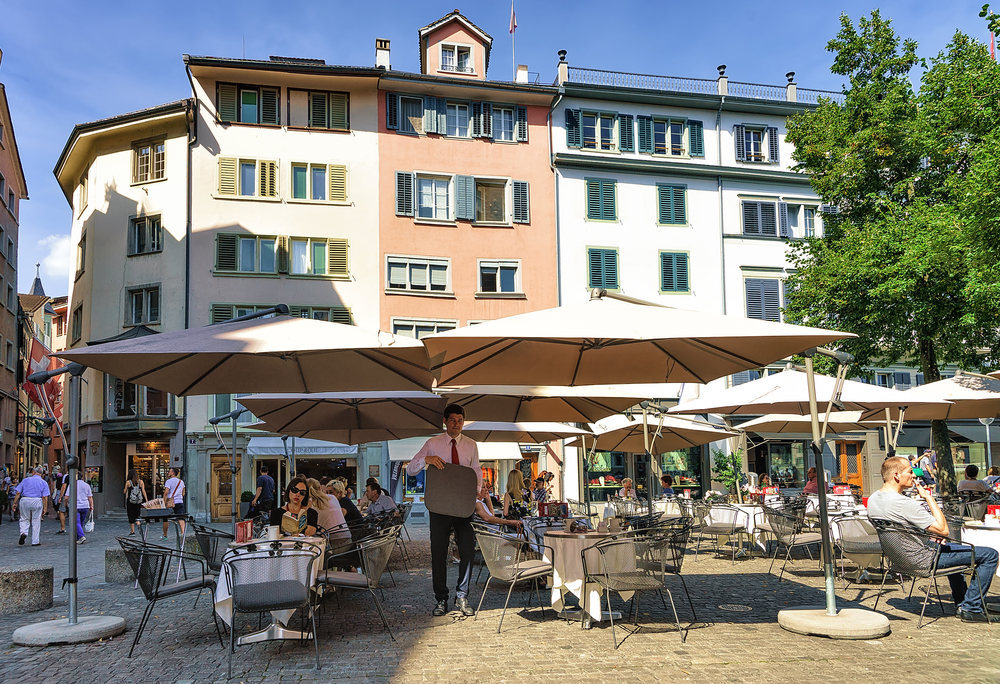 Zurich is a multi – cultural city which also reflects in its restaurants. There are various restaurants near Bürkliplatz which can satisfy your taste buds.


1. Baltho Küche & Bar
It is one of the most popular restaurants in Zurich which offers various culinary dishes ranging from traditional Swiss cuisines to Asian cuisines. The restaurant has a very nice, sophisticated, yet informal ambience. Although the restaurant has been opened recently, it has been collecting great reviews from its guests.




2. Restaurant Razzia
One of the oldest restaurants in Zurich, its history goes back to the 1920s when it was first opened as a cinema hall in neoclassical style. Considering that there is a lot of history in this place, travelers must visit this restaurant once.





3. Casa Aurelio
Casa Aurelio is the most amazing restaurant in Zurich. They take visitors to Spain with their traditional Spanish décor and their delightful Spanish cuisines. The delicious culinary treats they serve contain rich spicy flavours of Spain. They also serve great lamb preparations and steaks.




4. Zeughauskeller
If visitors are looking for a traditional Swiss meal, then this is the place for them. It was constructed in the 15th century armoury which makes it a dream restaurant for any foodie – cum – history savvy. It has beautiful, elegant, and historic interiors that take travellers to the 15th century era.





5. Hilt
Hilt is one of the popular Indian restaurants in Zurich. It is also very cheap in comparison with other restaurants. They also serve various cuisines such as Asian and Italian besides Indian palate. The food is great here along with its elegant ambience.





6. La Rotisserie
If anyone is looking for a luxurious and romantic evening with great food, they should try La Rotisserie. It is a terrace restaurant where travellers can enjoy their evening. The food is very delicious here but a little expensive.




Tips for visiting Bürkliplatz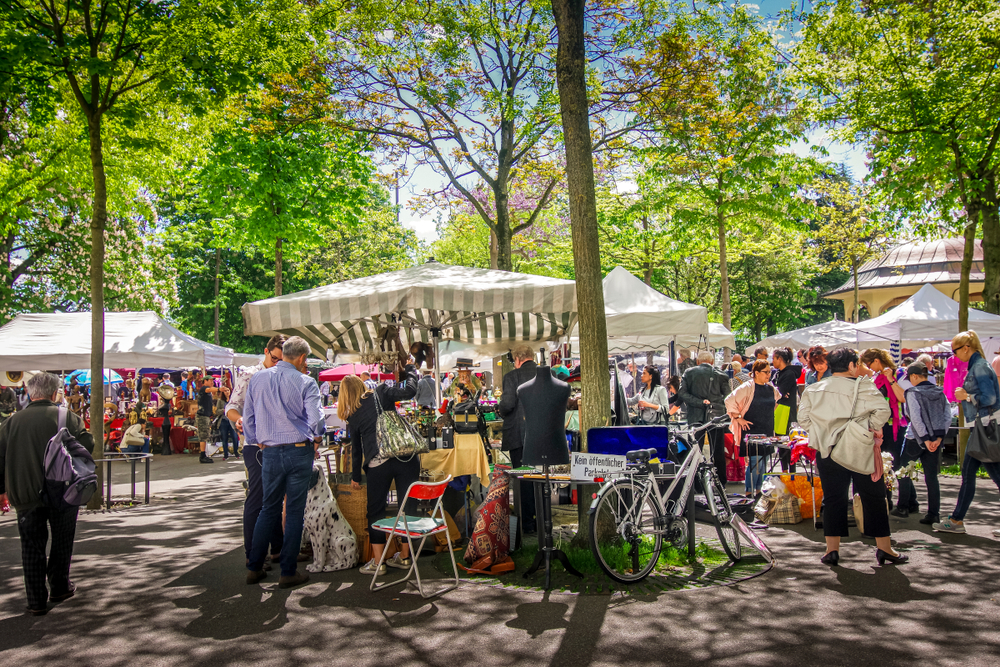 - Bürkliplatz, Zurich is a Swiss German speaking region of Switzerland. Natives do not speak much English. So, try to learn basic Swiss German words before your trip.



- Zurich pass comes in handy for travelling to various places in Zurich. 

- Explore on Foot – To cherish the architecture, explore the history and enjoy local delights of Zurich – saunter Zurich.

- The standard portable system (GSM/GPRS) can be utilized in Zurich, even in the mountain regions as well. If you are planning to stay for a while, you should consider a prepaid card.