About Swiss National Museum (Landesmuseum)
Swiss National Museum  is acclaimed as the most significant establishment offering insights into the cultural history of Switzerland, and is a must visit spot in the country. It is located at the confluence of Sihl and Nimmat rivers, adjacent to Park Platzspitz.

Through numerous permanent as well as temporary exhibitions, the museum complex has a wealth of information to offer about the various aspects of Switzerland's history, culture, and art during different eras. The museum houses amazing assortments of paintings, photographs, and texts that walk the visitors through the late Middle Ages, the era when Switzerland established itself as a federal state to the present.

No wonder the museum claims to store more than 840,000 objects. So, whether you are eager to learn about the local culture in the past, various battles fought in the region land or the origin of Swiss watches, chocolates, etc., this museum is a treasure trove of information. In addition to what the museum complex houses and exhibits, its fine architecture is also worthy of admiration.

Built by architect Gustav Gull in 1898 to honour the 50th anniversary of the Swiss federal constitution, this museum complex is an architectural masterpiece. The neo-Gothic style complex looks like a magnificent castle from afar. With its grand structure, exquisite location, and peerless collection, the museum succeeds to impress flocks of history, architecture, and culture enthusiasts throughout the year.
How to Reach Swiss National Museum (Landesmuseum)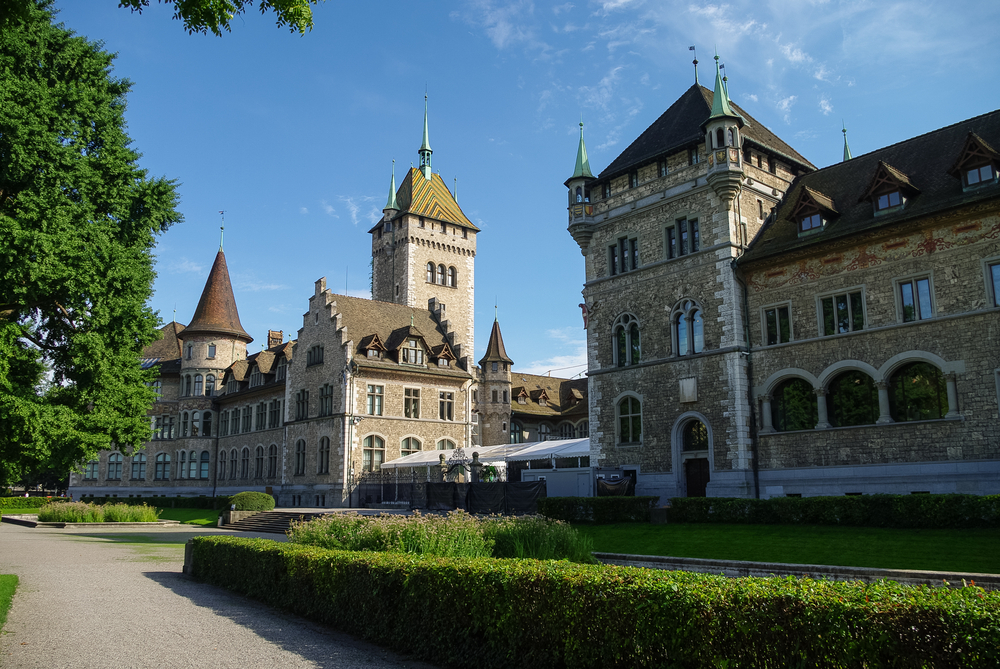 Due to the central location it enjoys, reaching Swiss National Museum from any part of the city is convenient.

By Tram: Board IC5 towards Lausanne from Flughafen Zurich Train Station and alight the train at Zurich HB Main Station. The museum is a 300m walk away from the station.

By Taxi: A private taxi can also be hired to get to the museum from Zurich Airport.

By Bus: You can also get to the museum from Zurich Airport by public transportation buses that run on the route.
What Not to Miss at Swiss National Museum (Landesmuseum)


1. FIFA World Football Museum: A major centre of attraction in Switzerland for soccer lovers all across the world, FIFA World Football Museum packs a wide range of treats for the visitors. The permanent exhibition space at the museum boasts more than 1,000 exhibits, historical photographs, objects, books, and texts educating visitors about the heritage of the sport.


2. Grossmunster: Counted among the most remarkable specimens of Romanesque style buildings in the city of Zurich, The Grossmunster is a Protestant church located close to Swiss National Museum.

If you have a keen interest in architecture, the exemplary building with stained glass windows, bronze doors, and fine interiors is sure to impress you greatly. The vantage tower of the church offers an unobstructed view of the city below.


3. Park Platzspitz: A stone's throw away from Swiss National Museum, Park Platzspitz is an ideal spot for recreation and relaxation in Zurich. The iconic park is set between the Sihl and Limmat rivers, and was transformed into its current state from a pasture.

After a few hours of uninterrupted sightseeing, visiting this park for some peaceful moments in the company of nature is highly recommended.


4. Zoo Zurich: A perfect site for amusement near Swiss National Museum, Zoo Zurich is home to more than 4,000 exotic animals of approximately 380 species. Spread across an area of 27 hectares, the zoo creates a near-natural environment for the habitants.

5. The zoo is divided into various sections: Australian Enclosure, Mongolian Steppe, Aquarium, Pantanal, Zoolino, Masoala Rainforest and Kaeng Krachan Elephant Park – featuring a diverse range of mammals, birds, and reptiles.

Activities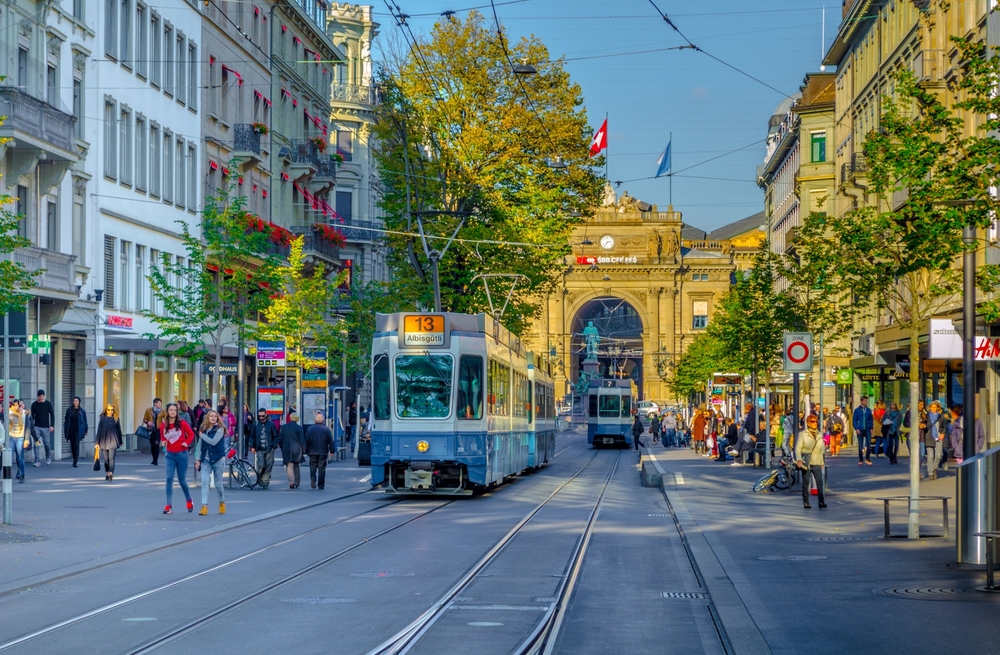 1. Shopping at Bahnhofstrasse: If you are all about shopping, Bahnhofstrasse is a downtown street near Swiss National Museum that you cannot afford to miss. Pronounced as one the most expensive shopping avenues in the world, this street is dotted with boutiques, fashion stores, and art galleries which make it an exciting option for fashion and art lovers.

Besides, you can also find some fine European restaurants around here.


2. Cruising through Limmat: A smooth voyage on the Limmat River passing through the heart of Zurich, a cruise experience here is going to let you peek into the architectural richness of the city. Before you reach the quay in front of Swiss National Museum, the cruise will let you explore the classy old town and its exquisite elements such as Grossmünster and Fraumünster.


3. Party at Street Parade Venue: Street Parade is a spectacular festival celebrated in Zurich during the month of August, attending which is a great way to make your time here all the more special. However, no need to get disheartened even if you are planning a visit to Zurich in some other month.

There are party venues in the locality like the Kaufleuten, the Plaza, the Hive, Café Gold, etc. where you can look forward to spending a fun-filled evening.


4. Stroll Through Botanischer Garten: Nothing beats the idea of spending a lazy afternoon strolling across this sprawling botanical garden, situated 4 km away from Swiss National Museum. Replete with an impressive range of flora species, the garden looks exotic with the three glass domes built in it. Since the garden is rarely crowded, peace and solitude is ensured here.
Other Essential Information About Swiss National Museum (Landesmuseum)


Location:
Swiss National Museum is located at Museumstrasse 2, Postfach, 8021 Zürich
Entry fee: CHF 10 per adult: CHF 8 per child


Facilities: The admission ticket to Swiss National Museum covers the access to the following:


Restrooms


Library


Café


Gift Shop


Distance from Zürich Airport: Swiss National Museum is located at a distance of 10.5 km from Zürich Airport.


History of Swiss National Museum: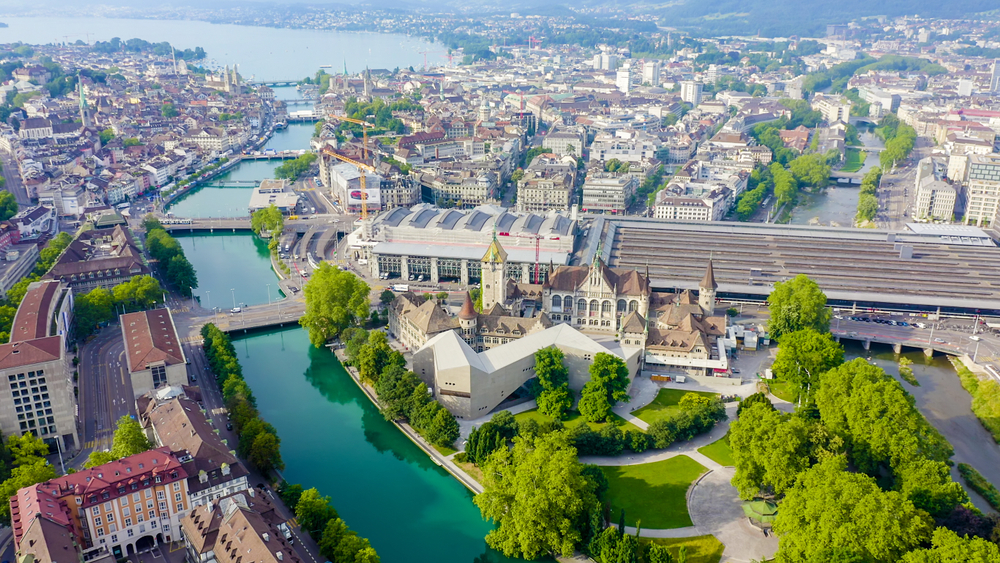 The history of Swiss National Museum is as grand as the aura exhibited by its elegant complex spread across a large area. To mark the 50th anniversary of the Swiss federal constitution in 1898, the exquisite museum was built by Zurich architect Gustav Gull. Since then, the museum complex has been a focal point in the matter of preserving and promoting the rich cultural history of Switzerland. Over this long period since 1898, the museum has seen some remarkable additions to both its structure and collections.

It was claimed that the old structure did not have sufficient space to accommodate the ever growing collections. In 2016, a newly constructed wing of the museum, dedicated to archaeology, was opened for the visitors. With its interactive displays, the archeology exhibition has added further grace to the existence of the museum.
Places to Stay near Swiss National Museum


1. Hotel Montana Zurich: Located at a distance of 500 metres from Swiss National Museum, Hotel Montana Zurich promises a comfortable stay experience whether you are in the city for business or leisure. In addition to clean, airy rooms laced with multiple modern amenities like flat screens, WiFi, and espresso machines, the hotel also features an airy restaurant and a lounge.


2. Garni Hotel Bristol: Best known for its business facilities such as conference hall and WiFi and professional staff offering impeccable services, Garni Hotel Bristol is a nice stay option, just 750 metres from Swiss National Museum.

The perfect location of the hotel enables guests to conveniently access major sightseeing and shopping spots in the city. Cosy rooms are available in various categories and are well-appointed with amenities such as flat screens and hair dryers.


3. Hotel St. Josef: Featuring a range of accommodation options, Hotel St. Josef is located in Zurich's Old Town neighbourhood at a short distance of 1.3 km from Swiss National Museum. While the rooms at the hotel are equipped with amenities such as hair dryer, flat screen, and safe, there is also a fine dine restaurant where you can relish some delectable items from the European Cuisine.


4. Boutique Hotel Wellenberg: Renowned for housing an extensive range of modern amenities like a shared lounge, a courtyard, and a library, Boutique Hotel Wellenberg is a perfect accommodation option close to Swiss National Museum.

The hotel also accommodates a business center which makes it a perfect choice for business travellers. The other noteworthy facilities available here are terrace buffet dining, French Cuisine restaurant, and a sophisticated bar.


Places to Eat at Swiss National Museum


1. Didi's Frieden: Highly acclaimed by food lovers visiting Zurich from across the globe, Didi's Frieden is a fine dining restaurant known for the exotic food palette prepared by the chef Didi Bruna. The menu here has some wonderful offerings from the Swiss-Austrian Cuisine.

2. Panna cotta and beef ravioli along with delectable desserts are the must try items. Decked with black and white interior, the restaurant has a wonderful ambience that promises a memorable dining experience.


3. Casa Ferlin: If you wish to dedicate a dinner to the Venetian Cuisine, Casa Ferlin is the most recommended spot near Swiss National Museum. In addition to the commendable service by the attentive staff, handmade pasta, home-made ravioli, and veal fillet in lemon sauce make this restaurant unskippable for gastronomes in the city.


4. La Soupiere: An unrivaled choice for lovers of French Cuisine as well as regional specialties, La Soupiere is located in the heart of the town. Just a short walk away from Swiss National Museum, the restaurant boasts an elegant ambience, perfect for business dinners as well as dinner dates.

The most palatable delights for the gourmets available here include French Classics, soups, and mousse.


5. Pizzeria Atrio: If you intend to add some unforgettable Italian flavours to your Zurich memories, Pizzeria Atrio is the undisputed best. The extensive menu here features an exotic range of signature pizza and pasta dishes. The dining hall at the restaurant has a tasteful interior with high ceilings and train station setting offering a delightful ambience.

Reasons you should not miss to visit Swiss National Museum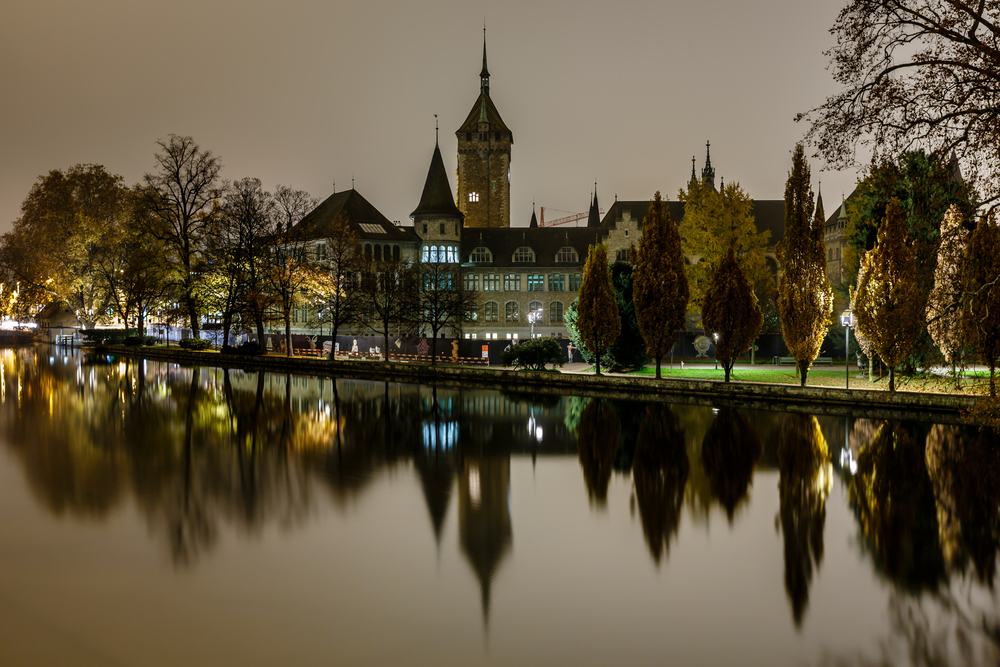 Swiss National Museum has a plethora of factors that make it an unmissable tourist attraction in Zurich, especially for those who are fond of history, culture, and architecture.

1. Exhibitions:
The permanent exhibits at Swiss National Museum are dedicated to document the cultural and historical reforms Switzerland has seen over a period of 550 years. The temporary exhibitions, on the other hand, are mostly focused on current issues.

The galleries at the museum are decked out with huge collections of articles including home crafts, decorative arts, coins, weaponry, arms, and even fashion items, allowing a sneak peek into the cultural history of the region. A stroll through the various galleries of Swiss National Museum is going to enrich you with vast knowledge of Switzerland and its history.

2. Architecture:
The genius and artistry that the Zurich architect Gustav Gull had put in designing Swiss National Museum in 1898 is commendable. A tour of this elegant fairytale-like castle, complex composed of dozens of towers and courts, confirms the brilliance of his architectural mastery.

Its exquisite design that is often called a historical architectural collage of styles beguiles thousands of architecture aficionados every day.

3. Location:
The iconic Swiss National Museum complex is set at the confluence of Sihl and Limmat rivers, thus its scenic location adds a sense of serenity to one's visit. Furthermore, the location of the museum is also perfect for sightseers as it is surrounded by numerous places of interest that include iconic monuments and popular shopping avenues.