About Dhobi Waterfall
Yet another Mahabaleshwar's jewels, Dhobi Waterfall is a magnificent gift from nature. A perfect combination of adventure and tranquillity, the fall is tucked between the lush green trails of Western Ghats. The water streams down into the Koyna river and forms mists and rainbows. It is situated 3 km away from the main town of Mahabaleshwar and it is one of the famous Mahabaleshwar Waterfalls.

The Dhobi Waterfall is a good choice for those seeking a peaceful and thrilling experience. The pathway towards the fall is muddy but the hike is absolutely worth it. The green belt of mountains bursts with the colours of nature. While entering into Dhobi Waterfalls' premises, you will come across various trees, migratory birds, and of course, clear blue skies.

Just a 10-minute drive away from Mahabaleshwar, Dhobi waterfall's location feels fully tropical. Cafe-hopping and picnic planning are one of the most exciting activities near the fall. In contrast with these activities, travellers in search of solitude are also heartily welcomed. The tranquil location regularly attracts foreigners and tourists. The place is also perfect for planning some exotic photo shoots. Don't forget to pack your extra zoom lens!
How to Reach Dhobi Waterfall


By road:
  You can take a local bus or cab from the main town of Mahabaleshwar and reach Dhobi Waterfall. Also, the city is connected to major cities like Mumbai, Pune, etc. with proper routes. The fall is situated 2 km away from Mahabaleshwar Bus Stand.
By rail: There is no direct rail connectivity to Mahabaleshwar. But you can reach Pune by train and then take a bus or cab from there. It will take 3 hours to reach.


By air: The facility of airports is not yet developed at Mahabaleshwar. But you can take a flight to Mumbai, Pune or Nagpur then travel via road to reach Dhobi Waterfall.
Best Time to Visit Dhobi Waterfall
-June to September:  These months constitute a monsoon period of India. It is the best time to visit Dhobi Waterfall as the flow would be at its peak. The beauty of the fall comes alive during this period.

-October to February:  After the monsoon ends, you can visit this place. The flow would be strong and the weather would be pleasant to roam around Dhobi waterfall.
-March to May:  You will experience hot waves during these months. It might be possible that waterfall would be dried up or minimum flow can be observed. It is not a favorable time to explore the Dhobi waterfall.
What Not to Miss at Dhobi Waterfall
 Places to Visit Around Dhobi Waterfall



1. Arthur Seat Point: Set at 1470 m of height, Arthur's Seat is the place which you don't want to miss. Situated 13 km away from Mahabaleshwar, you can visit this place for its serene surroundings and view of the trails of Western Ghats.


2. Mapro Garden:  Famed as the Strawberry Garden, Mapro garden is home to the plantation of juicy and tastiest strawberries. If you are visiting in May, you will be lucky to take part in its 9-day festival where you can find jams, preserves, toppings, squashes, etc. with freshly produced strawberries.


3. Venna Lake: Built-in 1942, Venna Lake is an artificial make. Along with the Pratapsinh Garden, this place was constructed during Shri Appasaheb Maharaj's reign. It is a perfect spot for kids and adults. The lake also offers mini train rides, fishing, and boating facilities for every age group.


4. Elephant's Head Point:  One of the most unique places near Dhobi Waterfall, Elephant's Head point is a relaxing picnic spot. Justifying its name, you can actually spot an elephant's head shaped mountain at this place. From here, you can look over the majestic Sahyadri Range.


5. Mahabaleshwar Mandir:  One of the sacred temples of India, Mahabaleshwar temple is situated almost 6 km away from the main town. This place is popular for its intricately built South Indian architectural style.
Other Essential Information About Dhobi Waterfall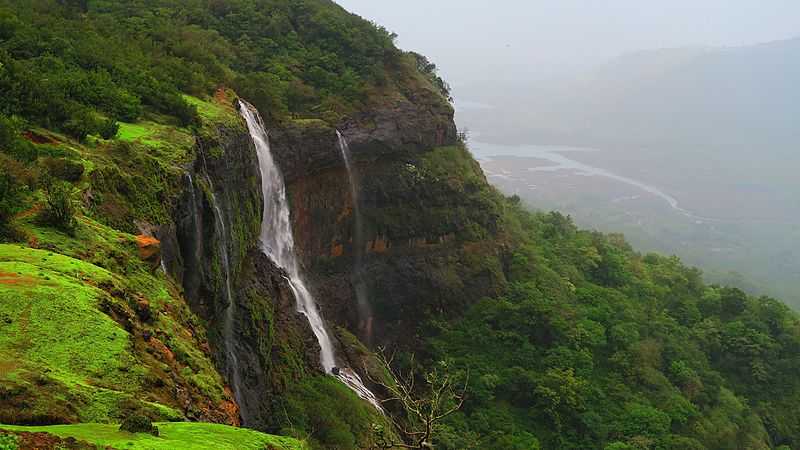 Location:
Connecting Old Mahabaleshwar Road and Petit Road, Dhobi waterfall is located 3 km away from the main town of Mahabaleshwar.

Price:  There is no entry fee required to enter this place but the trip would cost you around INR 350 – INR 500 from Mahabaleshwar.

Timing: Visit during day time for comfortable trekking
Places to Eat Near Dhobi Waterfall
1. The Grapevine Restaurant 

Known for its culinary creativity, the Grapevine Restaurant is famous amongst tourists. Situated in the main town of Mahabaleshwar, the restaurant excels in serving various cuisines. Moreover, this place is known for its fine variety of wines. Parsi and fresh seafood are the USP of this place.  
2. Farmhouse Bistro 
Known for its authentic and aromatic ingredients, Farmhouse Bistro is famous for its fabulous dishes. The bistro is known for picking their ingredients directly from the farm. This Italian restaurant is a perfect choice to relax and spend time with your family. Don't forget to try the mac n cheese pasta!


3. The Sizzler Place 
Famed for its sizzling Chinese platters, Sizzler Place is the first choice of every tourist. The quality and ambience of this food joint are always appreciated. From starters to main course meals, Sizzler Place has a huge variety of dishes.
4. Saayali Restaurant 
If you are looking for warm ambience and lavish surroundings, you should consider your food search on Saayali Restaurant. Known for vegetarian and non-vegetarian food, you will get plenty of options to order.
5. Little Italy Restaurant 
Yes, this is what the name suggests, this restaurant is a replica of Little Italy in Mahabaleshwar. With chic and minimalistic décor styles, this place will not fail your thirst for Italian food. It is set between the tranquillity of Mahabaleshwar.
Travelers' Tip for Visiting Dhobi Waterfall
1.
Try to wear sneakers or comfortable shoes only. The route towards Dhobi Waterfall can be bumpy or rocky.
2. Don't forget to pack sunscreen, mosquito repellants, and wet wipes. These will play a major role in protecting your skin.

3. Carry an extra pair of clothes for any emergency.

4. Don't step out of the limits. Any wrong turns or careless step can lead to injury or an accident.

5. Try to visit during proper sunlight and avoid exploring after dusk. It can be dark and dangerous for you.

6. Packing glucose or energy drink is a must while exploring Dhobi waterfall. There aren't many services around the fall, so be prepared beforehand