About Auro Beach
Auro Beach, better known as Auroville Beach, happens to be one of the top and most frequented beaches of Pondicherry. Located at a distance of around 10 kilometers from the well-known Auroville Ashram, this beach is actually a major part of the ashram. Auro beach propels thousands of local as well as tourists each day to indulge in the various beach activities and get intoxicated by the tranquil and serene environment of the place. With a limited number of shacks, this beach has been well-maintained by the ashram and its calm atmosphere has not been tampered by human encroachment and modernization. 
The waters of Auro Beach experience low tides and hence invite swimmers and water sports enthusiasts to have a great time enjoying some hair-raising water activities. The beach also offers a nice view of the very popular Auroville lighthouses. There are a host of good restaurants, resorts, guesthouses, and hotels at and near the beach, making the destination a perfect place to have a wonderful beach vacation.

People usually prefer visiting the beach during the morning and evening in order to catch a glimpse of the beautiful and picturesque sunrise and sunset sight. That being said, having night outs is not allowed on the beach and visitors need to leave the place immediately after sunset. Auro Beach can be your kind of destination if you are a peace and tranquility seeker. The beach is a nice destination for families and couples who want to unwind and spend some quality time in a quiet and peaceful setting.
How to Reach Auro Beach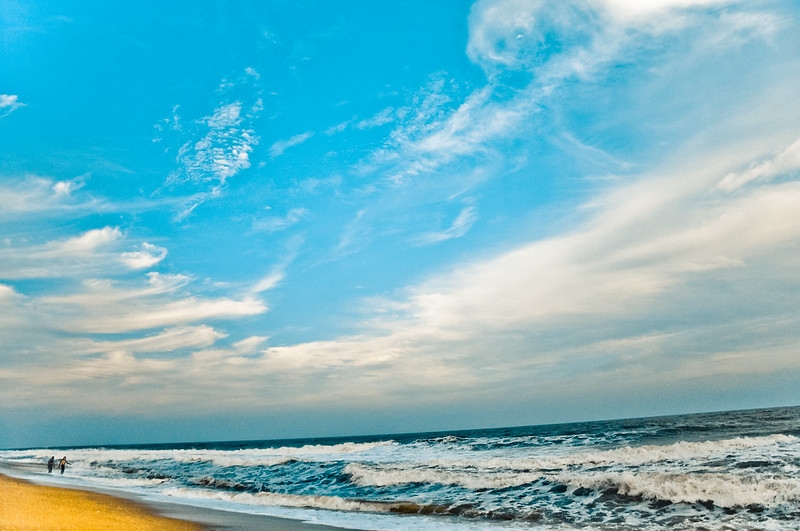 Located at an approximate distance of around 9.8 kilometers from the primary bus stand of Pondicherry, Auro Beach is well-connected to the spot. Once you reach the bus stand, you can easily take a local bus or an auto-rickshaw to get to the beach in just 20 to 25 minutes.
Best Time to Visit Auro Beach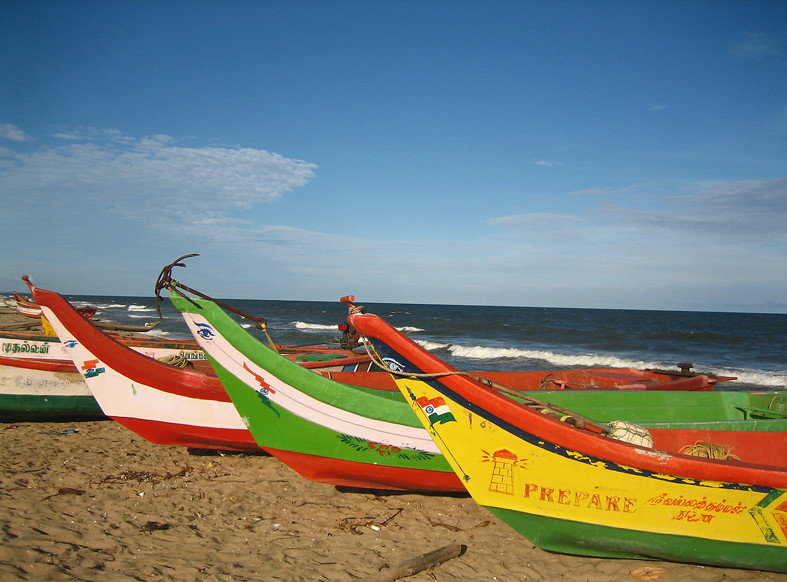 Although Auro Beach appears inviting throughout the year, the winter months from October to March is generally considered as the best time to visit the beach. 

Summers (March to June): The summer months tend to be very humid and hot with the highest temperature going up to 44 degrees. If you are visiting Auro Beach in summers, it is advisable to avoid going to the beach during the afternoon as it is too sunny at the beach at this time.

Rainy (June to October): Monsoons bring heavy rains to this place and do not really encourage tourists to pay a visit to the beach. 

Winters (October to March): The winter months make for an ideal time to visit Auro Beach and experience the plethora of exciting activities the place has to offer. Hence, if you are planning to visit this beach in Pondicherry, it is highly recommended to head to the place during winters.
What Not to Miss at Auro Beach



1. Auroville- Located at an approximate distance of around 9.9 kilometers from Auro Beach, Auroville was established in the year 1968. It is a township where individuals of different nationalities, religions, case, and race live peacefully. At present, more than 2,800 individuals from more than 195 different countries live officially in this township.

Known as the symbol of peace and tranquility, this destination is famous for Auroville Ashram and its own interesting architecture. The whole city is carefully surrounded by an area of green belt that safeguards the place against urbanization and human encroachment. Auroville is one such place in India that showcases how nature can be conserved without compromising development.   

2. Matrimandir- Known for its spiritual significance, Matrimandir is one of the major attractions of the town of Auroville. Belonging to no specific sect or religion, it is a perfect place for meditating and obtaining peace. Surrounded by a total of 12 lush gardens, the elegant golden dome of Matrimandir propels a huge number of tourists to visit Pondicherry town. A beautiful viewpoint is built in proximity to the structure, which provides a beautiful panoramic sight of the breathtaking Matrimandir. 

3. Botanical Garden, Auroville- The famous Auroville Botanical Garden was developed for celebrating and conserving the diversity and beauty of nature. This beautiful botanical garden spread across an area of around 44 acres shelters 15 lush gardens and 250 different species of trees.

This calm and peaceful zone filled with greenery provides a rejuvenating and serene atmosphere to visitors to relax and admire nature. The botanical garden also has a plants shop that sells samplings of umpteen varieties to the people visiting the place. 

4. Bodhi Beach- Located at a distance of around 4.4 kilometers from Auro Beach, Bodhi Beach offers a serene atmosphere to stroll along the shoreline and relax at leisure. The clear water of this beach is beautiful enough to attract visitors for surfing and swimming. Situated at a proximate distance to the primary town of Pondicherry, this 24/7 open beach happens to be an ideal hub for experiencing a soothing beach holiday. 

5. Auroville Bakery and Boulangerie- Situated at an approximate distance of about 3.8 kilometers from Auro Beach, Auroville Bakery and Boulangerie is counted among the top bakeries in Pondicherry. This bakery cum café is known widely for its delicious products, reasonable rates, and beautiful setting amidst a lush green garden.

6. Surfing and Swimming- Since the water of Auro Beach hardly experiences any high tides and is not much deep, it calls the adventure junkies to carry out water activities like surfing and swimming.

The water of this beach is suitable for both inexperienced as well as expert swimmers and surfers. So, on your trip to Auro Beach, do not forget to indulge in experiencing thrilling and tranquilizing water activities that promise to cater perfectly to your adrenaline rush.

7. Strolling and Photography- As Auroville Ashram has maintained this beach perfectly and safeguarded it against urban encroachment, Auro Beach offers a calm and peaceful environment. With less rush and chaos, this serene atmosphere is apt for taking a nice morning or evening stroll along its shoreline.

Furthermore, the breathtaking beach scenery also propels a host of photo fanatics each day to indulge in photography. Visitors flocking to the beach make it a point not to miss out on capturing the stunning sunrise and sunset views.

8. Yoga and Meditation- As Auro beach does not have too many shacks and stalls on its shore and does not feature a noisy atmosphere, it is just perfect for carrying out peaceful activities like yoga and meditation. People flock to the beach early in the morning and take their positions in the tranquil atmosphere to meditate and carry out various yoga asanas. Meditating and doing yoga at the beach helps in rejuvenating the body from within and filling up the mind with fresh and positive thoughts.

9. Shopping- At a proximate distance of just a few kilometers from Auro Beach, you can find Auroville Main Road Market. People visiting the beach never miss out on shopping their heart out in this famous market. The market in Auroville has a plethora of stalls and shops selling umpteen varieties of products such as linen and khadi kurtas, ethnic jewelry, local handicrafts, trinkets, and décor items. Priced at very cheap prices, these local items can make awesome souvenirs for tourists visiting Pondicherry.  

10. Café Hopping- Pondicherry is known popularly for its plethora of beautiful and cozy cafes. Tourists visiting Auro Beach can find a host of good and inviting cafes located at proximity to the beach. Some of the top cafes you can hop to after spending a good time at the beach are – The Greek Café, Bread & Chocolate Café, Moka Café, Café Restaurant Le 2018, Veganza Café, Café Ole, and Marc's Café. 
Other Essential Information About Auro Beach


- Location: Auro Beach is located at a distance of around 12 kilometers from the heart of Pondicherry town. 

- Address: Bommayapalayam, Pondicherry 605101

- Timings: Auro Beach is open for visiting from 6 AM to 6 PM throughout the week.

- Entry fee: There is no entry fee to visit Auro Beach.

- Visitor's Facility: Auro Beach offers its visitors the opportunity to try thrilling water sports. In addition, there are a plethora of good resorts near the beach where tourists can check-in and relax for the day.

- Parking Facility: No dedicated parking lot is available at Auro Beach. 

- Distance from Pondicherry bus stand: Auro Beach lies at an approximate distance of about 9.8 kilometers from the main bus stand of Pondicherry. It generally takes around 25 minutes to reach the beach from here.


Highlights of Auro Beach


1. Auro Beach is an integral part of Auroville Ashram and is maintained by the management of the ashram.


2. Auro Beach is known for its soft, golden-colored volcanic sand and tranquil and peaceful atmosphere.


3. The shallow and clear water of the beach welcomes novice as well as expert swimmers and surfers to try some water activities and satisfy their cravings for thrill and fun.


4. The noiseless environment, gentle breeze, and colorful shells and shingles deposited here make the beach incredibly appealing. 


5. Auro Beach has a very limited number of shacks selling snacks and beverages on its shore.


6. No visitor is permitted to stay on the beach after sunset and you have to wind up from the place by 6 PM sharp.


7. Auro Beach also invites people to experience sunbathing, yoga, and meditation.


8. The beach is ideal for peace seekers, honeymooners, experience seekers, and photo fanatics. It is also suitable for kids.

Water Sports at Auro Beach


Auro Beach offers its visitors an ample amount of opportunities to indulge in tranquilizing water activities. Its untouched beauty and crystal clear and shallow waters make the beach an ideal hub to try out various exciting water sports. Tourists visiting Auro Beach can experience water activities such as swimming and surfing.

One of the biggest advantages of trying surfing in the waters of this beach is that since it is not very deep, the water is suitable for both amateur as well as seasoned surfers. Moreover, highly trained and experienced instructors present at the beach provide expert guidance to visitors so that they can have a truly memorable experience trying the different water activities available at Auro Beach.


Places to Stay Near Auro Beach 


1. Le Aham- 
Located at a distance of about 0.8 kilometer from Auro Beach, Le Aham happens to be an authentic boutique hotel. Their diligently organized and clean accommodation coupled with great hospitality and infrastructure, makes the hotel a best pick for tourists. In addition to well-equipped and spacious rooms starting from INR 2000/night, Le Aham also has an in-house restaurant.  

2. White Pearl Residency-
Situated at a distance of around 1.2 kilometers from Auro Beach, White Pearl Residency is a classy hotel that invites families and business personnel. With well-equipped and royal rooms, the hotel also shelters meeting rooms and an in-house restaurant. Promising to offer the guests a comfortable and convenient stay, the rooms at White Pearl Residency start from INR 2700/night.

3. Shenbaga Hotel & Convention Centre-
Located at a distance of about 5.9 kilometers from Auro Beach, Shenbaga Hotel & Convention Centre offers a luxurious business class accommodation. Featuring premium rooms, a swimming pool, a gym, meeting rooms, a spa, a bar, an in-house restaurant, and a banquet room, it happens to be the biggest and tallest hotel in the town of Pondicherry.  

4. Lamel Cove Beach Resort-
Situated at a distance of around 1.0 kilometer from Auro Beach, Lamel Cove Beach Resort happens to be a clean and beautiful beachside resort. The hotel is blessed with pool view rooms and suites starting from INR 2200 per/night.

Places to Eat At/Near Auro Beach

1. Mango Hill Restaurant-
Located at a distance of around 0.4 kilometers from Auro Beach, Mango Hill Restaurant is an amazing countryside restaurant serving Indian, French, and European cuisines. Specializing in Grilled Fish, Smoked Fish, Dried Ham, this restaurant invites guests for breakfast, lunch, and dinner. In addition to delicious food, Mango Hill Restaurant also serves good alcoholic beverages.   

2. Goodman Restaurant- 
Situated at an approximate distance of 0.9 kilometers from Auro Beach, Goodman Restaurant specializes in Indian, Chinese, and Asian cuisines. This vegetarian-friendly restaurant welcomes guests mainly for breakfast, lunch, and dinner. The food outlet is known for its delicious food, prompt service, and budget-friendly rates.

3. Theevu Plage- 
Located at a distance of about 2.4 kilometers from Auro Beach, Theevu Plage is a popular restaurant offering delicious seafood in Pondicherry. This amazing restaurant is known for its lip-smacking food, courteous staff, reasonable rates, and lovely atmosphere. Specializing in European cuisine, Theevu Plage is a recommended visit during your stay in Pondicherry. 

4. Roma's Kitchen- 
Situated at an approximate distance of 1.2 kilometers from Auro Beach, Roma's Kitchen is a decent restaurant offering good Indian food. This vegetarian-friendly and reasonably-priced restaurant can be a very good pick for lunch and dinner in Pondicherry.

Tips Before Visiting Auro Beach 



1. Auro beach does not have a good number of shacks. Hence, it is suggested for visitors to carry their own water bottles and food. 


2. Consider taking a local bus rather than an auto for traveling cost-effectively to Auro Beach.


3. Do not litter the beach as it spoils its appearance, affects the wonderful environment, and harms marine animals.


4. Carry a camera to take pictures of the beautiful sunset at the beach.


5. If you're indulging in water sports at the beach, make sure you wear the safety gear and follow all the instructions.