About Puja Mandala
Of all the religious places in Bali, Puja Mandala is an exquisite exception. Residing in Jalan Nusa Dua, Puja Mandala is the most popular one to visit. This place depicts the tolerability of Indonesia's diverse culture and is spread over 2 hectares. Built-in 1997, this landmark was inaugurated by Tarmizi Taher, former Minister of Religious Affairs. Puja Mandala comprises of edifices of five religions - Agung Ibnu Batutah mosque, Pura Jagatnatha Balinese Hindu temple, Maria Bunda Segala Bangsa Catholic Church, and Vihara Buddha Guna.

Each of the structure is built with intricate architectural work and finest carving have been done. All of these are standing side-by-side and providing different puja services. Puja Mandala is a prominent part of Bali. Outside its premises, some shops are available for buying Puja offerings. It is widely believed that certain rituals are incomplete without puja offerings. At the different edifices established in Puja Mandala, you can discuss with local priests about these offerings and how to participate in the rituals. At Puja Mandala, you will come across a variety of things to see.

Each of the edifices holds a special and unique factor. In the mosque, an antique prayer and handwritten Quran have been established according to the rituals. Likewise, in the Protestant church, they provide worshipping service in English and Bahasa Indonesia. The exceptionality of Puja Mandala is that anyone, regardless of their backgrounds, can visit and participate in the rituals of these different religions.
How to Reach Puja Mandala


The nearest airport from Puja Mandala is Ngurah Rai International Airport and it is situated almost 12.7 km away. For reaching Puja Mandala, you can hire a taxi which will take 25 minutes. Or, you can book cab which is a common mode of transport in Bali.

Also, you can rent a scooter for reaching Puja Mandala. Tourists usually prefer this mode for exploring Bali's localities. Moreover, Puja Mandala has a spacious parking area too which provides convenient parking facilities.
Best Time to Visit Puja Mandala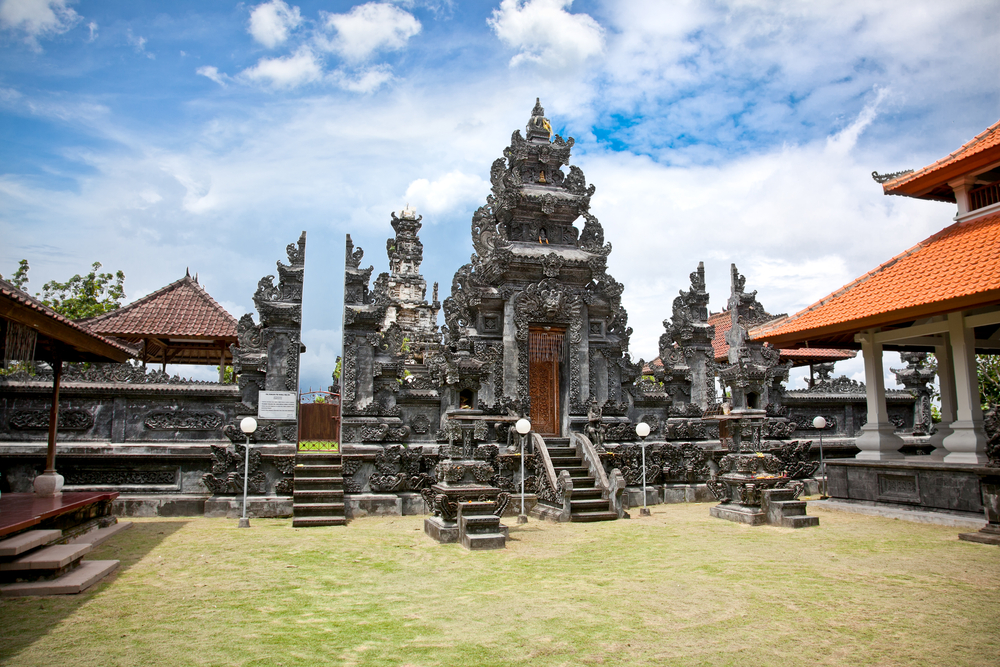 May to October – Tourists usually consider these months as the best time to explore Puja Mandala. These months are considered as dry months of Bali. The weather would be hot but favourable for exploring Puja Mandala easily. 
November to April – Rainy season in Bali occurs from November to April. Exploring Puja Mandala during these months isn't convenient. You will witness rainfall during this time and also humid weather.
What Not to Miss at Puja Mandala
Places to visit near Puja Mandala 


1. Nusa Dua Beach – To experience the perfect mix of adventure and peace, visit Nusa Dua Beach. This beach is quite famous amongst tourists due to the commercial factor. While some usually prefer to stroll after dusk for cherishing the different colours of the skyline.

2. Pasifika Museum – Explore the art and cultural beauty of Bali at Pasifika Museum. This museum is home to 600 artworks curated by 200 artists from at least 25 countries of Asia Pacific. Pasifika Museum's premises consist of 8 pavilions, 11 main display rooms, and these are divided according to various regions. 

3. Serangan Island – Yet another exotic island in Bali, Serangan Island is situated in South Denpasar. Due to a hatchery for green turtles, it is also called Turtle Island. Moreover, the island features a mangrove forest, Sakenan Temple, or participate in fishing or surfing. It is a perfect place for every age group with a plethora of things to do.

4. Water Blow – One of the most unique sites of Bali can be seen at Water Blow. Here, you will observe the splendid beauty of huge ocean waves crashing on the limestone cliffs. The place attracts a huge number of photographers for clicking the best shot of their life. To reach this place, follow the sign boards along the Nusa Dua promenade.

5. Pirates Bay Bali – You guessed it right, this place is a pirate-themed open-air café and restaurant. Pirates Bay is completed with the help of treehouses, desert tents, an abandoned ship and fun treasure hunts for kids and adults. You can visit this place between 10 am to 9 pm and enjoy the day outing package.

6. Garuda Wisnu Kencana Cultural Park – Embrace the culture of Indonesia at Garuda Visnu Kencana Cultural Park. This place is home to a splendid Garuda Visnu statue showcasing Indonesia's great artistic heritage. Along with that, you will come across Segways, restaurants, souvenir shop, and an art market on the premises.
Other Essential Information About Puja Mandala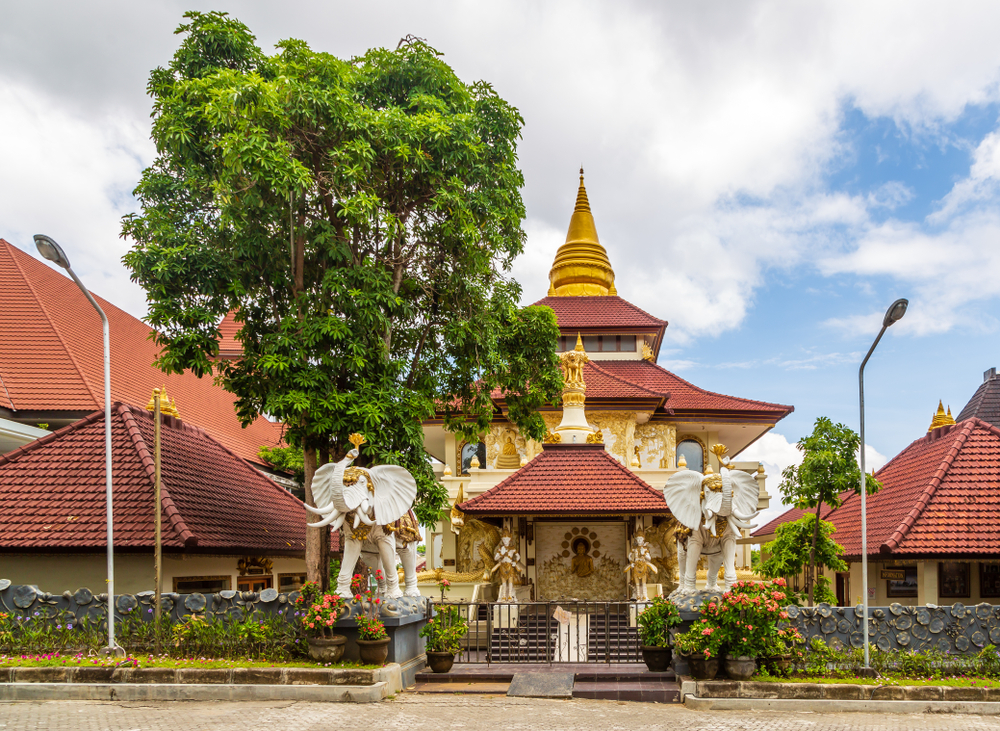 -Location: Puja Mandala is situated in Jalan Nusa Dua, Kuta Selatan, Benoa, Kec. Kuta Sel., Kabupaten Badung in Bali, Indonesia.

-Timings: For visiting this holy place of worship, you come to this place between 8 am and 4 pm.

-Price (for locals and foreigners): Puja Mandala is free to visit.


Tips for Visiting Puja Mandala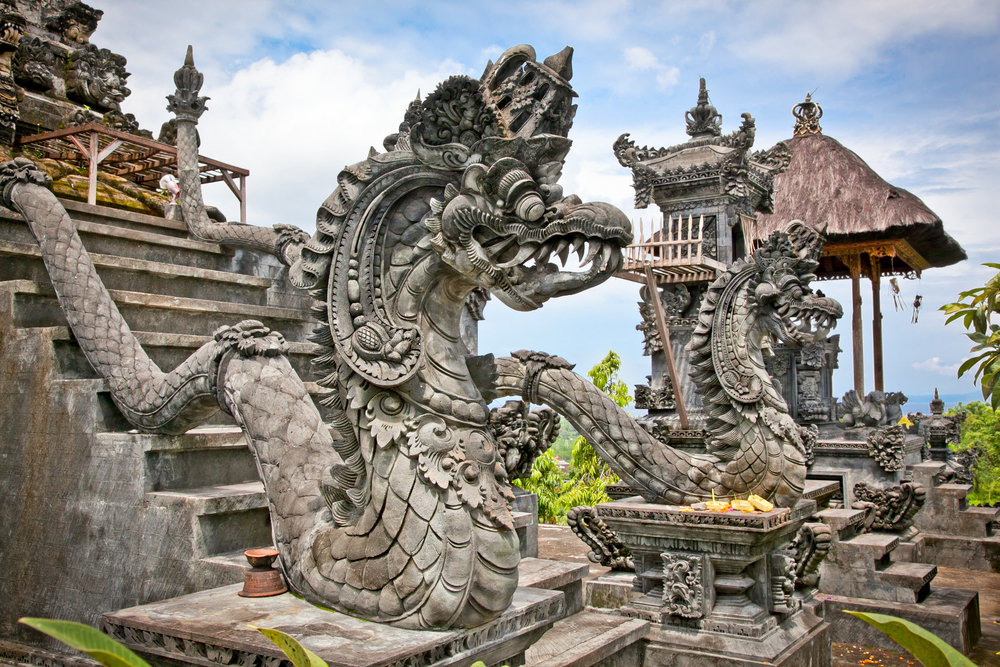 1. Dress modestly and style your hair properly. Cover your shoulders and part of the upper arms. It is believed that cultural heritage must be preserved physically and spiritually.


2. Kain Kamben (Sarong, around your legs) and Selendang (Temple scarf, around your waist) is mandatory for visiting Balinese temple.


3. If you are bleeding (regardless of gender) or menstruating, then it is considered impure and is not allowed inside any Balinese temple. 


4. Take off your shoes before entering any holy space of Puja Mandala.


5. Clicking photographs are certainly not allowed under the temple's premises. Consult with the local priest before clicking any. 


6. You can buy holy offerings for indulging in puja services of different kinds. 


7. Don't interrupt any religious processions. Avoid causing a ruckus of interfering in any kind of religious matters. 


8. Learn about the five holy places' rituals - Agung Ibnu Batutah mosque, Pura Jagatnatha Balinese Hindu temple, Maria Bunda Segala Bangsa Catholic Church, and Vihara Buddha Guna. A slight knowledge of the rituals will help in understanding the holy practices and diverse cultures.


9. Plan your visit according to the special ceremonies that happen in these holy places. It is the best time to witness the beauty of different cultures.