About Nyaman Gallery
Nyaman Gallery is a popular contemporary art gallery in Bali, Indonesia. Located in the beach resort area of Seminyak, this art gallery is frequently visited by both art lovers and tourists. Nyaman Gallery curates and features the work of both local and international artists. They aim to give a platform to emerging artists who work with various art styles and techniques.

Nyaman Gallery showcases various forms of art, including painting, photography, and traditional art. Their collections include traditional headdresses, ornate decorations with detailed carvings, and wooden hair combs that are pieces of art. The gallery also encourages handmade art with beads & feathers, wood, stone, bones & shells, and bronze and other metals. What makes the gallery visit interesting is that the gallery authorities are constantly curating new artists and their work. As a result, the gallery exhibits are also constantly changing. Every time you come back to the gallery; you'll find new objects to study.

The gallery has been carefully segregated into various sections with independent mood lighting. This gives visitors a chance to concentrate on each section, and study each artefact in detail. The gallery was built by the French International luxury tourism group, Nyaman, in collaboration with Nyaman Villas and Nyaman Boutique. Nyaman Gallery is the ideal place to spend an entire day, studying and understanding the rich culture of Bali. Exhibiting a unique range of artworks, you will find everything from street art to photographs printed in alternative methods, from one-off blow glass pieces to handmade silver jewellery, and from tribal wood carvings to figurines carved in bone.

While visiting the Nyaman Gallery you can also visit other art galleries and museums like Museum PASIFIKA that is known for Asian Pacific art, and Purpa Fine Art Gallery, another gallery that encourage and exhibits upcoming local artists.
How to Reach Nyaman Gallery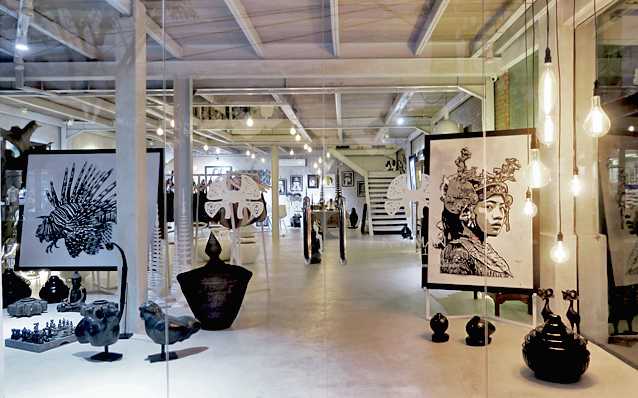 Nyaman Gallery can be easily reached by road from the airport. Located in Seminyak, Ngurah Rai International Airport in Bali is the closest airport. Once you land at the airport, take a local bus or hire a cab for Seminyak. On reaching Seminyak, you can either walk to the gallery or hire a car.

The gallery is just 750 m from the stand. Take a 10 minute leisurely walk or get into a cab and reach the gallery in under 6 minutes.
Best Time to Visit Nyaman Gallery


June, July and August are the best months to visit Seminyak. Since these are the driest and most pleasant months, you can easily step out for sightseeing. Late afternoon or early evening are the best times to visit the Nyaman Gallery.

These are the ideal times to avoid the locals and tourists who visit the gallery on a regular basis. Give yourself enough time to concentrate on their carefully curated exhibits instead of rushing through it all.
What Not to Miss at Nyaman Gallery
Places to visit near Nyaman Gallery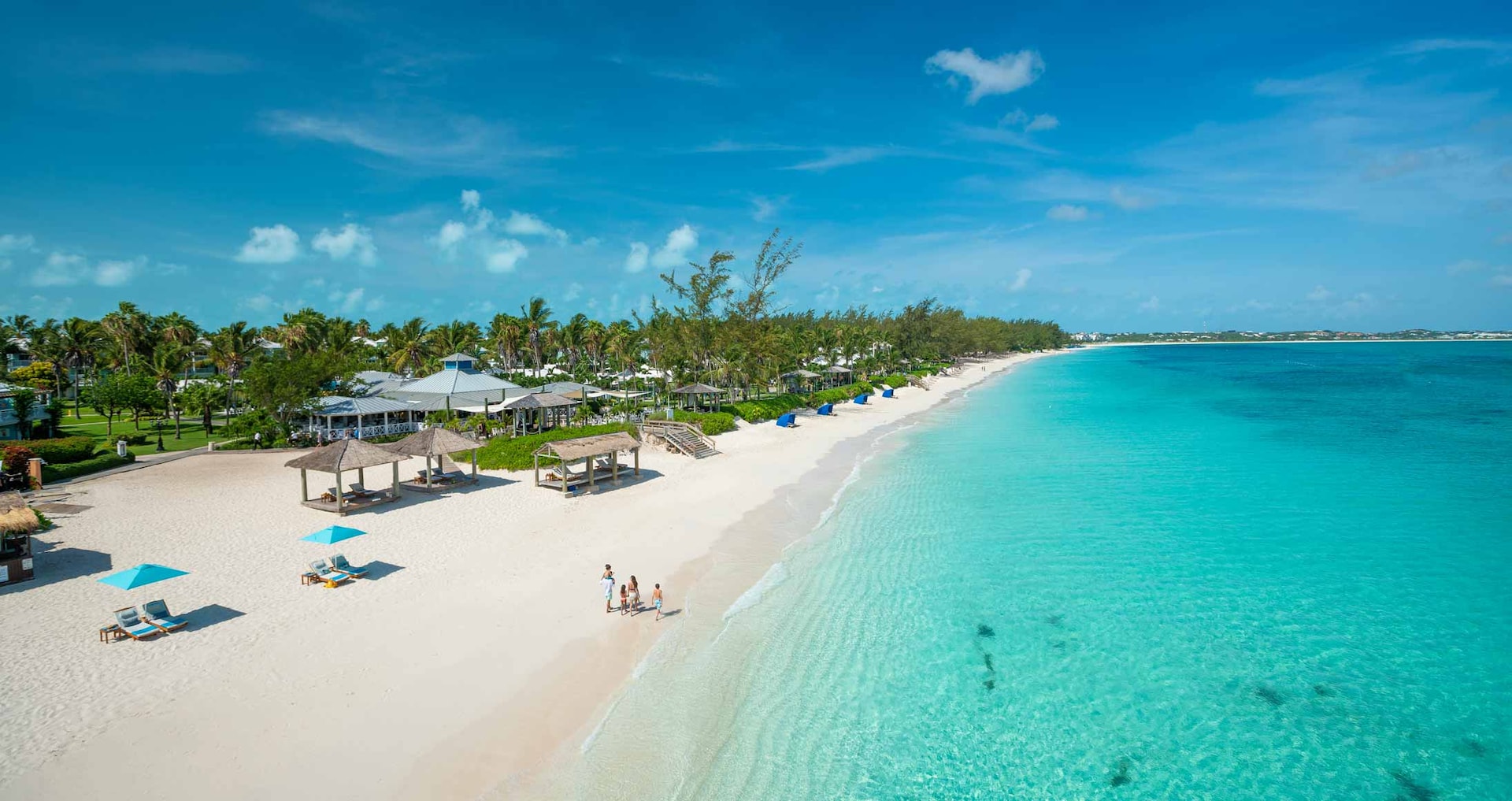 Nyaman Gallery is close to a number of popular tourist spots and activity centres. Sandy beaches, adventure sports, water parks, temples with local legends, and natural beauty, there is something for everyone.

1. Double Six Beach- This sandy beach is ideal for relaxation and water sports for beginners. Beach umbrellas are available for hire. If you are looking for some adventure, then hire a surfboard for your first surfing lesson. You can also go snorkelling and scuba diving.

2. Totem Room Escape- Get your own version of The Amazing Race. Totem Room Escape is best enjoyed with friends. Get locked in a room and solve a series of puzzles to find your way out. This is an ideal way to get some adventure without venturing out into the sun.

3. Adventure Scuba Diving- If this is the first time you are going scuba diving, Adventure Scuba Diving is the best place to start. Go underwater with a trained instructor and discover the many wonders of the underwater world. We recommend prior booking.

4. Masceti Temple- This is not an ordinary temple. One of Bali's nine directional temples, locals believe that Masceti guards the island from evil sea and forest spirits. Legend has it that Masceti Beach was formed after a lover's tiff between Lord Vishnu and Goddess Lakshmi. So, if visit Masceti Temple and miss its sister beach, Saba Beach, your love is bound to fall apart. We say, don't risk it.

5. Waterbom- Spend time with family and friends at this amazing water park. With rides meant for all age groups, Waterbom is a must-visit. The place also has a number of dining outlets to choose from. The swim-up bar serving tropical drinks is a major attraction.

6. Upside Down World- Ideal for those Instagram pics, Upside Down World is set with various upside-down scenes. The furniture is set on the ceiling, giving you the perfect opportunity for some whimsical, crazy holiday pictures.

7. Seminyak Beach- Bali's most upscale and stylish beach, Seminyak Beach attracts tourists all year round. Loungers and umbrellas are available for hire to give you the most relaxed holiday experience. The beach also enjoys a lively night scene with bars on the beach. Reach early to grab the best spots.

8. The Flea Market- Don't mistake this for one of those flea markets that sell second-hand stuff. The Flea Market is your one-stop destination for buying local handicrafts, artworks and souvenirs. The market also has restaurants that offer food and drinks at prices that won't burn a hole in your pocket.

9. Bali Sea Turtle Society- The Bali Sea Turtle Society actively works with local people to protect the six endangered sea turtle species found in the area. They also conduct regular programs and workshops to create awareness.

10. Bali Bird Park- Spread over 2000 square meters, the Bali Bird Park is home to more than 1000 birds from over 250 species. This is the best place to witness the largest collection of Indonesian birds, along with some interesting birds from Africa and South America.
Other Essential Information About Nyaman Gallery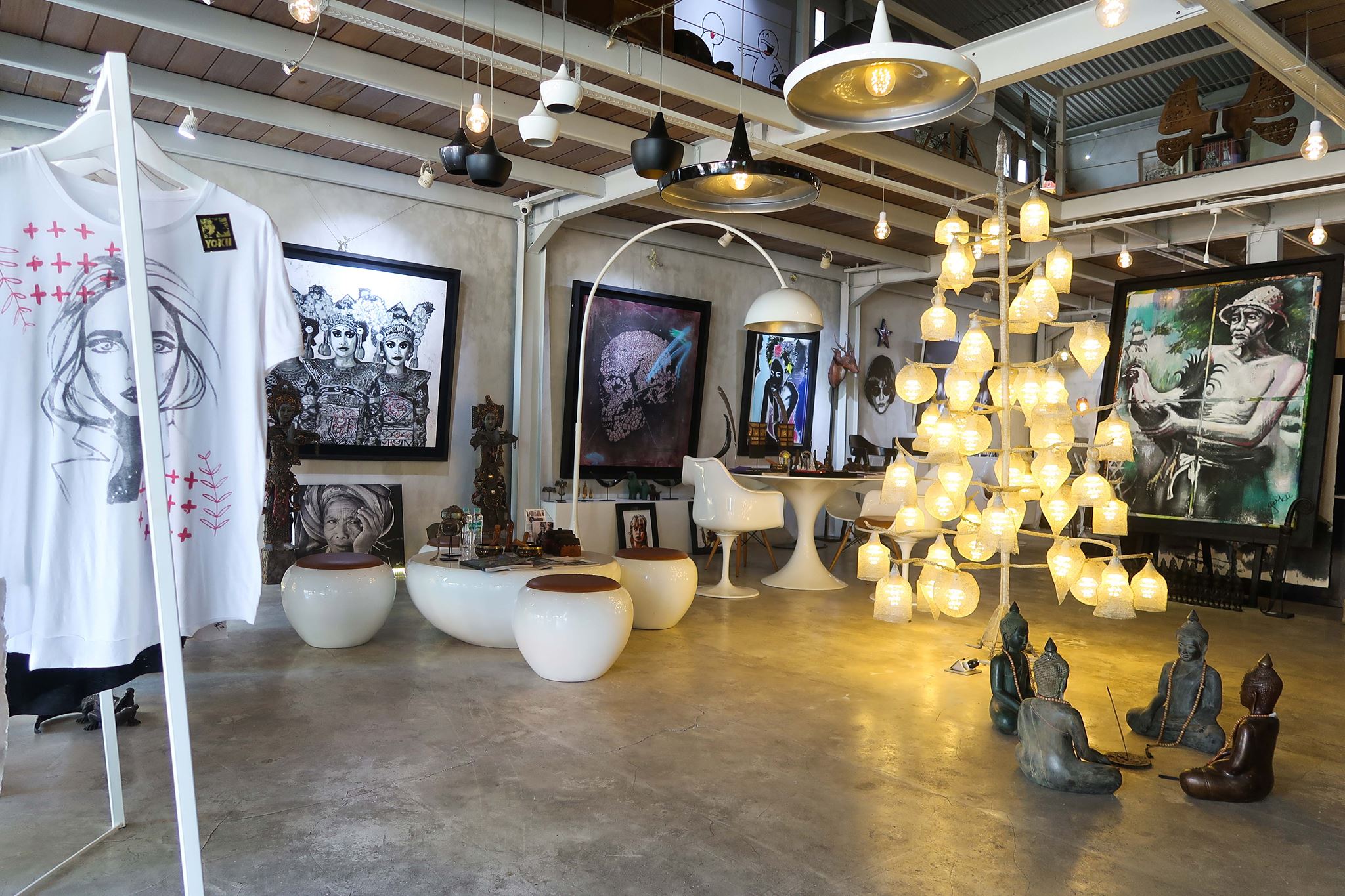 - Location: Jalan Raya Basangkasa, No.88 Seminyak Kuta, Seminyak, Badung, Kabupaten Badung, Bali 80361, Indonesia

- Timings: Nyaman Gallery is open from 9 am to 9 pm on all seven days

- Price: There is no entry fee for the gallery

- Exhibits at Nyaman Gallery:
The Nyaman Gallery has a number of exhibits by local and international artists. They also exhibit traditional art forms and artefacts.

Artists at the gallery


Works by the exhibited artists can be purchased and new work can be commissioned. The gallery takes full responsibility of getting the work delivered.

1. Quint-
A graffiti street artist, Quint's work is inspired from Goddess Venus. His work feature monochromatic women with witty gestures. His aim is to spread the message of love.

2. YOKII-
YOKII experiments with textures. From fabrics to recycled plywood, YOKII works with all kinds of material. Don't miss out his T-shirt collection. Each piece is one-off and hand made by the artist himself.

3. Yoga Raharja- 
Yoga has extensively photographed the ceremonies of the ancient religions of Java and Bali. He has also covered bull races, musical performances and other cultural events.

4. Stephan Kotas- 
This photographer specialises in tintype prints, an ancient form of photo printing where the print is taken directly on a thin sheet of metal. His limited-edition signed art prints are exclusively available at the gallery.

5. Mersuka Dopazo-
Mersuka's exhibits at the Nyaman Gallery are a result of her collaboration with fashion designer Teresa Calderon. Large scale collages are painted on fabrics designed by Teresa. All the works explore the balance between the positive and the negative.

Traditional art works


The Nyaman Gallery exhibits traditional artworks made of beads, feathers, wood, stones, bone and metal. Asian art and handicrafts are the main highlight of this section. From traditional headgear made of feathers to figures made by carving on bone, you will find all kinds of Asian art forms here. 


Glass exhibit- 
This is the best place to see one-off, blown glass figures and artefacts. Made with the ancient art of blowing glass into various shapes and objects, no two pieces are alike. Glass utensils made for exclusive use to complicated figures for decoration, everything is on display.

Tips for visiting Nyaman Gallery


1. Do not touch any of the exhibits


2. Trained guides are present all over the gallery. Reach out to them for any query about the exhibits


3. All exhibits are not open for photography. Enquire before you click


4. Artist exhibits are open for sale. Enquire with the authorities if you are interested to buy anything


5. Keep 2-3 hours aside to view the entire gallery and all the exhibits


6. The gallery regularly curate new artists. Check with the gallery authorities to find out about new artists and exclusive exhibitions


7. Food and drinks are not allowed inside the gallery. People flouting the rules may be requested to leave