About Eat Street Seminyak
Resting amidst the vibrant streets of the famous island of Bali lies the Seminyak's Eat Street is a road which is located at a distance from the upmarket beach clubs. This is one of the most famous areas to find some of the locally famous restaurants and bars. Out of all the locations in Seminyak, this is one of the most popular places for bar hopping and experiencing the nightlife of Bali.

Stretched across the area of Jl Raya Seminyak to Jl Kayu Aya till the Jl Raya Petitenget, this street is a haven for the culinary enthusiasts. The dining places at this street are endless and the foodies out there can find a wide range of food options. Starting from the traditional Balinese food to the authentic Italian and Japanese cuisines, there is a lot to explore.

From the fancy and chic restaurants to the hip bars and cafes, the food enthusiastic travelers can find a wide array of places to eat. This is considered to be the first area in Bali which has laid the food culture on the island. The Eat street is also called the 'Jalan Laksman' and 'Jalan Oberloi' in Seminyak.

Surrounded by the wall-to-wall blue taxis and scooter which clogs up this narrow strip in Seminyak, the eat street is truly a haven for the enthusiastic foodies. To know more about the Eat Street Seminyak, here is a handy guide which will give an insight into some of the best places to eat and popular things to do around.
How to Reach Eat Street Seminyak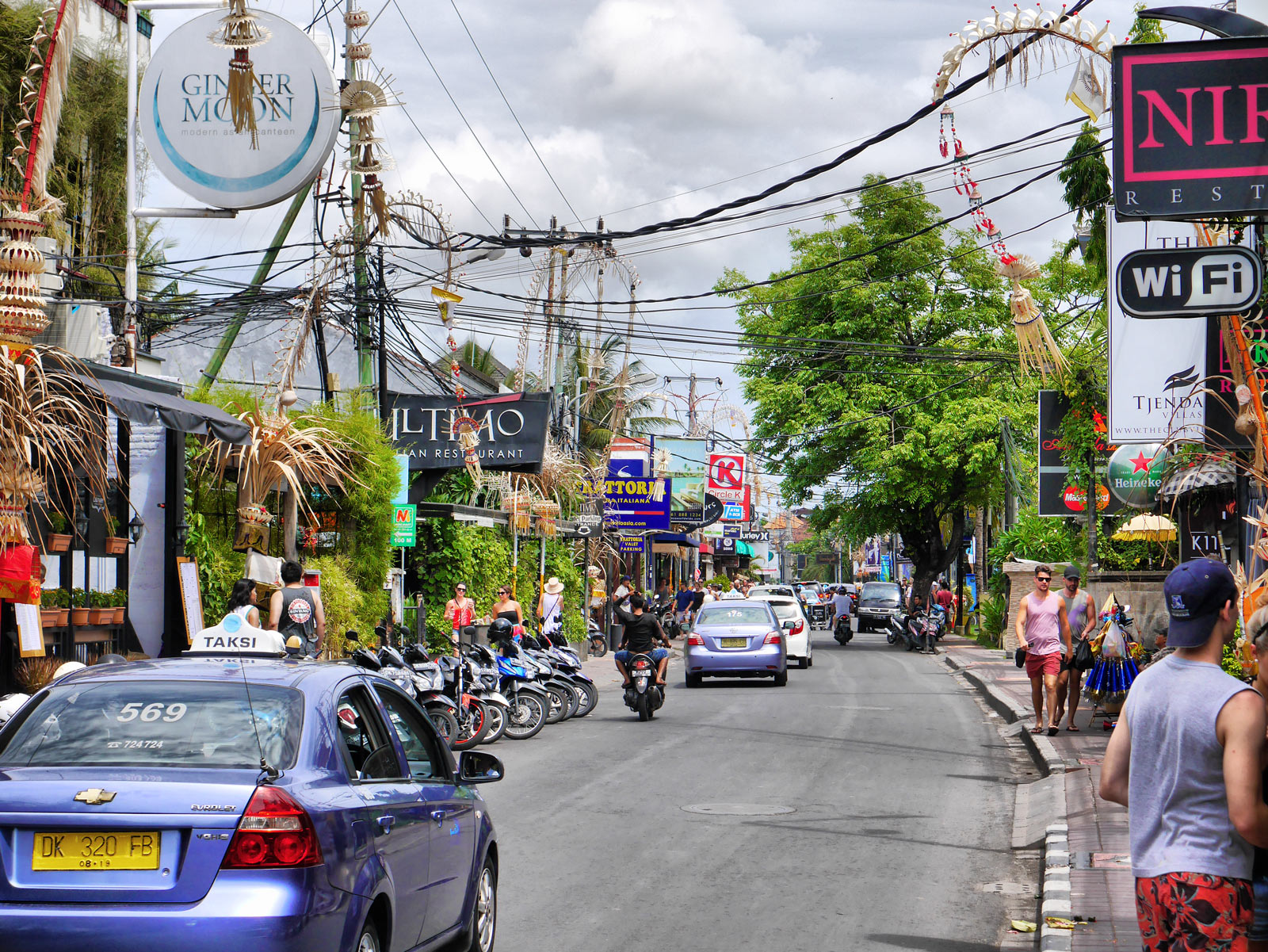 The Eat Street in Seminyak is located at a distance of 10.1 Kms from Denpasar airport and it takes around 30 minutes to reach, depending on the traffic.The visitors can take a taxi from the stand at the airport or manage to arrange a transfer with the hotel.
What Not to Miss at Eat Street Seminyak



1. Take A Walk Along The Beach: Seminyak is a beach destination and nothing can beat the feeling of walking barefoot on the soft sand of these beaches. People can spend a relaxing time taking a walk at the Batu Belig or north of Seminyak.

2. Sit At A Beach Club: There are many beach clubs located around the Eat Street Seminyak where people can enjoy the finest view of the beach having a glass of cocktails and delicious food. Some of the famous beach clubs are Potato Head and Ku De Ta.

3. Go Shopping: Seminyak has many options for shopping which starts from the local Balinese furniture to the designer items from Australia. Also there are many boutiques and shops which are lined up on the street which one can explore. The main street for shopping in Seminyak is Jl. Laksmana (Jl. Kayu Aya).

4. Dine-In At The Restaurants: One of the most important things for which Eat Street Seminyak is known for is the varied range of restaurants. There are many famous restaurants and cafes which serve a wide array of cuisines which include authentic Balinese food, Italian cuisine and many more.

5. Visit The Pura Petitenget: Pura Petitenget is one of the ancient Balinese temples which is located just 3 minutes away from the Eat Street. This place is a great attraction to visit during the ceremonies that happen at this temple on special occasions.

6. Enjoy A Massage: Bali is a place that is known for its authentic Balinese massage techniques and one can experience while in Seminyak. There are options from cheap beach massage to luxurious spas which are worth experiencing.
Other Essential Information About Eat Street Seminyak
Places to go for shopping in Eat street Seminyak

1. The Seminyak Flea Market: 
People who can bargain with the locals, the Seminyak Flea market is the ultimate street market which is located at the Eat Street in the Oberoi. This place has a wide option of endless market stalls where traditional souvenirs from Bali can be found.

2. The Bintang Supermarket:
Located at the heart of Seminyak, the Bintang Supermarket is the main shopping street  where bargaining is not allowed. There are many shops for grocery shopping and also to buy souvenirs. At this market, the price is fixed and reasonable.

3. Ketut's: 
Just a short drive from Seminyak, the Ketut's is located in the Legian region of Bali. This place is quite a named souvenir shop situated at a little alley gangway located off the Garlic Lane. The Ketut's is famous for selling items like souvenirs and clothing at a reasonable price.

4. Krisna Oleh-Oleh Khas Bali
: The Krisna Oleh-Oleh Khas is a souvenir shop situated near Seminyak. The shop is located at Sunset Road in Kuta which is just a few minutes drive from Eat Street. This place has all the little souvenirs like bags, sarongs, Bali clothes and many more items which are sold at an affordable price.

5. Geneva Handicraft:
Located just on the outskirts of the Central Seminyak, the Geneva Handicraft is situated at the top of a furniture store on Jalan Kerobokan. This place has a wide range of affordable Bali gifts and handicrafts. The shop also sells antique things and hand-woven fabrics along with cheap souvenirs.


Best Restaurants in Eat street Seminyak

1. Char Char Bar & Grill: 
Relish a platter of fine asian fusion food at the Char Char Bar & Grill which is a two storey building boasting a well decorated indoor, outdoor and terrace space. This place has a vast menu for dining and drinking either in a lavish indoor seating or under the stars.


- Location:
Oberoi, Seminyak, Jl. Kayu Aya, Kerobokan Kelod, Kuta, Kabupaten Badung, Bali 80361, Indonesia


- Timings:
3PM-12AM

2. Chandi: 
Enjoy the flavors of Indonesia and Asian cuisine dining at this fancy restaurant in Eat Street, Seminyak. While the food menu is quite vast in this place, the bar menu is also quite fascinating. They serve some of the best of Bali inspired cocktails which are mixed with a wide array of organic fruits, roots and beans.


- Location:
Jl. Kayu Aya No.72, Seminyak, Kec. Kuta Utara, Kabupaten Badung, Bali 80361, Indonesia


- Timings:
12PM-12AM

3. Mamasan Bali: 
This restaurant located at Eat Street, Seminyak is known for its unique decor. The interior of this place is inspired by colonial Britain in Shanghai which is adorned by the marble top mah-jong tables where people can enjoy a platter of Southeast Asian food.


- Location:
Jl. Raya Kerobokan No.135, Kerobokan Kelod, Kec. Kuta Utara, Kabupaten Badung, Bali 80361, Indonesia


- Timings:
12-3PM, 6-11PM 

4. Chez Chez Gado Restaurant:
The Chez Chez Gado Restaurant is famous for its casual fine-dine seating and is here in the business for the past 30 years. Located close to Camplung Tanduk Street, this restaurant is famous for serving a unique but well-known delicacy named 'Gado Gado' alongwith Pan-Mediterranean cuisine.


- Location:
Jl. Camplung Tanduk No.99, Seminyak, Kuta, Kabupaten Badung, Bali 80361, Indonesia


- Timings:
 11AM-11PM

5. BATIK Restaurant Bar: 
Situated at the much hyped street of Seminyak Oberoi, this restaurant is known for offering an amazing dining experience. This bar and restaurant gives a closure to the cultural heritage of Bali. Known for its vast menu of South East Asian cuisine, this place gives a lavish dine-in experience.


- Location:
Jalan Kayu Aya, Seminyak, Kerobokan Kelod, Kec. Kuta Utara, Bali, 80361, Indonesia


- Timings:
11AM-12AM

Best Spas And Massage Points In Eat Street Seminyak

1. AWAY Spa: 
This spa stands to be one of the best among the list of best spas in Eat Street, Seminyak. The AWAY spa boasts a contemporary interior and this is one of the favorites among the jetsetters. Along with offering midnight massages and beachfront Cabana Bliss, this place is open 24 hours a day and 7 days a week.


Location:
W Bali – Seminyak, Jl Petitenget, Seminyak

2. The Canopy Spa:
Often called the "Sky Spa", this beautiful spa is located at the top floor of the Lloyd's Inn, Bali. This spa is a space which takes its visitors back to nature and is a relaxing hideaway which is surrounded by a canopy of greenery. With the soothing sound and the fragrance of the forest, the spa experience here is indeed different and beautiful.


Location:
Lloyd's Inn Bali, Jl Arjuna (Double Six), Seminyak

3. The Prana Spa Bali:
The Prana Spa in Bali is inspired by the Moroccan style which helps in regenerating every sense in the body. This is one of the biggest and sensual spas in Bali which offers a relaxing experience. With the regal interiors and a variety of massages and exotic treatments, this place is a great deal in a budget.


Location:
Jl Kunti, Seminyak

4. Spa Alila: 
The Spa Alila located inside the Alila Seminyak is a blissful place which is surrounded by the rejuvenating fragrance of lemongrass and chamomile aroma. There are some of the best treatments and medicinal massages which are done by local ingredients. And in addition to this the architectural beauty makes this place the 21st century Nirvana space.


Location:
Jl Taman Ganesha No.9 Petitenget, Seminyak

5. The Cottage Beauty House: 
This is an Australian maintained beauty place which has emerged to be Bali's favorite spot for taking a rejuvenating spa treatment. Starting off from waxing, tinting to the facials there are a lot of medical treatments which are done in the best way under professionals.


Location:
Jl Batu Belig No. 9, Seminyak


Best Hotels to Stay Near Eat Street Seminyak 

1. Anantara Seminyak: 
The Anantara Seminyak in Bali is considered to be one of the finest hotels to stay near Eat Street Seminyak. Situated at the island's finest stretch of beach, offering a beautiful view of the golden shoreline. This hotel is known for its modern amenities , 59 boutique suites and upscale restaurants and bars which raise up the stake of the place.


- Location:
Jl. Abimanyu, Seminyak, Kuta, Kabupaten Badung, Bali 80361, Indonesia

2. Peppers Seminyak: 
Located amidst the lush, tropical gardens of the southwest coast of Bali, the Peppers Seminyak is a luxurious villa resort that offers luxury and comfort. There are private pools, sundeck and indoor/outdoor bathroom and air-conditioned bedrooms to enjoy a relaxing time away from the hustle-bustle.


- Location:
Jl. Pura Telaga Waja, Petitenget, Seminyak, Kuta, Kerobokan Kelod, North Kuta, Badung Regency, Bali 80361, Indonesia

3. The Samaya: 
The Samaya Seminyak is the ultimate place to enjoy a relaxing moment while experiencing the unparalleled space of service. This place is known for offering a Balinese hospitality, while there are many features of the villa like a private pool and chic interiors.


- Location:
Jl. Laksmana, Seminyak, Kuta, Kabupaten Badung, Bali 80361, Indonesia

4. Courtyard By Marriott Seminyak:
Just a few minutes away from the Seminyak beach, the Courtyard by Marriott Seminyak stands to be one of the best places to stay in Bali. With the modern hotel rooms boasting the Balinese touch, there are many facilities like rain showers, direct pool access and private balconies.


- Location:
Sp, Jl. Camplung Tanduk Jl. Dhyana Pura No.103, Seminyak, Kuta, Kabupaten Badung, Bali 80361, Indonesia

5. Alila Seminyak:
Alila Seminyak is a true beauty which gives a chance to enjoy a beachfront stay experience. Known for its contemporary architecture and landscaped terraces, this place is the ultimate space to enjoy a luxurious holiday. Going beyond the beautiful aesthetics, this resort has also committed to minimize the environmental footprint.


- Location:
Jalan Taman Ganesha No. 9 Petitenget, Seminyak, Kerobokan Kelod, Kec. Kuta Utara, Kabupaten Badung, Bali 80361, Indonesia.

Tips for Visiting Eat street Seminyak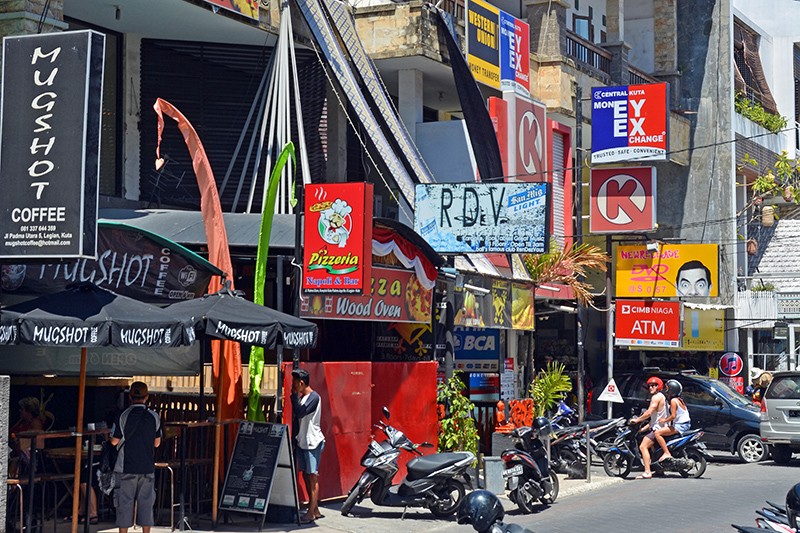 1. While traveling back from the airport, it is recommended to take a taxi which has a set meter. This is safe and organised by the central ticket area.


2. Always use an ATM instead of money changers.


3. Drink bottled water and also clean your teeth using that to avoid falling sick.


4. Don't miss the shopping experience in Seminyak as there are some of the best shops to buy souvenirs.


5. To watch the sunrise while enjoying a drink, grab a seat at the beach side bar by at least 4:30PM.