About Double Six Beach
From Bali's list of unending idyllic beaches, Double Six Beach is a favourite destination for tourists. A prominent part of the exotic Seminyak beach, Double Six Beach is in the southwestern part of Bali. Known as Indonesia's main tourist destination, the beach is part of the Coral Triangle, the highest biodiversity of marine species.

Double Six Beach is made up of white sands and shining pristine waters. The beach resides on the countryside, outside of Kuta, which holds a picturesque view of steep trails and lush green forest. Apart from its exquisite spots, the beach holds several watersports and beach sports. The commercial value at the beach is quite active. The presence of shacks also plays a major role in that. 

Double Six Beach is the coolest oceanfront spot to see and be seen. The waves at this beach is strong and due to this, it serves as a perfect destination for learning surfing. Moreover, there are a number of surfing schools present at Double Six Beach. These schools consist of trainers, instructors and other necessities required for understanding surfing.

You will find a plethora of things for enjoying your time at Double Six Beach. If your area of interest falls under the category of thrilling adventures, you should definitely try the watersports at the beach. Or, you can rent a scooter and explore the niceties around the beach. Or, take part in the aquatic adventures of colourful marine life. In the end, savour the nightlife of Double Six Beach by dancing to the upbeat music at the beach bars.
How to Reach Double Six Beach


You can reach the Double Six Beach by taking a taxi from the Airport. The nearest airport is Denpasar Airport and is almost 7.5 km away from the beach. You can easily find a taxi around it which will hardly take 10 minutes to reach.
Best Time to Visit Double Six Beach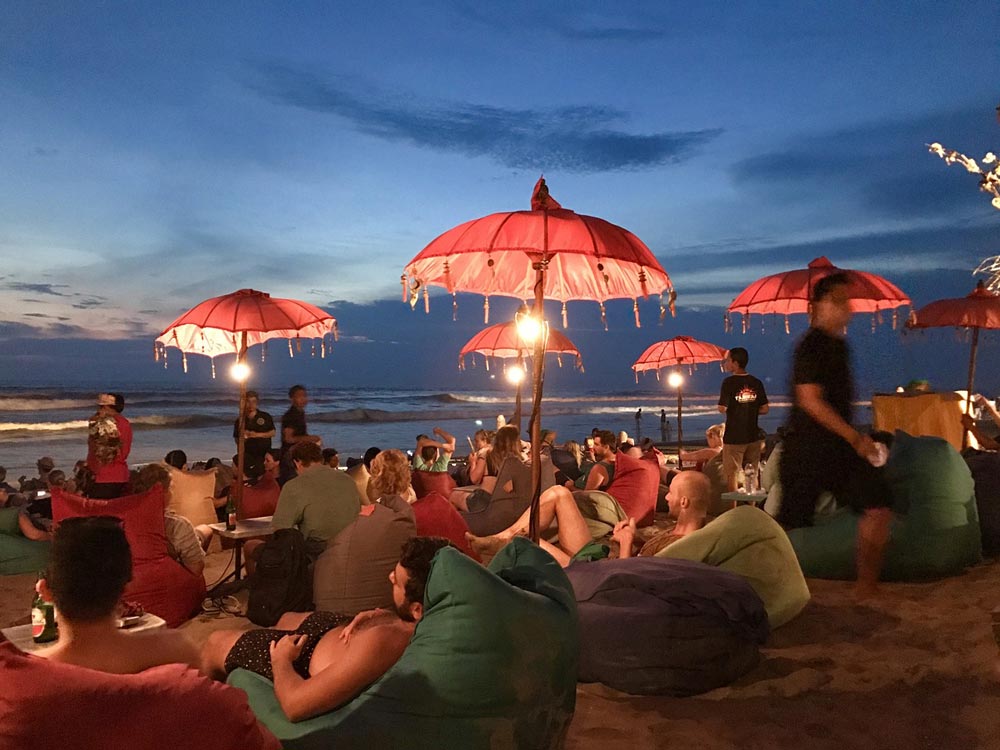 - May to October – These months forms the summer season at Double Six Beach. The weather would be dry and perfect for exploring the beach. This is the best season for conveniently exploring the beach and other niceties. 

- November to April – During these months, you will witness short rainstorms. Although, touring the beach during this time would be a bummer and inconvenient but it is also the cheapest time to visit.
What Not to Miss at Double Six Beach
Places to Visit near Double Six Beach 

1. Nyaman Gallery – 
If you want to know the Balinese art and culture, there is no better way than exploring the Nyaman Gallery. The gallery showcases a variety of artwork curated by the local Balinese and Indonesian artists. These budding talents excel in creating sculptures, wearable art, ceramics, and paintings.

2. Ku De Ta – 
Sun goes down and parties at Bali hype up! Situated near Double Six Beach, Ku De Ta is a perfect example of frenzy part zones. This beachfront bar consists of chilled mocktails and huge chic umbrellas. Lay back on the beanbags and cherish the ocean view with amazing beverages.

3. Kuta Beach Sea Turtle Conservation Centre –
 Apart from being the chilled tourist spots, Bali is known for its sea turtle conservation centre too. Here, you will come across a variety of turtles and participate in the activity of releasing baby turtles into the sea. Stop here by 4 pm and if you like, donate for these free spirits of ocean.

4. Blue Point –
After acing surfing at the high waves of Double Six Beach, level up your game by surfing at Blue Point. For reaching this place, you will have to steer down 200 m and cross by massive cliffs. Also, you will be able to swim at this beach.

5. Pura Petitenget – 
Pura Petitenget is a sea temple in Bali. Lined up from Pura Luhur UluWatu to Pura Tanah Lot, this temple will take you to a spiritual pathway. 'Petitenget' refers to a magic box which gets its reference from the 16th century.

6. Seminyak Yoga Shala – 
Missing your yoga session on your trip? No worries, Seminyak Yoga Shala is at your rescue. Located on the central artery of Jalan Seminyak, the yoga shala organizes different classes regularly. Bali is famous for its yoga so there will be no dearth of unique yoga practices. Apart from yoga, you can also participate in learning Qi Gong and Tai Chi classes.


Things to do at Double Six Beach 

1. Surfing –
The key to quality surfing majorly depends on high waves, and Double Six Beach excels in that. Tourists usually prefer this beach for trying their luck at surfing. You will come across many beginner surfers juggling with the surfboard and enigmatic high waves. Also, rent surfboards from the shacks available at the beach.

2. Horse Riding –
Horse Riding 
on a beach might sound like a whimsical idea, but Double Six Beach will ensure it isn't! You will come across some rented horses nearby the shacks. The ride will last according to the time you want to spend around the beach. It will take you near the shore while you admire the waves crashing.

3. Watch the sunset – 
The sunset on the Double Six Beach is quite famous and different from any other part of the world. The white gliding sand bright up during sunset and the view seems like it's a replica of the actual sunset. People often stop by this beach to soak into this unique blending of nature and colours.


4. Beach sports – 
If you are not a fan of watersports, you can try your hand at beach sports. Double Six Beach is home to some quirky sports for tourists. You can spot many people playing beach volleyball or handball. Interact with them and you can easily take part in it. Feel the sea breeze around you and definitely score that victory shot of yours!

5. Explore the shacks –
Any beach would be incomplete without some creative beach shacks and Double Six Beach adheres to it. You can spot a variety of shacks at the beach. Each shack has some different about them, some would host karaoke, or maybe board games, or, warm ambience.


6. Visit the spa – Wind up your trip by relaxing at the spas. At Double Six Beach, you will come across a few spas providing surplus facilities. From natural treatments to different body oils, visiting the spa will help with the fatigue.
Other Essential Information About Double Six Beach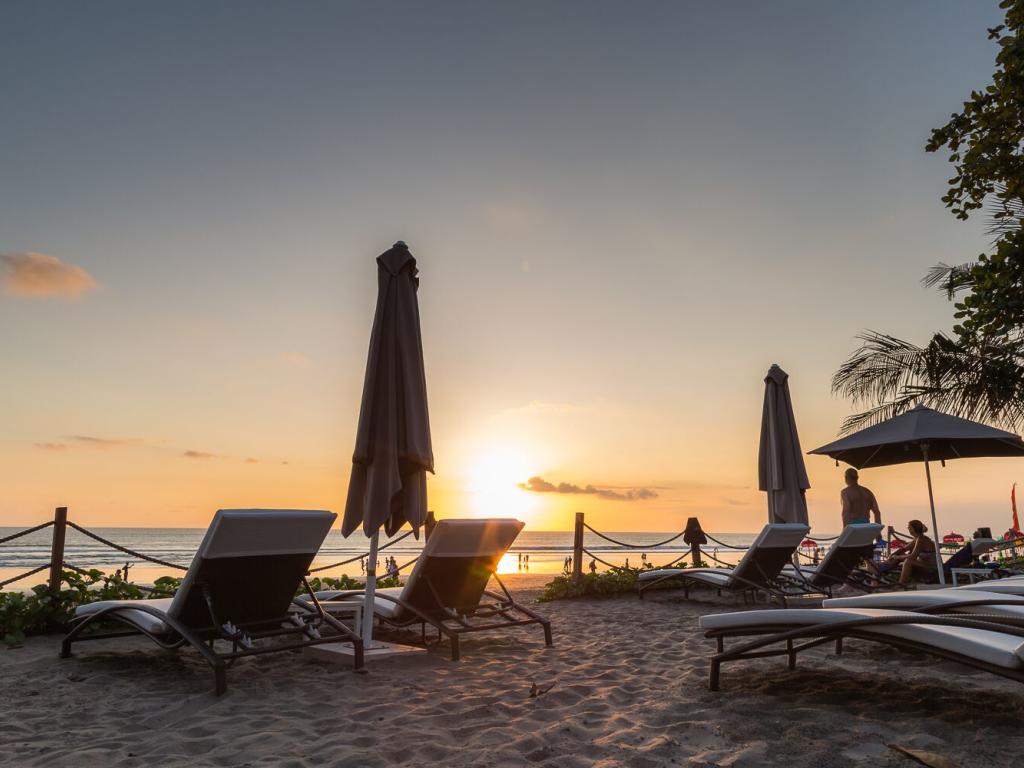 -Location – Double Six Beach is located in Legian of Seminyak near the Kuta in Bali, Indonesia.

-Timings – You can visit at any time of the day, depending upon the activities and weather.

-Price – There is no fee for entering the beach. Although, a fee of IDR 5000 will be required for parking the vehicle.


Tips for Visiting Double Six Beach 


1. When it comes to exploring the attractions around the Double Six Beach, renting a motorbike is the "way" – which saves money and time


2. Swimming is not at all safe at the beach. The waves are quite strong and not secure for indulging in various watersports. Avoid it at all costs. 


3. The strong waves are perfect for beginner surfers for trying and learning how to surf. 


4. Do not litter around the Double Six Beach, put the garbage in the bin before leaving.


5. High SPF sunscreen is going to be the saviour on your trip. Don't forget to carry it with yourself.


6. Carry necessities like sunglasses and hats for avoiding the baking rays of the sun.


7. Rely on drinking from a filtered water bottle. Bali has a water problem and you might not like the taste. Reuse the same bottle for saving money and the environment.


8. Petty thefts or bag snatching is a common crime in Indonesia. Stay alert and aware of your surroundings.


9. Keep basic items like antibacterial cream, hand sanitizer, and mosquito repellant.


Best Restaurants to Eat at Double Six Beach

1. Ibu Oka –
 Spread over the Double Six Beach, Ibu Oka covers the best river valley views. If you are a pork meat lover, you should definitely try this place. One of the tastiest dishes, Balinese-style roast Babi guling
 (suckling pig) is famous amongst tourists. Along with chilled beer, savour the authentic Balinese cuisine!

2. Blue 9 Beach –
The chicest bar of Double Six Beach, Blue 9 has got you covered. From tacos and burgers to coloured mocktails, this place serves the tackiest snacks. Apart from the food, this place excels in providing scenic beach view while you hum to the live band playing all along. The atmosphere is quite casual and laid back.

3. Capil Beach Grill & Bar – 
Yet another bar at Double Six Beach, Capil Beach Grill and Bar serves awesome delicacies. You can visit this place during sunset and soak in the beauty with some amazing snacks. Also, this place serves some local wine which would definitely rejuvenate your soul. And don't forget to order the Chicken Skewer with potato wedges and grilled vegetables, it's a must-have!

4. Plantation Grill –
Plantation Grill is located in the Double Luxury Hotel. If you are looking for some luxury, then this place is for you. Tourists usually spend two to three hours here while tasting the humongous variety of dishes. Apart from the classy food, Plantation Grill ensures clean and hygienic surroundings and services. While you enjoy your food, you will be accompanied by a strolling live opera singer.

5. 
Alila Seminyak Beach Bar –
 If you are looking for some quiet, consider your search on Alila Seminyak Beach Bar. Tourists often applaud their ambience, staff and services, and obviously food and drinks. The place is a little expensive but the surplus quality is assured. Taste the Alila signature cocktail and cherish the ocean's view.

Best Resorts to Stay near Double Six Beach: 

1. Hotel Indigo Bali –
 Dream about that lavish stay at a resort? Make it happen by staying at Hotel Indigo Bali. This hotel consists of a spa, restaurant, gym, bar, babysitting, and laundry services. It will take an 8-minute walk from Double Six Beach to reach Indigo Bali. Enjoy the pool services while you relax back the sun loungers.

2. Courtyard by Marriott Bali – 
Situated almost 0.2 km away from the Double Six Beach, Courtyard by Marriott is synonymous with class and luxury. The hotel is located in the centre and is close to Bali Bombing Memorial, Puputan Badung Square, Eat Street, Bali Bird Park, and much more. And of course, you will come across a lavish pool and poolside bar. 

3. Legian Beach Hotel – 
Legian Beach Hotel is 'literally' what it means, the surroundings seem like a replica of the beach. You can explore Legian Beach, Kuta Beach, and the exotic Double Six Beach. The hotel consists of luxurious deluxe rooms, villas, pool, and much more. Moreover, this property participates in conserving the environment, community, cultural heritage, and the local economy.

4. The Haven Bali –
After escaping the hustle-bustle of your daily life, The Haven Bali is the perfect option for embracing tranquillity and peace. The resort consists of spa services which cover aromatherapy, body scrubs, massage, reflexology, etc. It also offers free wifi, 24-hour return airport shuttle, and free beach shuttle.

5. Padma Resort –
Situated almost a kilometre away from Double Six Beach, Padma Resort can be found at Legian. The resort is developed with the idea of greenery and poolside. This property is 29 years old and excels in surplus services. The outdoor services include a BBQ grill, beachfront location, garden, and terrace.

6. The Bandha Hotel & Suites –
 The Bandha Hotel and Suites is one of the coolest stays near Double Six Beach. The place consists of 2 outdoor pools, a separate children's pool, spa services, pool sun loungers, bar, and whatnot. Tourists often rate maximum stars for staff, cleanliness, and room comforts.