About Circus Waterpark
Located at close proximity to the Ngurah International Airport in Bali, the Circus water Park is the first theme park in Bali. The park is exclusively built for family recreational activities with a wide range of water sports for children. Some of the most popular rides and sports for adults and kids in the Circus Water Park are the Spiral Slider, Wave Slider, Mini Speed Racer, Mini Spiral Slider, Pinisi Boat and Spill Bucket.

Apart from these adrenaline pumping rides, there are four pools where you can spend family time in the water. These pools have pure water that is kept clean and proper safety is also ensured to the kids.The Circus Water Park in Kuta is also a great venue for birthday parties for kids. There is a special Day Use Package which comes with a surfeit of entertainment for kids along with activities and amenities for one whole day.

It includes access to the water rides area and enjoying the rides for adults such as Spiral Slide, Speed Slide, Lazy River and others. The package also includes children's rides such as the Pinisi Boat, Water Slider, Spill Bucket and many more. After you have had a full day fun by accessing the rides and water sports you can take a Warm Water Shower at the bathing area of the Circus Water Park.

There are also family packages that cater to individuals, seniors and families with all the rides and other services. The sneak and peek of circus clowns in the park will give your kid a joyful company and happy moments as long as they are inside the precincts of the park.
How to Reach Circus Waterpark
The nearest airport from Circus Water Park is the Ngurah Rai International Airport which is just a 5 minutes' drive from the park. Taxis are available from the airport to the water park.
Best Time to Visit Circus Waterpark


The best time to visit the Circus Water Park is during the weekdays when most people are working and the park is less crowded with visitors. However, the best time to visit Circus Water Park depends on the high and low season which influences the traffic of the park. The high season is during the months of July, August, December and January when the water park is crowded with many tourists.

The low season is during the months of April, May, June and September. But many tourists prefer visiting the Circus WaterPark during these months as it is less crowded and accommodation can be availed at almost half the price than the high season. During October and November there is rainfall but tourists who want to enjoy the beauty of monsoon in the verdant setting of the park, it is worth a try.
Other Essential Information About Circus Waterpark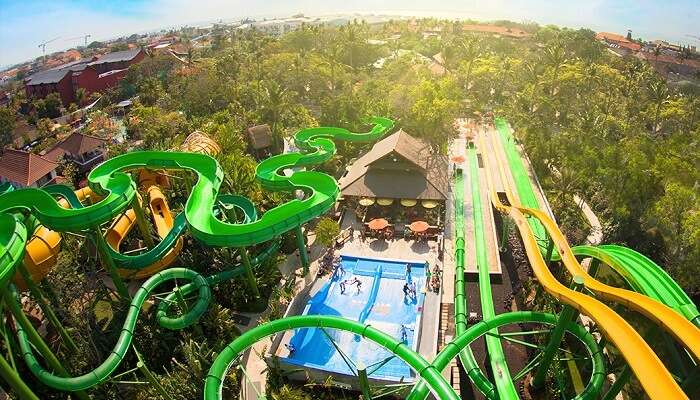 -Location: Jl. Kediri, Tuban, Kuta Sel. Kabupaten Badung, Bali-80361, Indonesia

-Timings: 9AM -6PM from Sunday-Saturday (except on Nyepi Day), snack bar remain open from 9:30AM -5PM. Slides are closed 15 minutes before the park closes.

-Prices: Rs. 1,123 Ticket price includes all rides and swimming tube. Rental fees apply for gazebos (for those who want to relax in private to escape the heat), locker and towel.


Rides at Circus Waterpark


Circus Water Park in Kuta offers a wide range of water rides for a perfect vacation. There are broadly 3 types of rides in Circus Water Park namely- water rides for adults, water rides for children and 4 types of swimming pools. So, if you are visiting Bali with your family, check out the list of rides in the water park for adults and children well in advance of your trip:

1. Water rides for adults

- Wave Slider-This is a real adrenaline charged water ride in which you have to slide down a tube. Usually one or two people can go for a ride at a time.


- Spiral Slider- A ten metre long spiral slide will take you along a tunnel path in an equitably high speed until it plunges down into a water pool.


- Speed Spiral Slider- A perfect ride for the ultimate adrenaline junkies. The speed spiral slider offers a high speed skating which gives you a real topsy-turvy sensation!

2. Water rides for children

- Pinisi Boat- The Pinisi Boat tops the list of children's water rides in which they can climb, run and glide.


- Mini Spiral Slider- For the toddlers this is a perfect ride which can give them a wonderful time of fun and frolic. 


- Spill Bucket- From a ten litres big bucket, water splashes down repeatedly on children riding on slides, crisscross and climb stairs.


- Speed Racing Slider- A tricolour three row slide is a hot favourite for children who want to enjoy a thrilling ride. The Speed Racing Slider is a three row slide in which your child can play a race with other kids while riding a slide.


- Water Plaza- A water park specially designed for children where they can play with water,


- Family Slider- Choose the Family Slider if you want to enjoy fun moments of riding a slide with your child.


Four types of swimming pools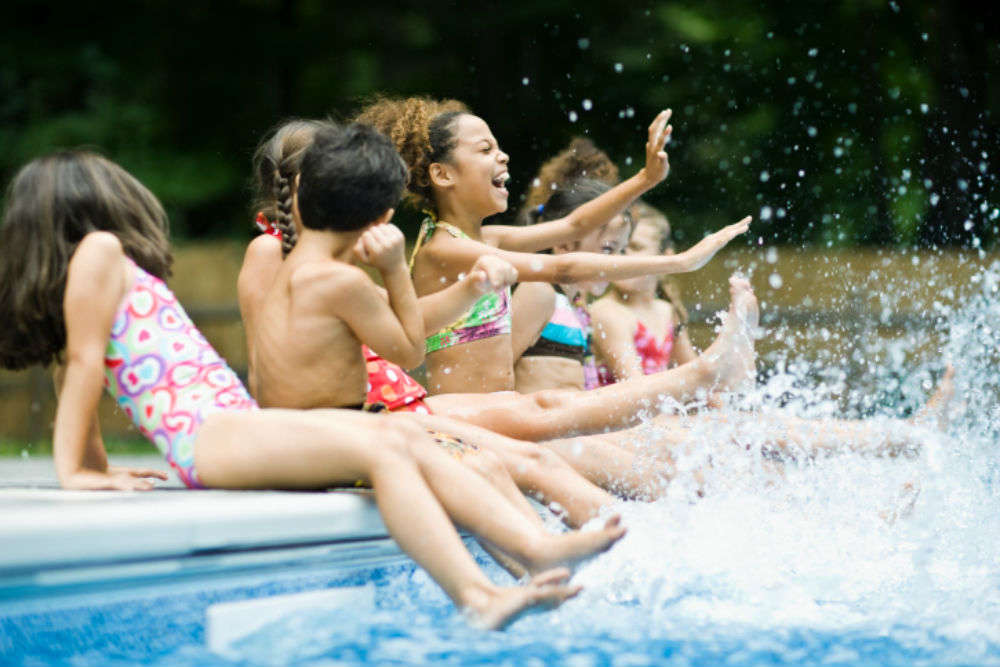 - Main Pool- The main swimming pool with a depth of 1.3 metres is a haven of water activities in Circus Water Park.
- Kids Pool- It is suitable for children under 11 years of age.

- Lap Pool- Try your swimming skills in the Lap Pool.

- Lazy River Pool-The 200 metres long water course around the main pond gives you a laid back experience of a boat ride in a river.


Services provided at Circus Waterpark
Besides a whole range of activities for adults and kids, the Circus Waterpark Kuta provides exciting services for making your daytrip convenient and engaging. We are providing you the list of services provided by the park authorities that will help you make your itineraries:


1. Circus Kitchen- The Circus Kitchen is the dining area inside the water park where you can pamper your taste buds with delectable Asian cuisines. In the DK Stalls you can get Chinese and western platters. The Kampung Jajan outlet is the place where you can taste Indonesian delights. It is also a favourite food joint for the little members of Water Park. If you have a sweet tooth, try the beverages sold out at the MR Ice outlet and trust us, it will be a refreshing experience. 


2. Circus Relax- The place with a theatre layout is given on rent for organising birthday parties or other ceremonial events. It has a capacity of accommodating 80 people in one sitting.


Locker Rental Facility- There is locker facility for the visitors of the water park in which you can keep your belongings before embarking on the water activities. The rent prices are IDR 10,000 for one coin (small locker), IDR 20,000 for 2 coins (large locker) and IDR 20,000/towel (for towel rentals).


3. Circus Store- Swimsuits and other swim attires are available in the Circus Store. You can buy one such dress for a photo session in the Water Park.


4. Gazebo Rental- If you want to spend private family time in the Circus Water Park, there are gazebos you can avail on rent. The rent price for large gazebo is IDR 55,000/hour and small gazebo is IDR 35,000/hour.


5. Playground- A verdant haven inside the park where you can go back to your childhood days with your kid. The playground offers a tranquil natural zone for toddlers where they can enjoy slides, swings and other rides.

Tips for Visiting Circus Waterpark


To enjoy a fun filled day at Circus Water Park in Kuta here are a few useful tips for the first time visitors


1. Arrive at the water park early preferably at 9:30 a.m. to book a gazebo and get on to the rights without waiting much.


2. Add money to the wristband at entry. You can use the money to book a gazebo and purchase food from the stalls throughout your day trip at the water park.


3. Book a gazebo that is placed on the left side of the water park behind the message area. These are moderately priced and well designed to give you a pleasant sitting experience in a secluded ambience.


4. Slides with the inner tubes for example Boomerang Super Bowl it cetera are the crowd pulling attractions in the water park. So it is recommended that you get an early booking in these rides for an enjoyable experience.


5. Slides located at the end of the water park tend not to have a long queue throughout the day. So you can enjoy these rides according to your convenience.


6. The lines tend to reduce after 4:00 p.m.


7. If you are looking for some massage it's advised that you make a booking in the early hours. The massage centres tend to become crowded post lunch.
•Carry waterproof sunscreen while visiting the water park at Kuta.


8. Bring your own towel and save on towel rental.


9. Keep yourself hydrated throughout the day.


10. Wear will fitted swimwear before embarking on water sports.


11. Bring a waterproof case for your mobile phones.