About Magod Falls
Karnataka, known for the unexplored beauties of nature, has got some fascinating gems in its pack. One of the jewels, the oh-so-pretty Magod waterfalls is no exception. The fall is engulfed amidst the trials of the Western Ghats in Uttara Kannada district. It is a two-tiered waterfall, comprising of Bedti and Shalmala river, which falls from 200m in cumulative height and then split into two segments.

Apart from the steep trails, this captivating waterfall has so much to offer. You can spot sheltered picnic spots where you can stop by and cherish the view of Magod. Although, the area can be slippery so you have to be extremely careful while strolling around the falls. Or, you can also check your photography skills over here. You can't resist yourself from clicking some panoramic shots.

Located in the majestic folds of the Western Ghats, you can reach the Magod waterfall after climbing through the rocky and boulder-filled pathway. This path is surrounded by dense green forest and muddy paths. You can't explore the bottom of the fall but if your idea of fun is laying back and cherishing the lures of the picturesque view, Magod waterfall won't disappoint.
How to Reach Magod Falls
- By Air – Magod waterfall resides in a convenient area. You can reach here via Goa or Karnataka. The nearest airport is Hubli Airport. From there, you can hire a taxi and reach. Or, if you are willing to travel via Goa then the Dabolim airport would be the nearest. It is around 105 km away from Magod.

- By Rail – Many big cities are connected to the nearest railway station, i.e., Yellapur Railway Station. Although, you might have to take a cab or private vehicle to reach the waterfall from the railway station.
- By Road – It is the best option to reach Magod waterfalls. You can hire a private taxi or book an online cab to reach the falls. Due to the stable and great road network connectivity, you can reach this place from several big cities. Like, Bangalore has situated 520 km away, Goa is 205 km away, 90 km from Hubli, just like Karwar and Yellapur. Yellapur being the closest of all.
Best Time to Visit Magod Falls
1. October to February – This is one of the ideal times to visit Magod waterfall. Although, the flow of water would be less compared to the monsoon. But it would be easy for you to trek and travel while reaching the Magod fall. The temperature would drop around 20 degrees Celsius.

2. March to May – These are one of the hottest months of India. The temperature could easily range from 40 to 45 degrees Celsius. The flow of Magod waterfall would be minimal and the travel would be hot and humid. Sometimes, the water would dry up. You might have to be a little careful about when you want to visit.

3. June to September – This is the best time to visit Magod falls. The monsoon hits the city during this time and water is at its highest peak. The white shiny water would cascade down with full flow and quite speedily. The pathway to this place can be a little slippery but with comfortable shoes, it would be possible.
What Not to Miss at Magod Falls
 Things To Do at Magod Waterfall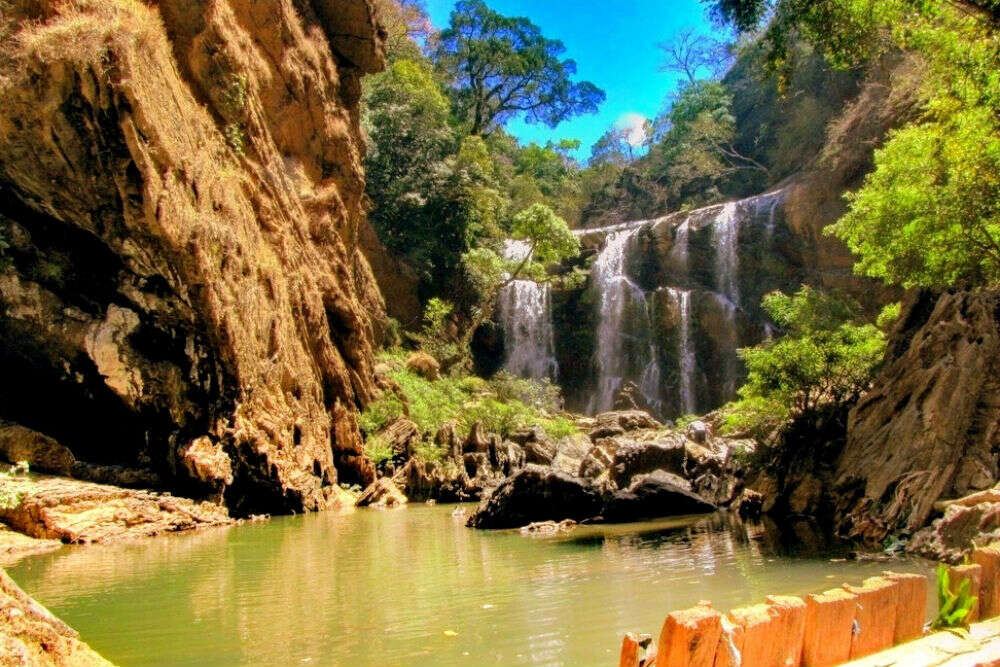 1. Click photographs – With such scenic viewpoints, it is going to be hard to resist yourself from clicking some photographs. Lying amidst the mighty mountains of the Western Ghats, Magodu Waterfall is quite prominent among photographers.


2. Explore the nature around the falls – The Western Ghats of Karnataka is famed for the variety of flora and fauna present there. Unequivocally, Magod waterfall is no exception. You can spot various butterflies and migratory birds around the waterfall. Magod falls is the nesting ground for several birds.


3. Plan a picnic – Despite the slippery rocks around Magod falls, this place has developed some strongly-built sheltered picnic areas. After strolling around the falls, you can plan a quick picnic with your family and friends. Although, there aren't many facilities available around the waterfall you can pack some drinks and snacks. Also, don't litter around the picnic area.


4. Stroll through the walkway – Before reaching the magnificent Magod Waterfall, you will have to travel through the walkway. While climbing up the stairs, you can spot some amazing viewpoints of the waterfalls from there. Try to see and capture the waterfall in as many different ways as possible.

Attractions near Magod Waterfall


1. Jenukallugudda – Jenukallu Gudda is a popular sunset point near Magod waterfalls. The name 'Jenukallu Gudda' literally means, honey rock hillock, with jenu meaning honey, kallu meaning stones, and gudda refers to the hill. This place provides a phenomenal view of the meeting of the Bedti river into the Arabian sea. You can spend your leisure time around here to soak in serenity and peace.


2. Kavadikere Lake – Located 9 km away from the Magod waterfall, Kavadikere Lake is an enormous waterbody near Yellapur. The lake is spread over an area of 62 acres and is engulfed within the mountains of Western Ghats. Moreover, you can spot a temple of Goddess Durga Devi near this lake. Apart from its beauty, the red-black coloured bulbul and giant-sized butterflies are one of the many lures of this lake. 


3. Sathodi Waterfalls – Craving for another serene spot like Magod falls? Your search ends at Sathodi falls. Also famed as 'Mini Niagara', Sathodi falls cascades down from the height of nearly 42 ft. Visitors usually explore this place to enjoy the bottom of the waterfall. The proximity to the fresh and scintillating water makes it a perfect place for photographers.


4. Kalimath Temple – Apart from the beautiful attractions, the Western Ghats also houses some of the mystical and ancient edifices. Located approximately 3 km away from Yellapur, Kalimath Temple is one of them. The temple is popular among tourists for its magnificent architectural styles, intricately carved pillars, and inscriptions in the Kannada language. Built-in 12th century, the temple has a Shiva Lingam and an idol of Nandi.


5. Unchalli Waterfalls – Yet another waterfall near Yellapur, Unchalli waterfall is one of the most adventurous waterfalls of this place. Popularly known as Lushington Falls, the water falls down into Aghanashini River. Although, it would require you to trek through the Heggarne Village for 5 km.
Other Essential Information About Magod Falls


1. Entry Fee – There is no entry fee required to visit Magod Waterfall.

2. Location – Magod waterfall lies in the Gokarna of Uttara Kannada district. The waterfall resides in the Western Ghats of Karnataka state.

3. Height – The Magod falls of the Bedti river cascades from a height of 650 ft, around the rock formations of the Western Ghats

4. Network Coverage – Network connectivity is quite good at Gokarna. But due to the internal and remote areas around Magod falls, it can get patchy and some disturbances might occur. Also, it would depend on your choice of the network too.

5. Average Temperature – Due to proximity to the water bodies, the temperature usually ranges between 20 to 35 degrees Celsius. It might differ according to the various seasons


Places to Eat near Magod Waterfal


1. Sankalpa Restaurant – If you are looking for some amazing north Indian food in this south life, then you should head to Sankalp Restaurant. This place has an amazing list of vegetarian food, from Chhole Kulcha to home-cooked sabzi, from the famous Biryani and Pulao, from Naan to mouth-watering dosa. 


2. Hotel Mumtaz – Taste the authentic taste of Chinese cuisine amidst the mighty area of Western Ghats. Hotel Mumtaz excels in serving vegetarian and non-vegetarian food. Moreover, the restaurant is known for its tasty Hyderabadi Biryani, kebabs, and mutton Kassa. The Tava preparations are highly recommended!


3. Shanbhag Hotel – Shanbhag Hotel is one of the places where tourists usually stop by. The food area is well preserved and clean. You can get an amazing option to taste the local taste of Yellapur. The ambience is warm and the staff is welcoming. The hotel also has a store for selling organic and natural products.


4. Hotel Malabar – While visiting Magod waterfalls, you can't fail to visit Hotel Malabar. Applauded for its warm hospitality, this place is one of the favourite spots for tourists to hang out and eat. You can find this place at the Kalghatgi and Yellapur Road. Stop by this place and savour the authentic taste of Karnataka.

Tips For Visiting Magod Waterfalls


1. It is really necessary to wear comfortable and sturdy shoes. The area around Magod fall is slippery and you have to be careful.

2.
Be prepared to get wet. The water can flow speedily, so pack an extra pair of clothing.

3.
Take care of your electronic devices. Carefully wrap them or keep them in a bag to save them from water.

4.
Bring light snacks and water with you. The trek could mitigate your energy.

5.
Stay in the given limits. Don't try to cross an area which isn't suggested. It might lead to something hazardous.

6.
Carry mosquito repellant, sunscreens, and a basic medical kit.