About Indrahar Pass
If you too love to witness the snow-capped nature atop the beautiful scenic mountains, you must add the Indrahar Pass on your bucket list right away! Indrahar Pass acts as a border between the vividly known Chamba and Kangra districts of Himachal Pradesh. It is also amongst the most popular trekking routes from the tourist destinations of Dharamshala. Indrahar Pass offers you the picture-perfect views of the Dhauladhar range amidst the small vernacular settlements in the region.

The distinctly varying altitudes of the trekking trail to this mesmerizing location allow you to witness the scenic beauty of various forest ranges. Moreover, you would also be able to spot the Pir Panjal range along with various other smaller ranges which make this trek worth the hard work.

Once you reach your ultimate destination, the view from the top would be one of its kind and make you feel out of the world.Indrahar Pass receives a lot of trekking enthusiasts during the trekking season due to the indomitable views of the conifer ranges and the pleasant weather of the region all throughout the trekking season.

Moreover, this overwhelming trek also allows you to experience and indulge with some of the tribal settlements of Himachal, introducing you to a whole new face of Himachal's culture, food, and hospitality. Additionally, you need not be a hardcore trekking professional to be able to visit Indrahar pass. It only involves easy to moderate level trekking, allowing even the beginners to enjoy it to the fullest.
How to Reach Indrahar Pass
1. By Rail:
- Nearest Railway Station: Amb Andaura
- Distance from McLeodGanj to Amb Andaura (Starting point for Indrahar Pass): 65 kilometers
- Get a taxi from the railway station to reach McLeodGanj. Frequent public transport services can also be availed from Amb Andaura Railway Station to reach McLeodGanj.
2. By Road:
- Nearest Bus Station: McLeod Ganj
- McLeod Ganj is well connected to major cities by regular bus services. Your trek to Indrahar Pass starts from McLeod Ganj itself.
Best Time to Visit Indrahar Pass


The best time to visit this wonderful place is from May to June, and thereafter, from September to mid-October. September to mid-October is the best time for you to visit if you wish to enjoy the chilling weather of Himachal just before the snow takes over.

You can visit in the months of May and June if you wish to beat the burning heat of North India and want to get away to a place with pleasant weather and mesmerizing views. Avoid visiting here during the monsoon season. Beyond October, the trail to Indrahar Pass closes due to heavy snowfall in the region.
What Not to Miss at Indrahar Pass
Places to Visit near Indrahar Pass:


1.  Triund Hill: A lush green hilltop offering the best views of the surrounding mountain peaks and valleys. Triund Trek is one of the most famous treks all throughout the country and one of the easiest ones too, with the best of the views.

2. 
Bhagsu Waterfalls: Named after the Bhagsu village which falls on the way to Indrahar Pass, nearing a majestic Shiva temple. You shall have to take a detour to be able to visit this majestic fall. The clear waters of the fall shall attract you to take a relaxing bath.


3. Tibetan Museum: One of the must-visit places in McLeod Ganj, it falls right at the beginning of your trek to Indrahar Pass. The mesum offers a sense of tranquility alongside storing a lot to impart about the Tibetan culture.


4. Jwala Devi Temple: One of the 52 Shakti Peeth temples, you might have to take a bit of a detour from your trail to visit this temple sitting in the lap of untouched natural beauty. You shall not find any settlements even in far vicinity of this serene temple.


5. Kareli Lake: This freshwater lake is one of the most scenic of the places you would encounter on your route to Indrahar Pass. If lucky enough, you might even spot flocks of migratory birds to make your visit even more special.

Activities at Indrahar Pass: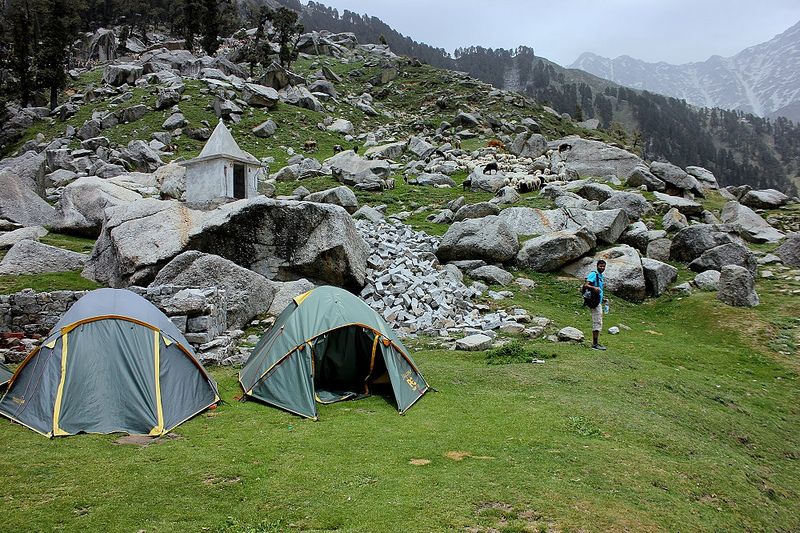 1. Trekking: Indrahar Pass is situated amidst one of the most beautiful trekking trails throughout the Himalayas. Not only does the cloudy white snow on your trekking path makes it worth your visit but the lush green conifer forests add up to the mesmerizing views. The whole trek is quite easy, with a few challenging steep slopes, making your climb adventurous.


2. Camping: The Indrahar Pass Trek would allow you to witness some of the most pristine and jaw-dropping camping sites. On your way, you get a chance to set up your camps under the blanket of beautiful stars at Triund, Lahesh Caves, and Ilaqa Got Pass. No other activity can beat camping at some of the most scenic hilltops at freezing temperatures with a lovely bonfire and a cup of coffee.


3. Sightseeing: Enroute your way to Indrahar Pass, you will get to witness some of the most beautiful natural wonders of the Himalayan Range of Himachal. Do not forget to click some pictures of the beautiful lakes, waterfalls, monasteries, and temples which would add up to your bucket of memories forever. Also, the views of the Himalayan range encircled with the beautiful conifer forests along your trek are undefeatable.
Other Essential Information About Indrahar Pass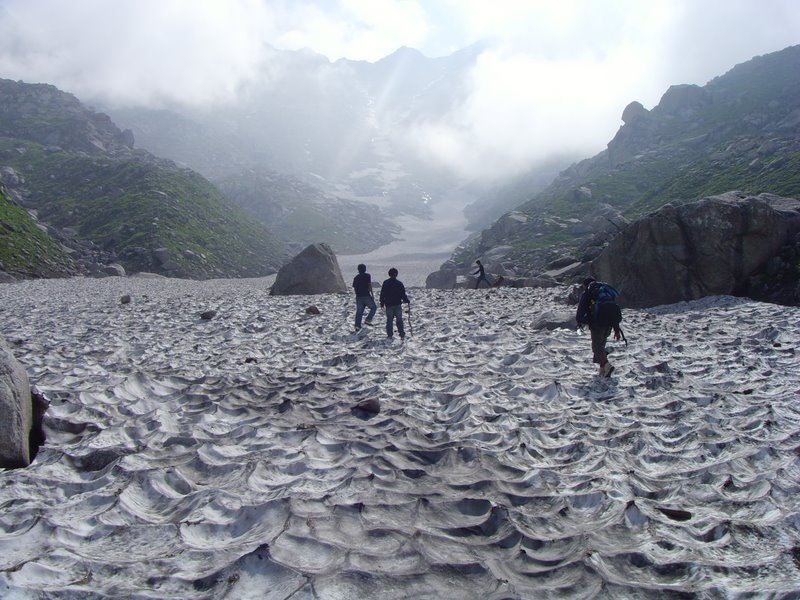 - Location: Indrahar Pass lies in the lap of Kangra District in Himachal Pradesh, with the starting point of the Trek at McLeodGanj.
- Price: The pricing for visiting Indrahar Pass starts from as low as Rs. 6,499.
-Timing: To joyfully cover each aspect of your visit to this beautiful place, you should have at least 4 days to spend peacefully amidst the freezing mountains.

Food and Water Availability at Indrahar Pass:


It is highly advised to bring along your own food while trekking to Indrahar Pass. You shall not come across any eateries on your way to Indrahar Pass, only a few tea stalls that might help you take a break and catch some breath.


You might not get a chance to refill your water bottles on your way to Indrahar Pass. Therefore, it is advisable to carry some extra water bottles for yourself right from the base itself. Do not forget to keep yourself hydrated during the trek.

1. Indrahar Pass Trek:


The Indrahar Pass Trek is a 4-day trek starting from the hill station of McLeod Ganj, with 3 camping spots. The itinerary for the trek shall be as follows:
Day 1: McLeodGanj to Triund.

1. The trekking stretch from McLeodGanj to Triund is 9 kilometers long and takes an approximate of 5 to 6 hours to be covered.

2. The Trek from McLeodGanj to Triund is one of the most popular ones in the whole of Himachal and provides you with a chance to click some magnificent pictures from the meadow like feel of the Triund hilltop.

3. It is advisable to leave from McLeod Ganj early in the morning so that you can get a chance to witness the sunset from the hilltop and set up your camps at a suitable place for the night.
Day 2: Triund to Laka Got.

1. This 5-kilometer long stretch would take at least 4 hours to be covered.

2. The first phase of the trek would be reaching the Lahesh Caves which is situated at a height of 3500 ft above the sea level.

3. In the second phase, you shall have to trek your way past the Snowline Café and reach Ilaqa Got to set up your camps. If it seems difficult to camp at Ilaka Got, you can get back to Lahesh Caves and spend your night there.

Day 3: Ilaka Got -Indrahar Pass - Ilaka Got:

1. This 9 kilometers long trek takes you to your ultimate destination, Indrahar Pass, and then back to Ilaka Got for camping at night.

2. This trail offers some of the most beautiful views of the Dhauladhar range as well as the majestic peaks of the Himalayan range.
Day 4: Ilaqa Got - McLeod Ganj:

1. Your last day shall comprise of descending back 12 kilometers to your starting point, McLeod Ganj, from Ilaka Got.

2. This 4-hour trek would take you back to your starting point at McLeodGanj and mark and end to this beautiful journey, with a lot of memories for you to take back home!
Travelers' Tip before visiting Indrahar Pass:


1. For travelers making their minds to visit this mesmerizing place, here are a few tips that may come in handy while on your trek to Indrahar Pass:


2. Maintain at least a minimum amount of fitness before going ahead for the trek.


3. Carry a windproof jacket along with warm clothes and gloves.


4. Get yourself some trekking shoes and an extra pair of socks.


5. Carrying sunscreen is a must.


6. Carry a pair of sunglasses along with a hat or cap.


7. Do not forget the Camera!


8. Carry ample water bottles, energy bars, and a comfortable backpack.