About Stadthuys
Stadthuys is one of the most important historical sites in Malacca City, which is the administrative capital of Malacca state in Malaysia. It is located in the heart of Dutch Square, also known as Red Square, one of the most picturesque neighborhoods in the city. Built sometime around 1650 by the Dutch, Stadthuys is believed to be the oldest remaining Dutch building in Asia. Back then, it served as the governor's residence and town hall, but the building was turned into a museum in 1982.

The entirety of Dutch Square is especially known for its colorful, old buildings, and Stadthuys is its crown jewel. The riverfront building is famous for its bright terracotta-red exterior and distinctive Dutch colonial architecture that includes some of the typical features such as louvred windows, massive walls, and large doors with wrought iron hinges. The building also has a tilted roof and white wooden shutters.

What many people do not know is that Stadthuys is actually a reproduction of Stadhuis, which was a former town hall in Hoorn, a Frisian town in the Netherlands. Today, Stadthuys is part of a sprawling museum complex, and it also houses one of Malacca's premier museums called the History and Ethnography Museum.
How to Reach Stadthuys


You won't find many options when it comes to transportation, but there are mainly three ways to get to Stadthuys from the city center. You can take a bus, or get a taxi, or go on foot. Taking a taxi may be the fastest option. Depending on your exact location, the Stadthuys may be 4 to 5 kilometers away. A taxi ride will only take a few minutes, and you may have to spend slightly over 10 RM.

You can also take a direct bus that leaves from Melaka Sentral. The bus will drop you at Soon Seng Plaza, which is around 3 kilometers away from Stadthuys. You can either walk the distance or get a cab. The best and most efficient way to reach Stadthuys from the city center is certainly by taxi. However, if you find the fares too high, you can get the ridesharing app called Grab. Booking a ride through that app may help you save some money.
What Not to Miss at Stadthuys


Here are our top picks for things to do in Stadthuys:

1. Explore the History and Ethnography Museum: The Muzium Sejarah dan Ethnografi is one of the premier museums in Malacca City. Located inside the Stadthuys building, the museum has a historical section that can help you learn all about the rich history of Malacca. The ethnography section, on the other hand, tells you about the culture and lifestyle of the local communities. The museum is open seven days a week from 9 a.m. to 5.30 p.m.

2. Do a photo session at Queen Victoria's Fountain: Located in the vicinity of the Stadthuys, the Queen Victoria's Fountain was built by the British in 1901. Despite being over 100 years old, the fountain is still functional and in good shape. It is also possibly the only colonial water fountain that still works. The historic square is especially popular among photographers. You can take some great pictures here.


Places to Visit near Stadthuys


After soaking in the Malaccan history and culture at the Stadthuys museum complex, you will crave for more. These places near Stadthuys are definitely worth your time:

1. Christ Church Malacca: This 18th-century Anglican church is right beside Stadthuys, and you cannot miss it. It is Malaysia's oldest Protestant church that is still active today. The church is known for its Dutch colonial styled architecture and bright red exterior. Christ Church Malacca also houses memorial plaques and tombstones with Armenian and Portuguese inscriptions. These inscriptions provide a rare glimpse into life during the Dutch period.

2. Melaka Straits Mosque: Situated on the Malacca Island, the Melaka Straits Mosque is one of the most beautiful mosques in Malaysia. Known for its Malay and Middle Eastern architecture and modern Islamic design, the mosque draws tourists from all around the country.

Since the mosque is built on stilts, when the water level is high, it appears to be floating on the sea. The Melaka Straits Mosque is around 3.8 kilometers away from the Stadthuys.
Other Essential Information About Stadthuys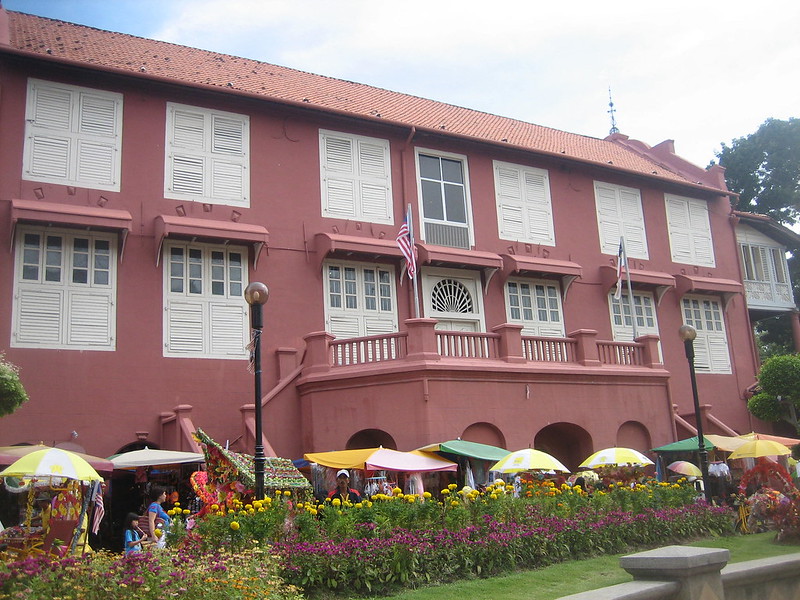 If you are visiting Stadthuys for the first time, it is necessary for you to have the following information.

Location - Stadthuys is located in the region called Dutch Square in Malacca City. The historic building stands on Laksamana Road right beside the Christ Church Malacca. The address is – Bandar Hilir, 75000 Malacca, Malaysia.

Timings - The museum is open seven days a week from 9 a.m. to 5.30 p.m. Guided tours are offered on Saturdays and Sundays at 10.30 a.m. and again at 12.30 p.m.

Distance from the city centre - The city centre is around 2 to 3 kilometers away from Stadthuys.

Entry Fee - Entry fee for adults is 5 RM, and for children, it is 2 RM. 

Photography Allowance - Photography is allowed inside the museum.


History of Stadthuys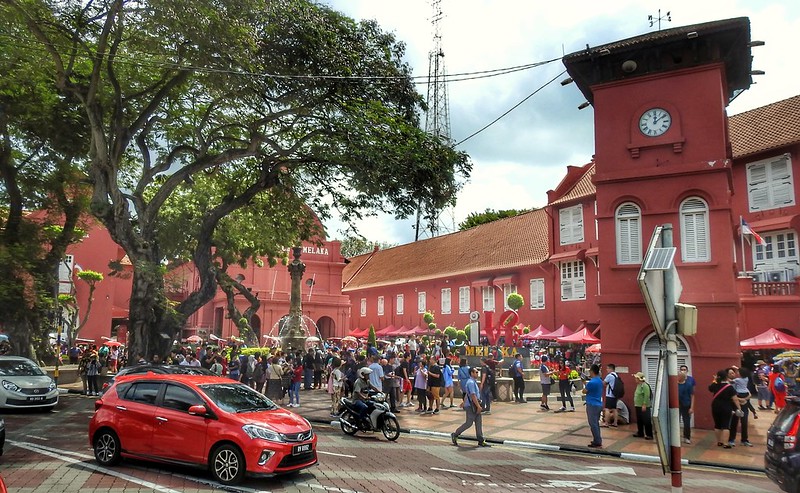 The Dutch ruled Malacca from 1641 to 1795 and from 1818 to 1825. That is why their legacy and influence is fairly alive and strongly felt all over the city. Naturally, the Stadthuys also heavily reflects that history. The building was constructed sometime in the early 17th century between 1641 and 1660, and it served as the governor's residence and town hall. This site originally had Portuguese fort, which was destroyed and the building was constructed on the ruins.

In the 300-year-old rich history of the Stadthuys, the building has been the focal point of many successive governments. Since the time it was built to 1980, it was ruled over by the Dutch, Portuguese, British and many more. When the British took control over Malacca in the 19th century, the Stadthuys continued to serve its purpose as a town hall. Moreover, in 1826, British missionaries living in the state opened the Malacca Free School near Stadthuys. The school offered free education to Malacca's residents. It was later renamed as Malacca High School and moved to a different location, where it exists to this day!

The Stadthuys was turned into a museum in 1982, and today, it is part of a large museum complex. It also houses the famous History and Ethnography Museum.


Places to Eat near Stadthuys


There are plenty of great eateries near Stadthuys. Here are some of our top picks:

1. Hard Rock Café: Want to enjoy some delicious fast food? Hard Rock Café, located only a 5-minute walk away from Stadthuys, would be your best choice. The restaurant serves a great variety of burgers, salads, sandwiches, desserts, milkshakes, and a number of specialty entrees. Hard Rock Café is known for its love of music, vibrant atmosphere, and good food.

2. Selvam Restaurant: Walk around 300 meters from the Stadthuys and you will come across Selvam Restaurant. Known for serving Asian and Indian cuisine, the restaurant serves breakfast, lunch, and dinner. The extensive menu also includes some great gluten-free, vegan, and vegetarian options. You can also get halal food here.

3. Low Yong Moh Restaurant: If you are in the mood for Chinese and Asian cuisine, especially dim sums, make sure to visit the Low Yong Moh Restaurant. It is only a 7-minute walk away from the Stadthuys and is known for serving the best dim sums and tea.


Places to Stay near Stadthuys


Booking the accommodation near Stadthuys is a great idea as it will allow you to explore the area without worrying about lengthy travels. Here are some of the best places to stay near Stadthuys:

1. Casa del Rio Melaka: This boutique hotel is one of the best rated options out there. Here, you will get to experience the ultimate luxury. Amenities such as a Fitness Centre, Free parking, free WiFi, Free breakfast and more are available. The rooms are beautifully designed, clean, and lavish. The charges per night might be fairly high. The hotel is 1.4 kilometers away from the Stadthuys.

2. Timez Modern Heritage Hotel: Located around 750 meters from the Stadthuys, this is another boutique hotel that has 3 suites and 12 individually-designed rooms. Each room is designed with care, and you are bound to remember your stay here. Basic amenities such as air conditioning, housekeeping, free WiFi and more are offered. Smoking is not allowed in the hotel.


Medical Facilities in Stadthuys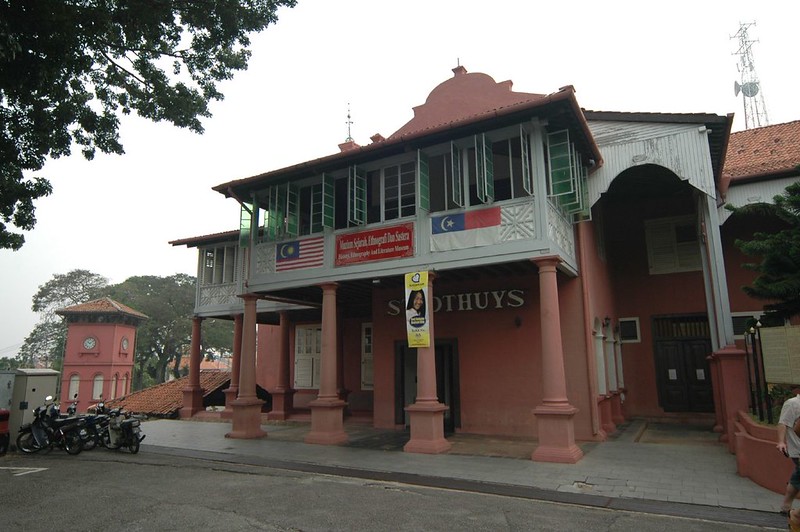 If you are traveling with health concerns, it would be smart to know about the medical facilities near Stadthuys. Here are some of them:

1. Putra Specialist Hospital: The Putra Specialist Hospital is located around 1 kilometers away from Stadthuys, and it offers accident and emergency services along with clinical services. It has a pharmacy and health screening centers among other facilities.

2. Melaka General Hospital: The Melaka General Hospital is a public hospital and it is government-funded. It is a specialist and secondary hospital with four ward blocks and 17 wards. It is located 3.5 kilometers away from Stadthuys.


Travelers' Tips before Visiting Stadthuys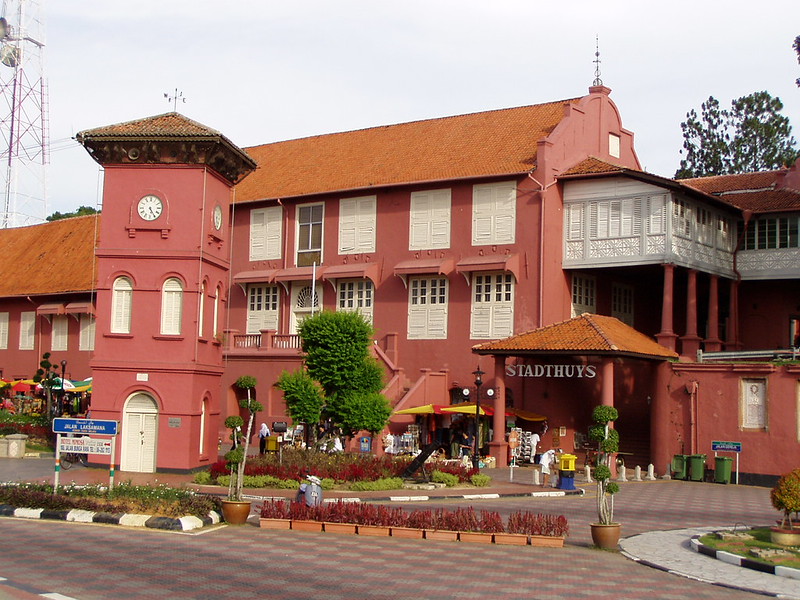 If you want to make the most of your visit to the Stadthuys, make sure you follow these tips:

1. The Stadthuys is home to a sprawling museum complex. To get a full sense of Malacca's history and heritage, you must visit all the museums and check out the different exhibits.

2. Guided tours are arranged, but they get sold out fairly quickly. So, if you want a guided tour around Stadthuys, make sure to do your booking well ahead of time.

3. Exploring Stadthuys completely might take time. Make sure to have at least a couple of hours on hand.

Also, be prepared to take loads of pictures and have fun!