About Mount Pilatus
Mount Pilatus is a tiny paradise of Lucerne in Switzerland that is considered to be the greatest hiking destination. It is composed of many beautiful peaks out of which Tomlishorn is the highest. Once you have reached Mount Pilatus and you look down, the most amazing sight awaits you- Lake Lucerne nestled right into the Swiss Alps! 

When you have reached the top, there are a plethora of things for you to do! You can gaze at the Swiss Alps from the viewpoint, or you can drop into one of the bars or restaurants scattered all over the place! You'll also find a Dragon path at the top of Mount Pilatus where information about the hiking trails and viewing points has been mentioned.
How to Reach Mount Pilatus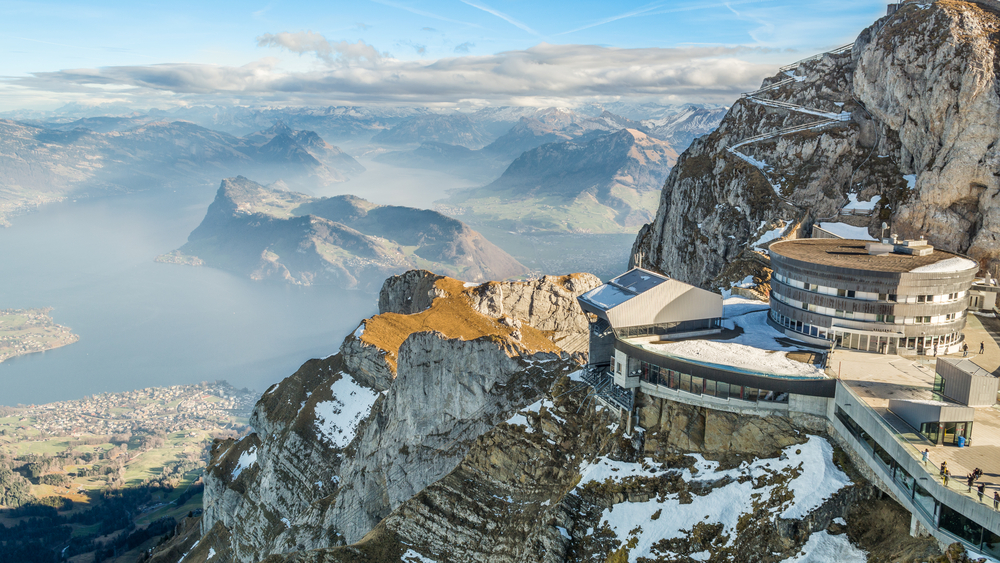 Mount Pilatus overlooks Lucerne, and there are mainly four ways by which you can reach this haven:

Cableway
From Lucerne, you will have to drive to the small town of Kriens. From Kriens, you will get tickets for a couple of panoramic gondolas and a cableway that will take you to the top of Mount Pilatus.

Distance: 9 km
Time taken: 40 minutes from Kriens
Cost: 78 CHF for adults and 40 CHF for children under 16.

By Cogwheel Rail
A train will take you from Lucerne station to Alpnachstad station and from here you can take the cogwheel rail that will take you to the top of Mount Pilatus. On the way back, you ride the cableway and gondolas to Kriens and from here you take a train that will take you back to the Lucerne railway station.

Distance: 9 km
Time taken: 30 minutes from Alpnachstad
Cost: 72 CHF for adults and 36 CHF for children under 16

Hiking
This is also a favorable option, if you trek regularly, you may try this out. The route is spectacular, and you'll be greeted with phenomenal vistas of nature in the entire journey!

Distance: 26.5 km
Best Time to Visit Mount Pilatus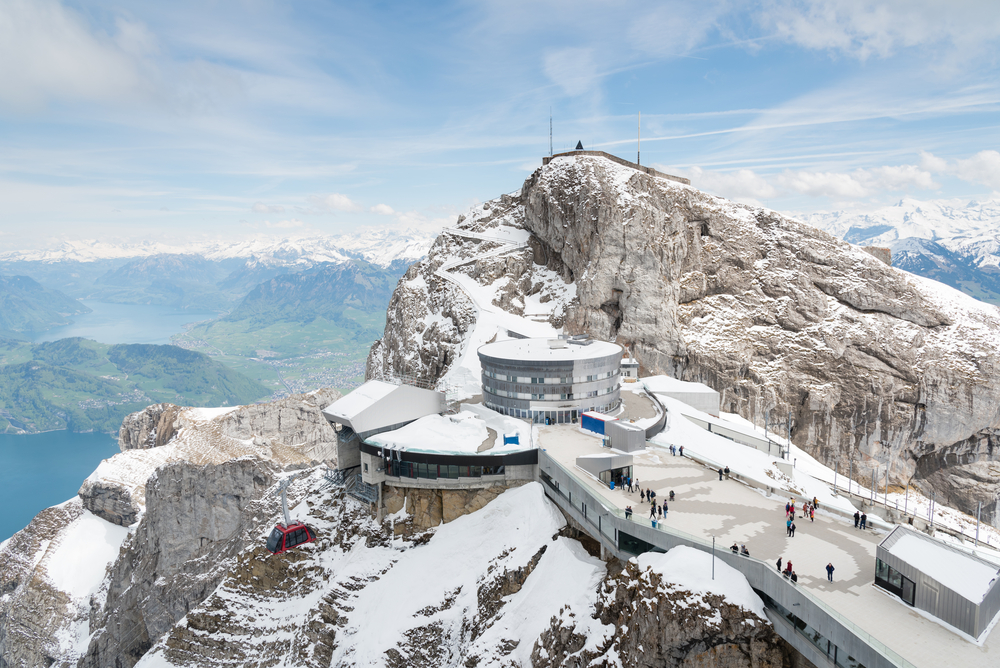 The best time to visit Lucerne and Mount Pilatus would be between June and September. This is peak season, and the weather is quite pleasant. Since Lucerne is literally at the foot of the Alps, it is chilly even in summer! Here are a few other seasons when you might visit Mount Pilatus.

It would not be too wise to visit it during winter as the temperatures go really low and even the cogwheel rail is closed. You should visit Mount Pilatus in the morning as the queues will be less and you will be able to enjoy the view for some time! Then you can come back and explore the town of Lucerne in the evening!
What Not to Miss at Mount Pilatus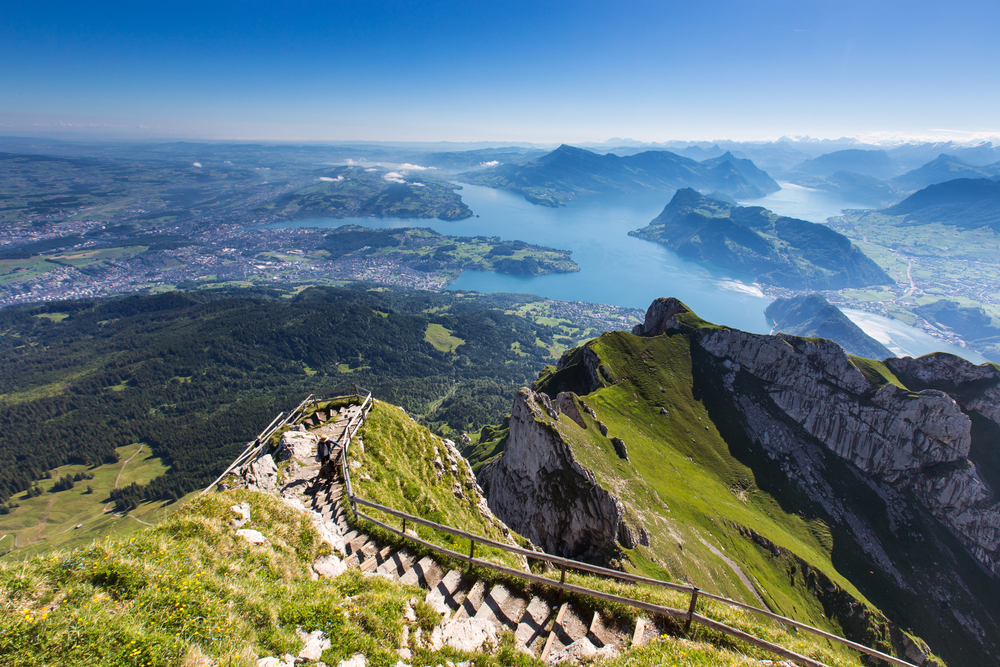 Pilatus will not disappoint you when it comes to the activities you might do there! You can snowshoe, hike, just click pictures or dig into some fondue!

1. Soak in the beauty with a glass of champagne or a cup of coffee
Being one of the top tourist attractions of the country, Mount Pilatus has a lot of options when it comes to restaurants, cafes, and hotels. If you are not very outdoorsy, you can drop into one of these and soak in the tranquillity and elegance of the whole place!

2. Take a hike up to the viewpoints
Mount Pilatus has several peaks, and each of these serves as viewpoints. However, try these out only if you have a certain level of fitness. All the hikes are short, but uphill and may prove a little difficult!

3. Hike up to Tomlishorn
Tomlinson is the highest peak of Mount Pilatus. The hike to Tomlishorn is a pleasurable one as it is more of a stroll, just with a world-class view of the Swiss Alps! It takes only about 40 minutes for the whole thing!

4. Dig into some mouth-watering fondue!
Can you really skip fondue when you are in the Swiss Alps? Order some fondue made of local Swiss cheese while you are gazing at the Alps!

5. Chase flowers on the Flower Trail!
A little lesser-known, but equally beautiful! The Flower Trail at Mount Pilatus will send your aesthetic soul into overdrive! You will encounter rare and beautiful flowers difficult to find on lower tracks!
Other Essential Information About Mount Pilatus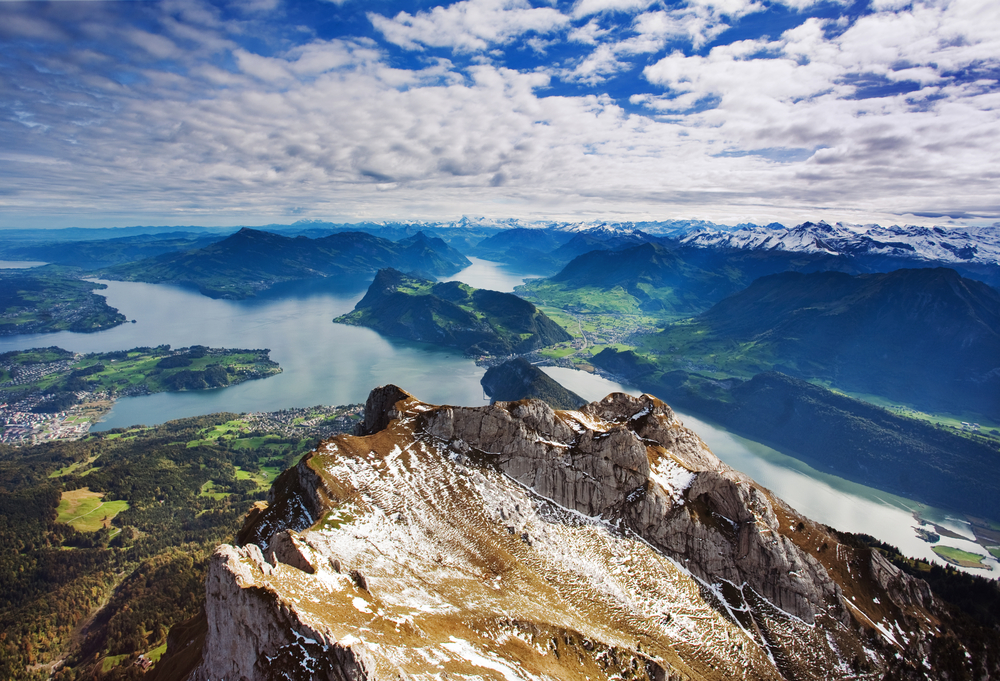 What to expect at the top of Mount Pilatus?
Once you reach the top of Mount Pilatus, you will be greeted with a sight that will stun you into silence- Lake Lucerne nestled in the lap of the Swiss Alps! Not just that, you can take short hikes to access a number of viewpoints, each showing another breathtaking side to the Swiss Alps! And when you are done, just go into one of the restaurants to ask for fondue- this will complete yours once in a lifetime experience!

Traveler's tips for Mount Pilatus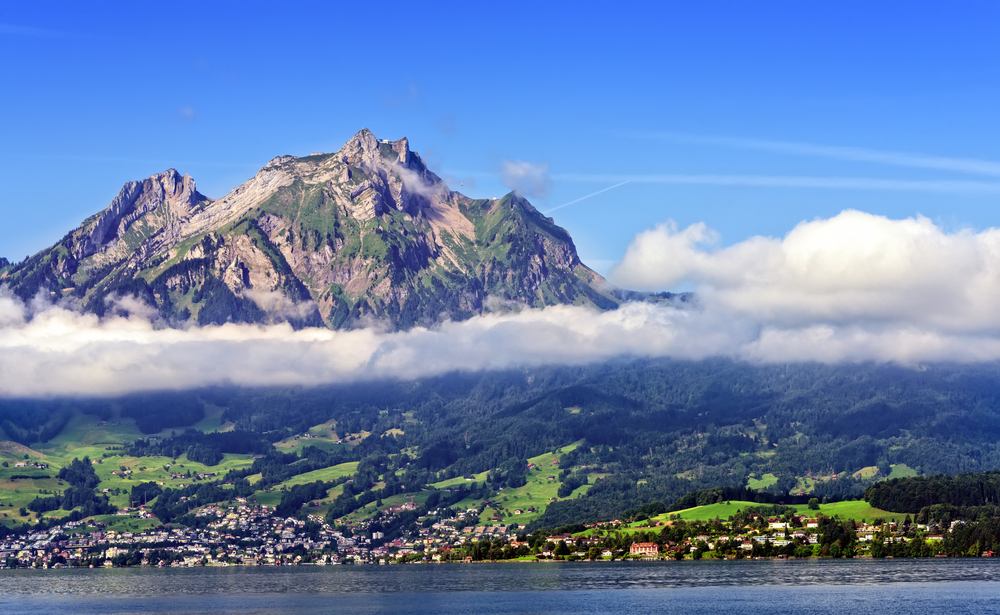 To make your experience even more memorable, we have a few things that you need to keep in mind:

- Try to leave for the Kriens station as early as you can, or else you may face a long queue in the peak season!

- Wear a light coat over a t-shirt and a cotton sweater. You will not need anything warmer during the summer season!

- Make sure you have worn good walking shoes or trekking shoes as you may need to hike to a few viewpoints.

- Try to book the tickets online if possible or else you may not get any during peak  season

- Get a Swiss Travel Pass if possible as that includes all travel systems of Switzerland- including cableway and cog rail.

- To make the most of the trip, try to get there by 10. All the transportation systems close by 5, so you must leave by 4. This gives you a good 6 hours!