About Lake Lucerne
Surrounded by picturesque lush green mountains and Swiss architecture, Lake Lucerne is an emerald stretch of calm waters situated at an elevation of 1,424 feet from the sea level. Fed by four basins crawling through the edging lands, the lake is always brimming with freshness and coolness in its waters.

You could plan a cruise or boating experience in these waters where you could organise a business event, a celebration party, a proposal or simply a romantic date. Whatever you choose to do in here, you will be astounded with options for a diverse fleet which includes historic paddle steamers and modern motor vessels too.

While on your cruise, you would witness the cluster of beautiful Swiss houses in its west accompanied by the untouched grasslands of Horw. While on its south, the majestic and pale limestone mountain chain could be seen creating a reflection in the calm lake waters.

Also the Seelisberg cut through by various tiny basins is situated in its south and the Swiss Meggenhorn Castle is aligned to the north bank of the Lucerne Lake. You could explore the mountain Rigi on foot and admire the beauty of the lake from a height. Every mentioned element combines together to make this a tourist hub which is appreciated by every person visiting here.
How to Reach Lake Lucerne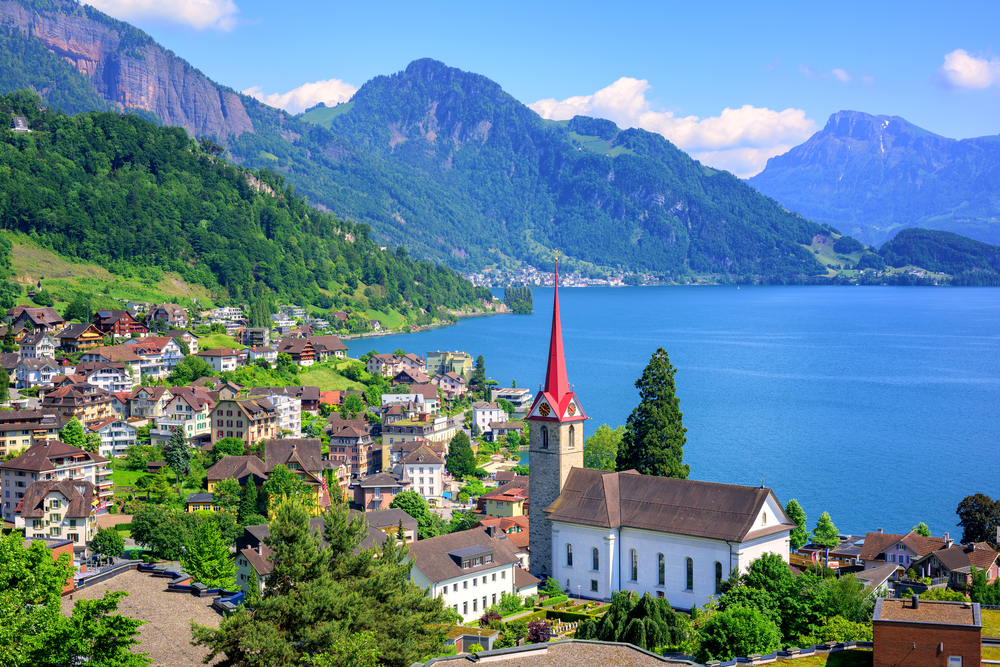 There are several options that you can choose from to reach Lake Lucerne from Luzerne station.

Ferry:
Taking a ferry from the station is one of the most popular ways that you can travel by. It is about 8.8km of travel and takes about 35 minutes. 

Taxi:
In case you do not wish to go by ferry, you can take a taxi from the station. It would take you about 25 minutes to reach the lake and cover a distance of 21.5km.

Self-drive:
You might also want to self-drive up a car there and in case you wish to do, be sure to carry the necessary documents with you. It is a 21.5km drive and would take you the same time to reach the lake.
Best Time to Visit Lake Lucerne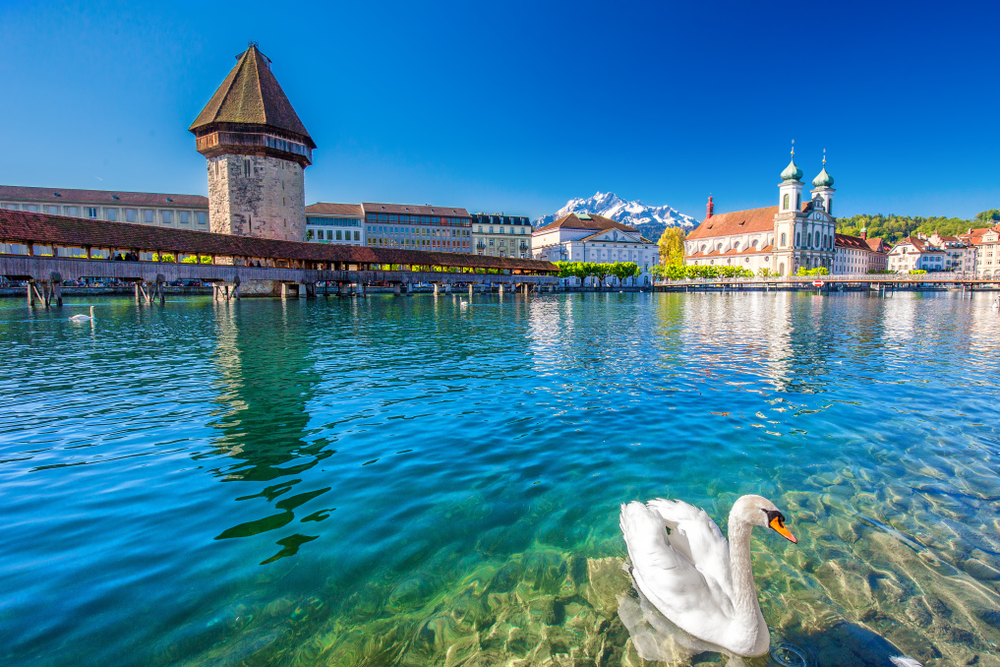 The best time to visit Lake Lucerne is during the summers, that is from May to September. The weather during this time is just perfect and the temperatures range from 12-24 Degrees. Be sure to take your trip to the lake in the morning itself and not delay it since the place experiences thunderstorms in the afternoon and it might concern your safety.
What Not to Miss at Lake Lucerne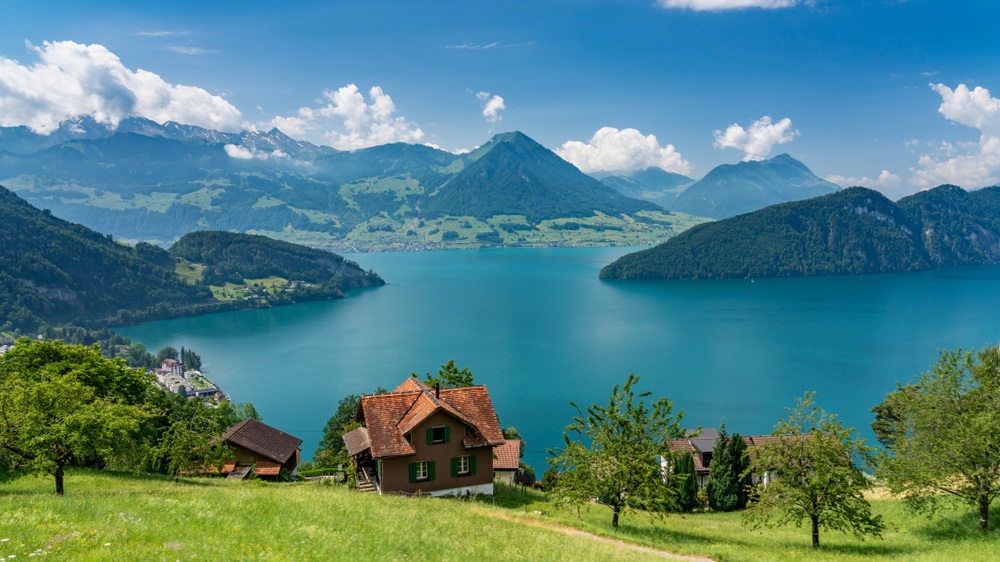 Here are some of the best cruise and boat trips at Lake Lucerne:
1. Evening Boat ride with delicious Indian Dinner
Take in the quietude of Lake Lucerne during a 1.5 hour cruise with Indian themed food and music. Relax while you cruise under the soaring peaks of Mt Pilatus and Mt Rigi, and dine on buffet style traditional Indian cuisine for both vegetarians and meat-eaters.

Once you are on board, you can satiate your taste buds with mouthwatering dishes while admiring the rocky shoreline and spectacular views. Also, you can dance to the tunes of your favourite Bollywood hits and have a wonderful experience.

2. Summer Golden Round Trip to Mount Pilatus and boat tour
This might be a perfect choice for you during the summers especially if you are a nature freak. If you take this tour, you also get to enjoy a cable car ride to the summit of Mount Pilatus. Then you can take a train that takes you downhill from the mountain. Since this is a full day tour, you also get to visit Lake Lucerne via a boat once you reach the base of the mountain after the train ride.

3. A Scenic Boat ride and Lucerne tour with a professional guide
You can visit the classical and enchanting town of Lucerne on this tour. A guide leads your way to some of the most popular places such as the Lucerne Castle and the Chapel bridge as well. Then you can take a boat to Lake Lucerne where a guide will help you experience some of the best views of the place. 

4. Private Boat Tour
Taking a private boat tour is a good idea if you and your loved one wish to spend some time and enjoy the beautiful view together. This tour is so peaceful and so serene that you would love to experience the view outside with your bae. You can also choose to have a tour guide if you wish to. This tour also offers you with a meal so you can enjoy your meal peacefully while you're on the boat and have a gala time.

5. The Picturesque Sightseeing Cruise
This is a group tour that takes about one hour on the cruise and takes much less time compared to a boat. If you wish to take a meal on the cruise, you can opt for it while you enjoy your time in the lake. You get to spend more time on board in the cruise than on the boat and this tour offers you with some delicious food while you admire the beauty of nature around.

6. Lavish and Private Motor Yacht Tour
If you wish to experience a lavish private motor yacht tour, you can go for this one. It offers you a very luxurious experience if you are willing to spend about ₹ 1.5 lakhs per person. This is a motor yacht tour, unlike your usual boat or cruise and is worth experiencing once in a lifetime!

Since it is a private yacht, there wouldn't be any other people except for you and your loved ones and you can enjoy the time in and around the lake in a better way. You are also offered meals in case you wish to have and you can have some delicious dishes while you are on the yacht.
7. City Group tour with a small group cruise
When you opt for this city tour, you would get to experience some of the best views of Lucerne. You can go to the Lucerne pier and enjoy the miraculous views of the city with a small group. If you are looking forward to natural getaways, this 5 hour tour on the cruise is exactly what you should be going for!
8. Mountain Rigi excursion and Lake Lucerne Cruise Tour
On this 8-hour long tour, you can commence scaling the summit of Mt. Rigi via a cable car. This tour is all inclusive of the round trips from your hotel or the stations in Lucerne. You can hop onto a boat once you are done scaling the peak and getting down the valley by taking a train. This mountain and lake tour together would give you a great experience!

Other Essential Information About Lake Lucerne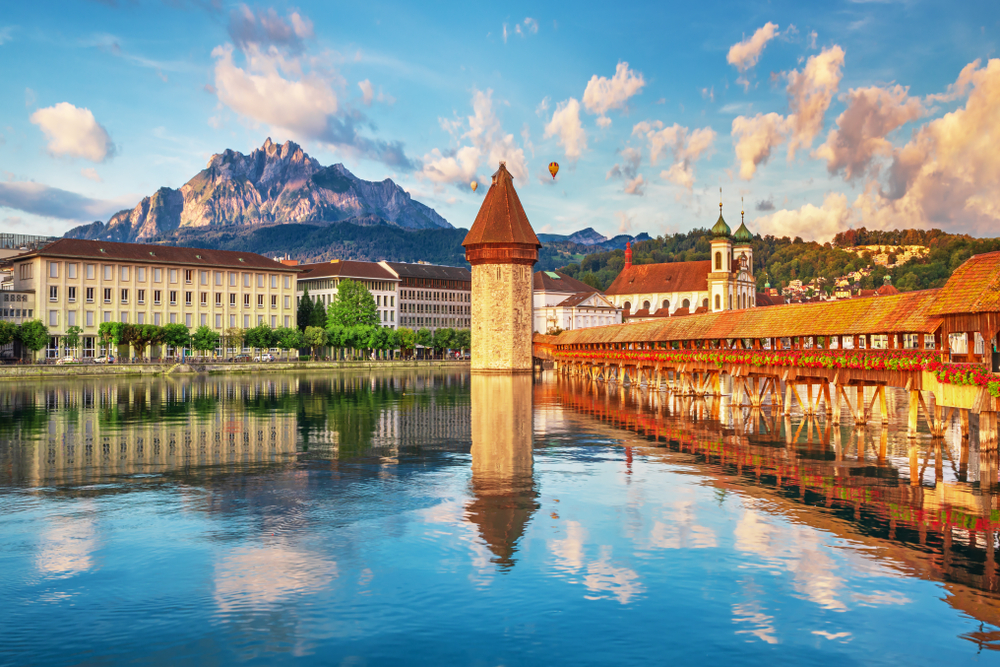 History of Lake Lucerne
Lake Lucerne holds a significant place in history as it dates back to the 19th Century. At that time, the Gotthard Pass was becoming famous for transporting materials and men. The A2 Motorway situated nearby would remain closed for several reasons including landslides.
Hence, an alternative was needed at the earliest. Moreover, the villagers of Lucerne town decided to use waterways as an efficient mode of transport. Therefore, in the year 1837, a boat company namely PS Stadt Luzern commenced operations on this route.
There was significant business on this route, especially for transporting mail as well and the Gotthard route to Italy was the only option before. However, with the introduction of this service, there was an effective alternative and the Uri canton was utilised the most for this purpose.
In the year 1849, there were many operations on this route. Later, the connectivity of Railways to the town of Lucerne aided as well. More and more tourists flocked into this beautiful city as awareness spread.
Travellers' Tips for visiting Lake Lucerne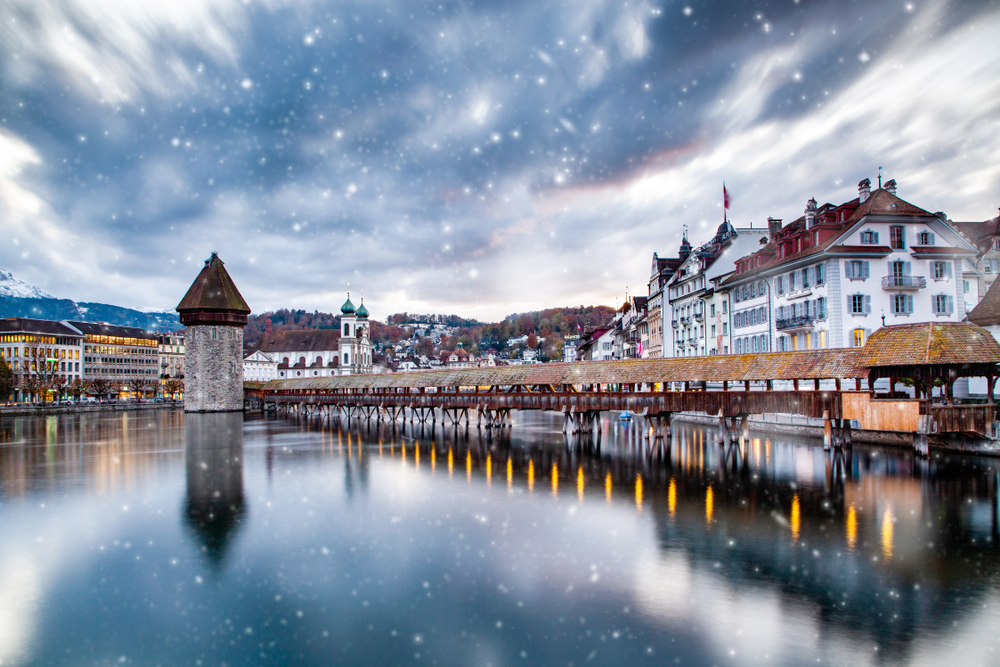 - It is advisable that you choose the correct time and weather to enjoy Lake Lucerne to the fullest. If you are not adept to the colder climes, you can visit in the summer where the temperatures rise significantly. 

- If you are considering a visit to nearby destinations such as Mount Pilatus, ensure that you buy a clubbed ticket as it will save you a few bucks. 

- You might face some struggle as many boards and instructions are in German. You might want to learn a few of those words, or better use a translation tool. 

- The food is quite expensive here so if you intend to order anything extra, ensure that you have a look on the right-hand side column as well. Spending lavishly on food, especially if you are looking for a budget tour can be disastrous. 

- If you are travelling with kids, there can be an extra rush and hence you must take care of your kids in the crowd.