About Salim Singh Ki Haveli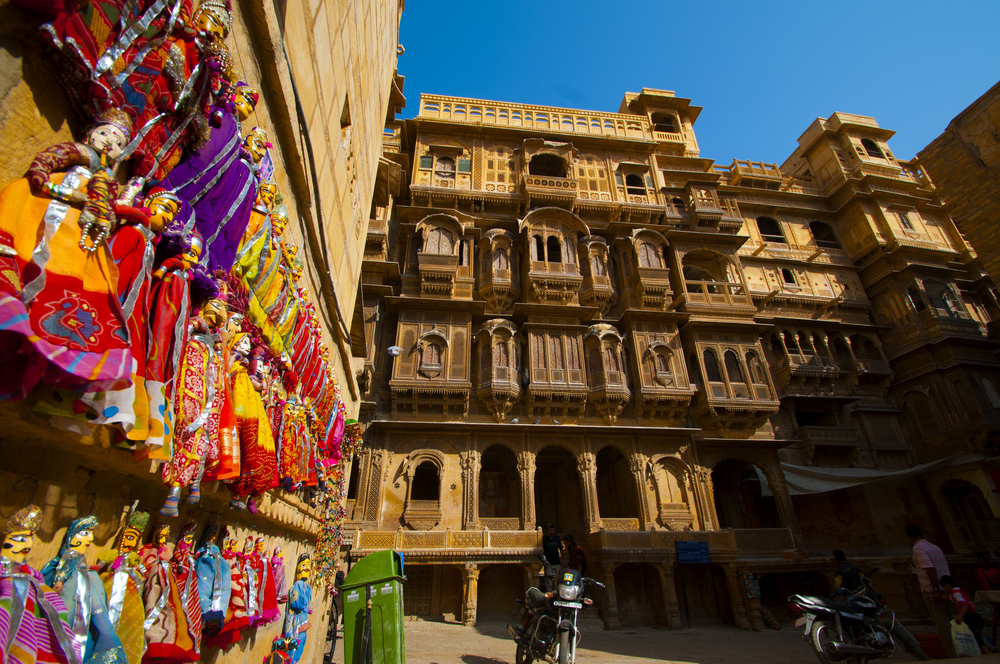 Salim Singh ki haveli is one of the most beautiful edifices situated in the heart of the Jaisalmer city. It happens to be one of the main tourist attractions in the city. It was renovated in the 19th century and was commissioned by Salim Singh who was the prime minister of that time. The haveli is also popularly known as Jahaz Mahal as the front facet of the monument has close resemblance with a ship stern.
The Salim Singh haveli is known for its architectural marvel and elegance. The haveli is almost 300 years old, however, the architecture is still enough to mesmerize the tourists. You will find the roof beautifully arched in the shape of a peacock. The haveli has 38 balconies designed with pale blue cupolas and each of the balconies have got their distinct shape. When you enter the Haveli, you will be welcomed by two elephants which are carved out of stones and the walls covered with countless imperial paintings. 
There is one more Mahal inside the Haveli, which is known as Moti Maghal. You will surely be amazed by the glamour of the Mahal. It was once upon a time a place for aristocratic and royal courtiers. It is one of the must-visit places in Jaisalmer. You must plan a day to tour in and around the place in your travel itinerary. Let us get to know more about the haveli and its legacy.
How to Reach Salim Singh Ki Haveli
Reaching this architectural marvel would on no occasion be difficult for you. If you want to visit the Salim Singh Ki Haveli, then you need to reach Jaisalmer. As there is no airport in Jaisalmer, you need to fly to the nearest airport in Jodhpur which is almost 275 Km away.
After reaching Jaisalmer, you can easily take a cab to drive to the Haveli without any inconveniences. You can also find local buses as well as auto-rickshaws plying on the route to the Haveli every now and then.
Best Time to Visit Salim Singh Ki Haveli
If you want to explore the Haveli and all that Rajasthan has to offer, then it would be better to come in between the months of October and March. In this time, you will not be affected by the scorching sun as well as harsh weather. This period is considered to be the best for various sightseeing activities in Rajasthan, India's hot capital.
What Not to Miss at Salim Singh Ki Haveli
Things to Do at Salim Singh Ki Haveli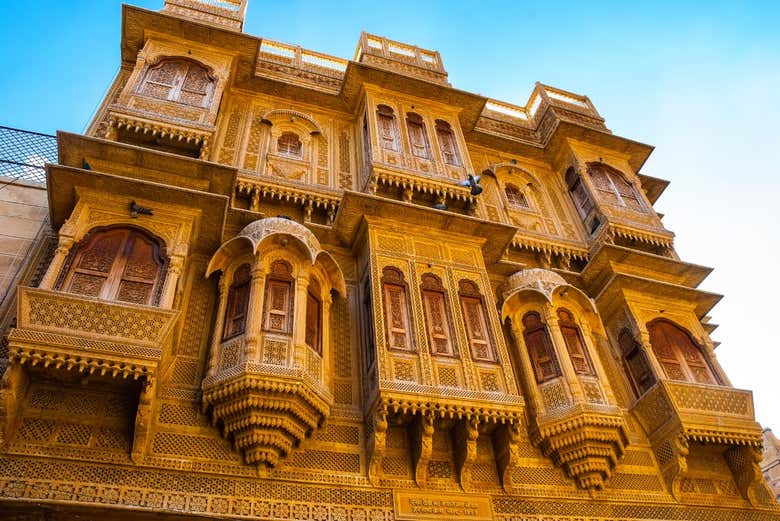 When you are at the Salim Singh Ki Haveli, Jaisalmer, you must not forget these things to do:
1. 
Spend time across the structure of the peacocks dancing from all sides.
2.
 You must check out the blue cupola roof. This is certainly one of the most treasured possessions of the palace. 
3.
 Experience the intricate detailed architecture.
4.
 Explore some of the secrets of Salim Singh Ki Haveli with the help of your tour guide.
5.
 Have a look at the chiseled glass window, which has been ornamented with many precious stones and minute artisanship
Places to visit near Salim Singh ki Haveli
There is a lot to explore around Salim Singh Ki haveli:
1. Jaisalmer Fort:
 Jaisalmer fort is one more place of tourist attraction that is known for its construction, dating back to the 12th century. The fort is situated in the middle of the Thar desert and it was acknowledged as one of the largest forts ever built. This fort has been closely associated with the India history and has also witnessed repeated seizures of Muslim rulers. The fort is also known as Sonar Quila or Golden Fort, because of its magnificent past.
2. Patwon Ki Haveli: 
After Jaisalmer fort, Patwon Ki Haveli happens to be the second most popular spot which is an amalgamation of five different Haveli's constructed with distinctive patterns. The Haveli stands out for its amazing design elements and you will fall in love with the mural works, windows, arches, gates, and balconies. It is also known as Kothari's Patwa Haveli. Patwon Ki Haveli is also known for its trading history. 
3. Gadisar Lake: 
Gadisar Lake happens to be one more landmark for Jaisalmer city. This lake is known for its amazing history as well as for its boat rides and serene atmosphere. You will fall in love with the tranquilizing environment. The lake was built by Raja Rawal Jaisal as one of the water conversation reservoirs.
 If you want to spend some time in tranquility then this place should be your pick. The lake not only offers a break from the hustle and bustle of the city but it also serves as a place for countless migratory birds. It is considered to be one of the essences of Jaisalmer and it shouldn't be missed in the course of your Rajasthan tour.
Other Essential Information About Salim Singh Ki Haveli


- Location: 
Salim Singh Ki Haveli is located at Amar Sagar Pol, Jaisalmer, Rajasthan.
- Timing: 
The Haveli is open from 6 AM in the morning to 5 PM in the evening. 
- Price: 
The entry fee for Salim Singh ki Haveli is INR 10 for Indian citizens and INR 15 for foreign individuals. However, you need to pay INR 50- INR 100 for carrying a camera into the Haveli.
Interesting Facts about Salim Singh Ki Haveli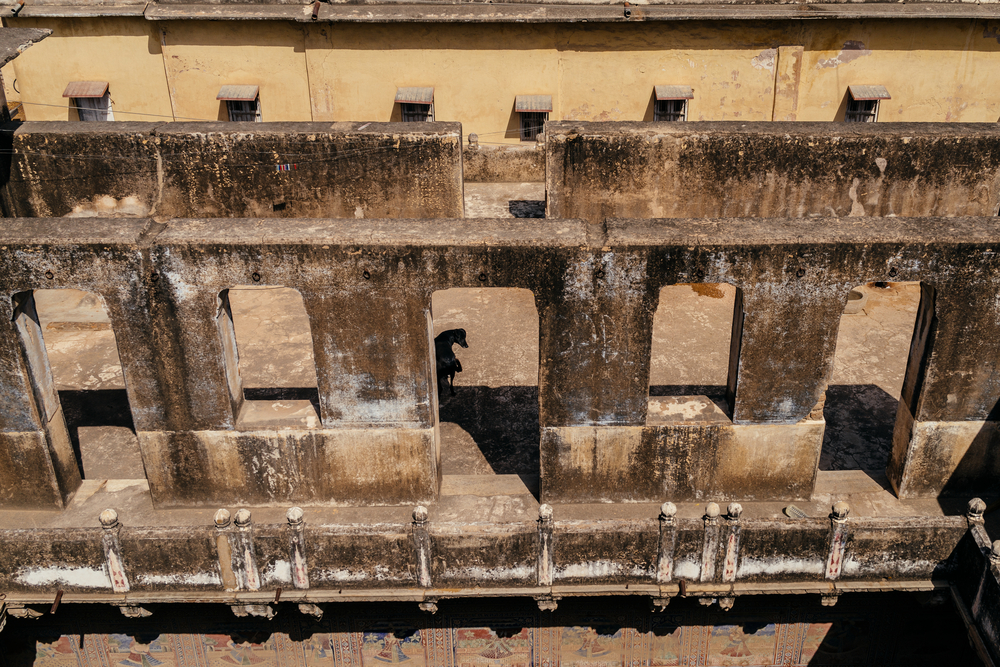 Here are some of the interesting facts about the Salim Singh Ki Haveli in Jaisalmer. Do check them out before planning a visit to this amazing place. 
1. 
Salim Singh Ki Haveli is designed similar to the posture of a dancing parrot
2. 
It was initially 7 stories tall but later the upper two floors were demolished after the orders from the rulers. 
3.
 The Haveli has got a number of exit points to be used in the course of any danger. 
4. 
This Haveli is considered to be the mark of luxury and extravagant architecture in Jaisalmer. It attracts numerous tourists coming to Rajasthan all over the year.
5. 
The Haveli is filled with countless stone carvings and wonderful artistic crafts. 
6. 
Salim Singh Ki Haveli was built when he was the prime minister to the King and later the king was jealous of this architectural marvel. It is believed that the Haveli has also played its role in the murder of Salim Singh. 
7. 
Salim Singh Ki Haveli happens to be on top of every travel plan to Rajasthan for its amazing stature and history connected to it.
Places to eat near Salim Singh Ki Haveli

1. Natraj Restaurant:
 If you want to relish on a Rajasthani Thali, then this is the place that can offer you traditional Rajasthani culinary magic. The restaurant is located at the town center and is considered to be the perfect location for dining out near Salim Singh Ki Haveli. The restaurant offers a variety of Rajasthani, Indian and Chinese food. Reach out this place and give a treat to your taste buds. 
2. 1st Gate Home-Fusion:
 1st Gate Home-Fusion is a perfect place for an enticing eatery. It not only offers Rajasthani food, but it also offers various Indian and Chinese cuisines. Located in Dhibba Para, Jaisalmer, the 1st Gate Home-Fusion also has many gluten-free and vegan options for you to try. 
3. Sunrise Paratha House: 
The sunrise paratha house is a completely vegetarian restaurant that offers breakfast, brunch, and lunch. It is one of the top favorite places for tourists who love to have vegan food and taste the delicious parathas of Rajasthan. You can't resist the amazing smell of Rajasthani paratha when you pass by this restaurant. 
4. The Surya Restaurant:
 The Surya restaurant is yet another eatery close to Salim Singh Ki Haveli, which is known for its awesome atmosphere and service. It offers value for money meals with no compromise on quality. You will fall in love with vegetarian options available here.
5. Killa Corner:
 If food entices you round the clock, then this is the place. It is not only known for its amazing ambiance but it is also known for its location which is just next to the Haveli. It offers superb Indian and Chinese food for you to enjoy.