About Sinharaja Forest Reserve
Sinharaja Forest Reserve is an important national park in Sri Lanka. Recognized as a Biosphere Reserve and a World Heritage Site by UNESCO, Sinharaja Forest Reserve is home to numerous rare flora and fauna. The area is covered with rare plants and animals that are endemic to Sri Lanka. It is also considered as the country's last area of tropical rainforest and is thus of great importance.

This reserve spans an area of about 21 km from east to west and 7 km from north to south and densely covered by vegetation that forms a kind of canopy. This thick canopy of tropical trees blocks sunlight and traps in humidity turning this entire Reserve into a massive greenhouse.

The mammal population mostly comprises leopards, elephants and purple-faced langur. The green pit vipers and the hump nosed viper constitute most of the reptile population and tree frogs are an integral part of the amphibian species found in the Sinharaja Forest Reserve.  Sri Lankan Blue Magpie, Red Faced Malkoha, Orange Billed Babbler, Crested Drongo are a part of the 20 endemic bird species found in this forest reserve. Invertebrates including leeches, various species of butterflies and so much more.

Along with the dense fauna of the forest reserve, there are multiple streams, waterfalls in the Sinharaja Forest Reserve that makes it a completely natural ecosystem for the flora and fauna thriving here. There are about a dozen villages that are built along the border of the Sinharaja Forest Reserve and comprises local and tribal people. These tribal groups and the inmates of the Reserve have been living in harmony for centuries.
How to Reach Sinharaja Forest Reserve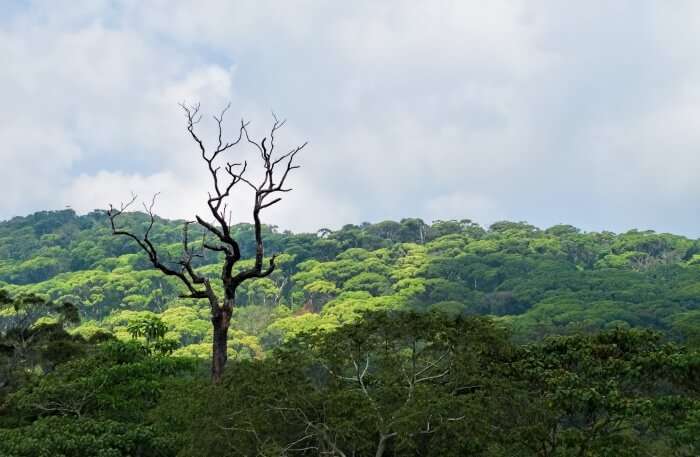 Sinharaja Forest Reserve is located 82 km from Galle or Koggala Airport. You can hire a taxi or a private vehicle that will take you to the Forest Reserve within 3 hours. There are multiple options of vehicles available at the airport and you can choose according to your budget and the size of the group you are traveling with.
Best Time to Visit Sinharaja Forest Reserve


The best time to visit Sinharaja Forest Reserve is either between January to May or August to December. You must avoid the monsoon season to visit any forest or natural reserves as during this time insects, bugs and mosquitoes are at their maximum numbers and diseases predominate. Also, the region receives heavy rainfall that makes it impossible for sightseeing and explorations.

Therefore, January to May and August to December are the best months to visit Sinharaja Forest Reserve.The weather is pleasant and offers a wonderful experience of exploring this  vast expanse of natural wonder.The dry and colder months provide for more comfortable conditions to enjoy hiking expeditions and various explorations.
What Not to Miss at Sinharaja Forest Reserve


We understand that your trip to the stunning rainforest of Sinharaja National Park will be amazing but there is no harm in exploring the nearby areas in order to turn it into an unforgettable memory. Here are a few places to be included in your Sinharaja adventure trip.

1. Weligama Beach: When you are looking for places to soak yourself into serenity and solitude near Sinharaja Forest Reserve, it is time to head for Weligama beach. This beautiful beach is also a surfing paradise for beginners. Here you can have some great opportunities to click those famous Sri Lankan stick fishermen. Taprobane Island is a tiny rocky place that you shouldn't miss at Weligama Beach.

2. Adams Peak: This is one of the spectacular places to explore around Sinharaja Forest Reserve. Tourists come at this peak in thousands to witness one of the most enticing sunrise scenes in the world. You have to climb as many as 5200 odd rocky stairs to reach the peak but once you are there, you will forget about your struggle to reach the peak.

Adams Peak holds a strong religious significance as Buddhists believe it to be the left foot of Lord Buddha while Hindus treat it as footprint of Lord Shiva and Muslims along with Christians believe it is Adam's first step on earth after being banished from the Garden of Eden.

3. Dutch Church: As Sri Lanka was once a prosperous Dutch colony, it is no wonder that the whole country is dotted with a number of wonderful Dutch architectural wonders. Dutch Church is surely one of those gems. Built in 1640, this church is particularly known for its unusual hexagonal shapes and meticulously grained calamander satinwood panels.

4. Ratnapura: When you are in Sri Lanka, you should buy some precious or semi-precious gems from here. Although there are hundreds of jewellery shops in Kandy, and Colombo but Ratnapura is the best place to shop for gems. Pay a visit to Ratnapura just to explore the vibrancy of this marketplace even if you are not interested in buying anything.

5. Mirissa Beach: This beach is undeniably the most celebrated diving spot in Sri Lanka that you can explore during your Sinharaja Forest Reserve trip. The best part about this beach is that it offers spectacular views of whales. If you are not ready to dive into deep water, you can always sign up for a snorkelling session at Mirissa Beach and explore the vibrant marine life here.


Hiking in Sinharaja Forest Reserve


The best way to experience the true essence of Sinharaja Forest Reserve is by hiking or trekking the various trails that have been formed for this very purpose. These hiking trails are of various lengths and can be explored by joining one of the many Forest Reserve tours. There are about 16 hiking trails in Sinharaja Forest Reserve. Some of the popular ones are mentioned below:

1. Kudawla-Molalla trail: This trail is about 3 km in length and it covers the managed land of the northwestern parts of the Reserve. Although the trail is covered in thick forest it is still comparatively easier to walk than the Sinhagala trail. Due to being densely covered this trail is perfect for bird watching.

2. Pitadeniya-Pathan-Oya: This is a 10 km long trek and on the way you will pass by the Pathan River and the beautiful Hathan waterfall. Along this trail you can explore the lovely Hathan Waterfalls and the Pathan River. The trail starts from the Pitadeniya Conservation Centre and continues on a winding path into the forest area. It is important to remember that you will be required to do a little climbing to cover this trail.

3. Kudawa-Sinhagala trail: This trail is about 8 km in length and takes you past some of the most scenic areas of the Forest. The trek leads to Sinhagala, a high altitude peak in the Forest. This is an advanced trek and it requires a good amount of physical and mental fitness to cover it.

4. Neluwa-Kosmulla trail: This trail is about 10 km in length and covers the beautiful Duvili Waterfall and several caves are also found on this trek. You may also encounter sambar deer and water buffalos along this trail.

With the green canopy of trees overhead and the forest getting denser with every step forward, you will fall in love with nature. The only sound you can hear is the chirping of birds, humming of insects and the sounds you make while walking. 
Other Essential Information About Sinharaja Forest Reserve


Location: Sinharaja Forest Reserve is located at Sabaragamuwa and Southern Provinces of Sri Lanka. This beautiful wet rainforest stretches about 21 Kms from East to West and around 7 Kms from North to South.

Opening Hours: Sinharaja Forest Reserve is open for visitors from 6.30 am to 6 pm although the ticket booking office shuts down at 4.30 pm. Make sure to reach the ticket booking office early in the morning if you wish to spend more hours at this Forest Reserve.

Entrance Fee: Entrance Fee for adults is Rs.644 and for child, it is Rs.325. Compulsory guide will charge you another Rs.1000 and taking your video cameras inside the forest will need you to pay an extra Rs.560.


Exploring in Sinharaja Forest Reserve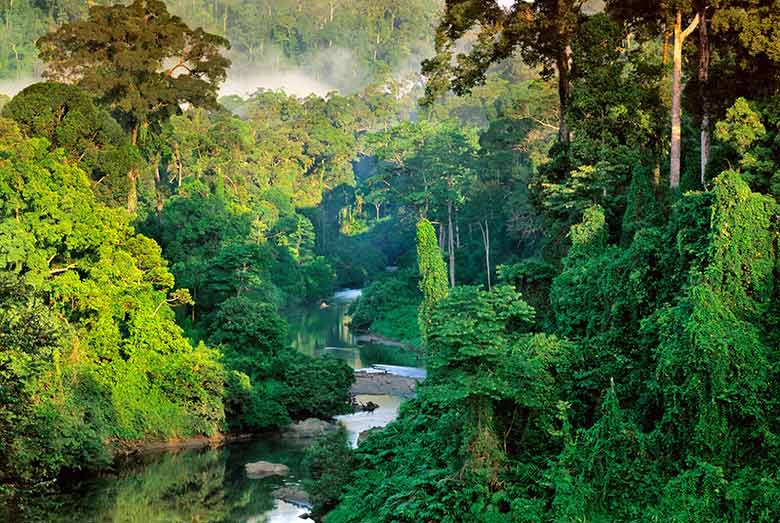 1. Explore the densely packed rainforest of the exotic island, Sri Lanka. It is a visual treat to walk under the magnificent trees that have formed a natural canopy and as a result, very little sunlight enters the forest, giving it a dimly lit appearance.

2. The green layer of soft grass and moss creates a slippery yet velvet-like ground that seems like a carpet specially placed for you.

3. Sri Lanka is home to more than 26 species of endemic birds. The Sinharaja Forest Reserve has more than 20 endemic bird species and you can always spot the colorful birds from a distance like the Green Billed Coucal, Orange Billed Babbler, Sri Lankan Crested Drongo, etc.

4. The multiple streams that are present in the forest add to its beauty. The sound of the sparkling flowing water, the waterfall falling on the large rocks adds to the perfect ambiance of the reserve.

5. Once you have taken the hike or nature walk through the forest reserve, you will be surprised to find numerous insect species that are very uncommon in your native area and are exotic only to the Sinharaja Forest.

6. Do not forget to witness the beautiful flora of the forest. Make sure you are accompanied by your guide on the journey and the guides speak fluent English and are well learned with the animal species and surprisingly the flora too. They know the names of each and every plant and will tell you about them in detail.

7. Make sure you carry your camera and capture the vastness of the diversity of flora and fauna and return with numerous memories in the form of pictures from the trip.   


Nature Walk in Sinharaja Forest Reserve


Sinharaja Forest Reserve is the perfect example of nature in its raw form. You will rarely witness such unexplored and wild nature along with such rich biodiversity. The forest reserve offers numerous nature walk tours. Some towards the water bodies and waterfalls and some inside the forest and few a combination of both. These are guided walks and provides for a good learning experience for children as well as adults. Some of the best nature walks are:

1. Bird watching trail: To enjoy a nature walk you can opt for the bird and butterfly observation trail that takes you past unspoiled scenery and some amazing bird and insect spotting. The trail is divided into two segments; the first part is about 2 km long and the second part is about 1.5 km in length.

The first section is perfect for all age groups and it starts near Ecolodge and goes on up to Samangala. The second section is an extension of the first section and follows the same trail. This area is a great place to view various species of exotic birds and Macaque monkeys.

2. Night Trails: Night trails are organized tours that lets you explore the many wonders of this large expanse of untamed nature after sundown. This is a whole different experience that every nature enthusiast should try.


Bird Watching in Sinharaja Forest Reserve


While exploring the many wonders of Sinharaja Forest Reserve, it is really hard to resist the temptation to sign up for a bird watching trekking tour. This National Park is known to the world as a prominent biodiversity hotspot and home to a large variety of birds some of which are endemic to this region. Spreading across a sprawling area of about 8000 hectares and located at an elevation range of 300 – 1000 metres, this rainforest is a safe abode to more than 147 avian species.

Whether you are an avid bird watcher or a newbie at this sport, birdwatching is a must try activity whenever you visit the Sinharaja Forest Reserve. The most commonly sighted birds at Sinharaja Forest Reserve include Red Faced malkoha, Grey Hornbill, Sri Lankan Blue Magpie and White Headed Starling. Trekking routes for bird watching has been designed thoughtfully so that travellers get enough opportunity to know the forest ecology along with its people.


Eateries in Sinharaja Forest Reserve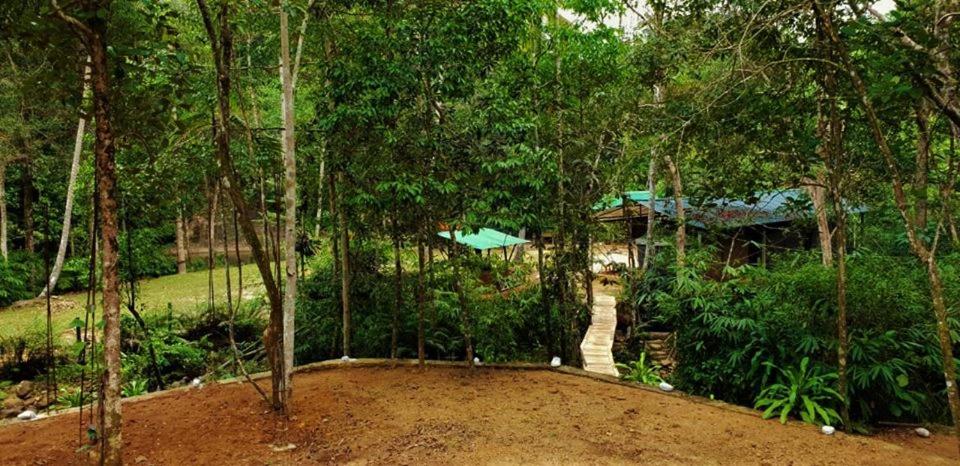 1. Sinharaja Circuit Bungalow: This is not a typical eatery venue at this national park but it comes with an in-house restaurant. Once you book your accommodation here, you can avail their restaurant facility to fill your tummy.

2. Sinharaja Adventure Resort: This is another good option to enjoy delicious dishes while enjoying a trip to Sinharaja Forest Reserve. This resort paired with a restaurant is located in Kudawa, just outside the border area of Sinharaja Rainforest.

3. Forest Edge Restaurant: This is probably the nearest eatery to Sinharaja Forest Reserve. This Lankagama Road restaurant is located at a distance of 0.1 Km from the forest. It serves Asian, Chinese and other continental dishes apart from Sri Lankan delicacies. Every dish is prepared here with care and they taste nothing less than a home cooked meal.

4. Eco Villa – Sinharaja Restaurant: This restaurant is one of the best eateries that you can find in and around Sinharaja Forest Reserve. Located at Temple Road, this place serves guests with Asian, American, European and Sri Lankan dishes. You have to go up to 7.7 Kms from the forest to reach the restaurant.

5. Tea Garden Eco Villas: This is an awesome hotel that also houses a good restaurant. This place is about 10 Kms from Sinharaja Forest Reserve and can be spotted at Akuressa – Deniyaya Road. Their menu primarily features Asian and Sri Lankan dishes.


Tips for Visiting Sinharaja Forest Reserve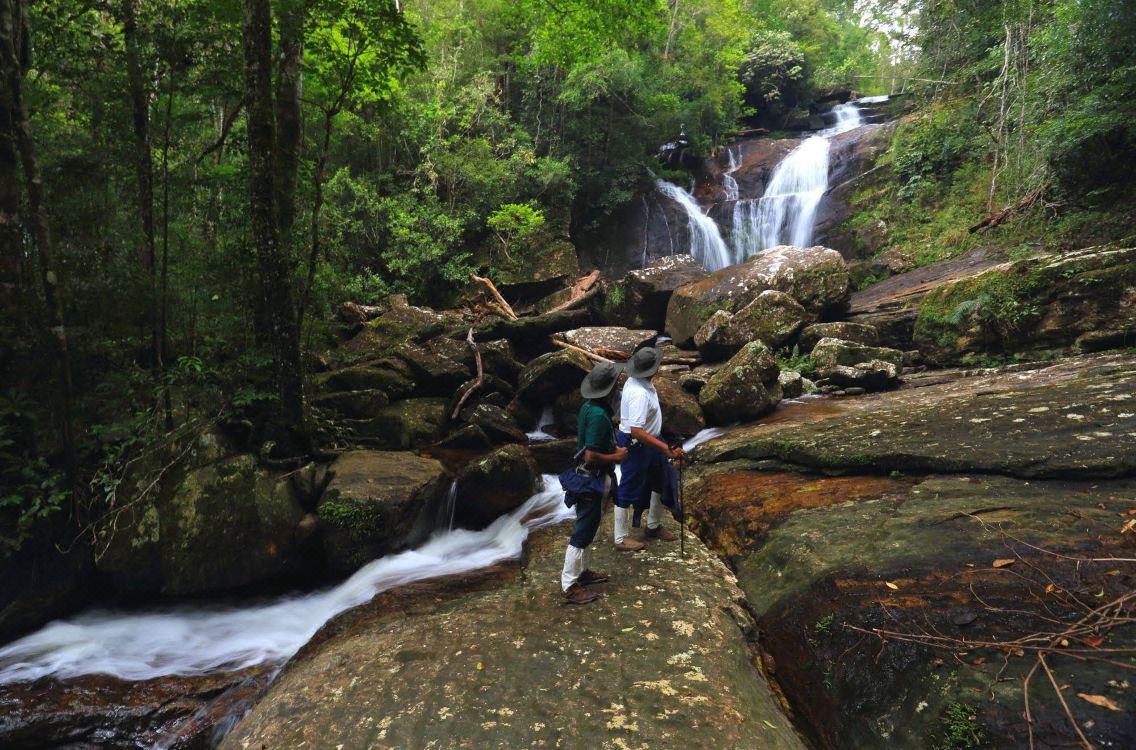 1. It is best to schedule your Sinharaja Forest Reserve trip in the months of January to March and August to September.

2. As it rains frequently at Sinharaja, you need to keep your rain-protection gears ready with you.

3. Bring sun protection lotion and gears to keep your skin safe from sun-burn and sun-tan.

4. Always cover your face with a mask or scarf as trekking trails inside the forest can be really dusty sometimes.

5. Don't forget to pack insect repellent.

6. Pack earthy coloured clothes, good camera, extra memory cards, power backup so that you don't miss any shot.

7. The Forest has a lot of leeches so do not forget to carry some solution to get rid of leeches, incase one latches on to you.