About Seema Malaka
Standing tall along the banks of Beira Lake, Seema Malaka forms a part of the southern region of the Colombo City of Sri Lanka. It lies in conjunction with the Gangaramaya Temple, which is the main shrine there. Residing on three man-made podiums, Seema Malaka Temple stands unrivaled in both its location and architecture. The architectural allure of this temple is highly inspired from the ancient forest monasteries Ritigala and Anuradhapura. The building of the temple is built in the Kandyan style and is characterized by its hanging blue tiled roofs. There is a pontoon boardwalk that links the premises of the Seema Malaka temple with its mainland. The outer boundary wall of this shrine is adorned by numerous Buddha statues representing different sitting postures.

There are three raised platforms which divide the temple and are connected with the walkways. The four-sided blue roof on the central platform of this temple is quite evident. On the very next platform, you have a statue of the Treasury of Truth which has got its own significance. This platform at the Seema Malaka temple is actually a treasure of ancient Buddhist texts, which is usually stored in locked conditions and is accessible only to the monks.

There are beautiful wooden panels embracing the décor of the central building of this shrine - where people reach out for meditation. In case you have any queries, you may approach the caretakers there. The outer area surrounding this room features several Buddha statues. If you keenly observe them – some of them have their hands placed on their lap, while others are portrayed yogic postures.

At the next platform, you have a Bodhi tree in the central portion, which is all over flanked with several Buddha statues. On special occasions, you can mark the presence of numerous Locals here to venerate the Bodhi tree. Apart from all these, the four corners of the Seema Malaka temple, you also have shrines which are entirely dedicated to the Gods of Hindu religions – Ganesha and Shiva.
How to Reach Seema Malaka


Seema Malaka is situated at a distance of 34.3 km from the Colombo Airport, and it takes around 27 minutes for you to reach there. Here are some of the travelling options available for you –

By Fly –  Board an airplane to Diyawanna Oya from the Colombo Airport. From there, you can hire a cab to drop you to your final destination.

Overall time – 23 minutes
Overall expense – 8000 to 16000 INR per head

By Taxi – You can take a direct taxi ride from Colombo Airport to Seema Malaka.

Overall time – 27 minutes
Overall expense – 1500 to 2000 INR per head

Apart from these two modes, you also have a public bus service option to plan your visit to the Seema Malaka temple from the Colombo Airport. As there is no website, you need to go to the bus station in person and get the reservation done for yourself.
Best Time to Visit Seema Malaka


The best time to plan your visit to the Seema Malaka temple is anytime between November and February. The weather of Colombo, more or less, remains pleasant during this time. Avoid visiting the place during weekends and religious occasions as you might face a huge crowd here.
What Not to Miss at Seema Malaka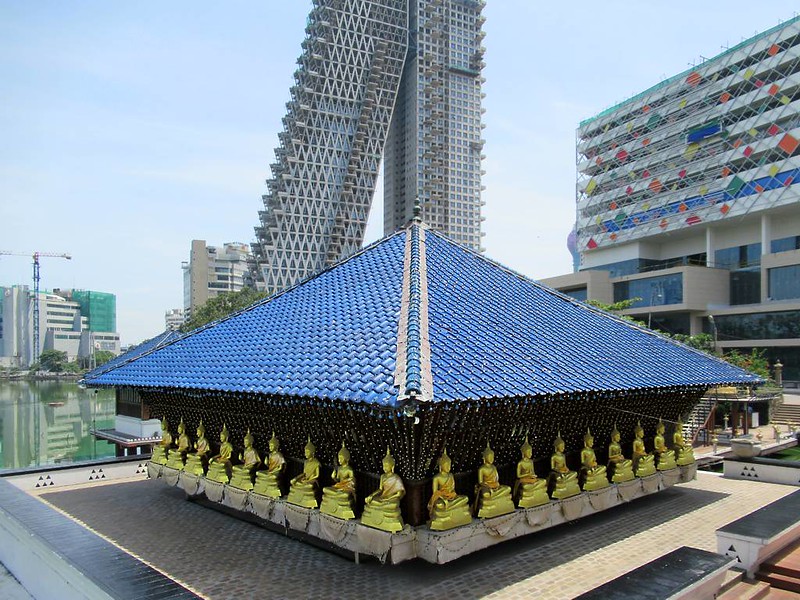 Dedicated to Lord Buddha, the entire premise of Seema Malaka is a pure sight to behold. Representing a blend of Chinese, Thai, Sri Lankan, and Indian architectural brilliance, your visit to Seema Malaka is really going to be a special one. Here are few noteworthy things which add value to the magnificence of Seema Malaka –

1. Central Platform – The Central Platform of Seema Malaka is renowned for its Asian style seated Buddha statues throughout its perimeter. They are phenomenally sculpted and adored for the same. Towards the center, you have a room equipped with slatted wooden walls. Devotees and visitors visiting this place prefer to use it for their meditation and yoga activities. Besides, what makes this place a popular spot amongst tourists is its view.

The moment you peep out through its doors and window panes, you get to witness the unmatched beauty of a nearby lake and its surroundings. You also have a giant Buddha statue here which is flanked with two tusks of a giant elephant. At the entrance of this central platform itself, you have two brilliantly carved guardian statues representing the Anuradhapura style.

2. The Northern Platform – The Northern Platform is a sealed one and is renowned as a 'Treasury of Truth.' This treasure is actually a library where you have the presence of numerous ancient, medieval, and modern Buddhist texts. However, this place is only accessible to the monks visiting the Seema Malaka.

3. The Courtyard – The Courtyard is the central piece of attraction at the Seema Malaka. Towards one of the sides of this Courtyard, you have a Bodhi tree that appears to emerge from a raised platform. The entire surroundings of this raised platform are flanked by prayer flags. There are Buddha statues here of varying sizes. Also, there are small rooms where you have entrances made out of wooden doors.

Inside, you will find the presence of numerous localized versions of the Gods and Goddesses belonging to the Hindu mythology. As soon as you step towards the backside of this Courtyard, you will find a tier that is stacked with stacks of Buddha statues. These statues have been imported straightaway from Thailand. Close to the Courtyard, you have a magnificent collection of old and new vintage cars that have been gifted by well-wishers of Seema Malaka.

4. The Museum – On your way out to the entrance of Seema Malaka, there is a museum there. This museum has got two big rooms with some impressive collection of objects. In the collection here, you have some represents their symbolism, some represent their financial values, while others their artistic valor.

To list a few are – ancient Sanskrit Ola Leaf Manuscripts; ivory carvings; sapphires and other precious metals; jade & crystal monstrosities; coins; elephant tusks; and many Buddha images. You also have old stocks, old gramophones, votive pagodas, oil lamps, and sandalwood exhibits here.


Places to Visit near Seema Malaka


Check out the list below to make your Colombo stay a more happening one for you and your companions –

1. Old Parliament Building – Presently, renowned as a permanent resident of the Presidential Secretariat, Old Parliament Building features a New-baroque architectural brilliance. Constructed back in the year 1930, the place is a must-visit for all those who are interested in exploring the historical setting of Colombo.

Location – Colombo

Operational Timings – 11:00 am to 05:00 pm

Entry Fees – No entry fees are applicable

2. World Trade Centre – This twin tower is a must to be included in your Colombo itinerary. Standing as tall as 152 meters, the World Trade Centre boosts eco-friendly businesses for the city of Colombo.

Location – Echelon Square

Operational Timings – Round the clock

Entry Fees – No entry fees are applicable

3. Pettah Floating Market – Your trip to the island country of Sri Lanka will definitely sound incomplete without a visit to the Pettah Floating Market. This place is always busy with numerous vendors selling fresh fruits & vegetables, handicrafts, jewelry, and electronics.

Location – W E Bastian Mawatha

Operational Timings – 08:00 am to 10:30 pm 

Entry Fees – No entry fees are applicable

4. Laksala – If you want to take memories of Colombo back, visit this famous souvenir shop. Right from handmade baskets to wide and narrow brimmed or simple hats, you will find the presence of every single takeaway of Colombo. As the products are all reasonably available, you do not need to pressurize more on your wallet.

Location – Bauddhaloka Mawatha

Operational Timings – 09:00 am to 09:00 pm

Entry Fees – No entry fees are applicable

5. Khan Clock Tower – As you make your way to the Pettah Floating Market, you will find the presence of a massive tower – the Khan Clock Tower. The tower is a marvelous piece of creativity that is entirely painted with the hues of both peach and brick red colors.

Location – 136 Main Street

Operational Timings – NA

Entry Fees – No entry fees are applicable

6. Colombo Lotus Tower – This is labeled amongst the most unique places in the world and, thus, forms the central attraction of the town of Colombo. The tower stands as high as 350 meters and is a transmission hub focusing on broadcasting quality transmission communication.

Location – Colombo

Operational Timings – NA

Entry Fees – No entry fees are applicable  
Other Essential Information About Seema Malaka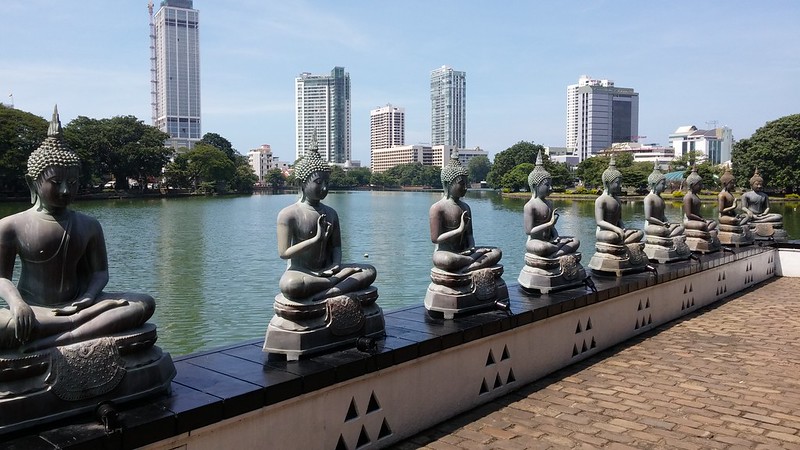 Location –
Seema Malaka is located at Sir James Pieris Mawatha, Colombo, Sri Lanka.
Entry fee –
To get an entry to the Seema Malaka, you need to pay an entry fee of around 300 LKR per person.
Recommended Hours -
The temple of Seema Malaka is open for visitors between 09:00 am to 04:30 pm. You can plan your visit anytime between 11:00 am to 03:00 pm. On average, you just need to invest an hour of your visit to complete the tour of Seema Malaka.

History of Seema Malaka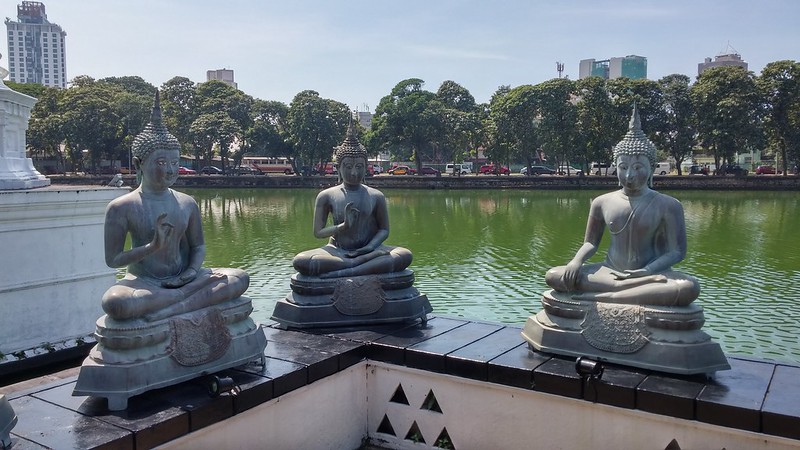 The temple of Seema Malaka was constructed back in the second half of the 19th century. Unfortunately, the original structure of this temple sank in the water around the 1970s. Later, the work of redesigning and reconstruction of the temple was attributed to Geoffrey Bawa. Bawa was an architect of Sri Lankan origin.
The present-day structure of the Seema Malaka, which you see today, is actually an architectural brilliance of this Sri Lankan architecture. The entire fund for the re-construction work of the Seema Malaka temple was sponsored by S. H. Moosajee, who was a well-known Muslim businessman or Sri Lankan origin and his wife. It is believed that the sponsors funded this work in the memory and recognition of their beloved son Ameer S. Moosajee.
Tips for Visiting Seema Malaka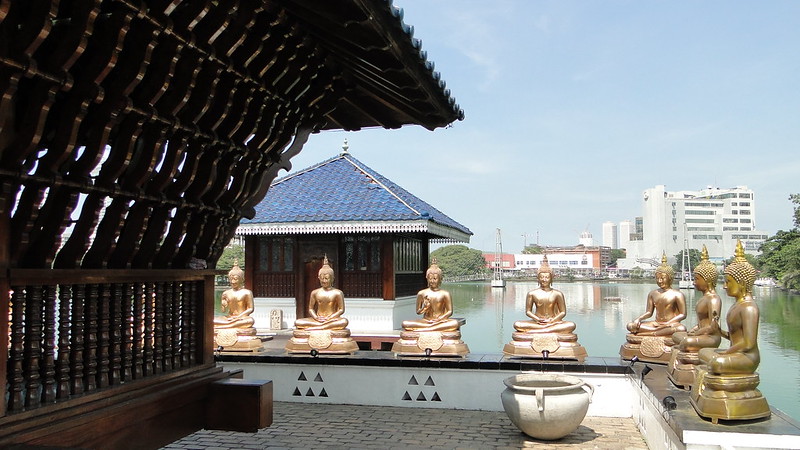 Here are some best tips to take into consideration while planning a visit to the Seema Malaka -
1.
Carry your DSLRs while visiting here as the tranquil waters of the Beira Lake offers you plenty of moments to capture.
2.
There are facilities for washrooms and quick snacks; so, you do not need to rush here and there.
3.
Do not accompany your pets as the place is strictly prohibited for pet entry.
4.
If you do not like the food being served at the food stalls or kiosks, you may try the nearby restaurants for a whole meal. The Pizza Bakery (0 km), Bao House (0 km); Tokyo Shokudo (0 km); Edo Japanese Restaurant (0 km) are some of the best ones.
5.
You need to remove your footwear outside before entering the central premises of the Seema Malaka temple. 
6.
Once you are done with your visit to Seema Malaka, do make an effort to visit the Gangaramaya temple. It is situated close to Seema Malaka itself.