About Fremantle Markets
Fremantle market happens to be one of the most popular tourist attractions in Perth and Western Australia. This historic market has been serving the locals and tourists coming from all over the world since the year 1897. It is considered to be the perfect place if you wish to get some authentic local Australian produce and handicrafts.

The market is divided into two parts – The Yard and The Hall. The yard deals with a wide range of farm-fresh products of the local Australian people whereas the Hall deals with a variety of apparels, assorted knick-knacks, woodwork and many other souvenirs.

Since its inception, it has been known as a significant landmark in the port city of Perth and has earned itself a reputation as one of the best destinations in Fremantle as a leading source of independent wares and produce. 
Fremantle market is home to countless stallholders in Perth. The vibe of the marketplace encourages many local talents such as designers, artist to launch their products before the audience and kick start their careers in this historic and heritage-listed building, which is known for its exceptional bohemian atmosphere.
How to Reach Fremantle Markets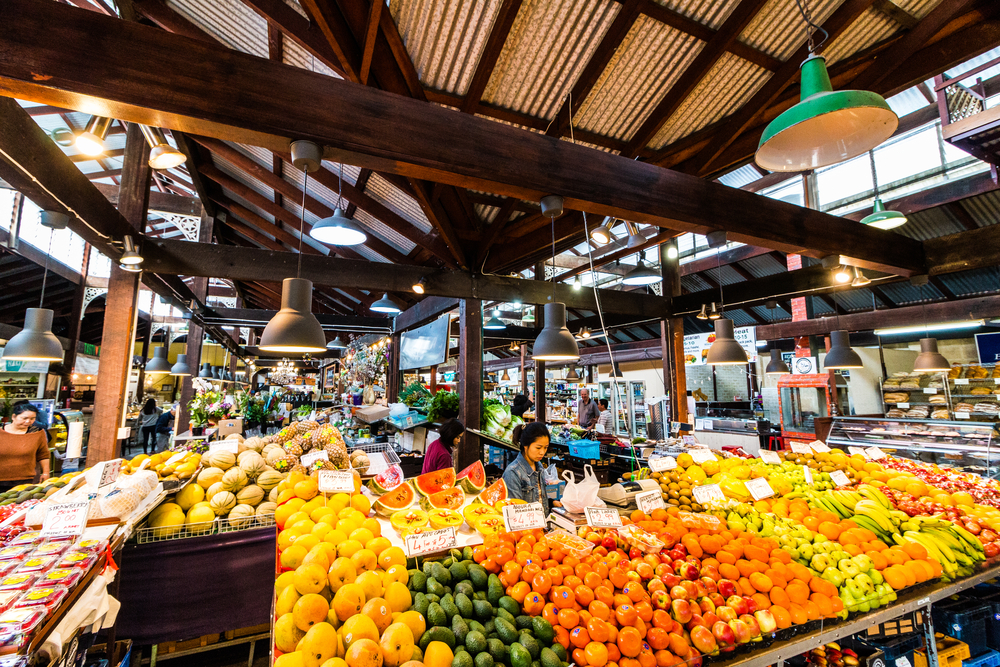 The distance between Fremantle markets and Perth Airport is about 29 Km and it takes about 40 minutes to cover the distance via Leach Highway or state route 7. 

By Bus and Train:
The most recommended means of transport for visiting the Fremantle markets after getting down at the Perth Airport will be taking a line 40 bus till Elizabeth Quay Bus station and then taking a train till Fremantle. You can also cover the distance completely on a line 998 bus, which takes 1 hour 40 minutes.  

By Shuttle and Town Car:
You can book a shuttle service or a town car service to take you from the airport to the market in just 27 minutes. The cost of travel will be close to almost INR 1470. 

By Car:
You can also drive all the way from Perth Airport to the Fremantle markets by your car or in an Uber in just less than 30 minutes.
Best Time to Visit Fremantle Markets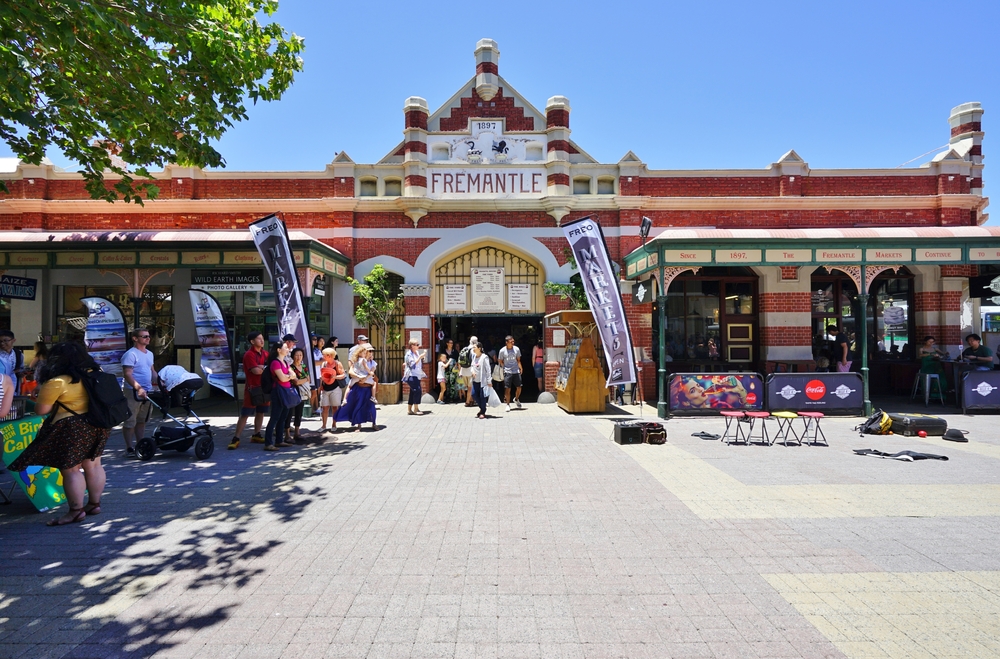 On Fridays, the market is open from 9 AM to 8 PM. On Saturdays and Sundays, the market remains open from 9 AM to 6 PM. Fremantle Markets are basically weekend markets in Perth. It can be visited all through the year however; they have a number of different trading hours.

The yard is open all through the year from 8 AM in the morning. If you want to avoid the rush hours at the market, then it would be better if you can come early in the morning or wait until the closing time when the crowd seems to be a bit less as compared to the day hours. The markets also remain open on some special occasions, like Good Friday, Easter Monday, Anzac Day Holiday, WA Day, and Queens Birthday.
What Not to Miss at Fremantle Markets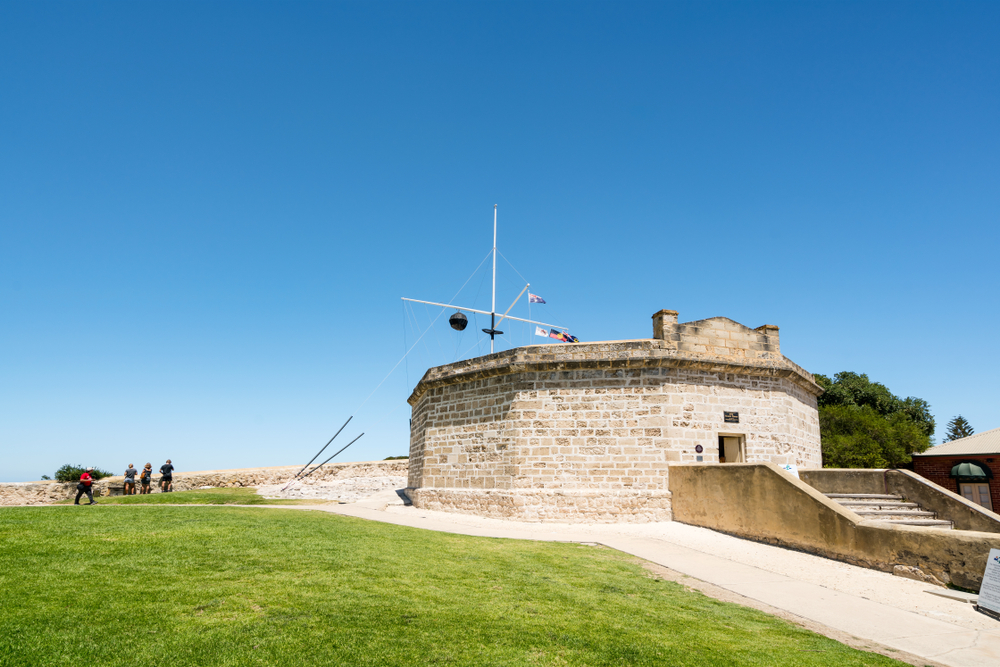 Here are some of the things that you can try out in the course of your visit to the famous Fremantle market:

1. Visit the famous Roundhouse
It is an old standing building in Western Australia, which is known for its unique architecture. It is a twelve side's roundhouse and was one of the very first permanent buildings to have been constructed by the side of the Swan River colony in the 1830s.

From here, one can get amazing views of the Bather Beach and the Indian Ocean as well. In the initial days, it was built for police accommodation and storage facility but later it was opened for public. You must explore the tunnel that is built beneath the Roundhouse in the year 1837 by the Fremantle Whaling Company. 

2. Move a bit close to the fascinating history of Fremantle Prison
The Fremantle prison happens to be one of the heritage buildings which was initially built as a prison for high-security convicts. It was opened to the public in the year 1992, offering amazing tours that takes visitors into various chambers and let them have a glimpse of history. In the year 2010, it was one of the very first buildings in Australia that was included in the list of UNESCO world heritage sites. 

3. Explore the artworks at the Fremantle Arts Centre
Fremantle art centre is one of the important centres of tourist attraction of the present times. Originally built as a lunatic asylum, then used as a naval base in the course of world wars and a technical college, the arts centre today offers residences, live music, exhibitions, and art courses for locals and tourists. You must make plans for visiting this place during live music programs and exhibitions of fine handmade wares.

4. Delight your taste buds at the Cappuccino Strip
Cappuccino Strip is Fremantle's legendary destination that offers a number of outdoor cafes and restaurants for tourists to enjoy the locally brewed beer and wine. Situated along the South Terrace in between the Parry street and Bannister street, the strip is home to a number of restaurants, hotels, and cafes.

The best part about this place are the live musical performances, cabaret and mic nights in the late afternoon and evening hours. Weekends are true fun in this place, walk down the streets in the direction of the Fremantle market and enjoy the vibe of the Cappuccino Strip.

5. Shop farm fresh products
The Fremantle markets dates back to almost 1897 and since then it has been serving as a market widely held for wholesale products. With time it moved ahead to be one of the important tourist attractions in the state because of its offerings, which include, local farm-fresh products, clothes, handicrafts, and much more.

The articles available at this place will surely be appealing to all ages. There are almost more than 150 stalls for you to discover and purchase indigenous and independent arts and products that have a connection with the multicultural history of the place. 
Must Eateries to Try at Fremantle Markets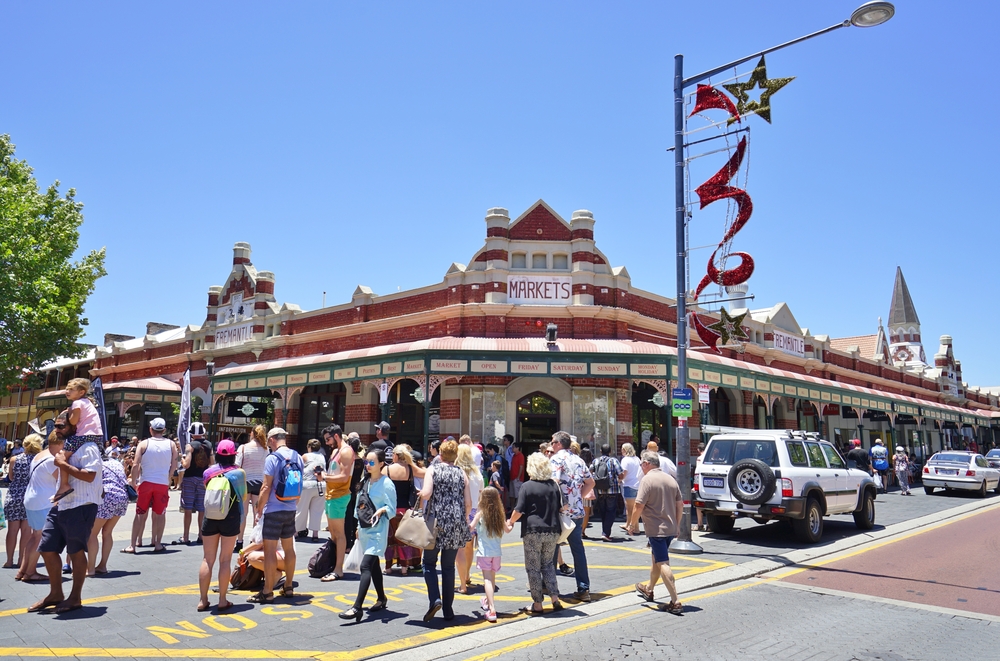 Here are some of the must-try eateries at the Fremantle Markets:

1. Muffle And Co
Muffle and Co is one of the top favourite spots both for locals and tourists for having waffle and ice cream. It offers more than 12 sweet and savoury combos for you to try out. When you are at this place, you should definitely try bacon and cheese if you love to have a savoury option and peanut butter if you love having sweets. 

2. What The Bao
Since its inception in the year 2015, it has been serving wonderful burgers and many other Asian street food fusions to the locals as well as tourists. You would at all times find this place busy with individuals waiting in long queues for their favourite delicacies. The must-try item at this place will be a duck or panko fried chicken bao. 

3. Belle K
Belle K is widely held as the legends in ice cream rolls. You will get ice cream served in both cups and cones here. The must-try creation of Belle K is their epic cronut creations which keeps everyone in the Fremantle markets satisfied. 

4. Freo Gozleme
Freo Gozleme offers the best melty cheese and toasty flatbread in the market. The heavenly smell from the eatery is just enough to entice your taste buds. You will get a wide range of flavours starting from spinach and feta to potato, spiced beef and spiced chicken. It is one of the must-try eateries in the course of your visit to the Fremantle markets. 

5. Levi's Doughnuts
If you love Doughnuts, then it is one of the best places serving warm and fresh European doughnuts. The doughnuts here are made in the traditional style and are filled with either blackberry jam or real dark chocolate coated in cinnamon sugar. It can be considered a perfect fuel for your tummy if you come out to explore the Fremantle market and will certainly make you feel like a child once again.
Other Essential Information About Fremantle Markets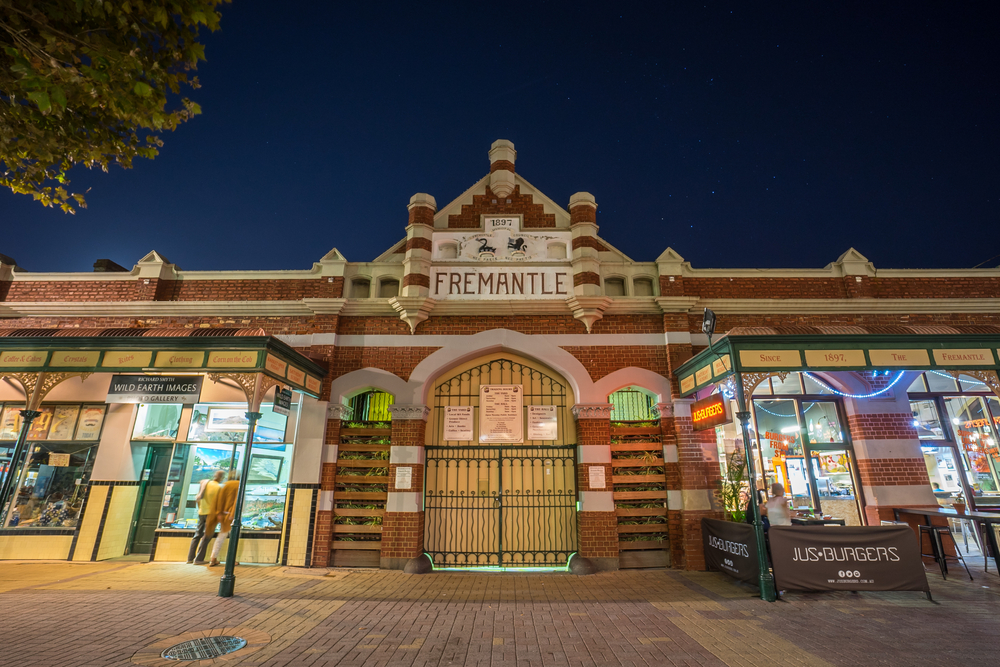 Location:
South Terrace &, Henderson St, Fremantle WA 6160, Australia

Timings: 
- Friday: 9 AM – 8 PM
- Saturday: 9 AM – 6 PM
- Sunday: 9 AM – 6 PM

Entry fee:
No entry fee

Distance from Perth Airport:
The driving distance between Perth International Airport and Fremantle market is about 29 Km. It takes about 25 to 30 minutes to cover the distance. 
Highlights of Fremantle Markets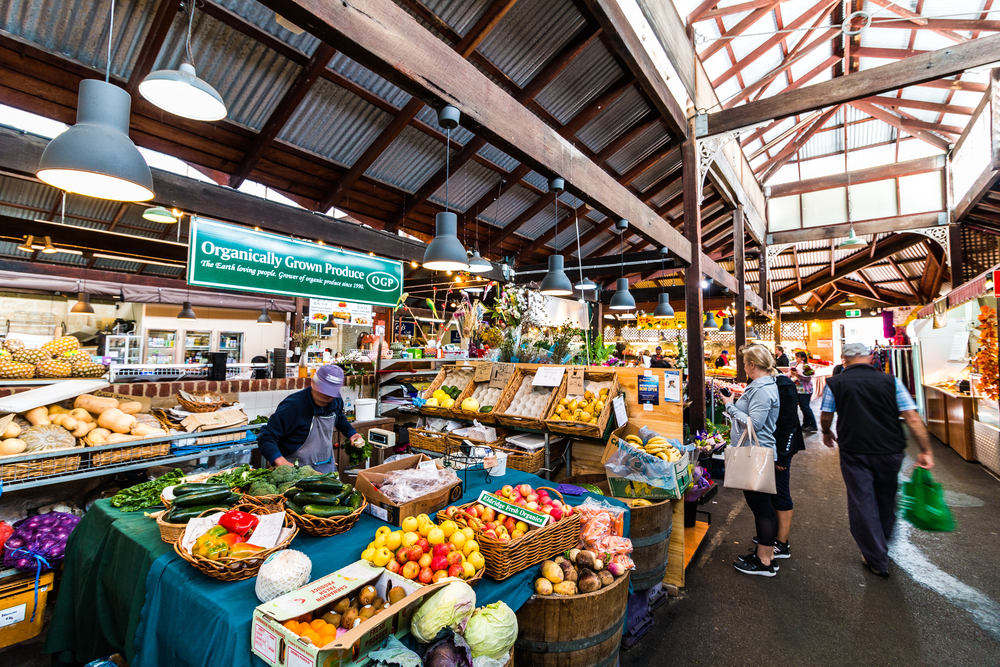 Here are some of the significant highlight of the favourite marketplace of Perth in Fremantle:

- Apart from being a centre of local trade, it also happens to be one of the most sought spots for a number of activities in the port city of Perth. Tourists and locals love to go for short walks by the side of the waterbody, go on boat rides, and spend time birdwatching. Perth is usually one of the favourite places of birds in Australia. 

- The yard in the Fremantle market is open all through the year and deals with a wide range of farm-fresh products of the local people whereas the Hall, which remains open on weekends, deals with a multitude of souvenirs and other fashionable products.
- 
The markets are widely held for their upmarket culture and amenities. As a huge number of tourists from all over the world visits it, there are a number of hubs for enjoyment such as cafes and restaurants.
Unique Souvenirs to Buy at Fremantle Markets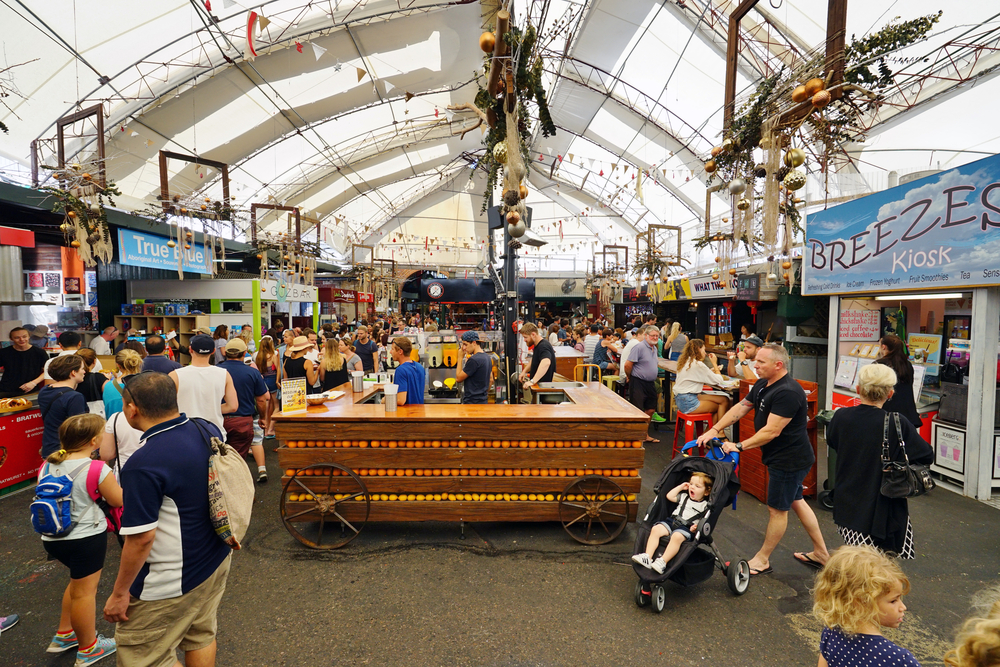 The Fremantle markets are a great place to buy souvenirs so that the trip to this amazing place remains alive in your memory all through your life. This market is known for its unique offerings and wide range of articles that the shops deal with, starting with antiques and bric-a-brac to tarot readings and fresh seafood. 

Some of the must-buy things at the markets are The Honey Cake, Locally-roasted single-origin coffee, Tea made from Australian plants, Nuts and nougat, Natural soaps, Timber crafts, etc. Some of the unique souvenirs that you can choose to buy from the markets at Fremantle are

- Pottery and metal art 
- Soft toys 
- Embroidered garments 
- Hats
- Framed paintings and photographs 
- Candles 
- Dinnerware and unusual and quirky kitchenware
- Tourist souvenirs and trinkets 
- Australian opals 
- CDs and records 
- Feng Shui products and many more things that will wave your mind. 
Fremantle Markets are also known for their other offerings like 


- Health food 
- Health products 
- Medicines 
- Books 
- Men's and women's fashion 
- Home-made chutneys, sauces, jams, cakes, soaps, 
- Aromatherapy products 
- Wallets, leather bags
- Travel goods 
- Jackets 
- Hosiery and lingerie 
- Farm-fresh products. 
The products available at the market are high on quality and you can easily get anything at a discounted price. If you want to get the best deals on the products from the market, then it would be better to visit here on Sunday afternoons when vendors sell their products at a lower price.
Tips for visiting Fremantle Market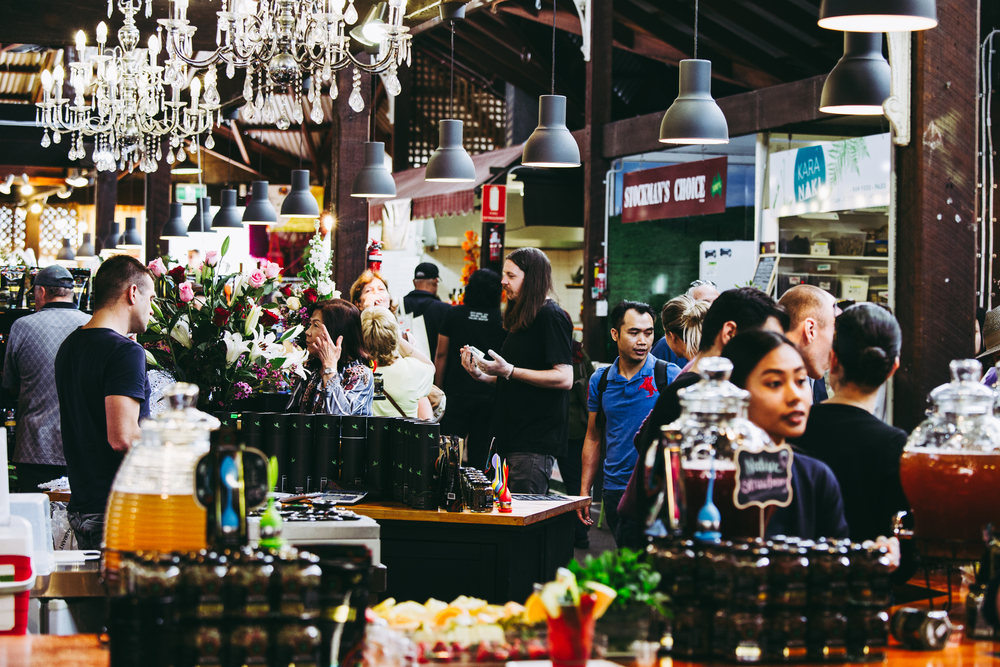 Here are some of the traveller's tips that you should keep in mind when visiting the Fremantle Market:

- The market is considered one of the heritage hubs of Australia with a number of trendy architectural marvels. It is situated at a close distance to a number of other tourist's destinations. You come here directly and then go to any other place. 

- You can come here any time of the year as the city hosts its guests warmly all through the year because of its mild climatic condition. 

- In the course of your visit to this place, you should not miss visiting the famous Fremantle prison. The structure of the museum happens to be one of the intact structures since early European settlement in Western Australia. 

- In order to move in and around the city, you can go to shuttle services and travel by a number of public transportation facilities without facing any inconveniences. 

- You should definitely try out a wide range of seafood when at this place as it has amazing seafood. Some of the must-try delicacies are blue swimmer crabs, baldchin groper and dhufish.