About Skytrex Adventure
Skytrex Adventure is a natural theme park established in the forest compound of Burau Bay. The Skytrex adventure park gives you a chance to enjoy the many adventure activities in a unique way at the Malaysian Rainforests. This natural adventure playground is a dream come true for thrill-seekers.

The park aims to facilitate nature-based 35 forest activities that collaborate with international safety standards and practices. Here, you get to experience 'sky trekking' from tree to tree via ropes. In the circuits of this adventure park, you can test your balancing skills, confidence, and strength.

There are a myriad of fun activities that allow you to fly, glide, swing, or dangle in the forest. Such one of a kind challenges spread over the three tracks here to let you test your limits from the elevation of about 30 m above the ground.

Visitors get to experience sports activities in the lap of nature. The whole gigantic adventure will make you get out of your lazy arena and test your spirit and capability while enjoying the challenges. No doubt, it is an ideal location for adrenaline junkies who will love to indulge in every adventure sport present here. So, if you are visiting Langkawi island, do not miss adding this location to your bucket list.
How to Reach Skytrex Adventure


There are various ways to travel to the Skytrex Adventure located at Hulu Langat, Selangor, Malaysia. You can reach here either by a Taxi or personal vehicle as it is situated inside the forest. Try to avoid public transports as they won't be relevant to go inside the forest.

Since the forest is located at the Ayer Keroh, you must travel to the Ayer Keroh Toll from the town of Melaka. You will have to pass through McDonald's, situated towards the left. Then take a left at the traffic light from there. Now, you must go through Melaka Wonderland. Further, proceed from the second junction that will take you to the last point of the road.

Finally, you will land at Skytrex Adventure Park. There will be car parking services as well, provided by the park's authorities. There you can board down your vehicle and go ahead to the center of the Skytrex Adventure for getting the final entry.
What Not to Miss at Skytrex Adventure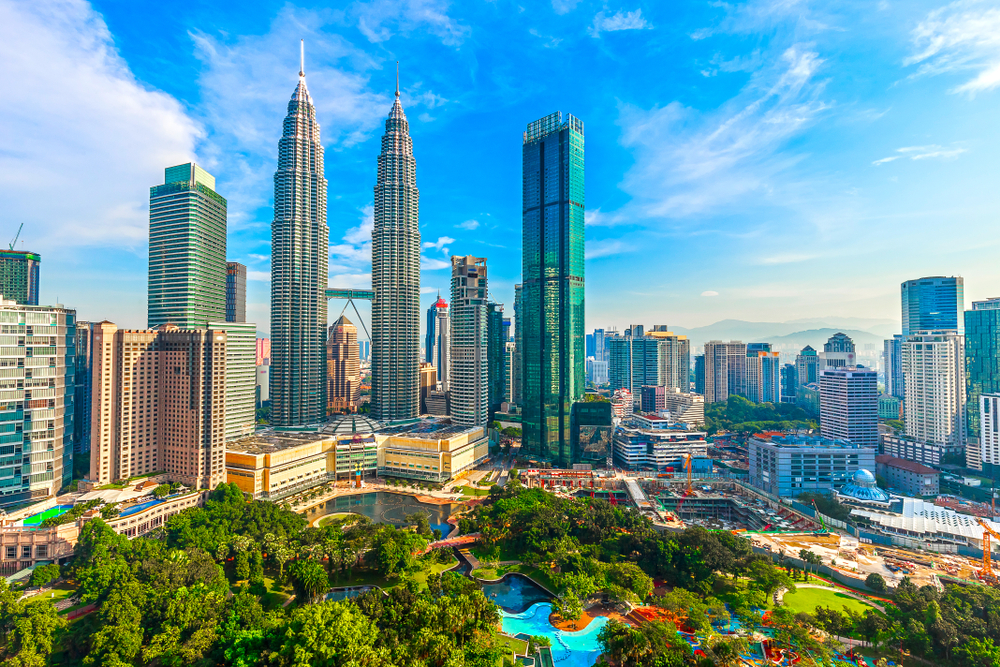 1. KLCC Park: This park is situated near KLCC Shopping Centre, and it sprawls around 50 acres of land. It features a famous tourist attraction - Lake Symphony, which has magnificent water fountains.

2. Sungai Congkak Recreational Forest: It is also famous as "Chongkak Park and Resort" that you can visit to have an ideal weekend getaway. Here you can bathe in the crystal refreshing water of river pools and enjoy camping and BBQ

3. Petronas Twin Towers: The towers are designed in such a way that they denote the M of 'Malaysia' which grabs everyone's attention. It would be really fascinating to seize the city range from the peak of the twin towers.
Other Essential Information About Skytrex Adventure


1. Location:
Batu 20, 1/2, Jalan Sungai Congkak, Kampung Padang, 43100 Hulu Langat, Selangor, Malaysia.
2. Timings:
Opens on Weekends, i.e., Saturday to Sunday from 8:30 to 16:30.

3. Entry Fee:

- Beginner Level - The online price for Little Adventure is RM 45, and the published price is RM 50 per 2 hours.


- Intermediate Level - The online price for Big Thrill is RM 55, and the published price is RM 60 per 2.5 to 3 hours.


- Advanced Level - The online price for Extreme Challenge is RM65, and the published price is RM70 per 2.5 to 3 hours.

4. Photography Charges:
No charges for photography will be levied as per the Skytrex Adventure's prices' chart available on their website. Thus, it is a plus point to plan a visit to this wonderful theme park and treat yourself with some beautiful and natural captures.

5. Distance from City Centre:
Skytrex Adventure is 32.9 km far away from the City Centre, which is located at KLCC Park, Jalan Ampang, Kuala Lumpur City. It will take you about 55 min to reach Skytrex Adventure from City Centre via private car, bike, or taxi.

Circuits of Skytrex Adventure


In Skytrex Adventure, there are numerous thrilling and enthusiastic activities that you can participate in. The activities are divided into three circuits that give participants a chance to test their confidence, strength, and balancing levels.

1. Little Adventure:
It is a beginner level circuit apt for children as it has a lower built track for the safety of kids. Here you can give your little ones a chance to learn about biodiversity as well as sharpen their eyes and hands coordination. A trainer will always be there with the young participants for their security.

2. Big Thrill:
Big Drill is an intermediate level of adventure circuit at Skytrex Adventure suitable for above 13 years of age and good upper body strength people. This adventure course is about 1.5 to 2 hours. One gets to take part in activities like cargo net up, flying fox, zig-zag bridge, a plank bridge, ladder down, and footloose challenges.

4. Island Extreme: 
As the name suggests, it is meant for extremely fit people and people under 16 years of age are not permitted entry in this circuit. This 2 hours course is specially crafted for an advanced level thrill-seekers that is surely not for the faint-hearted. So get ready to suffice your adventurous soul.

Places to Eat near Skytrex Adventure

1. Miss Eillie Tea House: 
It is a charming vegetarian cafe that has British decor. You will get lunch and dinner here.

2. Tamarind Springs by Samadhi:
This fantastic restaurant near Skytrex Adventure serves Asian, Cambodian, and Thai vegetarian cuisines. Special diets include vegan categories.

3. Me'nate Steak Hub:
If you are looking for Halal food spot near Skytrex Adventure park, pick this one. It offers all - lunch, dinner, as well as brunch options. So, you can relieve your hungry tummy with delectable meals here.

4. Veg Fish Farm Thai Restaurant: 
It is a casual dining restaurant that serves tasty Asian and Thai meals. It also has some vegetarian dishes too. You can get lunch and dinner here.

Places to Stay near Skytrex Adventure

1. Hotel De Art Section 7 Shah Alam:
It is an elegant hotel found near the i-City and Wet World Shah Alam. The hotel has free Wi-Fi and offers superb housekeeping services.

2. Concorde Hotel Shah Alam:
This is also near Shah Alam Blue Mosque and i-City. The Concorde hotel facilitates you with free Wi-Fi and also boasts a swimming pool. The fully furnished rooms are perfect for relaxing after a day full of adventure at Skytrex Adventure Park.

3. Sunsuria Forum: 
It is located near Setia City Mall and Setia City Convention Centre. The hotel consists of beautifully decorated air conditioning rooms and offers free Wi-Fi service.

4. Medical facilities in Skytrex Adventure:
The park offers personal medication and personal accident insurance facilities if any emergency occurs. Also, in case an emergency arises or activities become too hard to complete the challenge, the participant can use the exit gate for immediate evacuation.

Travelers' tip before visiting Skytrex Adventure


1. It takes just about 5 minutes to reach the park via the drive-through exit toll of PLUS highway, associated with the Jalan Ayer Keroh.


2. The adventure park opens on weekends only. 


3. You need to get a mobile ticket separately to your entrance fees. 


4. Skytrex Adventure has multiple outdoor activities for which the staff will test your strength to check whether you fulfill the capability criteria for the particular game or not.


5. Google Maps would always be a great help while you are on the route to Skytrex Adventure.


6. Make sure to wear comfortable clothing such as cotton tee, shorts, track pants, and sports shoes to enjoy the activities conveniently.


7. You are prohibited from wearing your own Personal Protective Equipment (PPE) except the one provided in the park.