About Aquaria KLCC
Aquaria KLCC is an indoor marine park that unveils the mysteries of the underwater biomes. Located a few minutes away from the famous twin towers, it has become the favorite destination for kids and families alike. Spread over a massive 60,000 square feet, this oceanarium houses close to 5000 species from both land and water. It allows you to know about marine life, and you can enjoy an up-close interaction with the underwater beauties here.

All the attractions and displays here are organized, keeping in mind the primary theme of the aquarium- journey of water from land to sea. The special feature of this aquarium is the way it unwinds the different underwater landscapes as levels. Starting from the highlands in the Evolution Zone and Shipwreck zone, it will take you all the way up to the Flooded Forest and Living Ocean. It even has a Touch Tank where you can touch the textured corals and chocolate chip starfish lazily relaxing inside the enclosure. You can view the vibrant sea life through a glass ceiling of the underwater tunnel. And, the brave-hearted are in for a treat, as over here you can also have close encounters with the ferocious sharks with the dive and underwater cage shark experience.  
How to Reach Aquaria KLCC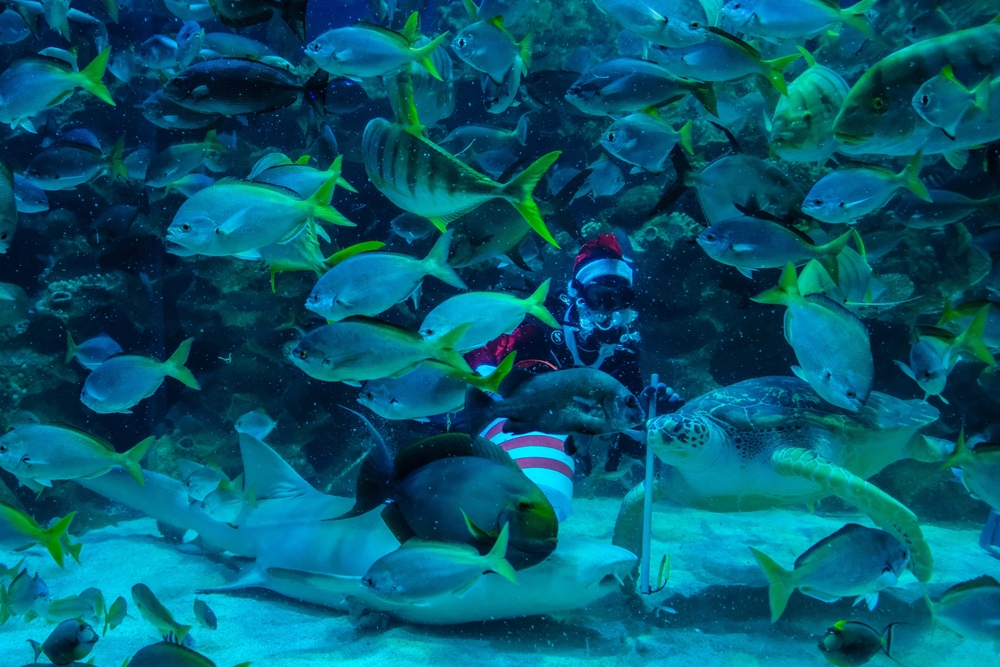 Here are the most preferred options to reach Aquaria KLCC.

BY BUS: You could do this in two ways.

- Get down at the Impiana Kuala Lumpur Convention Centre bus station and walk to Aquaria from there.
- You could take a fun ride on the Kuala Lumpur Hop on Hop off Tour Bus provided by the government. In this tour, you must get down near the West Wing of the Kuala Lumpur Convention Centre at the KLCC Garden Park stop. From here, you can easily walk into Aquaria.

BY LIGHT RAPID TRANSIT:

- You can simply get onto the PUTRA line and get off at the Kuala Lumpur Convention Centre Station.

BY MONORAIL:

- Hop onto the Kuala Lumpur monorail and disembark at Raja Chulan station. You will see that Aquaria is just a short walk from there!

BY WALKING:

- Take the west entrance route through the Kuala Lumpur Park that leads you right into the Kuala Lumpur Convention Centre.
- Take the west entrance route through the underpass tunnel joining the Suria KLCC to the Kuala Lumpur Convention Centre!
What Not to Miss at Aquaria KLCC


The Aquaria has quite a few interesting tourist attractions around it.

1. Petronas Twin Towers- Topping the list is the world-famous Petronas Twin Towers, which is an iconic destination in Kuala Lumpur. Once the tallest building in the world, it is arguably one of the most famous attractions in Asia and is primarily used for business purposes and high end retail stores.

2. KLCC Park- This is a fifty-acre garden where you can enjoy the lush greenery and tranquil environment. It offers a host of amenities such as wading pools, playgrounds, jogging tracks, and patterned footpaths. The KLCC park also houses the magnificent Lake Symphony, which is a man made beauty!


Activities to Do in Aquaria KLCC


Here are a few activities that you must try in Aquaria KLCC.

1. Dive with shark- If you're an experienced diver, then take a plunge into the 2.5 million liter aquarium tank and meet five different species of sharks. This will definitely be a thrilling experience that will stay in your heart forever.

2. Sleep with shark- This is the signature program that is organized by the aquarium for kids. During this program, the kids can witness sharks and other nocturnal creatures. During this program, they also get a chance to feed the marine creatures and sleep with the sharks.
Other Essential Information About Aquaria KLCC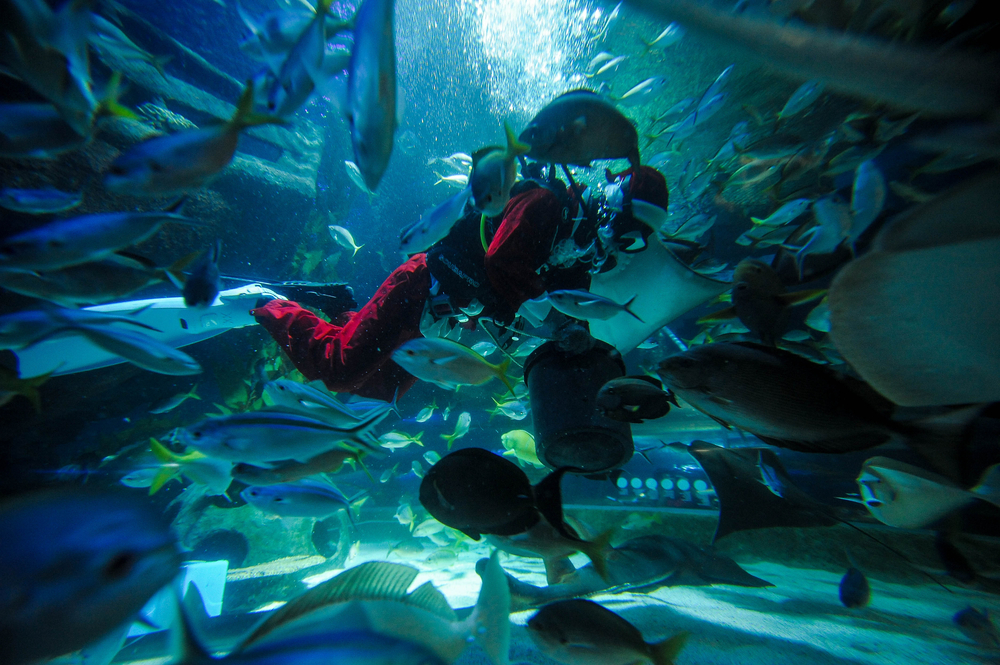 Location: Kuala Lumpur Convention Centre, Jalan Pinang, Kuala Lumpur City Centre, 50088 Kuala Lumpur, Wilayah Persekutuan Kuala Lumpur, Malaysia.

Timings: It is open daily, including public holidays. It is open from 10 am to 8 pm, but the last admission will be taken in at 7 pm.

Entry fee: The entry fee is the same on all days. The general admission fees are:

Free for infants aged 2 and below.
RM 75 for adults (ages between 13 and 59)
RM 65 for children (ages between 3 and 12)
RM 65 for senior citizens (ages from 60 upwards)
RM 17 for disabled and handicapped

Photography fees: The staff at the aquarium will click pictures of you and your family; this will cost you close to 50 RM.

Distance from the city center: The aquarium itself is located in the city center. In fact, an underwater tunnel will take you directly from Suria KLCC to Aquaria!


Places to Eat near Aquaria KLCC


Here are the best eating joints near Aquaria KLCC, where you can relish the best dishes.

1. Canopy Rooftop Bar and Restaurant- The most popular restaurant nearby is the Canopy Rooftop Bar and Restaurant which offers global cuisines at a reasonable price. It is renowned for serving the best shisha and drinks in the town.

2. Sushi Hibiki- Next on the list is Sushi Hibiki, which serves authentic Japanese food cooked in ingredients brought over from Japan. It has an alluring ambiance that is bound to allure your senses. It follows a strict reservation policy, so make sure to make your booking beforehand!


Places to Stay near Aquaria KLCC


There are many luxurious staycations near Aquaria KLCC where you can have a comfortable stay.

1. EQ Kuala Lumpur- The luxurious ambiance and the convenient location keeps it on the sold-out list most of the year! Located in the Golden Triangle region, this hotel provides you with possibly every luxury you can think of- pool, gym, nightclub, and fitness center, etc.!

2. Acapella KLCC Suites- Located at 5 minutes walking distance from the Twin Towers and Aquaria, this place provides allergy-free rooms, gym, and free parking services. The rooms are equipped with air conditioner, television, refrigerator, blackout curtains, and a kitchenette!

3. Mandarin Oriental Kuala Lumpur- The hotel is known for its plush ambiance and grand rooms. The opulent rooms seem to be brimming with amenities such as coffee making machines, microwaves, refrigerators, etc.


Special Tours in Aquaria KLCC


Aquaria arranges fun tours and packages for all who want to visit it for a scintillating experience. The packages are divided into different kinds of "experiences":

1. Cage Rage- This package literally includes an underwater cave and allows you to watch the animals in their natural habitat. You are provided with diving gear, and you can dive without a license! It opens at 11 am and is not available on Monday, Wednesday, and Saturday.

2. Dive With Sharks- If you are a certified diver, then this package should be a must-have for you! You get to dive deep and get a chance to meet close to 5 different species of sharks! It starts at 1 pm and this experience is not available on Monday, Wednesday and Saturday.

Both these "experiences" need to be booked a week in advance!


Medical Facilities available in Aquaria KLCC


There are many notable medical facilities in Aquaria KLCC.

1. HSC Medical Center- This is a top-notch medical facility near Aquaria KLCC that offers both specialized as well as basic treatments. Wheelchairs are available for rent here, and the medical facility also provides ambulances in severe cases.

2. City Health Center- It is known for offering excellent medical care and advanced treatment for all kinds of diseases. The staff here is quite professional and highly trained. You can also visit this health center for the treatment of traumatic diseases.


Traveler's Tip for Visiting Aquaria KLCC


Here are a few important tips that you must follow while visiting Aquaria KLCC.

1. Book Your Tickets in Advance- Aquaria is often overcrowded, and you might have to wait in long queues to get a ticket to enter this place. It is therefore advisable to book your tickets beforehand to cut the queue. They also offer excellent packages if you book the tickets at least a week in advance.

2. Take Your Children with you- If you are a parent, then you must try to take the kids along as it is a fun place for learning. There are fun packages like sleeping with sharks and diving with whales that will help pique your child's interest in marine animals. They also have programs to teach children about conservation, which is much needed now!

3. Feed yourself well- The whole tour takes close to 2 hours, and there are no eateries inside the aquarium. Also, you are not allowed to carry any food or beverage inside with you. It is therefore advisable to feed your tummy before you enter this place

4. Spare optimum time- The exhibits are educational and fun at the same time. So make sure you spend enough time at each of them to get the best out of the whole program.