About Pratunam Market
Pratunam Market is the largest clothing market of Thailand. One of the major and cheapest markets of Bangkok, you can also buy shoes, bags, watches, and other accessories in this market. Pratunam Market covers the entire space around and behind Amari Watergate. This is where the market gets its name, pratunam, that literally means 'watergate'.

Standing at the intersection of Ratchaprarop Road and Phetburi Road in Ratchathewi, Pratunam Market is jam-packed with tiny shops, stores, and stalls. But if you have the patience, and bargaining skills, you can find global fashion at dirt-cheap prices. But for most things, bargaining would not even be required. Being a wholesale market, products are already marked at their lowest price.

If you are not in the mood to shop, Pratunam Market is also a good place for window shopping. Walk alongside the stalls to get a glimpse into the daily lives of the local vendors. From people working away on sewing machines, to shopkeepers trying to outdo their neighbours, this is the real shopping experience.

Pratunam Market is the one-stop solution for everything, from everyday clothing needs to high-street fashionable dresses at affordable prices, and brand rip-offs that look exactly like the original.
How to Reach Pratunam Market
Pratunam Market can be easily reached from any part of the city.
1. Train: Skytrain is the most convenient way to travel in Bangkok. Pratunam Market is connected by the Sukhumvit Line of the BTS Skytrain. Ratchathewi is the closest station. If traveling from the airport, you can also take the Airport Rail Link, and get down at Ratchaprarop.

2. Waterway: Waterway is a unique way of traveling in Bangkok and reaching the Pratunam Market. Take the Saen Saep Express Boat from the Panfa Leelard pier to reach the Pratunam pier. The market is a few minutes walk from the pier.

3. Bus: If you are travelling from Grand Palace area or Victoria Monument then bus is the best option. Buses are available at regular intervals that will directly take you to Pratunam Market.

4. Walk: If you are anywhere near Siam Square, then Pratunam Market can be reached on foot. The map of Siam Square may look a little confusing at first. But ask the locals for directions and reach the market without spending any baht.
Best Time to Visit Pratunam Market


Pratunam Market is a 24-hour market. But 11 am to 8 pm is the best time for tourists to visit the market as most of the retail stores open during these hours. With so many options available, it is easier to bargain and get the right price. Late November and early December is the best time to come to Bangkok, right after the monsoon.

The pleasant weather will help you have a wonderful time, and shop with ease. This is also the time before holiday crowds come into the city for Christmas and New Year celebrations. So, you can avoid the crowd, and experience the city with leisure.
What Not to Miss at Pratunam Market

1. Baiyoke Tower Observation Deck:
Get a breath-taking panoramic view of Bangkok. Enjoy the view, first from the skywalk on the 77th floor and then from the observatory on the 84th 
floor. This is within a 5-minute walking distance from the Pratunam Market. Just look up the tallest building (309 meters) in the area.


-Location:
Soi Ratchaprarop 3, Phaya Thai, Ratchathewi, Bangkok - 10400


-Timing:
10 am to 10.30 pm (All seven days)

2. Trimurti Shrine:
Locals call it the lover's shrine. It is believed that lovers who visit the shrine together are blessed for eternity. If you want to put flowers or candles, take them in multiples of 9 for that extra good luck.


-Location:
999/9 Rama I Road, Pathumwan, Bangkok - 10330


-Timing:
24X7

3. Suan Pakkad Palace:
Standing on top of a cabbage patch (the literal translation of the name), Suan Pakkad Palace is a gorgeous collection of eight Thai houses surrounded by landscaped gardens and ponds. Each house has a collection of artefacts that belonged to the royal family. Don't miss the Gong Wong Yai, a percussion instrument with 16 metal discs, and intricate gold-leaf murals from Ramayana in the Lacquer Pavilion.


-Location:
352-354 Si Ayutthaya Road, Phaya Thai, Ratchathewi, Bangkok - 10400


-Timing:
9 am to 4 pm (All seven days)

4. Jim Thompson House Museum:
Dedicated to the memory of American businessman Jim Thompson, the museum has the entire art collection of the man. Thompson built this house and museum in 1959 to showcase his vast collection of rare Southeast Asian art & artefacts. The museum has the largest collection of historical Buddhist statues and traditional Thai paintings made of wood, cloth and paper.


-Location:
6 Rama I Rd, Wang Mai, Pathum Wan District, Bangkok 10330, Thailand


-Timing:
9 am to 6 pm (All seven days)

Things to do Near Pratunam Market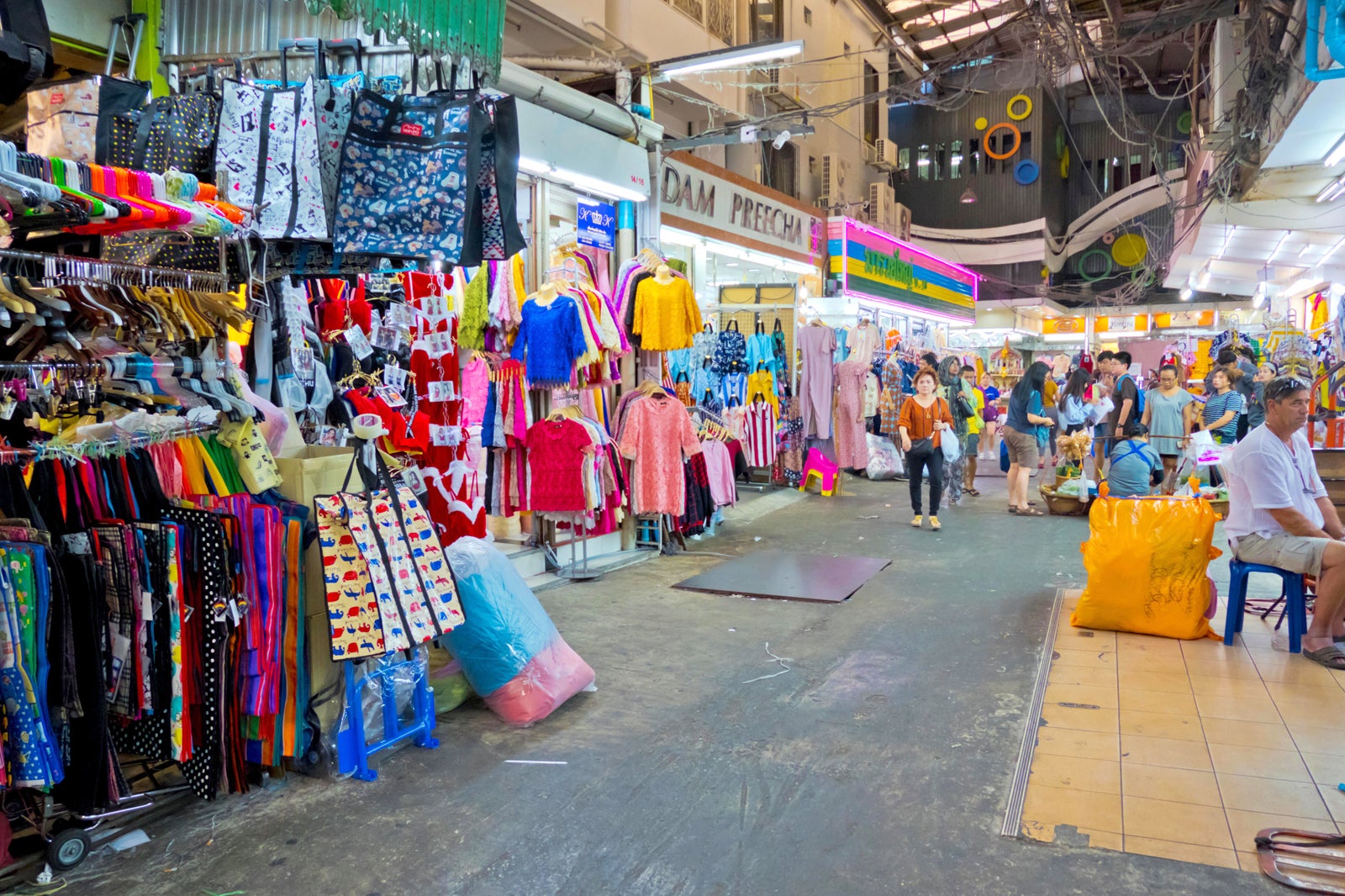 1. Shop:
Pratunam Market is not the only place to shop. If looking for more shopping options, Platinum Fashion Mall is a 
must-visit. Considered the fashion capital of Bangkok, you will find all the local and international brands here. Or head to Palladium World, which is the ideal spot to buy things for 100 baht or less. Don't miss the Talad Neon Downtown Night Market. Neon lights and live performances, along with local stalls make it the hippest place in town.

2. Go underwater:
Sea Life Bangkok Ocean World is the largest aquarium in Southeast Asia. Sea Life is home to a number of rare species, including giant spider crabs, giant pacific octopus, stingray sharks, African penguins, starfishes, seahorses, and jellyfish.

3. Get a dose of art:
Bangkok Art & Culture Centre is a contemporary arts centre. With the aim to promote local artists and art forms, the Centre hosts art, music, theatre, film, and cultural educational events. The place also has cafés, art galleries, book shops, craft shops, and an art library.

4. Enjoy nature:
If tired of the busy city, and looking for some rest, head to Lumpini Park. Built over 142 acres of land, it has open public spaces, trees, playgrounds, and an artificial lake where you can rent boats. There is a separate cycling track, open from 10 am to 3 pm.
Other Essential Information About Pratunam Market


Location:
Phetchaburi Road, Ratchathewi, Bangkok - 10400.

Timing:
This is a 24-hour market. Most retail shops open from 10 am to 9 pm. Best time for tourists is from 11 am to 8 pm.

Places to Eat in Pratunam Market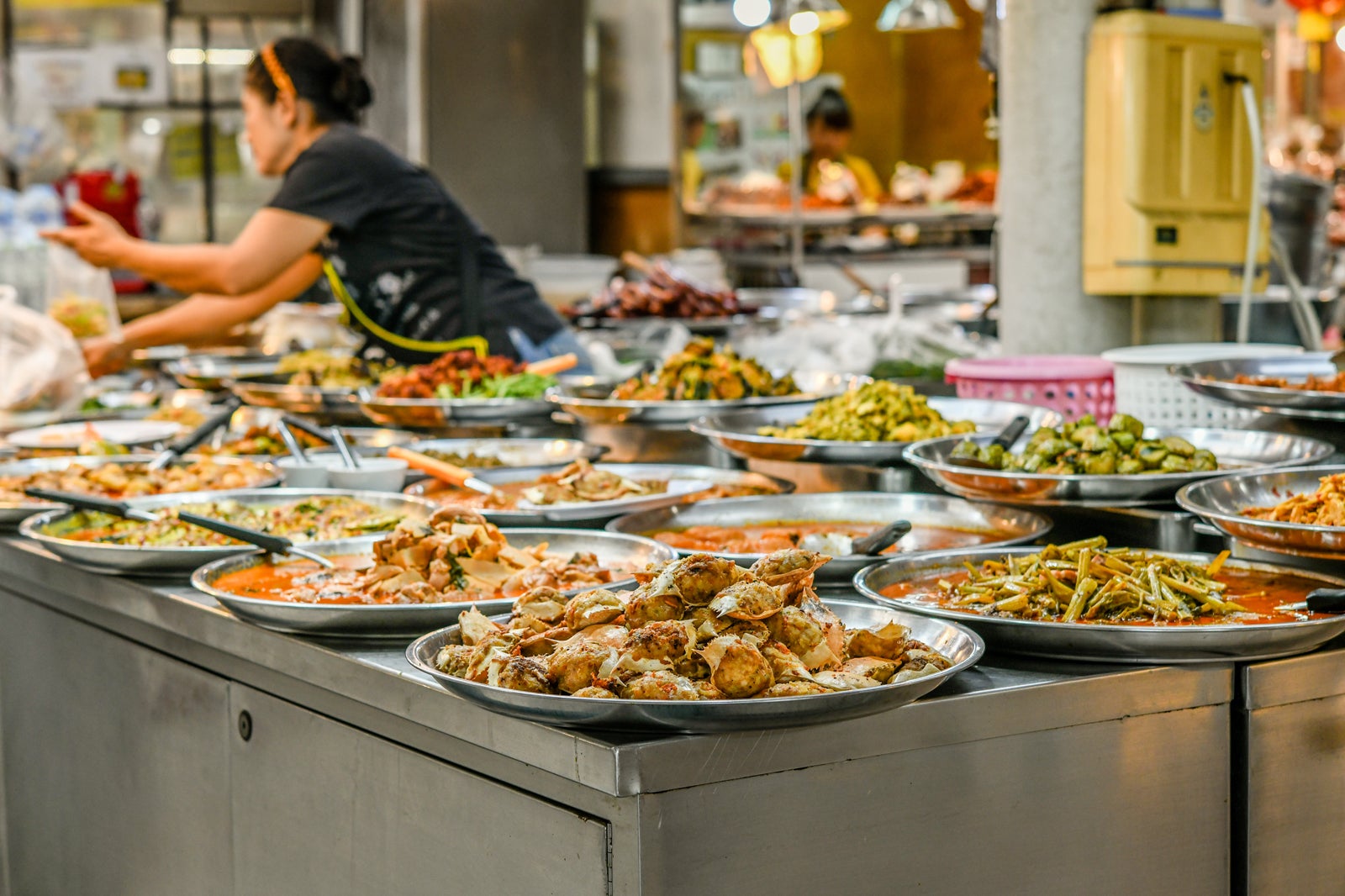 Pratunam Market is an ideal place to spend an entire day. So, when hunger strikes, visit these places nearby for a bite of local, authentic cuisines.

1. Lung Pratunam Boat Noodles: After a long day of shopping and sightseeing, head here for boat noodles. Pair your boat noodles with local Thai beer for the authentic experience. Top up your noodles with crispy fried lard and pig's skin for that additional crunch.

2. Kuang Heng Kaiton: Head here for your fill of khao man gai (chicken rice). This open-air restaurant is specially preferred by those who wish to enjoy local food along with the many sights of Bangkok streets. At any given time, the place is filled with tourists looking for a quick bite.

3. Chili Hip Bangkok Restaurant: Looking for something a little more upmarket? Chili Hip Bangkok Restaurant is the perfect destination. Situated on the 20th floor of the Centara Watergate Pavillion Hotel Bangkok, Chili Hip is preferred by those looking for value for money. Try out their tom kha gai soup, duck-stuffed ravioli, and Chili dome chocolate mousse.

4. Red Sky: This stylish rooftop bar located at the top of Centara Grand Hotel gives you the perfect view of the entire city as you sit back and relax with a drink in hand. Located on the 55th floor, the place is a little expensive. But the international range of food and drinks, along with the view of the city, more than make up for it.

5. Baiyoke Floating Market: A floating market on the 75th floor! Yes, that's right. Baiyoke Floating Market combine the pleasures of window shopping and Thai cuisine. Bringing you cuisines from all parts of Thailand, this is a buffet style set-up. Don't miss their prawn in spicy and sour soup, roti mataba, steamed egg with seafood, and coconut cream cake.

Travelers' tips for Visiting Pratunam Market


1. Be ready to bargain.

2. If you purchase bulk items, the shops offer wholesale prices.


3. Shops don't allow trials, exchanges or refunds.


4. Don't fall for the brand names; they will be copies.


5. Best place to purchase textile material in bulk to be tailored later.


6. Ideal place to shop for wear & tear kind of everyday products.


7. Range of clothes, shoes, bags, watches, and other accessories are available.


8. Get a Rabbit Travel Card and utilise the BTS Skytrain to travel around the city at a budget.


9. The market is conveniently connected through local transport so reaching it from any point in the city is easy.